I know what you're thinking.
Overwater bungalows, doe-eyed honeymooners and drinks with paper umbrellas. It's not that there's anything wrong with that image, but in the pursuit of the tourism dollar, selling paradise has been an easy sell for a long time. It's a sell that's deeply rooted in 'escape to recharge'. But as one who escapes regularly, I can tell you that adventure is a road to escape that has been practised for centuries and just as effective. And might I say, cheaper too!
It's not hard to plonk down a couple of deck chairs and serve a few drinks – this is what five star luxury has been offering for decades. But to offer a holiday that digs below the patina of western luxury, to an authentic experience that touches the local people, connects with their land and story, sometimes you've got to step away from the air conditioning.
Imperial Leather's 1979 TV commercial, 'Simon, Tahiti looks nice,' set our minds to see that French Polynesia (the true name for this group of 118 islands) was a destination only within reach of the most well-healed and luxe lovers… with spa baths on their private jets*.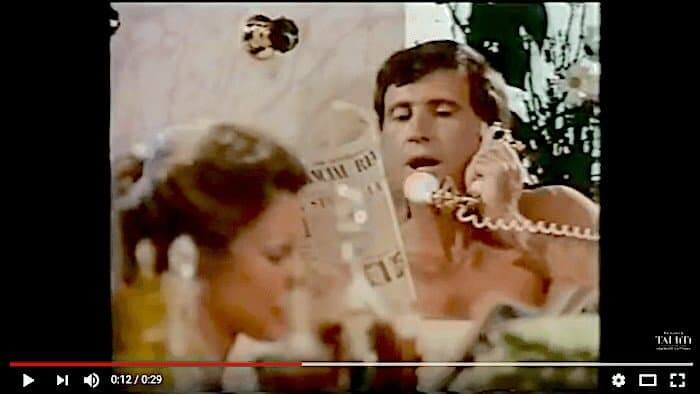 But as someone who has spent the last 15 years working my day-job through the Pacific Islands, I know that there must be more to Tahiti than met the advertising agencies eye. More than homogenous overwater bungalows and hand-sanitised luxury escapes. Scratch the glossy tourist instagram and brochures and you discover a rich, deep and broad history and people. Proud, royal and grounded in unshakable four seasons and cycles of life and nature. Deeply connected to earth, to family, to clan, to community.  
By opening your passport to a side of Tahiti off-the-beaten-track and away from the tourist resorts you open yourself to an authentic and rich experience and one certainly full of adventure. Escape in any language.
Speaking of language, French Polynesia (OK, Tahiti if you must) has many. Like Australia, with the hundreds of local indigenous languages and dialects, Tahiti has it's mix. Although French is the official language, with 70% of people speaking it at home, another 20% speak Tahitian, with the remainder being a mix of Marqueses, English, Arabic and Fijian. A signal to the diversity and colourful mix of this tiny, robust, nation.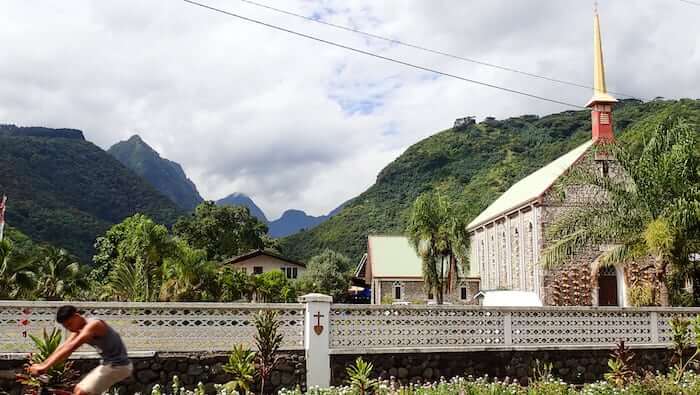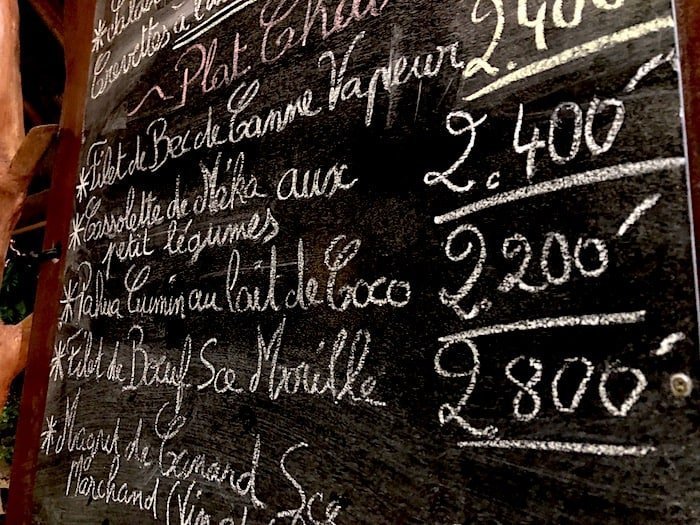 Stepping away from the 5 star resorts, where English or Japanese is the lingua franca, basic school French will be very helpful with the basics like, "Je voudrais un croque monsieur s'il vous plait". In the villages and towns, you'll find simple and polite Tahitian phrases like, Māuruuru (thank you), Ia ora na (good morning) and Nānā for goodbye, elicit smiles and warm nods more and demonstrate that you're wanting to dig deeper than your crisp white sheeted cousins into something more.
Just be warned, there are some subtleties in the emphasis of vowels, where Te ū means milk, but Te hū means fart. But don't let that stop you giving it a go and trying to learn more!
With just over a week to jump into the Tahitian ways, I was limited to just two of it's 118 islands. It truly is the kind of place, that given a year, you'd still never experience it all. Each one of these islands is not only slightly different in dialect and style, but culture and expression.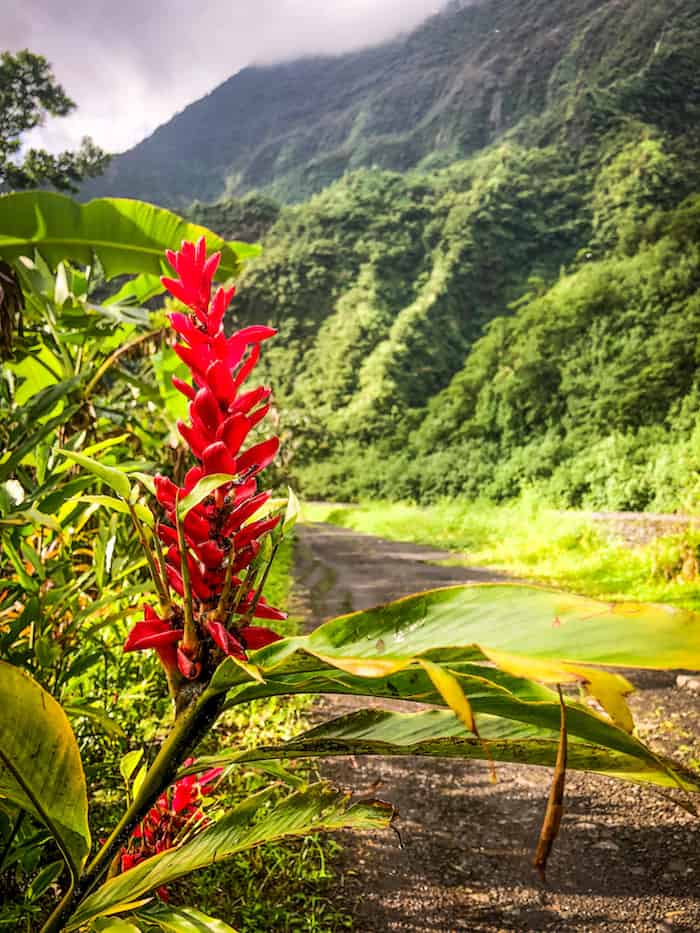 For me, time limited me to Tahiti (the 'main' island) with Papeete its capital and international airport; and Moorea, just a 30 minute fast ferry ride away. An island ringed by one road and the big three of western style resorts – Sofitel, Hilton and Intercontinental.
For those of us Aussies, without a 'Simon' at the controls of our private jet, access is via Auckland with Air Tahiti Nui in a slightly dated, but clean and with super friendly service, A340-300. But this is set to change with the introduction of their brand new 787 Dreamliners joining the fleet late 2018.
Arriving around midnight (and having crossed the International Date Line), the welcome of the most fragrant floral lei from my transfer driver signalled the type of warm, friendly and authentic welcomes that would follow me throughout my stay.
Given the luxury (and expensive) vibe that surrounds any talk of Tahiti, you might be surprised to learn that I stayed in the clean, fresh and cheap Mahana Lodge Hostel and Backpackers that first night. Central to everything in Papeete, I slept soundly in my own double room for around $AUD100.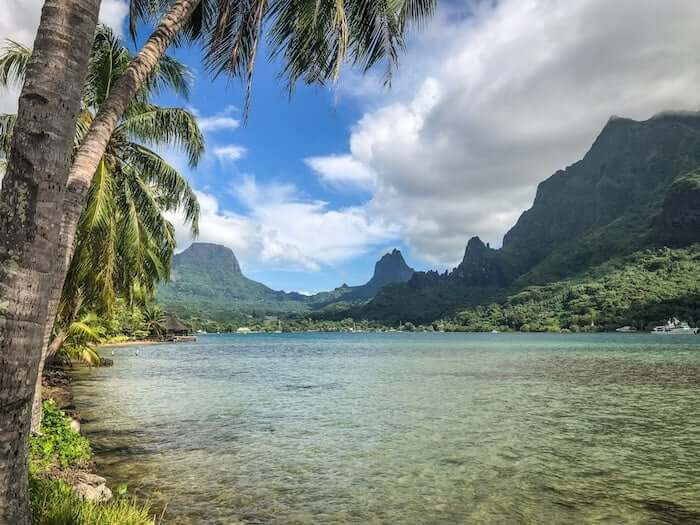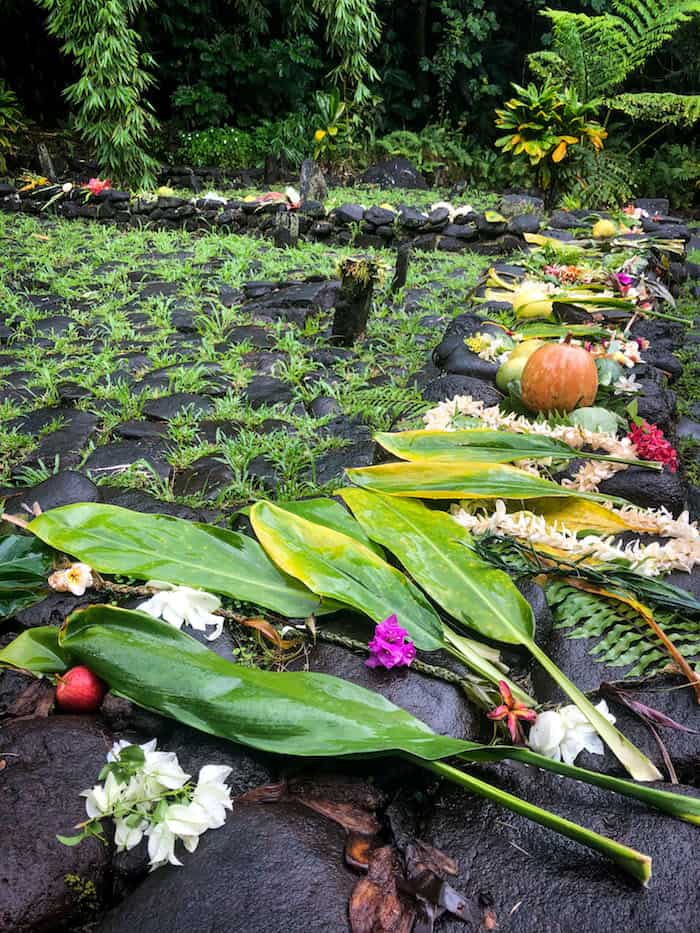 Papeete is reminiscent of many Pacific Island capitals. The heart of trade for the country, it is a port town and doorway for goods and people. International shipping and inter-island supply boats vie for dock space that keeps the country running and essential items going where they need to go. Attracting (as cities the world over), people from smaller towns and outer islands in hope of employment, education and entertainment, viewed in a harsh light it's easy to only see the effects of poverty and disenfranchisement, framed within the dramatic contrasts of those classic turquoise waters. But with a gracious eye, it's easy to see Papeete as much more than just a stepping off point or gateway to somewhere else.
Getting around Tahiti is made easy with a car and the Suburu XV I had from Avis was a perfect choice. It stood out amongst the tiny French Citroens, Renault and Peugeot's and multitude of push-bikes. Driving is on the right side of the road and with the lack of street lights away from the capital, driving at night on these narrow regional roads requires special attention from wandering people, push bikes, chickens (FYI, they fly in Tahiti!) and dogs.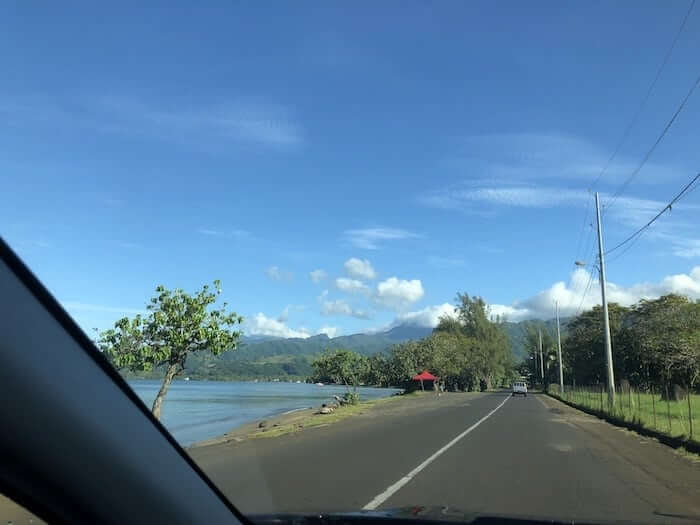 For the 95% of the world's population who are dumb to concept of international surfing Meccas, the name Teahupo'o (pronouned: Cho-poo… or 'Chopes' to surfers) is simply a remote seaside village on Tahiti's south east coast. For me, it was home to Vanira Lodge and the launching pad for my first Polynesian adventure in the jungle.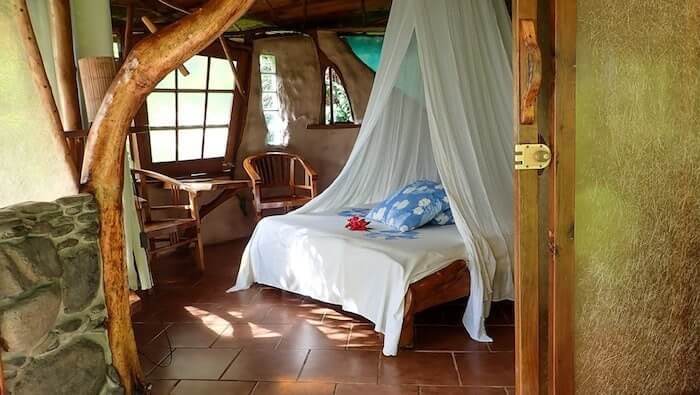 It's no wonder that these bungalows have won awards – apart from a tent, they're my kind of home away from home. Using local materials and worked lovingly into the hillside, my bungalow felt like where Bilbo Baggins would stay if he took a tropical holiday in the Faraway Tree. Tiled flooring, rock and render walls and translucent fibreglass panels in the bathroom, was a subtle nod to the local surfing industry. All this supported by the arms of tree branches, polished and varnished to a shine, bearing up a woven, natural ceiling. And although the queen bed was dressed in a delicate mozzie net, draped in only the way a design magazine can manage, even with a window open I never heard a single buzz. Although they have fancier and newer bungalows, some with a/c, my older one (called "Haari") felt more like a home that grew from an artist's dream, rather than an architects plan. Surprisingly, the rates were very reasonable ($AUD177/night) and for a unique accommodation experience, I can't recommend it more.
Not too far away from my hillside hideaway, was the small village of Hitia'a and the meeting place for my full day trip through the Lava Tubes. One of the things that attracted me to Tahiti was the relative lack of information available about what I suspected, was a world of adventurous pursuits. It wasn't until I was doing an 8m water jump into blackness, with just the glimpse of torchlight hitting the tumbling water below, did I realise that this is black water canyoning by another name. Dressed in full body wetsuits, helmets and harnesses since we left the car, should've also given this away. The journey to the beginning of the lava tubes was my awakening to another new name, 'Aquatic Hiking'.
In a land where the jungle is so thick, where trees, vines, shrubs and bushes grow so close together in colourful, damp, walls of flora, it is often easier to walk through and in the creeks and rivers to move along. Sure footedness and good fitness, along with a sense of wonder (and humour) is essential for this adventure, as the slippery nature of everything means that you're often more 'in' the water than planned.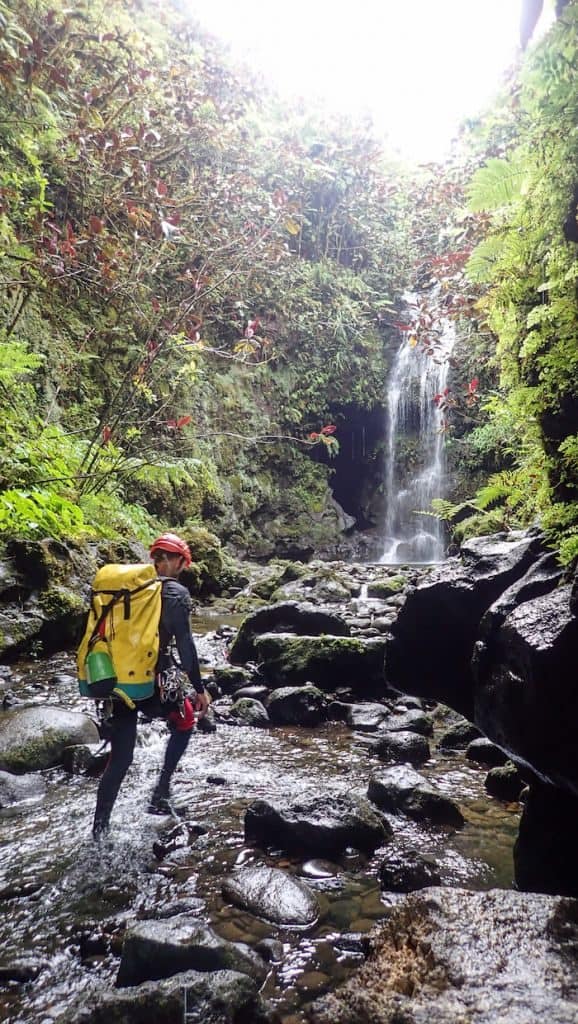 A 25m jungle abseil brought us to the entrance of the yawning, gnarled black hole, through which water purged from the earth within and was our entrance to the tubes.
These tubes are formed from the ancient and extinct volcano when molten lava hardens in a crust, whist liquid lava still flows through underneath. When the liquid lava disappears, a hollow tube remains. The ceiling height varied from 1m and a crawl, to 20m high; all in complete and utter blackness, accompanied with the sound of rushing water. Our task was to follow this water, sometimes swimming, jumping, walking or abseiling, until we emerged at the other entrance. These tunnel tubes are definitely not the place to venture without a guide and I found mine, Arnaud and Ines from Natura Exploration, not only knowledgeable on their interp, but with over 20 years guiding, I felt safe in their expertise.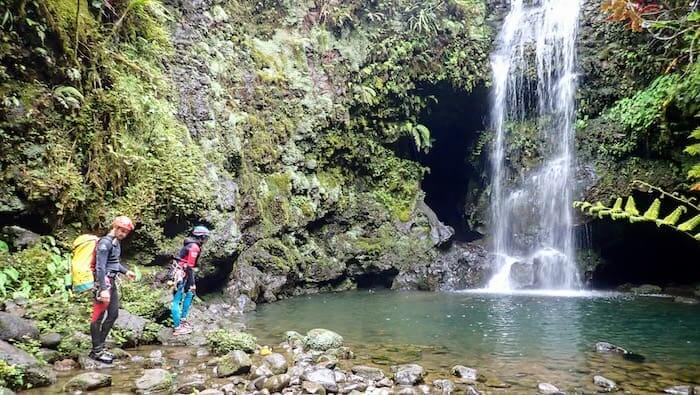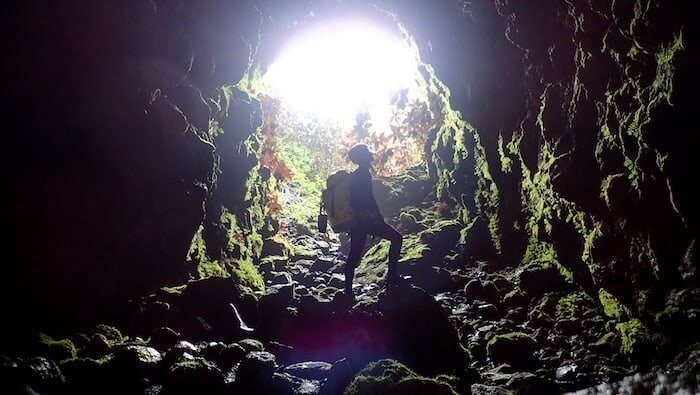 The return down the mountains, bouncing along in the back of their old Landy taught me one of the secrets of adventures (especially hiking) in the tropics of Tahiti. Whilst it may be hot and humid along the coast (where you have the ocean to cool off in), as soon as you start getting above 350 masl, into those sharp crinkly volcanic peaks, the temperature drops and the humidity disappears. With the lava tubes being up around 700 masl, pouring myself out of the wetsuit at the end of the day was the only time I felt cold the whole trip.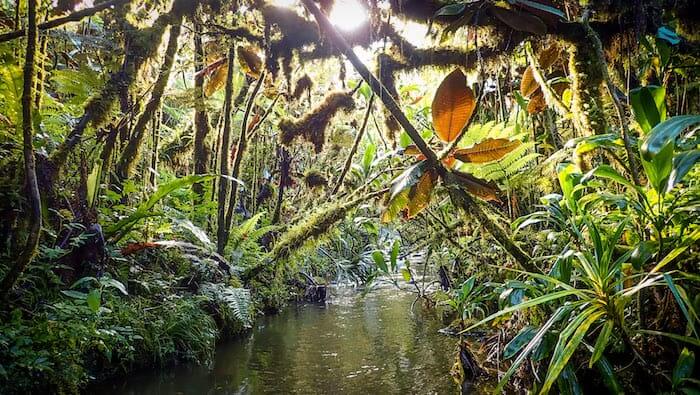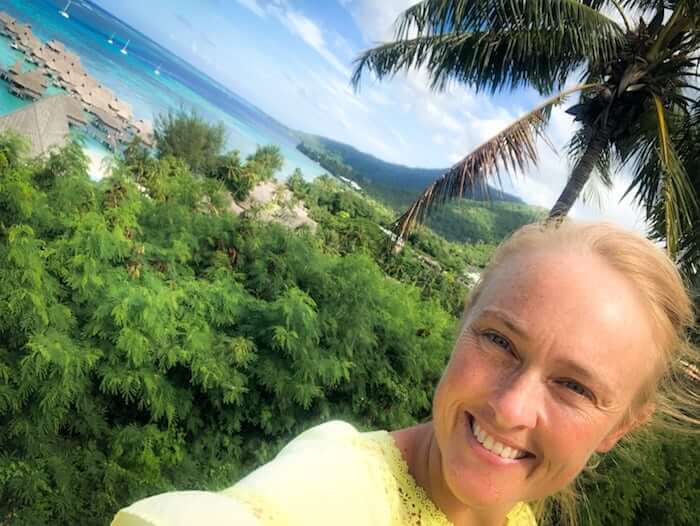 For information on all the different types of experiences, holidays, accommodation and activities you can have in French Polynesia, visit Tahiti Tourism's comprehensive website.
Caro travelled courtesy of Tahiti Tourism and Air Tahiti Nui.