Read part 1 here of my adventures hiking in Tahiti…
Speaking of those fabulously crinkly, ridgey peaks that tell of French Polynesia's fiery ancient past, hiking in Tahiti up into them was to be my second adventure. As soon as these classic backdrops from Mutiny on the Bounty come to life, they make you want to climb them. With perilous (and precipitous) chossy and crumbling stone, there are many that have never been climbed or hiked and several who've lost their lives trying.
Les Trois aux Cocotier Trail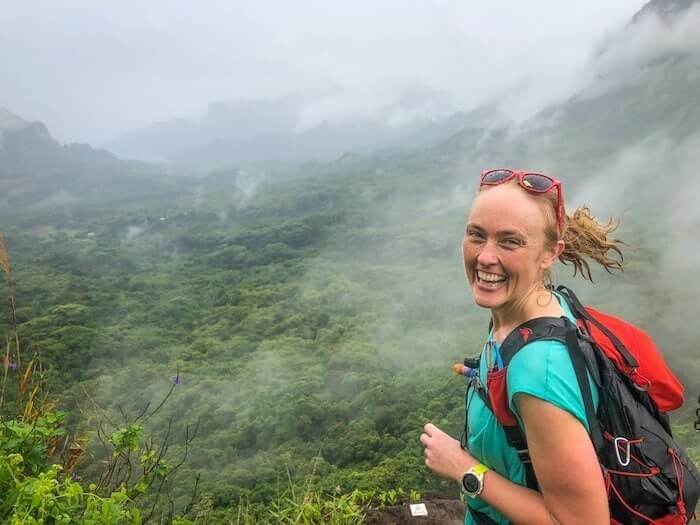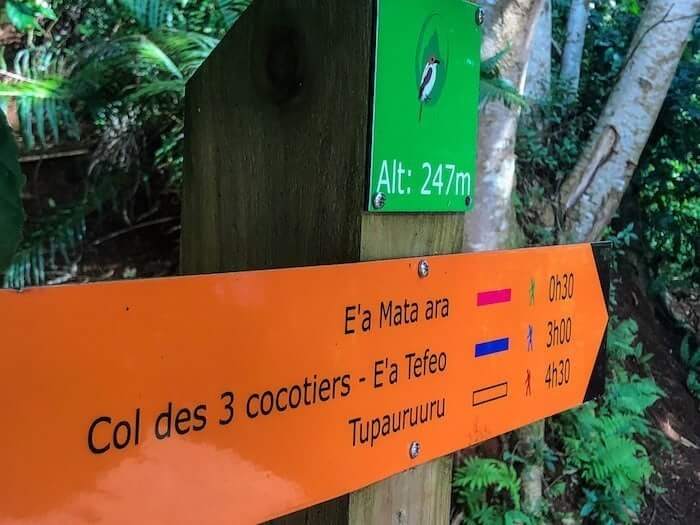 A good reason to head out with a guide or stick to well marked and graded tracks like the popular les Trois aux Cocotier (Three Coconuts Pass) on neighbouring island, Moorea.
When I arrive and squeeze into my micro Gallic matchbox car, the island is alive with colourful lycra and movement that is familiar to any adventure racer or ultra-runner. The Xterra race is underway and it makes good use of connecting trails and tracks, across the undulations (and pinches) that make up Mooreas rich red earth, including sections of the Three Coconuts Pass trail.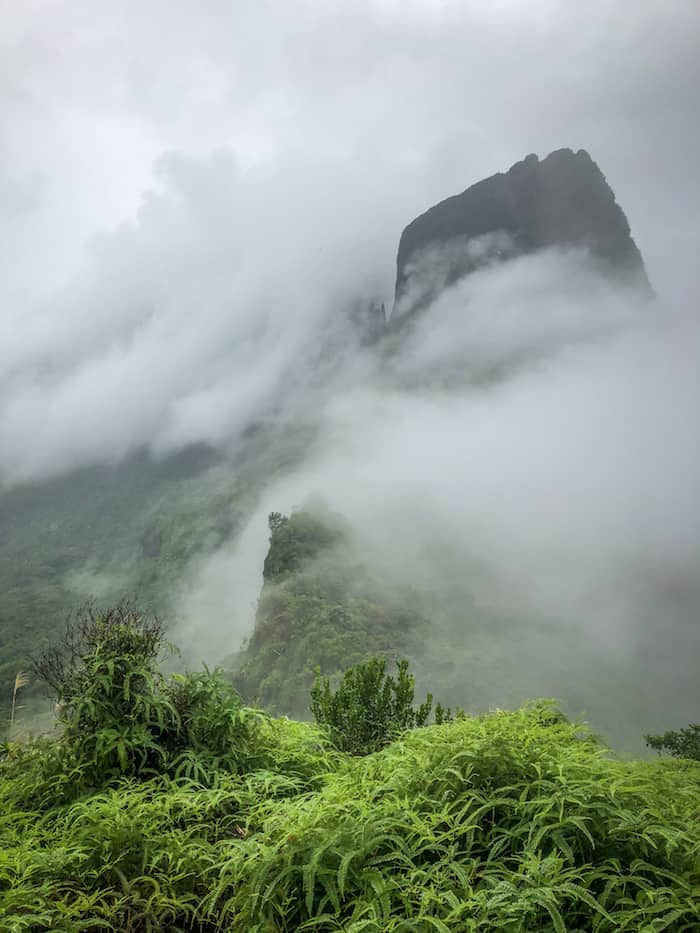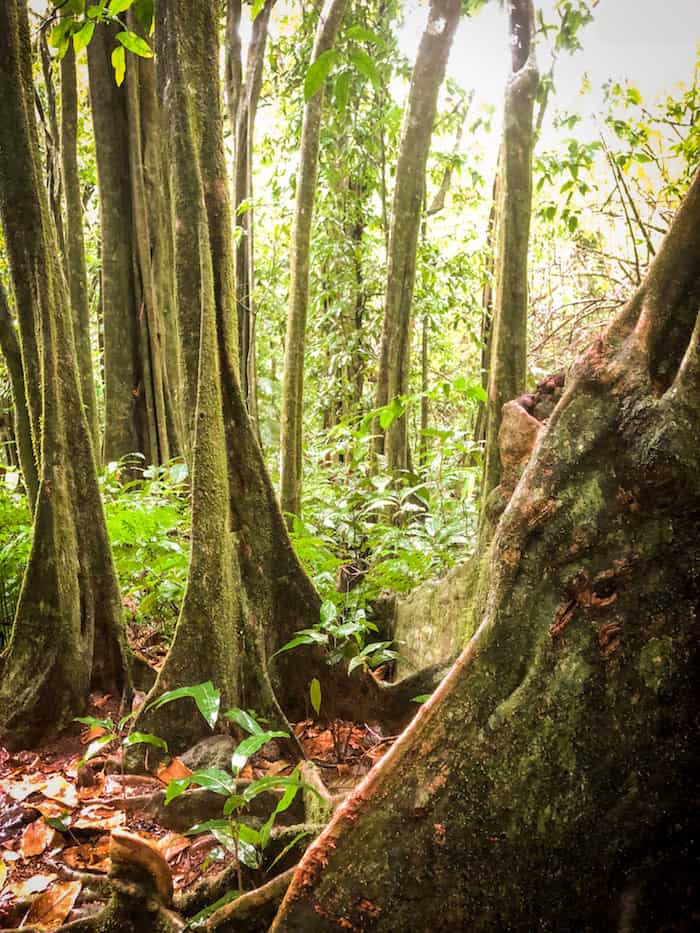 There is good signage for some of these interconnecting trails (some just for mountain bikes) with a major trailhead at the iconic Belvedere Lookout. This is our halfway point along our loop, which started in the Opunohu Valley, which takes in not only the Three Coconuts Pass, but some side trips as well. I found the tracks marked in Open Street Maps (via the Pocket Earth app) quite accurate, so if you're going without a guide, I'd recommend downloading this.
The tracks themselves are of varying quality, from muddy firetrails to gnarly, technical single track (that is sometimes hard to follow with the jungle vines and roots that are constantly wanting to take over), so if you're not confident with navigation, definitely pick up a local guide.
Camping on Moorea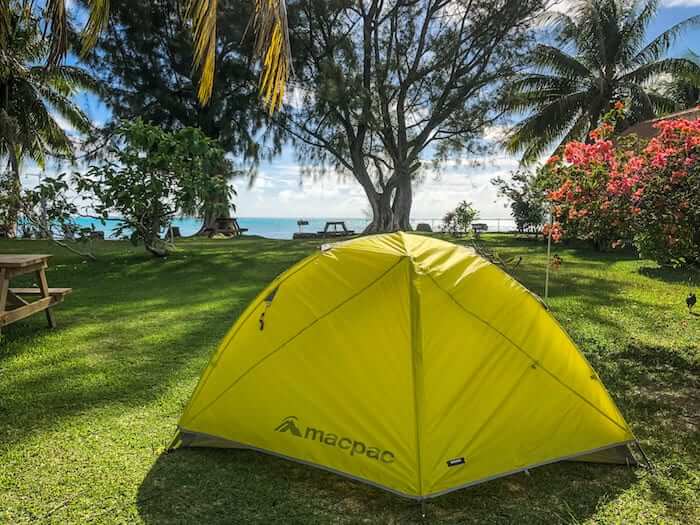 My home on Moorea looked like something from Instagram #traveldreams101. It was one of those pinch me moments, where I found myself pitching my tent, 20m from crystal clear tropical waters, under the shade of a flowering bougainvillea. With a sunset television and the only other person camping here at Nelson Campground, an Aussie couple (who live 15 mins from my house), I knew this was my type of paradise. All this for 1800 XPF (around $25 AUD). They also have bungalows or dormitories if you'd prefer.
To go with the view (and as my indulgent recovery from two active days) it was here that I indulged in some great food on Moorea. Something that is uniquely Tahitian, is the popularity and abundance of food trucks, or Roulottes. These are sprinkled along roadsides, in empty lots and beside five star resorts. The local restaurant near the campground (Coco D'isle) was a Gilligan's Island style bamboo house, with beach sand floor, yet served up an absolute feast. If you love fresh seafood, you'll never want to leave. With poisson cru being somewhat of a national dish, this restaurant did it five ways… yes five. I just had to try them all!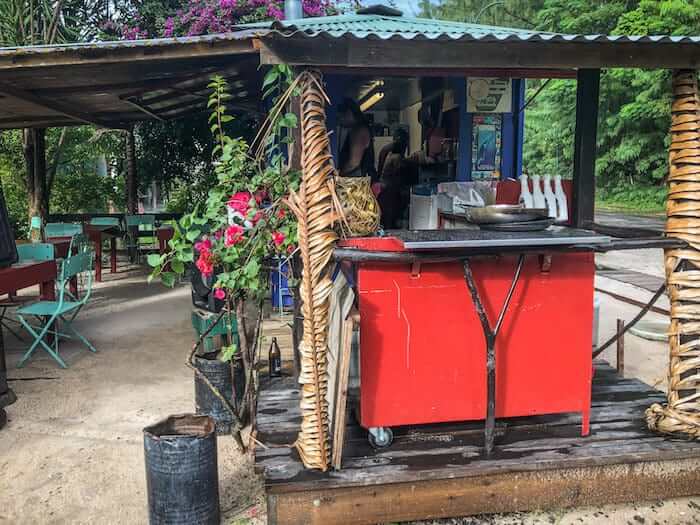 300m down the road from the Nelson Campground, was the Roulotte l'Heure de Sud, with its bright blue exterior. Owner and chef, Fred's skills ensured that I ate several excellent meals here, including having the best coffee of the entire trip. But just a warning on coffee in general in French Polynesia… it's not the best. So if you see a cafe with a Nespresso machine, stove top espresso or French press, go there, it will be the best around.
With my time coming to a close, there was just time to fit in one more dive into the jungle and satisfy my deep love for ridge walking, especially off-track-esque ridge walking.
Mt Marau – Diademe Trail, Tahiti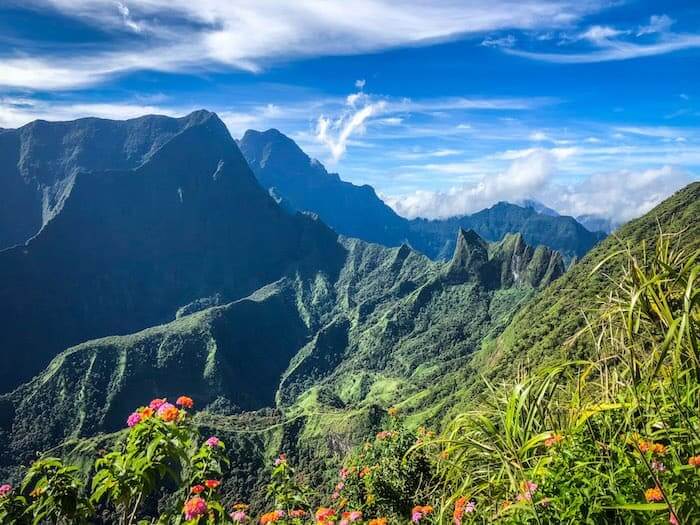 The most obvious full day epic hike in French Polynesia, is the country's second highest peak, Mt Aorai, just on the edge of Papeete. Many people struggle to make this in a day. Rising to 2066 masl, thankfully, the trailhead starts at around 600m and is a 21km round trip to the summit along an ever rising ridgeline.
However, my guide (again, Arnaud) had another idea. To me, this is what makes a great tour guide. Having spent a day together at the Lava Tubes, he got to realise that I loved the road less travelled. Not necessarily the obvious path or well trodden tourist tracks. So he asked me, what I liked when it comes to hikes. Views? Ridges? Waterfalls? Rainforests? Without hesitation, I said, 'Ridgetop views to rarely visited treasures.' The next day he announced that we were going to Mt Marau, to scramble along towards the Diademe.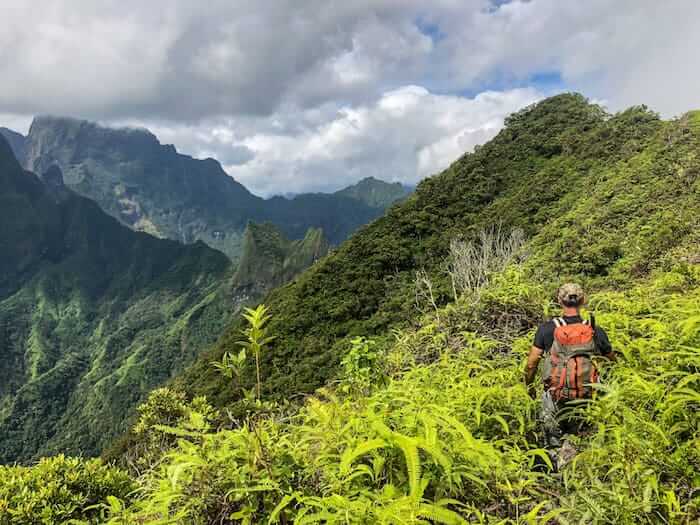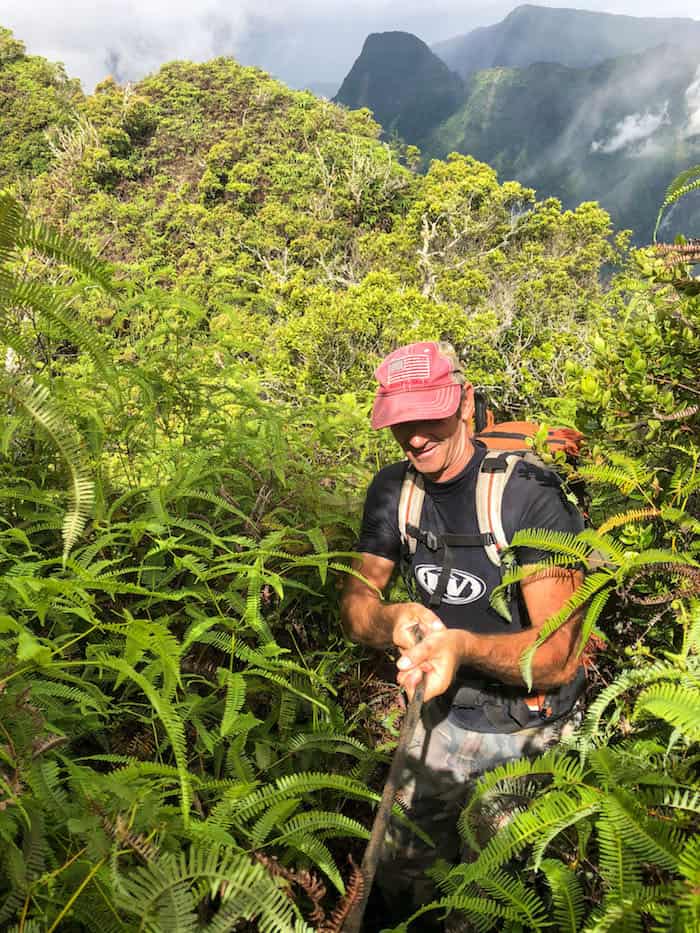 If you don't mind walking on fire trails, you may simply enjoy the leg-stretcher that gets you to the communications towers at the end of the road at Mt Marau. Along the way, there's good views across the valleys and towns and for some, that may be enough. However, for us, that was just the beginning. Here, we left the trusty Landy and dived almost head-first into the jungle growth for our adventure.
It was May and the beginning of the hiking season. This meant that the months of wet season and ever-advancing jungle covered all trace of a track. Not far along, the extent of this ridge walk became evident. There were sections where the ridgeline was not much wider than the width of my boot and fell away on both sides, below a thick shoulder high shrubbery of nature's safety netting. Without this psychological wrapping of nature around us, I couldn't have ventured far. There were several hand-lines fixed in place, to help moving up and down the steeper drops, where no matter of green crash mats would sustain you.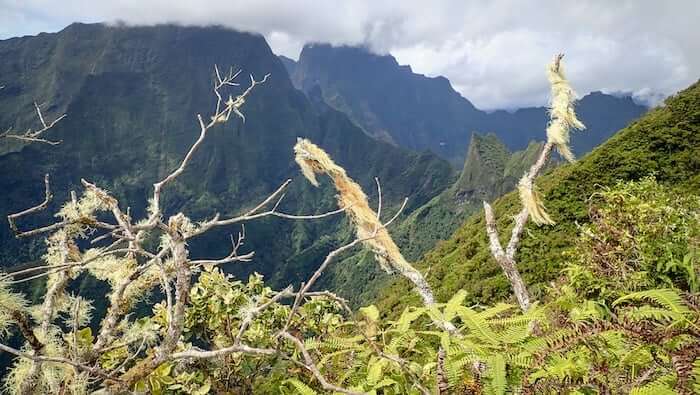 Arnaud had delivered in spades. Not just high on the technical difficulty and rarely visited rating, but the views along the route, stopped me as tears welled and ran down my face. To our left, Mt Aorai rose majestically, keeping pace alongside us, as Tahiti's highest mountain, Mt Orohena called us forward. Vivid colours enveloped us, as though someone had slid the settings to the right on contrast and saturation. Nothing looked real, but the continuous attention to our foot falls and hand-holds ensured we stayed grounded in reality.
As we approached the summit cairn, cold blasts of dense white cloud swirled up the slopes to our right, from the deep valley below. This is where the spirits of ancestors ascended tells one of my guides, Ines. As a descendent of the Tahitian royal family, her knowledge of local history, story and culture made my time in Tahiti richer and deeper.

The cloud heralded the turn of weather and signalled our time to turn around. I felt carried along this ridgetop, in nature's embrace. Having read a few accounts of hiking in Tahiti (and given my rainy day on Moorea's high caldera), I knew how lucky we'd been. It was time to return.
Time too, for me to turn around from my visit to this incredible island nation and to say goodbye. My days of adventure in paradise were coming to an end and I longed to spend more time amidst the crinkley ridges, deep valleys and endless canyons (one with a 150m abseil) that the local maps teased me with.
French Polynesia had opened it's adventurous heart and allowed me to see beyond the luxury postcards and cliches of island tourism, to a depth and spirit echoed in it's land, sky and sea. Truly, 'Simon'… Tahiti does look nice.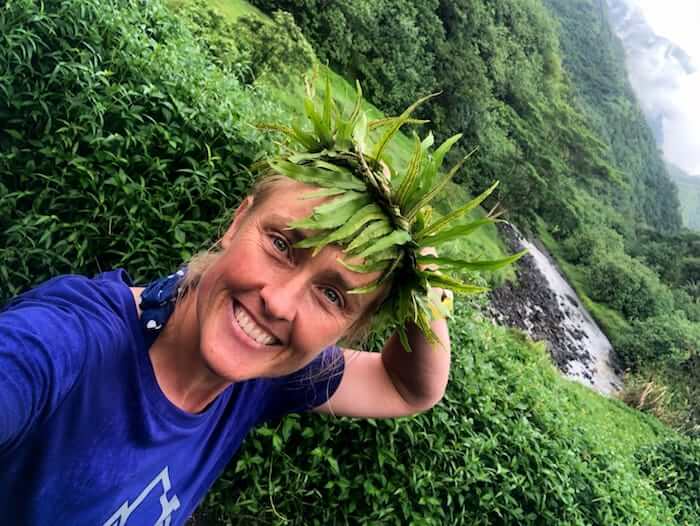 * [can we just think about the incongruity of spa baths on a banking aircraft for a second?]
Tahitian Travel Tips
– No butane camping gas in Tahiti, bring a multi-fuel or Trangia style stove
– My go-to tip for fast and cheap food on the run in F.P. is the good ol' croque monsieur toastie (ham and cheese toastie). Just under $2 AUD from a servo, to $7-8 in the airport, it proves that food doesn't have to be expensive in Tahiti.
– Don't forget to take your shoes off before entering bungalows or traditional accommodation.
– Pack your own Aeropress (or coffee of your choice) if you can't survive without it