Sleeping Mat Gear Review
Being comfortable enough (or tired enough) to get a good night's sleep in the bush is one of the key complaints that people have when thinking about staying out overnight and camping.
Over the years I've slept on different types of sleeping mats, mostly from the traditional players in the field, so I was interested to see what was on offer from the relative newcomer, Nemo with their Tensor 20R Mummy sleeping mat.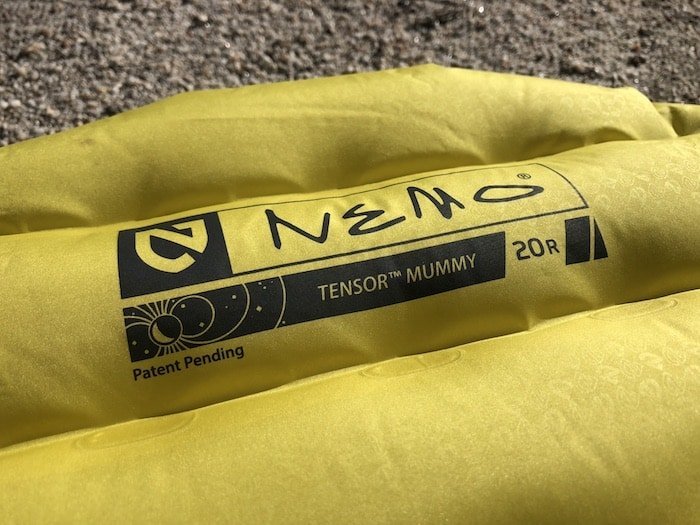 With the tumultuous world of outdoor gear, it feels like NEMO have burst onto the scene in the last few years in Australia. A bit of history though, this US company was born by an outdoor-loving design student, who was frustrated by a dodgy night in 2003, spent in an even dodgier bivvy. With a nod to his roots (and the adventurous Captain Nemo), New England Mountain Equipment (NEMO) emerged. And so today, we have Nemo product range available through Paddy Pallin, Wild Earth and other outdoor retailers.
To test out this mat, I took it on Tasmania's South Coast Track. A bold move for a mat I hadn't used before, to be taking it on one of Australia's toughest tracks, renowned for mud and dodgy weather. I used it for 8 nights and cheated on the inflate side of things by teaming it with a Thermarest inflatable bag pump. I know, I know. It was a bit of a luxury item! I've since used it for an extra 26 nights in different terrain and temperatures from the Simpson Desert, islands of Tahiti, outback QLD and NSW and of course, the Blue Mountains.
What to look for when buying a sleeping mat
I like to be able to easily add or remove air to get the right amount of firmness.

As a side sleeper, having a good mat height helps avoid your hips digging into the ground.

As a back sleeper, I appreciate a width that allows my elbows to rest on the mat, as opposed to hanging over the edge to the ground. Elbows on the ground tends to put my arms to sleep and cause numbness.

As someone who tries to minimise packweight, I like a mummy shaped mat to save weight off the corners.

Length: I want to feel my whole body on the mat, especially my heels, which like elbows, can go numb and cold if resting on the ground.

Something that's easy to inflate and deflate, with minimal breaths.

As I don't usually sleep in alpine conditions in winter or snow, I don't really need added insulation from that option (which is also available)

Compact stuffed size.

Robust with a good warranty

Reasonable price point

Good basic thermal qualities (without being a special 'insulated' version)

Minimal Noise: It's a 'thing' with these newer style of inflatable mats. The trusty old, robust, 'self-inflating' style that Thermarest made famous doesn't have this problem. Imagine the noise of a squidgy mop being dragged down a dry glass window, mixed with the sound of an emergency space blanket being screwed up into a ball… and you're getting close. Then imagine the person in the next tent to you rolling over every half hour throughout the night… and you're getting even closer.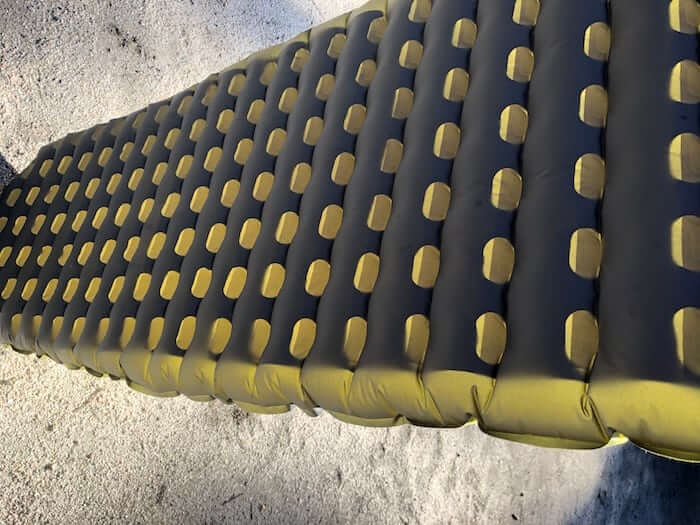 Here's how the Nemo Tensor 20R Mat performed:
Comfort – 4/5
The overall comfort of the mat was very good. Although it's not the highest mat on the market, it offers a max 8 cm, which was certainly enough to satisfy my needs as both a side sleeper with hip comfort and firmness as a back sleeper.
Size – 4/5
At 51 cm wide, I was pleasantly surprised that my elbows generally managed to stay on the mat when sleeping on my back within my sleeping bag. However, on the nights when I used my bag as a quilt, I did resort to adding extra padding (socks and day clothes) at the elbow point to avoid arm numbness.
Length was no problem at 183 cm / 6' (I'm 177 cm/5'8") and I also avoided sliding off the mat, even when on a minor slope.
Inflation / Deflation / Adjustability – 4/5
It inflated with around 26 breaths and easily deflated after opening the valve. The valve is in a similar design to the traditional Thermarest, however they've added a push/pull locking mechanism to it, rather than a complete twist/screw to seal. This means that adding extra air in the night is relatively easy. I thought that the 'sticking outey' nature of the nozzle would prove a problem, but when in use I didn't notice it.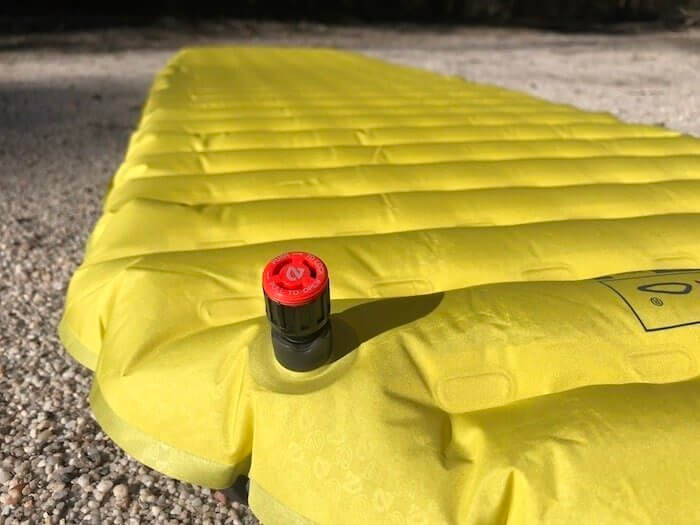 Deflation and packing down is simple and in line with all other mats on the market that I've tested. (Open valve whilst lying on it to kick it off, start rolling whilst flat from the foot to the top to remove most of the air, unroll again, fold in 3 and roll again to the top with valve open, close valve, voila!)
Weight and packed size 5/5
Weight is 360g and with a packed size of 20cm x 7.5 cm diameter, it's one of the smallest full length (mummy) mats I've tried.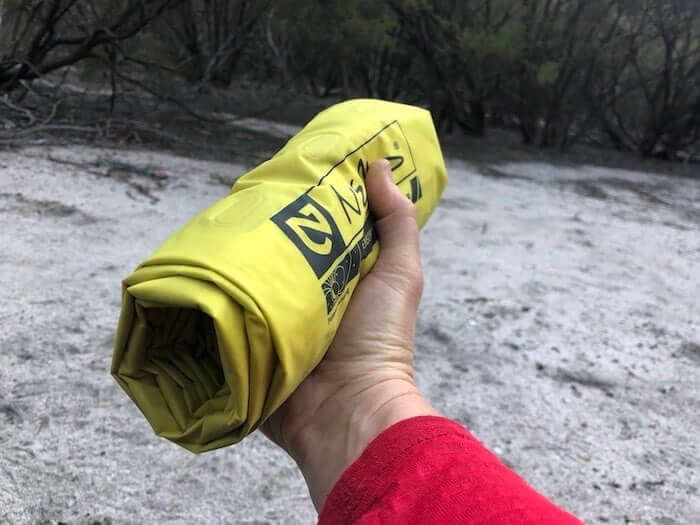 Noise 4/5
Compared with the other mats on the market with the scrunchy noise issue, I found the Nemo and their 'Space Frame Baffles' pretty good. The noise does seem to alter depending on the amount of air and the surface you have the mat on.
Warmth 4/5
Although I tested the non-insulated version* of this mat, I had it running at temps down to -3c with no problem. In fact, I noticed the insulated qualities when I moved from back sleeping to side sleeping. When I did… my back felt the cool difference of not being against the 'suspended thermal mirror' foil that they use.
Where to buy a sleeping mat
If you're looking for a new sleeping mat you can Buy it now here from Wild Earth.
*There are 12 different types of mats in the Tensor range – 6 insulated sizes and shapes and 6 non-insulated.