If you've been reading my blog for a while, you'll now that I spend a lot of time hiking in the Blue Mountains, west of Sydney and occasionally treat myself and jump further afield to discover other great spots around Australia that offer different types of bushwalking terrain and experiences.
That's one of the amazing things about Australia is our diversity with every state and territory offering its own unique experiences. Whether you want to explore the coastline, the outback, the bush (aka wilderness), or islands, you can find your little piece of adventure Down Under.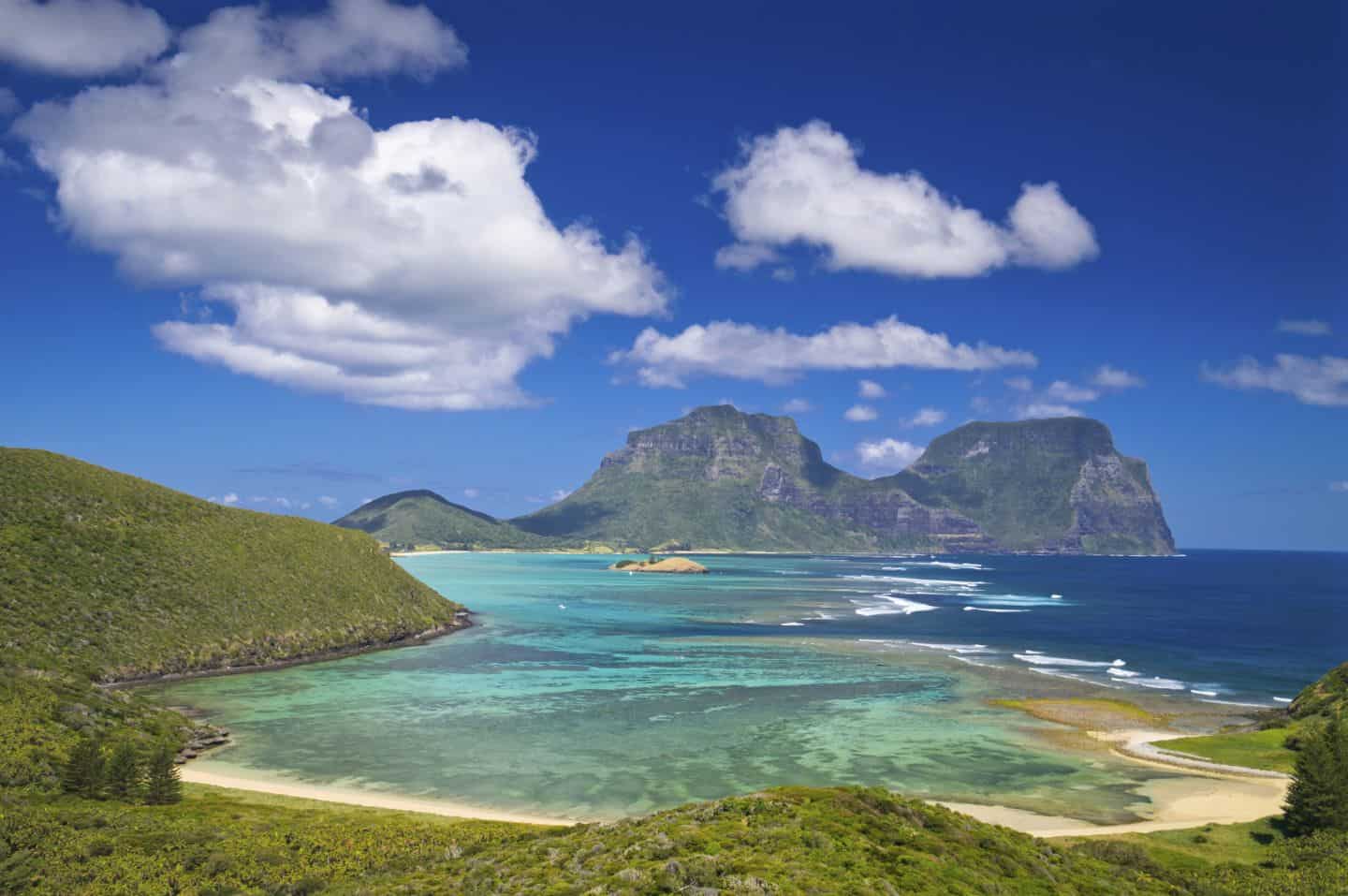 1. BLUE : Lord Howe Island
Located about two hours away (by plane) from Brisbane and Sydney, Lord Howe Island has been given a World Heritage listing due to its magnificent reefs and marine system that are home to hundreds of tropical fish species and green sea turtles. The island has a number of wonderful diving and snorkelling sites, which can be explored with guided tours or in glass bottom boats. On land, there are numerous walking tracks that range from simple strolls at sea level and through banyan and palm forests, to more advanced and challenging cliff top hikes. When it comes to Lord Howe Island accommodation, there are many providers to choose from, such as Pinetrees Lodge.
As a kid, I was lucky enough to visit Lord Howe with my parents who were re-visiting their honeymoon destination. I have vivid memories of seeing the deep turquoise waters of the lagoon for the first time and feeling like I had walked into a movie. I couldn't believe that something could be this beautiful and I was able to be a part of it.
Back then, I wasn't a bushwalker and as my family weren't adventurous, our time was spent cycling, ambling along easy bush tracks, snorkelling and relaxing on the beach. I remember hearing one of the old timers from the island describe what the climb/hike up to the top of Mt Gower was like and right there, the seed was planted that one day… I was lucky enough to return (as a grown-up) and here's just some of what I found.
2. SANDY : Great Ocean Road
Since opening in 2006, the interest in walking the Great Ocean Walk has grown as word has spread. It's one of those trips that allows for flexibility in accommodation, so if you're a B&B-hot-shower-bed kind of bushwalker, you've got lots of options or if you prefer to carry your house on your back and tent it… you're sorted!
This 104km easy-medium trip can be done in around 3-5 days comfortably and includes beaches, cliff tops, remote campsites (where you feel like the only one there) and a good dose of history with lighthouses and shipwrecks thrown in.
If the full walk doesn't take your fancy, or perhaps you're travelling with young kids, then there's lots of other amazing things to see and do in the Great Otway National Park. Oh and don't forget to check out the classic 12 Apostles!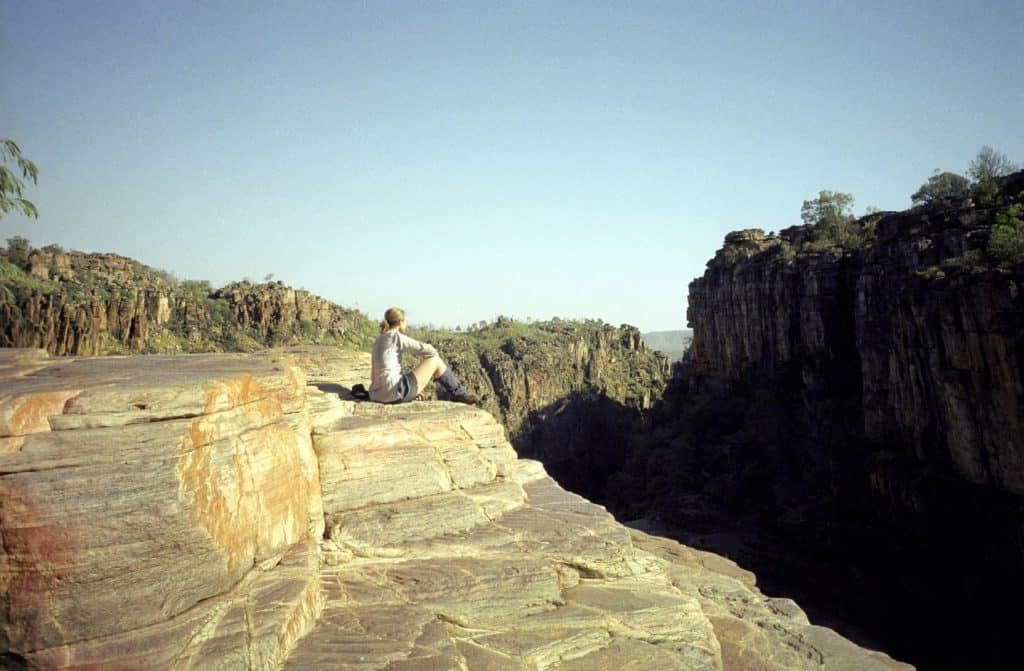 3. GREEN : Kakadu National Park
One of my most memorable hiking experiences was 12 days deep in Kakadu National Park with my bushwalking club. Once up on the plateau (and away from those pesky saltwater crocodiles!) we followed rivers and indulged in magic sand beach campsites, wondered at incredible ancient aboriginal rock art sites and gazed into the kazillion star night display.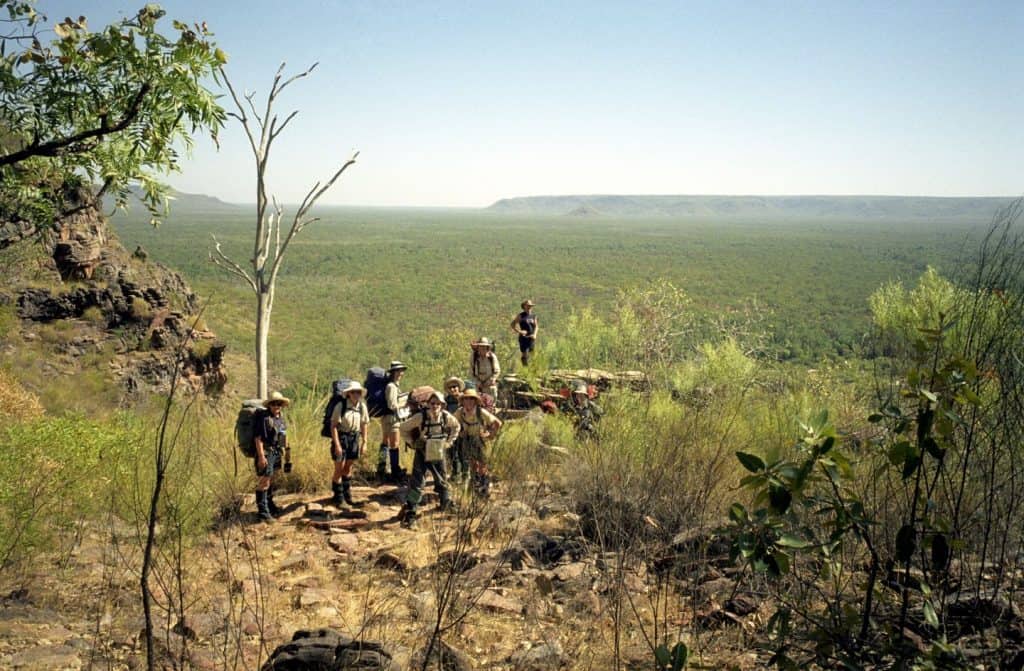 Located 240 kilometres east of Darwin, Kakadu National Park covers approximately 20,000 square kilometres and is considered to be the country's biggest terrestrial national park. The park is home to a range of Australian flora and fauna, including over 1/3 of Australia's bird species and 1/4 of Australia's freshwater fish species and so it's no surprise that it's listed as a World Heritage site.
4. RED : Uluru and the Red Centre
I'm often surprised at the number of Ausssies who've never been to Uluru. Actually, I shouldn't be that surprised as until a few years ago, I hadn't been there either!
If time is short, even just the easy walks, such as the circuit around the base of the majestic Uluru or the Valley of the Winds walk over at Kata Tjuta (Olgas) will make you feel as though you've spent a lot longer. Of course, if time is on your side, then I'd definitely recommend pushing further afield to the MacDonnell Ranges (with the Larapinta Trail) or Kings Canyon.
So, if you're an Aussie I encourage you… be a tourist in your own country.  If you're a visitor from overseas and wanting to come to Australia (yet  have a limited amount of time) and feel like you've experienced some of the diversity we have to offer and immersed yourself in the colours of Australia – then these 4 key spots are a great starting place!
This has been a sponsored post… which means I'm paid for my time to write this piece… but not for my opinion!