I've always enjoyed reviewing Suunto's sports watches. Over the years I've looked at the 9 Peak and Spartan Baro HR and each time they impress me, drawing me closer to jumping ship permanently into the Suunto world. With their latest offering, the Suunto Vertical, they've finally convinced me.
Why choosing the right watch is important
When you think about it, there's something so absolutely personal about the watch you choose to wear. It's not like underwear, you don't change it every day; it's more like a car, your trusted GP, a bank or even a superannuation plan. When it's time to change, we do our research, look at the features we want, compare what is available in our price range and lock ourselves in for the next foreseeable future.
Considering value for money and what I'm gonna call 'Cost Per Glance' (CPG) a long-held watch is something that carries its weight.
I've owned two other sports watches in my time (a Casio ProTrek (2004-2010), Garmin Fenix 5s (2016-2023) and after wearing and testing for a month, I'm now sold on the Suunto Vertical (2023-?). It's definitely on the major investment end of the spectrum at $1299AU for the top-of-the-range titanium or $999AU for the stainless steel version, so yep, I plan on wearing it for a very long time.
Navigation function
Finnish brand Suunto has been associated with outdoor pursuits since 1936, when they started manufacturing compasses; or what I affectionately call, 'analog GPS'. Bloody reliable things they are that never need recharging.
Their company name comes from the Finnish word suunta, meaning direction, path, bearing or heading. 

Fun Fact
Now, as much as I love a good compass and practising traditional navigation, I enjoyed the nav features on this smartwatch and found them intuitive and easy to use. 
The navigation functions in this watch are excellent and mimic many of the features you may already use in a navigation app on a smartphone.
Maps
By connecting to the Suunto app whilst on wifi, I was able to download free topographical maps (Open Street Maps) for the whole of NSW and QLD. The 49mm real estate of the Sapphire crystal face really comes into its own when using the maps. Tracks were clearly defined, along with contours and the simple 3-button interface makes it easy to move around, along with the touch screen. A word of warning here though: don't be in a hurry to download the maps, like before you run out the door for a trip. Even with download speeds from my home NBN of 40mbps, it still took a couple of hours for each state.
Map Display
You can choose to view the map in 3 ways, I found the Outdoor view the most practical and was something that I was visually familiar with. At the start of each activity, you can opt to have the map off/on if you are wanting to conserve battery.
Navigation types
I tested Hiking and Trekking sport modes. Within these you can choose a navigation 'type' (or none at all) from breadcrumb, POIs (Point of Interest), Routes, Bearing, Snap to route or Compass. You can also direct it to a simple back-bearing, taking you back to where you started.
Position Format
For us bushwalking/hiking/trail running types, we can select from the most common formats used in Australia:  UTM and MGRS. If you really can't pull yourself away from the lat/long (you wacky maritime, 4WD and aviation types), don't worry, all 3 of those WGS84 formats are in there too, along with a bunch of other international ones.
Battery Life
With the Vertical sports watch, Suunto have really looked at battery life. The titanium solar model has incorporated a feature that I love – solar charging. One less gadget to worry about draining my precious power bank energy at camp. In the month I've been using it, with an average of 3 recorded hiking activities per week (up to approx 7 hrs each), I've only recharged it twice.
The specs are pretty impressive with Suunto stating that in time-only mode, the titanium solar version should last 12 months (WTF!?) on one charge and up to 60 days for the non-solar version. That is crazy long battery life; way in front of its competitors.
It supplies handy alerts before you start an activity to show you how many hours you can exercise on the current charge. You can easily switch between different power modes that adapt the watch's capabilities and services to save and conserve power. Choose from Performance (max features and battery use), to Endurance, Ultra or Tour (minimises power-hungry features and saves battery).
After a while, the Suunto Vertical gets to know you and the activities you do. Based on your history, it will advise you to change power modes if it thinks you'll run low. Smart.
App and analysis
I have to admit, I'm not one of those gear reviewers who goes into minute technical testing detail, that's not the kind of person or bushwalker I am. If you're after that type of gear review, maybe check out Ray from DCRainmaker. Given that, here's my summary of the app features and analysis screens that I do use and find helpful.
Coming back to my visual bias and focus, there's a lot I love in this part of the watch and the Suunto app.
Take a look at the web interface display of day 4 of my Sunshine Coast Hinterland Great Walk. You can play the 3D video of the red track worm and maybe get a bit excited about doing it yourself one day!
What I love
Design and interface
There's no denying I'm a visual person. I love good design and appealing interfaces that are intuitive; I'd go so far as to say, humanise the binary of technology. I believe Suunto does this better than any other sports watch that I've tested. The menu layout, 3 button or touch screen interface and colours, all conspire to make the Suunto Vertical easy to use straight out of the box, without feeling like I need to read a wordy manual. It just makes logical sense.
Weight
I admit that I was nervous about this. Having tested the Suunto Baro HR 5 years ago, having the weight of a small weapon was the one major drawback, especially for women. With the use of titanium in this new model, they've cracked the code of a lightweight effortless watch, packed with features, solid battery life, excellent user interface and (this couldn't go without mention) an orange band 😉
Sunrise/Sunset alarm
I love that I can choose to be woken every day 15 mins before sunrise (to greet the day) or 15 mins before sunset (to close my greenhouse and protect my veggies from frost). 
Solar charging
I love the handy graphic that shows how much solar power is being harvested.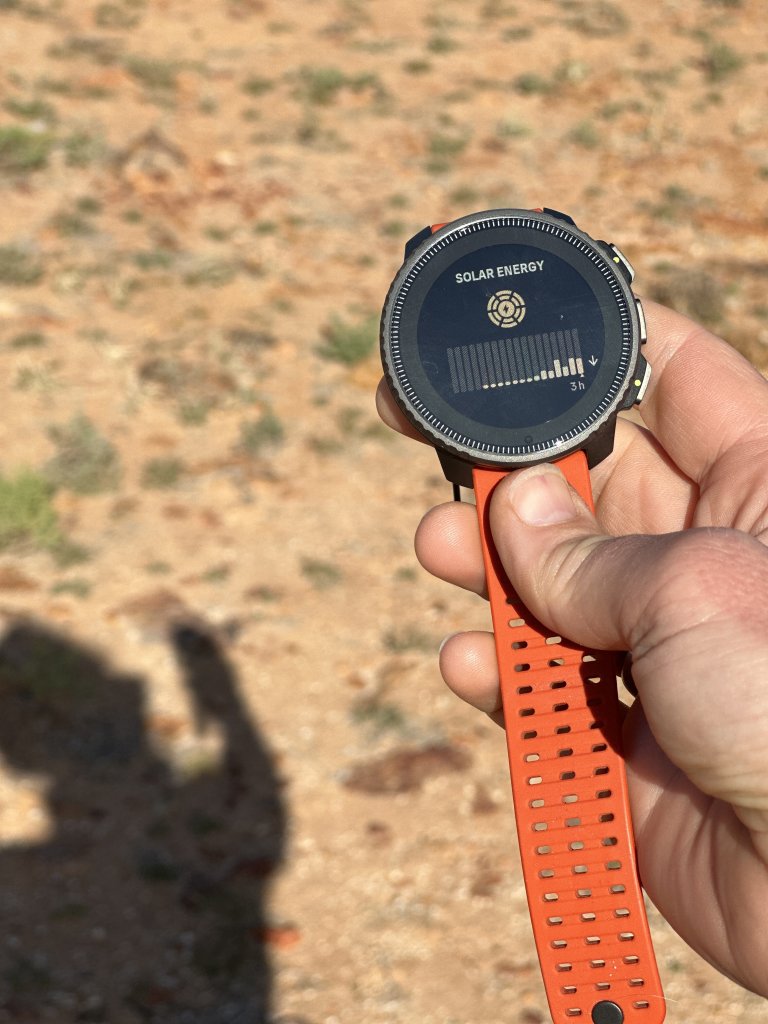 Suunto App
Built into the Suunto App is a 'coach'. It doesn't need to be hooked up to any other training app (although you can if that's your bag), which let's me know how I'm doing. The combination of the language used and design for this doesn't translate into snarky or preachy – more like a helpful and encouraging friend. Nice.
Customised activity mode
When I'm in the middle of a bushwalk, there's a bunch of information that I find handy to have at a glance. I designed my perfect screen displays that work for me. It's easy to do with the Suunto app and means the valuable real estate of the 49mm screen isn't wasted with reporting things you don't need. Here's a look at the screen setup with my preferences.
What I reckon they could work on
Number of alarms
Apart from the sunrise/sunset and a storm alarm (linked to the barometer), there appears to be only 1 other alarm in the menu that you can set for either once, weekdays or daily. No biggie, I'll just change my habit and use my phone for multiple alarms in the same day.
Auto pause during activity
This feature activates when you move less than 2 km/hr during an activity. For the sadists amongst us who relish off-track scrubby pursuits including my favourite, wombatting, where physically taxing exercise is taking place at less than 2km/hr (I recall one heinous adventure at 250m/hour), it doesn't really work for us. Maybe they should add wombatting to the list alongside obstacle racing, roller skiing, Nordic walking, paragliding, SUP or mermaiding (!), which are options.
Hiking activity displays pace not speed
Out of the box, I found that the Hiking activity displays my speed as pace (minutes per km) instead of speed (km/hr). Again, not a biggie, it just meant I needed to set up a custom activity. 
I was provided this product for review purposes. You can buy my time to test, review and write – you can't buy my opinion.