Apart from a map and compass, the most important tool for navigating in the bush is a watch. Just a humble, everyday, bog standard, time telling watch. It helps you work out how fast you're travelling, how long it will take to get somewhere and offers clues to your location and finding your way.
These days, a watch can be so much more than just a timepiece and like choosing a mobile phone (dumb or smart), the same options exist for watches.
I've been wearing a Casio Protrek dumb watch (circa 2000) for ages and I recently went looking for a replacement and in doing so tested the top of the range offerings from the leaders in the market, Garmin and Suunto. Here's my report on the Suunto Spartan Baro HR.
How did I test the Suunto Spartan?
I came into these tests blind, having no expectations (or really any understanding) of what they do, their capabilities or the ways in which they can have the ability to change or affect behaviour. I tested the watches over a period of 3 months and wore at least one every day. This included sedentary office based days, urban walks or runs, bushland trail runs and hikes, weekend bushwalking adventures and up to the epic 9 day South Coast Track in Tasmania's Wilderness. Oh… and sleeping too.
Where did I not wear them?
The very nature of testing outdoor kit implies that you'll be getting dirty with them, but I chose not to wear them canyoning (although they're both waterproof) due to the high risk of scratches on the faces. [nb: what blew me away is that I've now been wearing the Suunto for 4 months and I haven't scratched it once!]
What do I look for in a watch for the outdoors?
I'm a simple, no nonsense kinda bushwalker. Reflecting on the functions of my old watch that I used the most, I wanted:
Time (dur), day and date

Altimeter (how far up this massive hill am I?)

Barometer (is the air pressure dropping? Is that dirty big cloud bank heading our way?)

Stopwatch (am I getting up this massive hill quicker than I did last week?)

Waterproof
And that's kind of it. Simple. Basic and no wonder that the old Protrek can do this on solar power and never missed a beat in 18 years. So in case you're wondering what that means, I'm not really that interested in any GPS or navigation capabilities, as I use navigation apps on my phone as a GPS and am also pretty wedded to my trusty map and compass.
What type of a test did I do?
There's lots of types of gear test reviews available out there. From the super-techy that goes into the minutiae of specification details (mostly written by men, strangely enough), to the "Did they even try it out?" review that simply acts as a thinly veiled attempt to hide affiliate advertising to Amazon shops and is laden with SEO.
My reviews are neither of these. Mine are personal opinion based, borne from actual use in likely environments and circumstances, where you would expect the product to perform as advertised. I'm not one for eensy-weensy techie detail, so if you're looking for that type of review, I can suggest RoadTrailRun's review. 
First Impressions
The first thing to strike you (and let's hope it doesn't, 'cause it would hurt) about the Suunto Spartan Baro HR watch is it's size. It's big. On a small wrist – really big. Now that's not necessarily a bad thing and it's certainly a look that a lot of people can pull off.
Chunky, but not clunky, it's deceptively light for its size. In fact, weighing 77 grams on my scales (Suunto say 74 grams) it is only 10 grams heavier than my older and smaller Casio ProTrek PRG-70 circa 2004. Only 10 grams for a load more features and technical abilities is amazing.
The brushed gunmetal grey body is a great contrast to the bold amber rubbery silicone, slightly stretchy, watch band. Personally, I love the colour and the angled look of the watch band, but the rubbery feel can sometimes make it a bit fiddly to do up as it lacks structure.
Closer Inspection
A surprise for an outdoors/adventure watch, the vast 50mm face (and 16.7mm wide) is offered little protection by way of scratches and impact, with the mineral crystal face appearing to be set down within the stainless steel bezel by only 1mm. A stark contrast to the more robust earlier Suunto models, such as the Suunto Core models, favoured by rock climbing and canyoning friends of mine. Perhaps more surprising is that I managed to get to the end of the test period without scratching it. The bezel ring is highly polished, nicely catching the light in contrast to a light grey brushed metal outer ring.
Three raised buttons sit around the right hand side of the watch, leaving the left side bare, yet not appearing unbalanced.
Operation and interface
With touchscreen operation working in conjunction with the buttons, there's a familiarity to navigation from iOS devices and that user experience, which sees me setup and ready for my first activity 5 minutes out of the box (it comes new with about 40% battery charge).
Iconology
A push of centre button, then a single swipe down brings up the full screen colour icons of the main menu. These are clear and I find them visually appealing.
WATCH FACE
Swipe up for:
Exercise (Start an activity or 'Move' as Suunto call them)

Navigation (basic POIs, Routes, Location, Compass)

Logbook

Timer

Settings
Swipe down for:
Activity (Weekly average steps, current daily steps, HR)

Training stats (by activity)

Recovery time recommended

Sleep

Outdoor (Altimeter)
Access into these sections is then done by either a single tap on the face or push of the centre button (which acts like an 'enter' button).
Swipe and touch screen functions in the rain
During the testing period I heard several people comment on Suunto's touch screen ability to handle rain or wet conditions. I used the watch in the rain and the shower and only had it stumble once when trying to scroll through a menu. The backup to this is the buttons which also act as up and down arrows and the centre button for enter. It's water resistant to 100m.
Personalisation
Understanding that not everyone is created to use a smartwatch the same way, there are ways to personalise what information you see, along with how and when you see it.
For starters, what your 'home' watch face looks like and the colour can be changed. Do you like clock hands over digital display? No problem. Do you want a clean display with a minimalists vision or something that gives you further information?
For me, I chose the old fashioned hands with day and date as a starting point. At the touch of the centre button this then shows me my current altitude, push again to show a 2nd time zone, visual representation of my daily steps to goal, battery life and a timer. Colour wise, I chose a blue highlight.
The other key personalisation feature of this watch is when it comes to the activities or 'Moves'.
For the first part of the testing period I used the watch OOTB (out of the box) with the inbuilt watch faces associated with my main activities being, Hiking, Walking and Trail Running.
If you're happy with the watch faces that come automatically with these Moves, that's fine and you don't need to tweak anything. However, you could probably understand my frustration at not having Time of Day on the watch whilst in a Hiking activity. [I know, right? Who'dda thought that I'd want a watch to tell time? Huh?]
This is where I took full advantage of the Suunto Desktop App, where by plugging in your watch you not only charge it, can update the software (they're releasing fixes and new features regularly), but can design the types of information that you see on your faces, when and how.
My personalised Hiking Move Face now features 7 pieces of information on the main screen. This is where the 50mm face comes to the fore, filled with stuff that is useful to the current Bushwalk that I'm on:
Distance

Duration

Current altitude

Average km/hr

Ascent

Descent

Time of Day

Heart Rate Zones in ring around outside
By swiping to the next face, I added another 5 pieces of information that can be helpful to know during bushwalking:
Current Heart Rate

Average HR

Sunrise

Sunset

Calories Burnt
Storm Alert
I'm a little unconvinced about the practical application of the Storm Alarm. In the 3 months I've been wearing it, it went off twice. First, on the South Coast Track in Tasmania on a calm, clear, blue-bird day. Although we were aware that a pretty serious low front was heading our way (in 3 days) time, this alarm sent us scrambling, then looking around puzzled. As it turned out, the weather front missed us when it swung north in the forecasted 3 days later. The second time the alarm went off, it did accurately predict a light storm passing through the Blue Mountains 1 hour before it happened.
Altimeter
Combing the readings from both barometric pressure and GPS ("FusedAlti") promises more accurate data about your current altitude. And although it can give you an altitude reading in daily mode (the base watch face), it needs to be woken up with a button push to display this. Personally, I'd love altitude to be a permanent display option on a watch face, not necessarily when running an activity. The Aussie rep for Suunto welcomed this feedback and will pass it on to the design team in HQ. He tells me that they're pretty good with making tweaks to the product software when improvements are identified. Oh and just in case you wondered how slow you're going up that big hill, you can also find out your average vertical speed km/hr. Some things are better not known!
Battery Life
One of the most contentious issues about smart watches is the battery life and the regularity that you need to charge them. If you are the type of person who loves trawling through online forums you can find pages and pages of discussion about different people's experiences… knock yourself out. Here's mine…
OOTB, the Suunto needed to be charged daily if I'd done an activity, actually, it pretty much needed daily charging regardless. HOWEVER, after jumping into the settings in the watch (as well as the personalised Move faces), I managed to get up to 40 hours life out of it on the South Coast Track even when running an activity. I was pretty impressed, well as much as I could be whilst the lingering thoughts of the old solar powered Casio tormented my powerbank supply. Sure, this means making sacrifices in areas like choosing to put the face to sleep when in an activity (wake up with a button push) and choosing a lower accuracy for the GPS/GLONASS, but none of this was a big concern for me.
Back home, I'd be more likely to tweak the settings a bit for a middle ground, but even on these highest power saving levels, the time of day watch face is always visible.
Phone App & Desk top Syncing
Whilst the Logbook menu item on the watch can give you access to records of your activities to date, along with some stats, the real meat of an activity can be viewed in a much more appealing and visually pleasing style when you sync with the Suunto smart phone app, Movescount or even better, the desktop.
I found the app well laid out and visually appealing, making good use of colour and clear user interface, revealing the last 30 days of activities and associated stats.
Nice features include adding photos to your move where it automatically identifies photos you took on your phone during the activity, adding tags and descriptions and the slightly gimmicky ability to produce a 3D animation of your track in a short movie file that can then be saved to your phone. OK, I reckon this is pretty cool and is a nice reminder of your day and all those hills you slogged up. This is done natively, inside the app, without having to hook into a third party app.
In addition to the phone app for syncing, you can also sync with the Desktop app. This is handy for office workers, as you could charge your watch daily, whilst seeing even more stats. The Desktop app is also when you update the software on the watch.
Communities
Appealing to people interested in the accountability (and bragability) and motivation of training with and alongside other people, Suunto integrates with online training communities such as Strava and MapMyFitness, plus others. This can also tap into the psychology of game-ification, which smart watches can allow. Badges, awards, cheers, etc all give us that little dopamine feel-good hit and can subconsciously help us want to do more.
Notifications
With a nod to the Dick Tracy Apple Watch style, whereby you can elect to connect your watch to your smartphone via Bluetooth, you can receive SMS, Calendar and email notifications on your watch. This is the type of thing that benefits from the bigger screen of the Suunto, where more of the message is displayed and you can scroll down to read more. I have these set with a vibrate and found them helpful, especially if I've gone out for a walk or run and lost track of time or forgotten about that conference call at 8am… eeek!
Health Monitors
Remember when everyone started talking about 10,000 steps per day? This was back at the start of the wearables revolution, when Fitbit really jumped into the market and convinced everyone to wear a modern version of a pedometer. These days, whilst Fitbit struggled with the lack of resistance for their gadgets, smart watches have jumped in to doing this and so much more. If you wear your watch 24/7, you can get a fairly accurate picture of your daily steps, calories burnt and your sleep.
Just a note on steps though, I'm slightly unconvinced by the ability of any smartwatch to accurately count steps. But then, how accurate do we really need them to be? When wearing both the Suunto and Garmin, they sometimes differed by over 2000 steps. Wacky… and don't get me started on using walking poles as this seemed to really mess with their collectively, digital, counting heads. [The Garmin once congratulated me 3 times in two hours for reaching my 10,000 goal during an activity.]
Sleeping with the Suunto took a couple of nights to get used to, due to the size and being conscious not to whack myself in the head. It also makes you aware of the disco-strobey green lights that are usually hidden at the back of the watch that tracks HR and other stats. This is easily dealt with by making sure the band is done up firmly. Oh and it's nice to wake up and have the watch tell you, "Good Morning", followed by your sleeping stats such as duration and length of deep sleep.
Suunto Movie created in MovesCount App
Navigation
GPS/GLONASS means that both the Americans and the Russians are finally playing nice with each other inside this watch when it comes to finding out your location. Check out this review for a good series of tests on the accuracy of the GPS, as this isn't my primary purpose for using this watch. This watch model doesn't come with maps and even if it did, I'm not a fan of this type of navigation. As a bushwalker (who loves navigating and maps) I like to see more of my area and bigger picture than a watch face can ever give me, to see where I am in relation to features several kms away and to be able to relate ground to grid.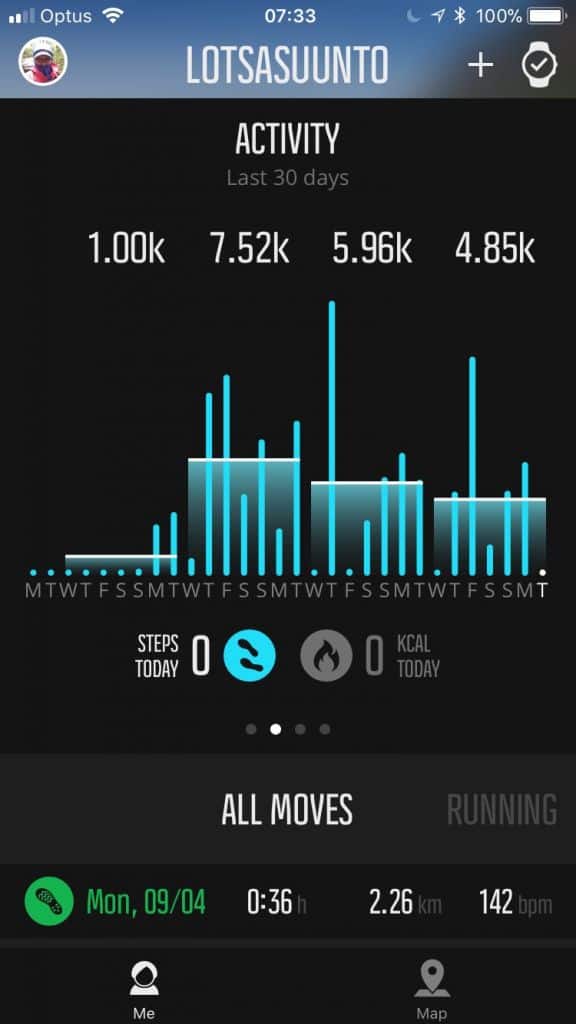 MovesCount app and Desktop can display a variety of different data
Heatmaps
Just in case those wacky terrorists needed more info than what they got in StravaGate 2018, the heat maps in the MovesCount app is helpful if you're looking for ideas on where to run, hike or walk. As someone who travels fairly regularly for work, I found this helpful in choosing somewhere for an early morning run from a hotel.
Behaviour Change
Something that really surprised me about wearing this watch, is what the 'wearables' business is built on. It's the way in which devices and tracking your statistics can affect behaviour change, often using gamification techniques. There's been some research done to look at this from a variety of universities and as a user, it's pretty interesting. It taps into not only the power of community and accountability (eg. forums and online tribes), but the psychology of challenging yourself and dopamine 'rewards' from improvements in performance.
I can't deny that being able to look back over my activities, especially when comparing the same bushwalking route or track done several times over weeks, there's a warm and fuzzy feeling from seeing a change in the numbers. This, of course, is not everyone's cup of tea, however as I was training for a particular trip (Tasmania's South Coast Track), where I knew I needed to build stamina and strength for hills and pack weight, being able to see evidence of increasing fitness (as opposed to just 'feeling' like the climb up the Giant Stairs at Katoomba was easier) was a powerful motivator and massive encouragement.
Conclusion
There's lots I like about the Suunto Spartan Baro HR. Personally, I like the chunky, sporty look with the bold amber watchband. Most of all, I like the 7 key pieces of information that I can program into my personal Hiking Activity ("Move"). At a glance, I can see everything I want to in relation to a trip into the bush without scrolling through menus.
And when I look back to what I went looking for in a watch before this test started (ie. pretty basic), little did I know what I'd now go looking for… after.
If you're the type of person who wants to see stats and data about your wilderness activity (oh and it tells the time as well), then check out the Suunto Spartan Baro HR.