Apart from a map and compass, one of the most important tools for navigating in the bush is a watch. Just a humble, everyday, bog standard, time telling watch. It helps you work out how fast you're travelling, how long it will take to get somewhere and offers clues to your location and finding your way. [And if you're a bit old school, you can use the time to work out which way is north!]

These days, a watch can be so much more than just a timepiece and like choosing a mobile phone (dumb or smart), the same options exist for watches.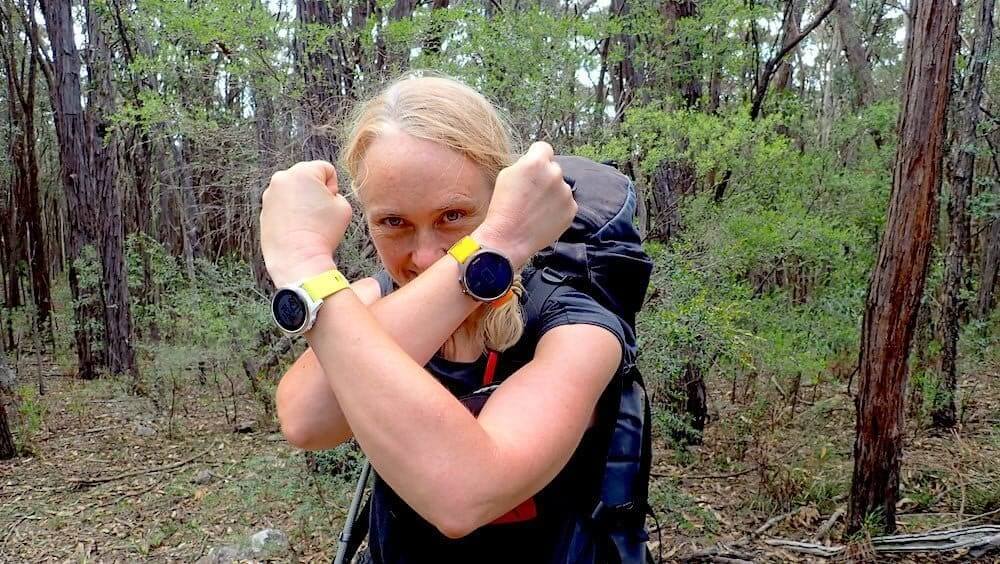 After wearing a Casio Protrek dumb watch (circa 2000) for years, I went looking for a replacement in 2018. I got to test the top of the range offerings from the leaders in the market, Garmin and Suunto. Here's my report on the Garmin Fenix 5S.

How did I test these smart watches?
I came into these tests blind, having no expectations (or really any understanding) of what they do, their capabilities or the ways in which they can have the ability to change or affect behaviour. I tested the watches over a period of 6 months and wore at least one every day. This included sedentary office based days, urban walks or runs, bushland trail runs and hikes, easy canyons and climbing, weekend bushwalking adventures and even the epic 9 day South Coast Track in Tasmania's Wilderness. Oh… and sleeping too.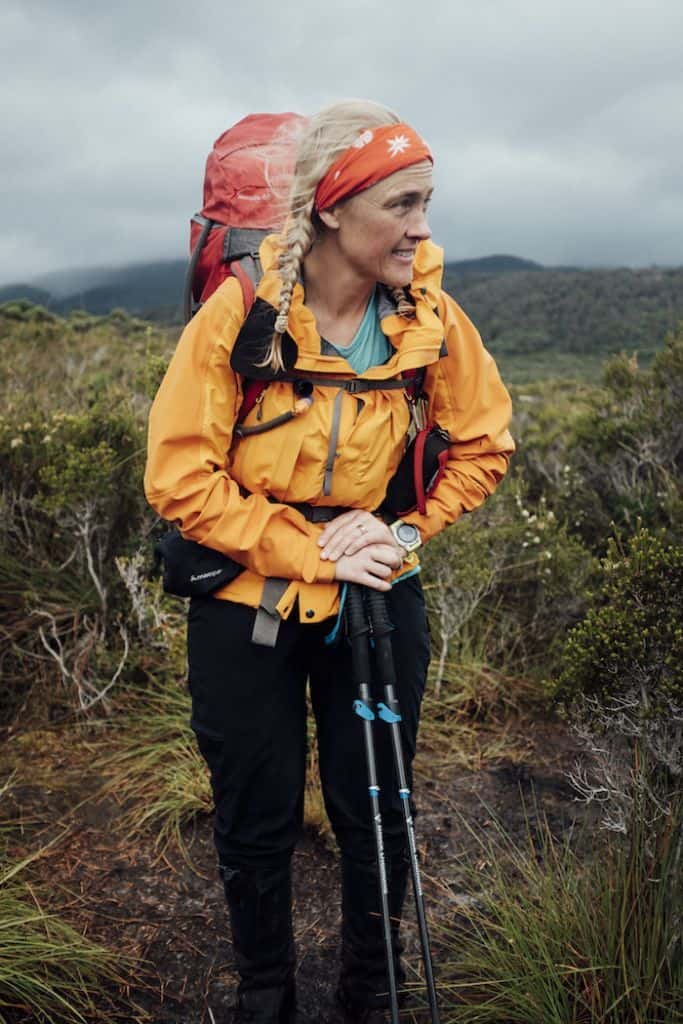 What did I look for in a watch for the outdoors?
I'm a simple, no nonsense kinda bushwalker. Reflecting on the functions of the Casio Protrek that I used the most, I wanted:
Time (I know, right?), day and date
Altimeter (how far up this massive hill am I?)
Barometer (is the air pressure dropping? Is that dirty big cloud bank heading our way?)
Stopwatch (am I getting up this massive hill quicker than I did last week?)
Waterproof
And that's kind of all I went looking for at the start. Simple. Basic and no wonder that the old Protrek can do this on solar power and never missed a beat in 18 years. So in case you're wondering what that means, I'm not really that interested in any GPS or navigation capabilities, as I use navigation apps on my phone as a GPS and am also pretty wedded to my trusty map and compass.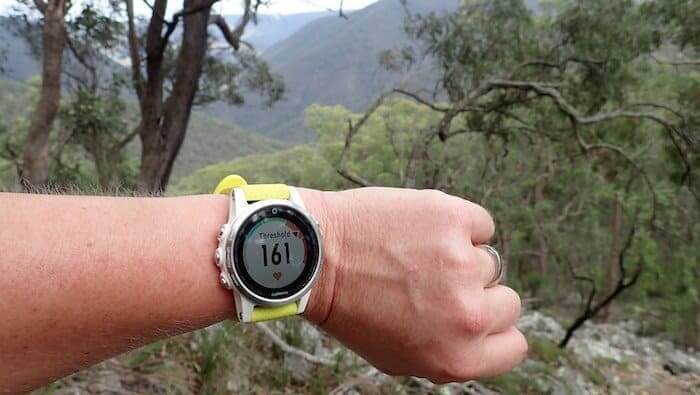 What changed after using the smart watches?
There's been a huge shift in my awareness of how often I move and by tracking this I've been able to see improvements to my overall fitness. It's not just the pedometer on the face that reminds me instantly that 1500 steps around my office isn't really going to balance out the almond croissant at hangry o'clock, but the gamification of syncing with the Garmin app (and more recently the cult of Strava) provides a nice journal of adventures where you can add comments and photos.
I really surprised myself how much I love a smartwatch. It's like flying business class (not that I do that), but once you've tasted life in front of the curtain, it's hard to go back. Now I know what a watch can do for me, I won't be going back to a dumb watch.
What type of a test did I do?
There's lots of types of gear test reviews available out there. From the super-techy that goes into the minutiae of specification details (mostly written by men, strangely enough), to the "Did they even try it out?" review that simply acts as a thinly veiled attempt to hide affiliate advertising to Amazon shops and is laden with SEO.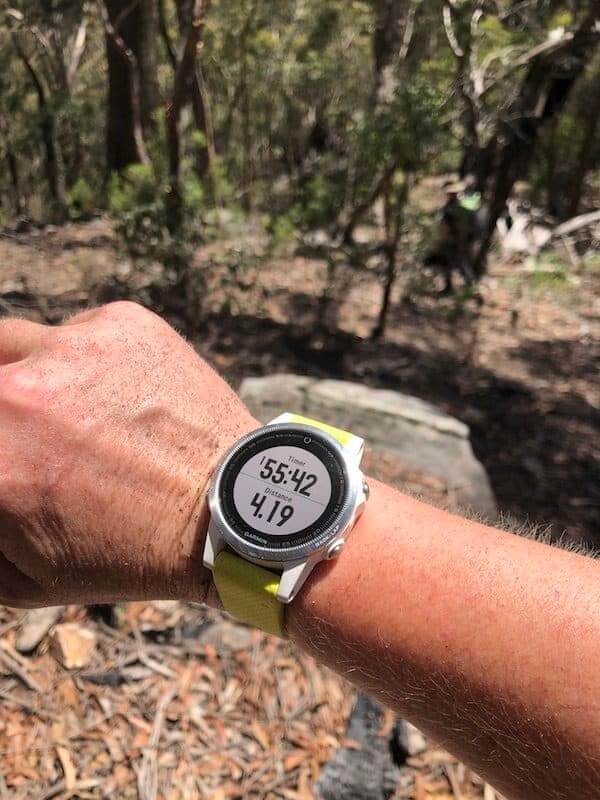 My reviews are neither of these. Mine are personal opinion based, borne from actual use in likely environments and circumstances, where you would expect the product to perform as advertised. I'm not one for eensy-weensy techie detail, so if you're looking for that type of review, I can suggest this wareable review.
What I didn't expect
There's been a lot of talk about the benefits of sleep over the last couple of years. The watch made me super aware of the hours and quality of my sleep, as well as stress levels. Although I wonder at the science behind the measurement of stress, anecdotally I found it accurate during a period of high stress.

First Impressions

The first time the Garmin Fenix 5S caught my eye it was on the wrist of my accountant. This should tell you a couple of things:
My accountant is an active chick
This watch can go from useful outdoors gadget to office chic.
She had it teamed with a white watch band, which along with the white body and chrome button and bezel detailing, gave it a classic, crisp look.

As a lover of colour, I prefer the citrus yellow, silicon band that came with my test unit. As my particular style of hiking, bushwalking and search and rescue work usually puts me off-track, in scrub bashing, dirt-loving environments, I'd be worried that the white band would show the dirt.

As it turns out, I found that the easy to use, silicone QuickFit band, did tend to hold stories of past trips in the millimetre wide dimples that cover it, however being waterproof (to 100m), I found that simply wearing it in the shower and using a bit of shampoo on the band, easily brought it back to clean.

It certainly must be a challenge for smart watch designers to be able to cram multitudes of features inside a very small space. However, the Fenix 5S doesn't look or feel chunky at all. With a 42mm round face, standing at 14.5mm thick and weighing 67 grams (with silicone band), it has the ability to pack a featured sporty punch, whilst retaining classic lines and feminine styling. Interchangeable bands add to the options available, giving you more choice to match your mood, outfit or personality.
Having put it through several challenging paces and spaces, over the past four months, I can see that the angled stainless steel bezel of the face is hiding some subtle scratches within the surface and I somehow managed to put a tiny chip in the sapphire crystal face against the bezel during a particularly tough adventure. Otherwise, it's stood up well. Miraculously, the white fibre-reinforced polymer of the body (with metal back) has stayed very white and clean.

Buttons

There are five raised buttons, three on the left and two on the right. The top right button is slightly larger and as the key button to activate or pause an activity (when you might be running), this makes good sense.

Personalisation

Apart from the ability to switch out the bands, like many smart watches, you can choose from a variety of OOTB (out of the box) watch faces all downloadable from the Garmin Express desktop app. Depending on your preferences, you can change the type of data that is seen on the basic face, the colour, font and styling or even use a photo as a background.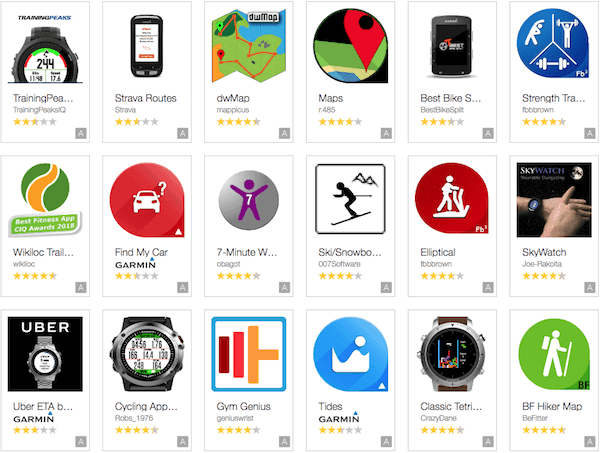 Apps and Widgets – Garmin and Third Party

One of the standouts of the Garmin Fenix range, is the huge number of 3rd party (and Garmin) apps that you can download, adding extra features, information or designs to the watch.

To be honest, this isn't something that I thought I'd use, however when I found that there were features I was looking for in the watch that it didn't come with, I was happy when able to find them in the App Store.

I chose to download a basic Sun and Moon time (always handy to see what time sunrise and sunset is when you're out in the bush) and also a basic weather. Whilst the Sun & Moon app works standalone, the weather one required a sync with the Garmin mobile App Garmin Connect, to draw down the latest forecast.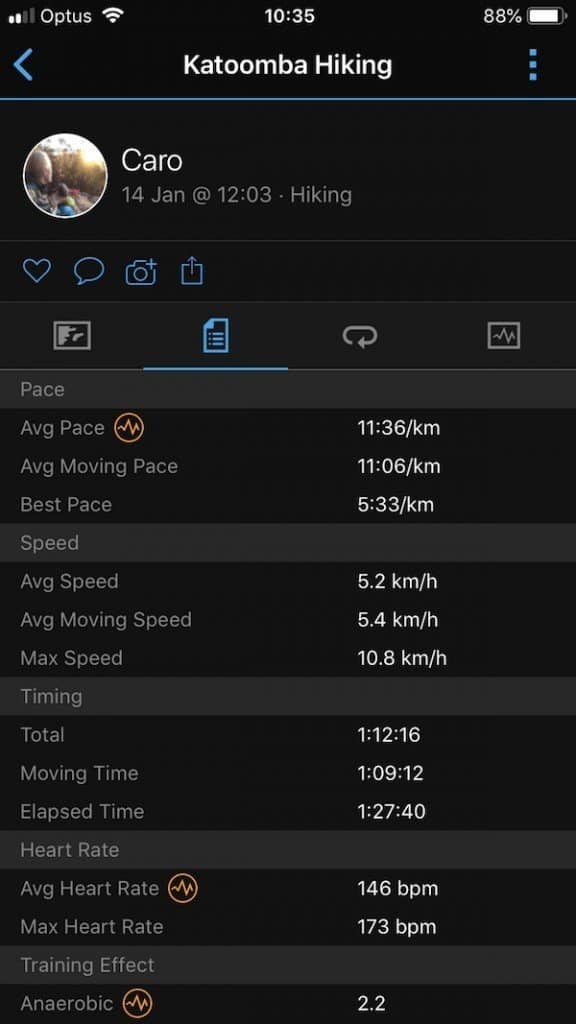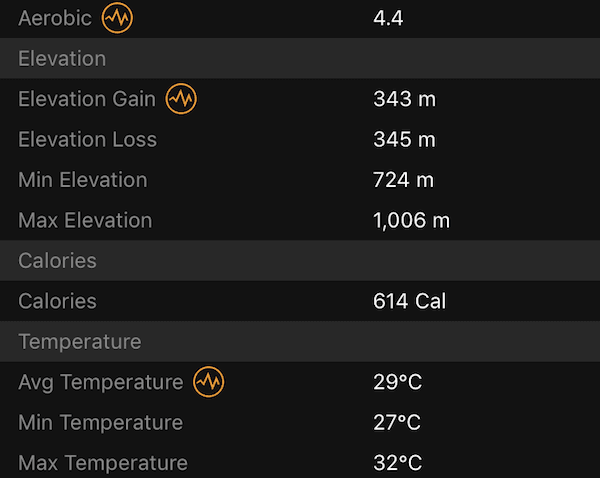 If apps and extra features are what floats your boat, then you'll find everything from an app that can give you a 3D fly-thru animation of your outdoor activity (eg. Trail run or hike) to simply adding your favourite photo to the watch face. The most popular apps are currently:
Training Peaks Daily Workout
The most popular Widgets tend to be weather or additional stopwatch/timers, but there's also random selections like Air Quality Manager and WaterLogger to help you monitor your water intake.
Menus and basic user interface navigation

The standard out of the box menu navigation, is what gives away the heart and soul of this great device as something designed for athletes and those with fitness as their main goal.

Heart rate (including previous 4 hrs in graph) / line chart average resting heart rate last 7 days
Training Status and load (including what I'll call, 'The Arrow'* / VO2Max / Recovery / Training Load / Race Predictor (cough)
Last sport (summary of distance, time, ascent) / History
Steps for the day (number and visual representation of percent completed towards goal) / bar graph of last 7 days steps / bar graph last 7 days distance
Calories burnt (active and resting) / bar graph 7 day history
Compass // Altimeter // Barometer (one screen)
Altimeter profile (including previous 4 hrs in graph)
Notifications (Bluetooth connection to phone, eg: emails, Messenger, podcasts, SMS)
Temperature (including previous 4 hrs in graph)
As a multi-sport watch, it comes with activity settings for many sports and activities, but its strengths sit with running, cycling, trail running, golf and hiking.
Behaviour change and the gamification of fitness

The Arrow and Training Effect
The blessed arrow. This is within Training Status and is a quick visual look at how you're doing overall. If the arrow is up… you're training is up. If it's horizontal… you're maintaining and if it's down, well.. the couch or Netflix has been calling louder than stepping outside the front door. I've found it a tiny psychological weapon in firstly making me feel crap, but then motivating me to move that arrow to a better position.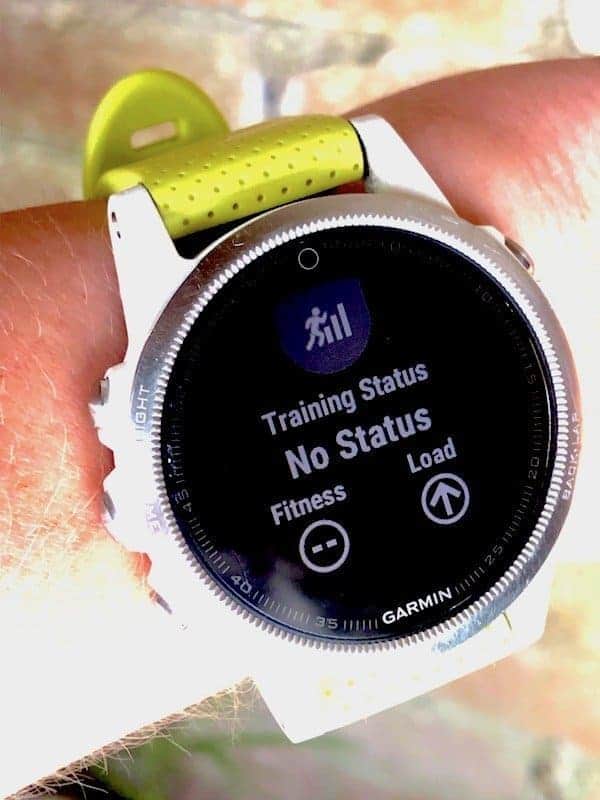 Similarly, the Training Effect data lets you know how effective each activity has been on both your aerobic and anaerobic fitness.
VO2 Max and Race Predictor

A VO2 Max test (when done under scientific conditions) is a gold standard in measuring cardiovascular fitness. Although, simply wearing a smart watch is never going to give an accurate measure of this, I have still found myself checking in with this measure as an indicative result of how my overall fitness is improving. I've fallen for the psychology of gamification and the visual design of how it's represented makes me want to push on to the 'next colour/next level'.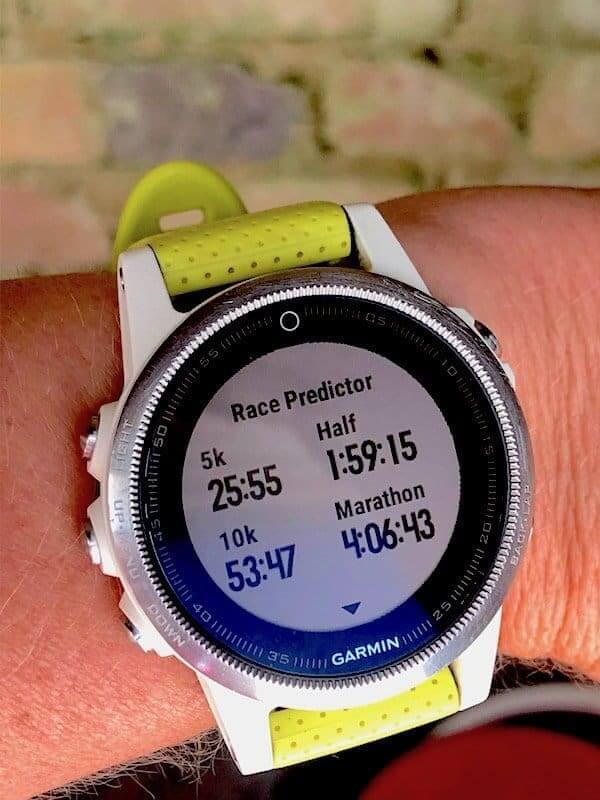 So whilst I like the VO2 Max approximate measure, I still laugh when I see the race predictor. Seriously, no. This is waaaay over estimating my abilities and assumes I'd be up for a marathon (cough).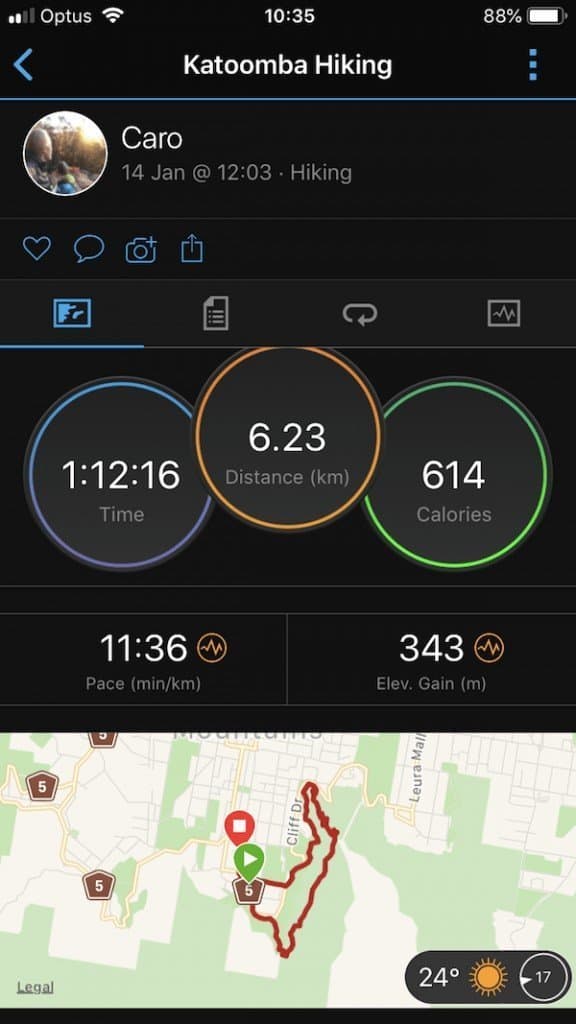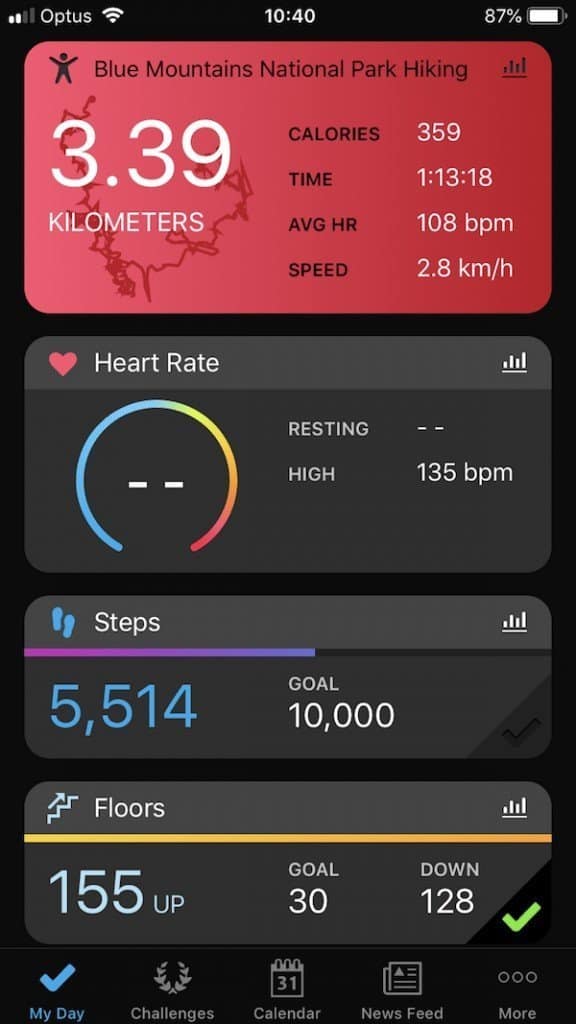 Smartphone and Desktop App
Garmin Connect is the phone app (iOS and Android) that allows you to sync your watch via Bluetooth and see all the data from your activities represented visually. It's intuitive and if you're into data analysis, offers history and details of your activities and performance.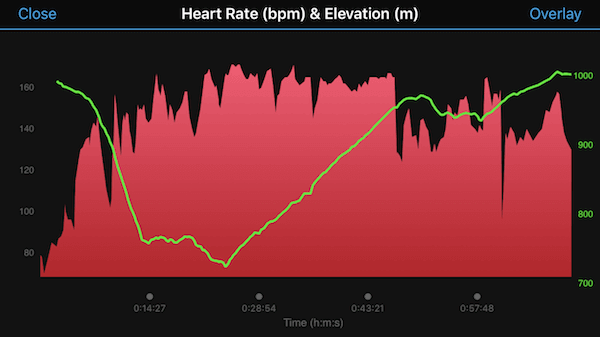 If you the type of person motivated by badges (is anyone?) you can find all that kind of stuff in the app also. However, if you're really wanting to track and compare your performance, then I'd recommend joining the cult of Strava and the rabbit hole that it opens up for you. The Fenix 5S connects easily to Strava.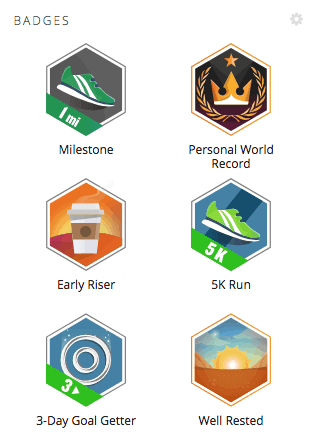 For when you're back at home, the Garmin Connect desktop app offer all the capabilities of the smartphone app and more. To drill down into your performance, plus reflect back on your adventures/activities (like a journal) it can be a great time waster!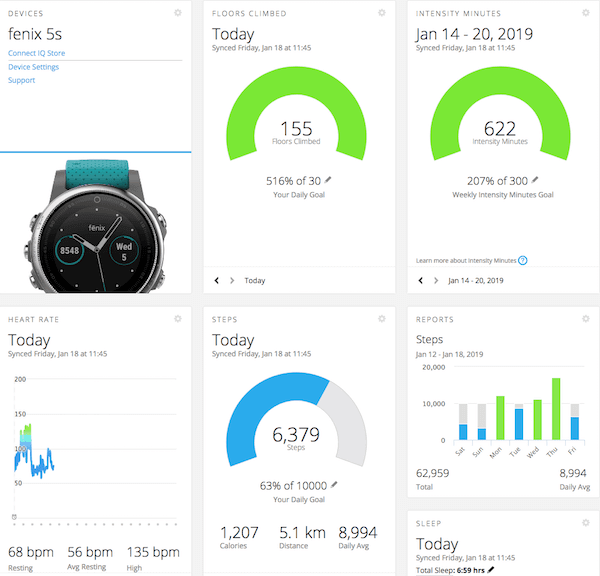 What I liked
Being a visual person, I like the clean colourful screen interface on a white background and the graphical representations of data.
The basic functions available have proved more useful than I thought. I now use them all the time.
Size (and weight 67 grams) is good for a womens wrist and works for business and play. It doesn't scream, 'I'm a sports watch!!' It's completely wearable.
I've (unexpectedly) fallen for the gamification of fitness and found it very motivating.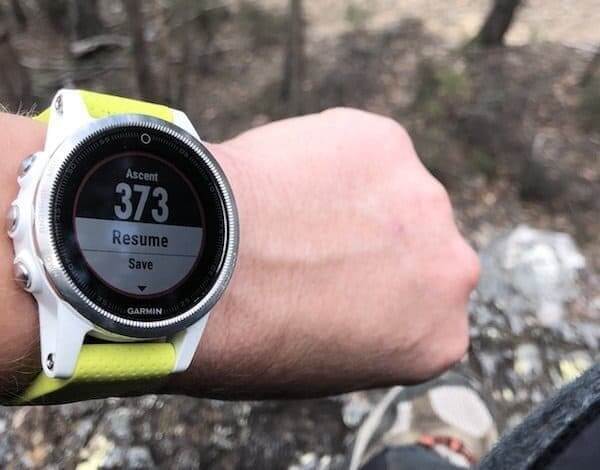 What I didn't like
It doesn't show descent in metres of an activity, only ascent.
The smaller screen and emphasis on great graphics means that you can't see all the data you might want on one screen, so you need to scroll through for extra info. This is different to the Suunto with it's huge real estate offers lots of valuable data at a glance, however it comes as a massive package overall.
I found the menus and buttons not as intuitive as the Suunto and it took more focus to get going with it out of the box.
Battery life when running an activity. It didn't last a full day (12 hr) activity [The Ironbounds on the South Coast Track]. Although it can go up to 9 days on a single charge in smartwatch mode, pushing it to record and reflect data dynamically throughout a full day in the wilderness really sucks the battery.
When you pause an activity you can't see the time of day
There's loads of features and settings that I never used and lots that I probably don't even realise it has. Things like being able to store around 500 songs (which you can play via Bluetooth headphones, dear God not speakers) and the GPS capabilities (you can't load maps onto the 5S, but can with other Garmin models).
Overall, this watch packs a load of features (which the average user won't ever see the limits of) for keeping an eye on and motivating your fitness journey, all within a user-friendly, smart package.
Buy Garmin Fenix 5S
Buy the Garmin Fenix 5S here through Wild Earth.