Whether it be a canyon trip, a simple creek crossing, fording a river or the good ol' stuff falling from above – there's lots of reasons why you might end up with wet socks and shoes in the bush.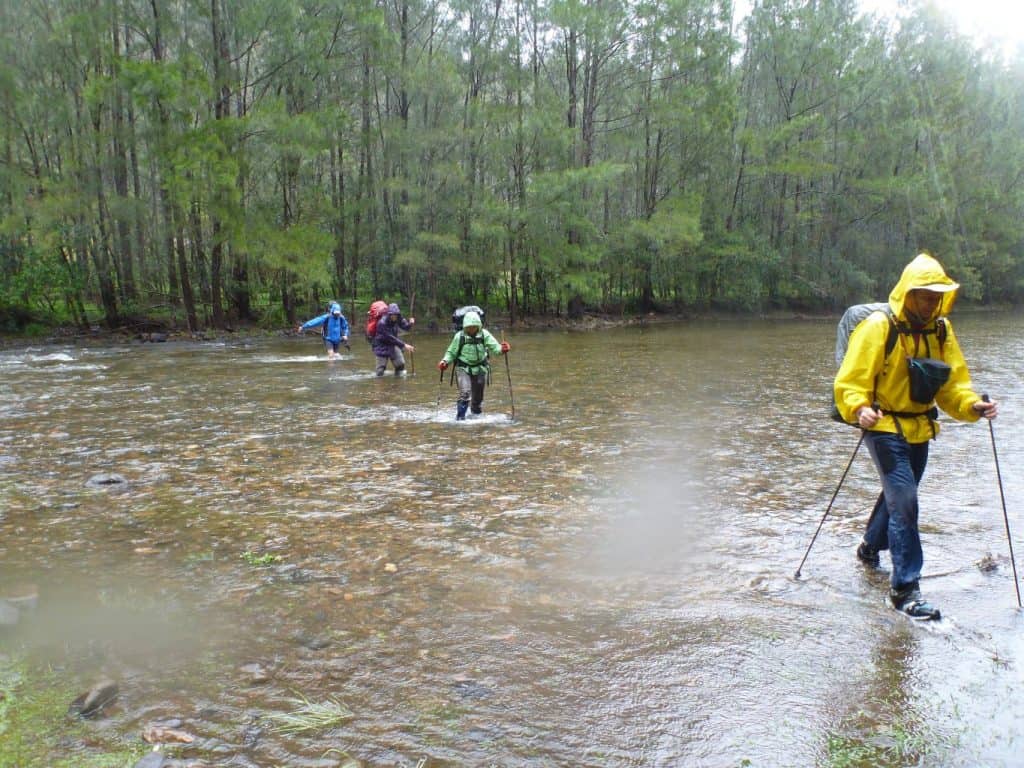 I remember my first wet feet opportunity years ago and how I stood beside the creek trying to figure out what to do for ages.
At the time, I was in my dim dark days (now long gone) of wearing heavy leather walking boots. I was so proud that they were lined with Goretex and all, but so called waterproof boots quickly become waterproof buckets when the water goes over the top of the ankle.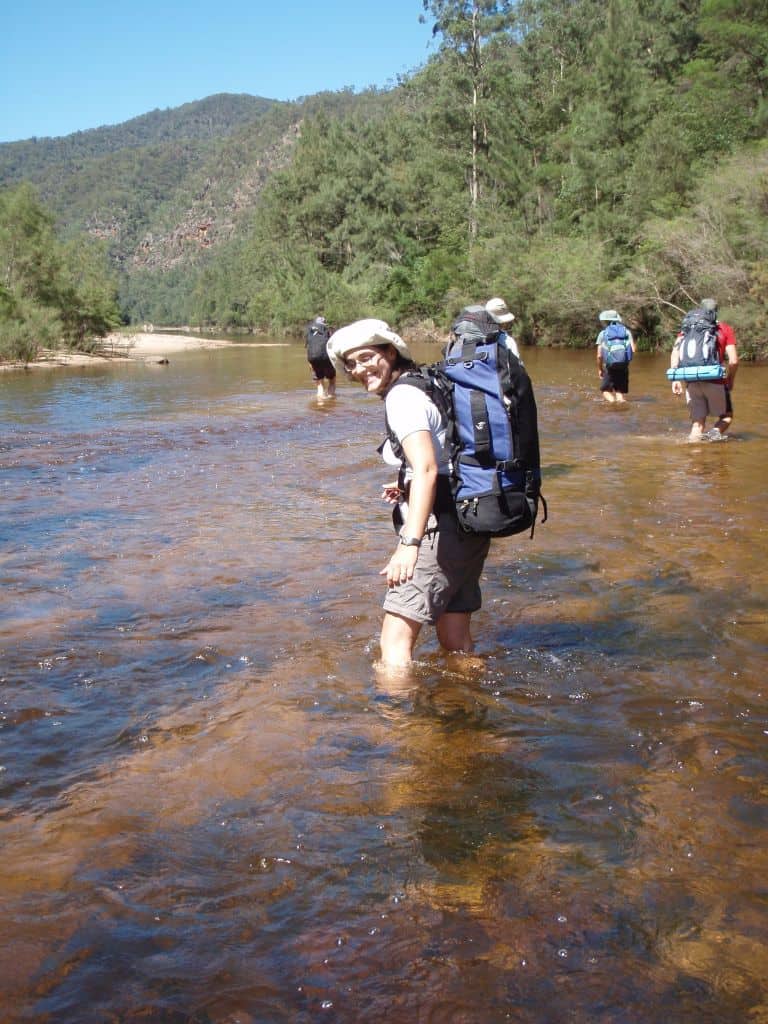 It's no wonder I couldn't make up my mind what to do. In the end, I took off my boots and plunged my feet into the chilly water and slowly crept across the creek, trying best to avoid sharp rocks as I went.
When there's only going to be one crossing in a day and you're not in a hurry, an approach like this is usually going to be fine… as long as you don't cut your feet (!).
What method do I use?
These days, I'm much less worried about it all. I wear a Merrell shoe with mesh in it (I choose the non-Goretex lined version). The mesh not only helps your foot breathe better (theoretically less sweaty and stinky!) but also allows water to drain better. I've worn these everywhere from trekking the Huayhuash Circuit in Peru (high altitude glacial moraine) to pushing through muddy/scrubby/ rocky/rough off-track terrain elsewhere. With the amount of wear and tear I give them, they'll probably only last a year, but for me, the pros outway the cons (of which I can't think of any). Choosing the right hiking boots or shoes for you is a personal choice and mine came with much trial and error and what's right for me might not be right for you. Here's my tips for choosing the right ones!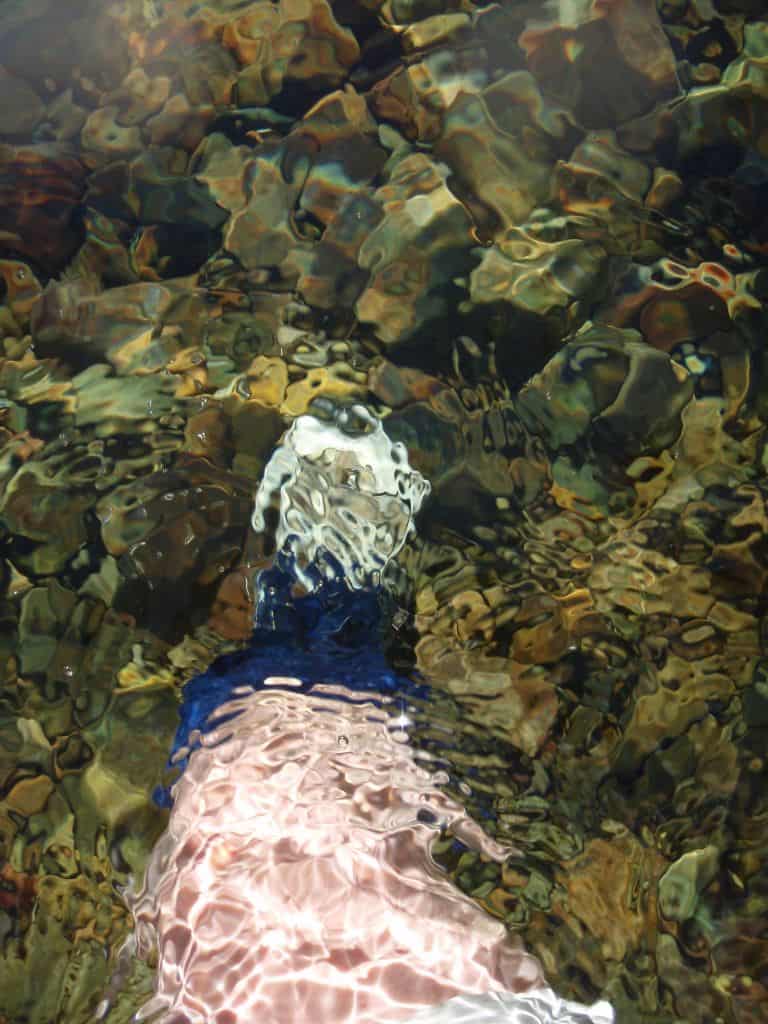 Now, I just walk right on through the water if it's safe to do so. I don't stop on the other side to drain or dry out – I just keep going and gradually dry out as I keep walking.
OK, ok, so I hear some of you wincing about blisters. On short trips of up to 3 days, I've never had a problem with blisters from wet feet and I dry my feet out each night. For longer trips, where your feet are constantly wet, you need to be mindful that blisters may become an issue.
Options for creek crossings
Change your route or find a dry crossing up/down stream.
Barefoot (

Pros

: keep shoes/socks dry.

Cons

: time consuming and can injure your feet on rocks)
Change of shoes – Crocs, Teva style sandals, Scuba Booties, Volleys (

Pros

: keep shoes/socks dry, give feet some protection from rocks.

Cons

: time consuming unless you can continue in these shoes for a large part of day depending on terrain, additional item to carry.)
Don't worry about it – just walk on through (

Pros

: fast, especially good for multiple crossings, protect your feet, nothing extra to carry. 

Cons:

Your feet are wet – suck it up Princess!
Whichever way you choose, many people find that using a stick or walking pole is helpful in negotiating the slippery and uneven rocks on a creek bed.
What to do with wet feet with hiking?
The important thing to do, is to dry your feet out when you're at camp. Here's a simple (lightweight) solution.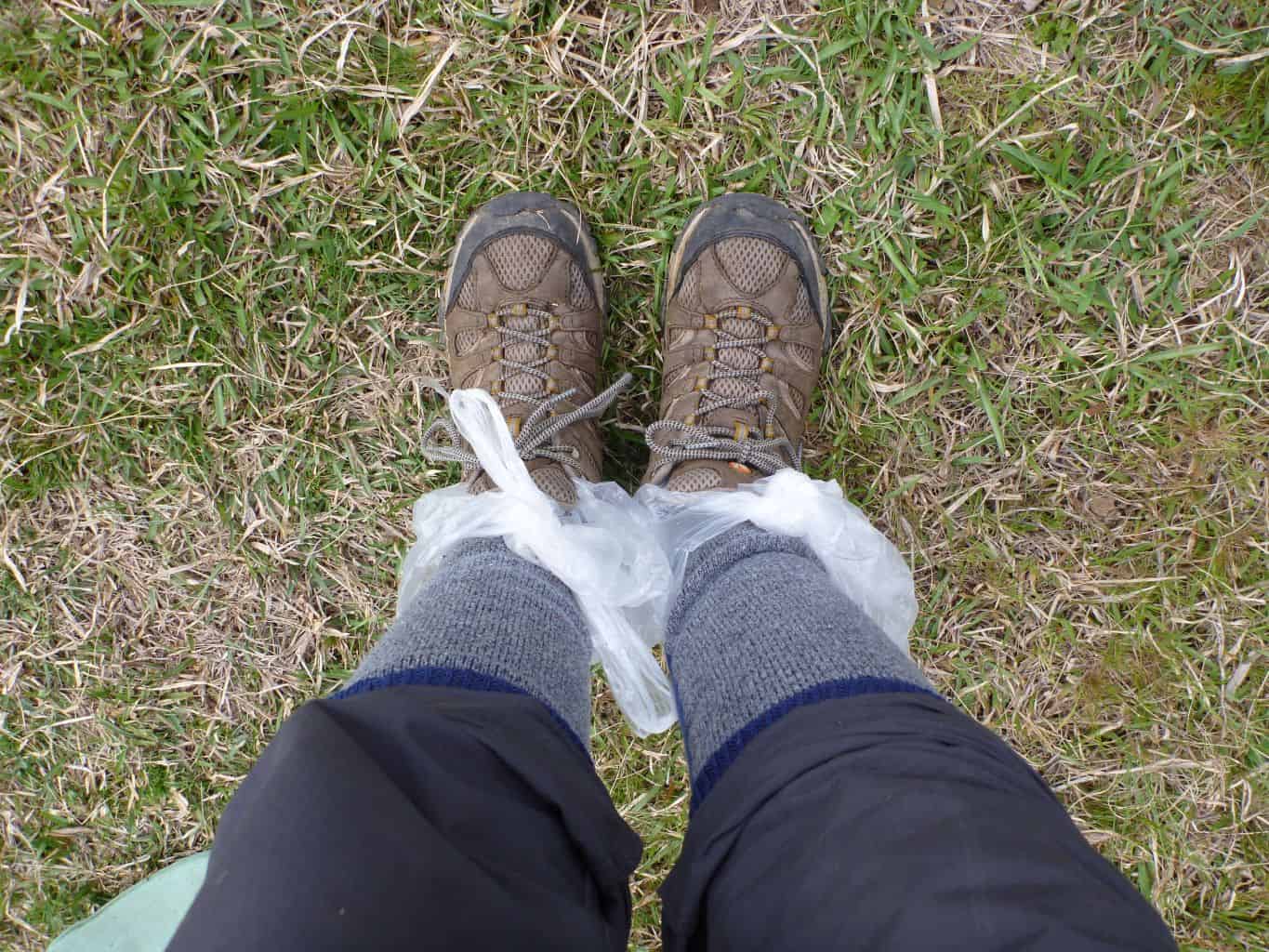 When at camp, remove wet shoes and socks.
Dry your feet and put on your dry socks.
Insert your feet into a shopping bag (make sure there's no holes!).
Put your (wet) shoe back on.
The warmth from your feet will help dry out your shoes, whilst your skin/feet stay nice and dry.
If you've got a fire, try drying out your wet socks by putting them on a stick and wafting over the heat… (just don't put them too close and watch out if they stink n steam!).
The other benefit of the plastic bag option is that it keeps your feet warm and gives you protection around the campsite – oh and it's just another great way of recycling single use plastic… [**ed: unless your name is Dot Butler] it's never a good idea to you walk around in bare feet.
Further reading:
Video: How to keep your sleeping bag dry
*Some links in this post are Affiliate links. To understand what this means, please check out my Disclosure page.