It's been a few years since I've used hiking poles, but lately I've had a dodgy knee and have thought that they might be helpful once more. Actually, after a rather spectacular face plant whilst trail running a month ago, I've now got two of them. Dodgy knees that is.
With the speed at which technology changes, I thought I'd do some research and find out what's the latest thinking around poles, their uses and benefits.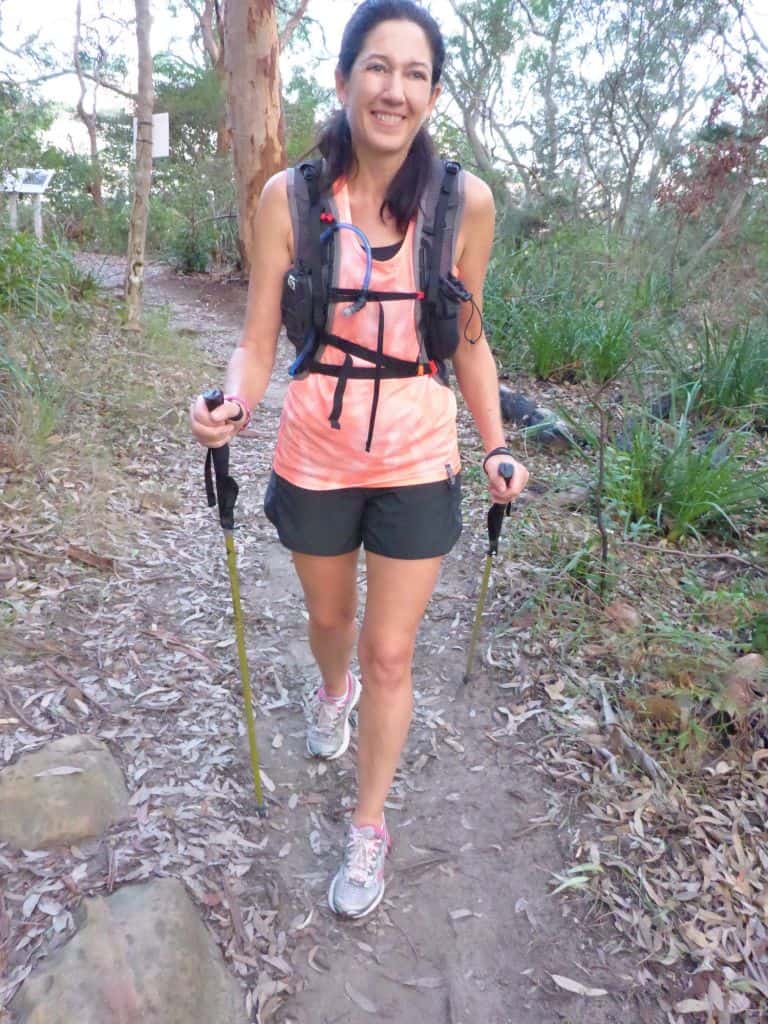 Thankfully, I have a buddy who apart from having an awe inspiring record of marathons and ultra marathons, she is also a qualified Nordic Walking instructor. Yep… those wacky folk who can look like preying mantis on tracks with poles.
Here's her inspiring creds – makes me go weak at the knees just thinking about it!
Hiking Killimanjaro
Wild Endurance 50 & 100km
Oxfam Trailwalker 100km
Six Foot Track Marathon
Kepler Challenge NZ
Marathon des Sables, Morocco (250km staged race in the Sahara desert)
The North Face 100km
Everest Marathon, Nepal (3 week trek to start line at 5100m then a 42.2km race back down)
Verdon Canyon Challenge, France
Great North Walk 100's (173km non-stop race)
Ultra Trail du Mont Blanc, France (unfinished business!)
Ultimate Trails 100km, Lake District UK
Plus some handy qualifications to back up her experience:
Level 2 – Cert IV Personal Trainer
Wellness Coach
Nordic Walking Instructor
She generously agreed to this interview – thanks Helen!
Tell me a little bit about your experience and how you got into fitness in the outdoors.
In 2008 I joined Sydney Bushwalkers and soon became a walks leader for the more popular tracks around Sydney and the Blue Mountains.  Favourite walking areas are around the Grose River, Mount Solitary and Lions Head in the Blue Mountains and locally around Sydney Harbour and Ku-ring-gai & Berowra NP's.
After taking on the challenge of Kanangra to Katoomba in a day and Six Foot Track in a day with SBW, I soon developed a healthy appetite for endurance walks which grew into a love of ultra marathons.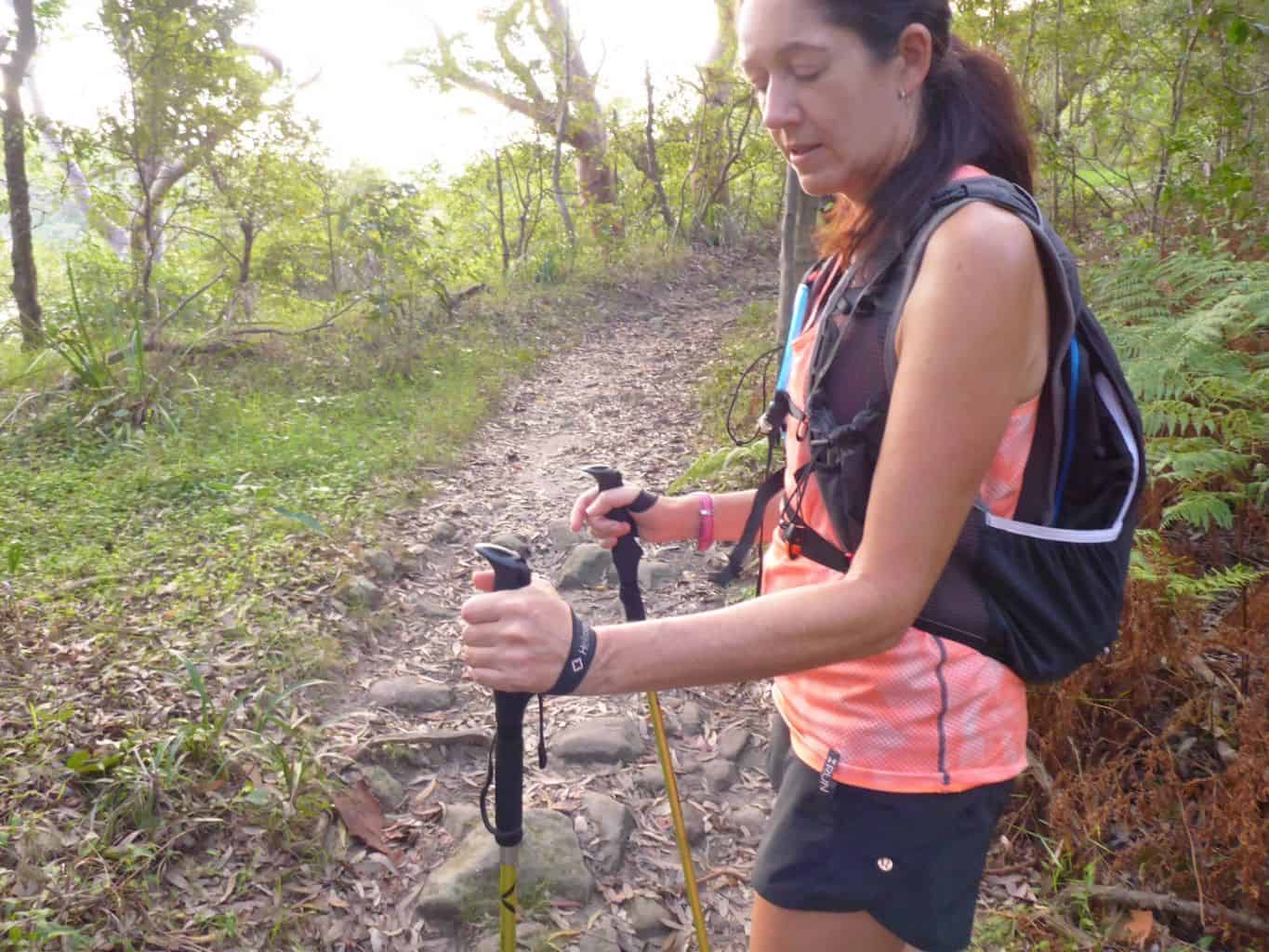 Why should someone use trekking poles? What's the benefits? How can they help?
There are lots of benefits from using trekking poles but the most significant would be the reduction of wear and damage to the lower joints.  Using poles reduces impact loads on the legs by about 5kg when walking on level ground and about 8kg on an incline.  This reduction in impact stress on the lower joints significantly reduces wear and risk of injury to the knees, feet, ankles and hips.
Using trekking poles can also help prevent back pain and injury.  Walkers tend to naturally lean forward.  When carrying a backpack, they tend to lean further forward bringing the load over the weight bearing forward leg.  Weight is then being supported by a bent spine with the potential for back pain and injury.  Correct pole technique introduces a forwards and lifting force from below and behind that balances things and posture becomes more erect and allows the walker to more comfortably and safely carry the load.  An upright posture also helps us breathe more easily.
What's the difference between Nordic Walking Poles and Trekking Poles?
They are very similar, the noticeable difference being that Nordic walking poles have a removable 'glove' that allows a specific exercise technique where the hand is opened on the backswing.  The 'glove' isn't required for bushwalking where the arm swing doesn't change much from the walker's natural rhythm and style, however, a wrist strap is still a necessity as the wrist straps take the weight NOT the hands.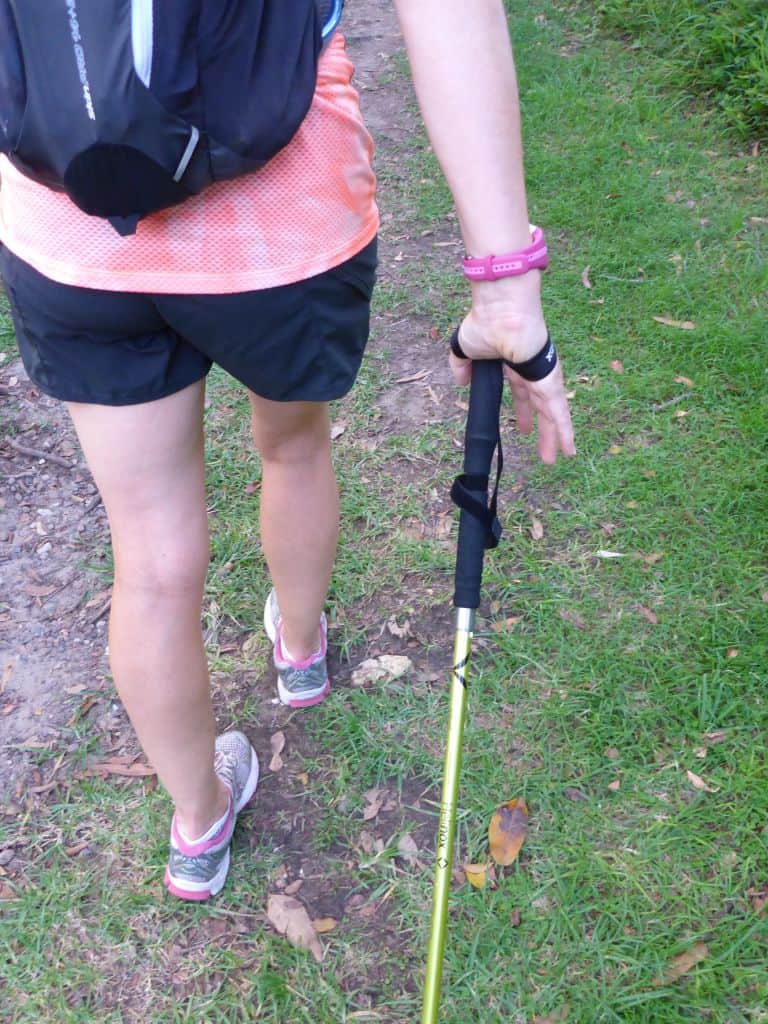 Nordic walking instruction teaches you how to use all types of poles correctly using a natural alternate arm leg action.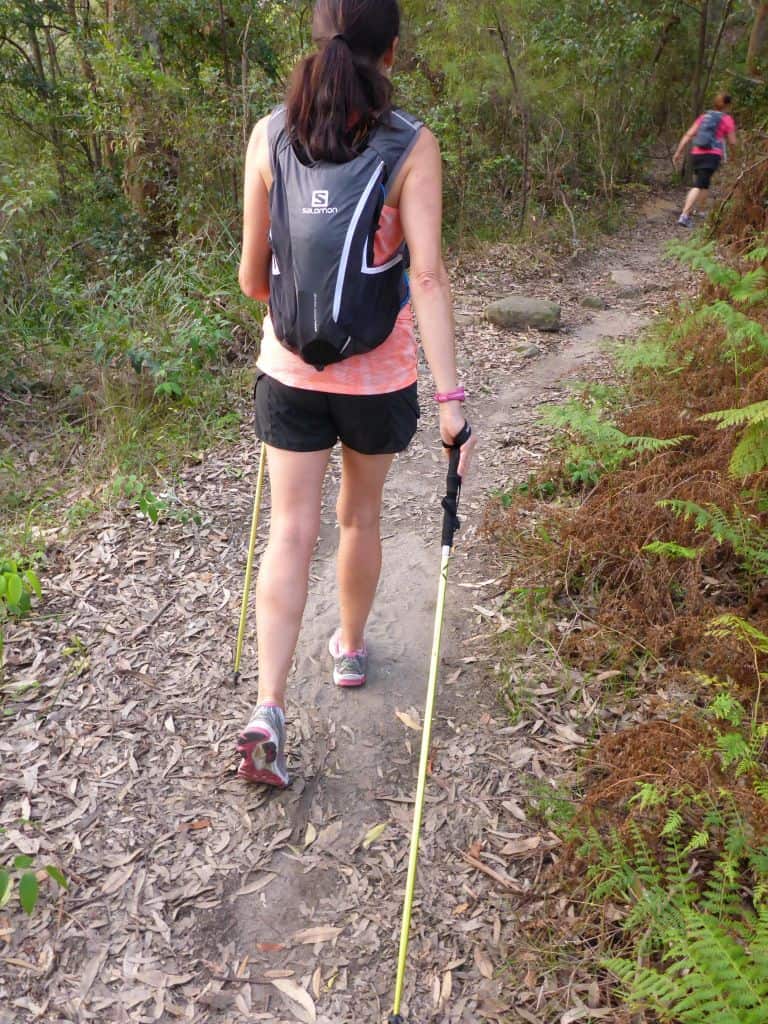 Also, Hiking Poles have adjustable heights, whereas most Nordic Poles are bought for a set height that you can't change.
When should poles be used?
With proper technique, poles can be used almost anywhere.  I wouldn't really use them off-track in scrubby environments as the risk of getting caught up in scrub and causing injury to self or fellow walkers is greatly increased!  It is best to practice stowing them away quickly inside your backpack for the off-track sections and get them back out for fire trails, steep ascents, steep descents or river crossings.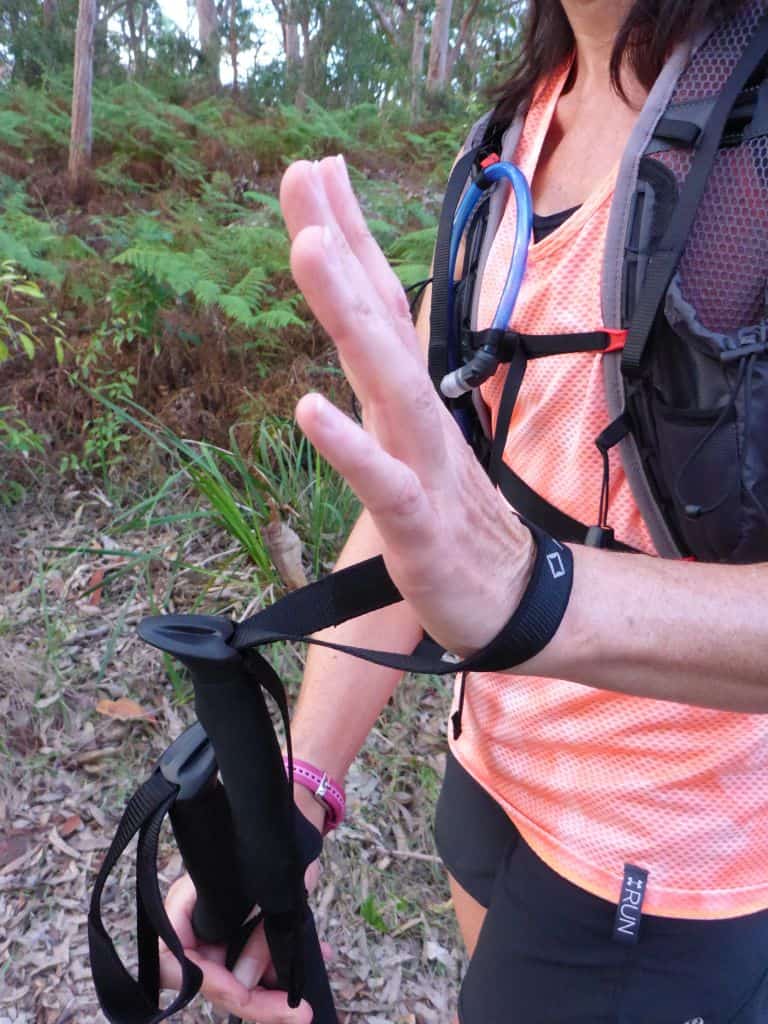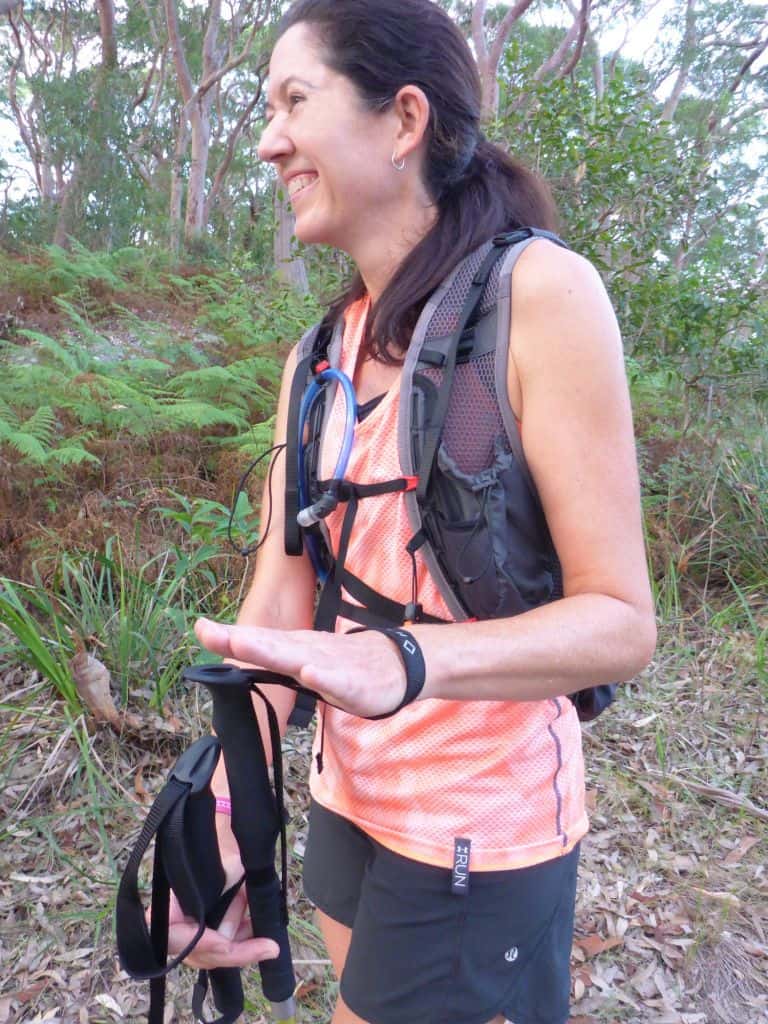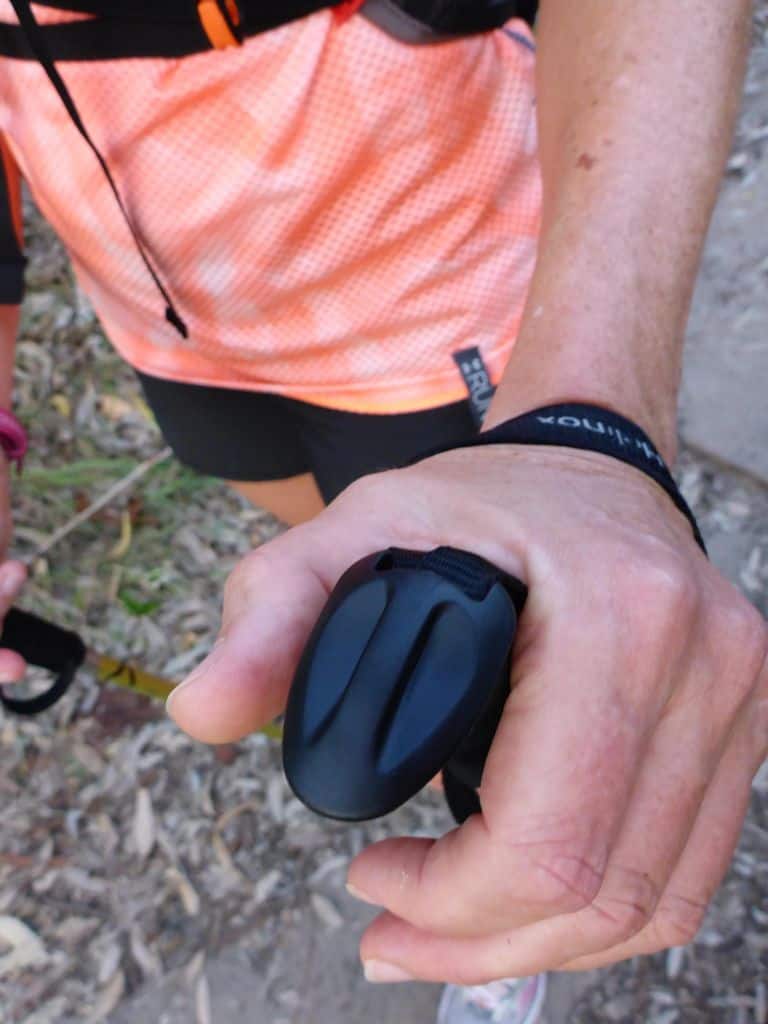 I've heard that using poles helps me get a full body workout. Is this true? In what ways?
Almost. Walking is known to increase blood flow which in turn reduces the risk of heart attack and other health concerns.  When we walk we engage about 35% of our muscles.  This increases to 90% when walking with poles.  By engaging more muscles, blood flow increases by 20% without increasing exercise intensity.  Walking poles make a good exercise 20% better.
In the Nordic Walking instruction you will also be taught how to use poles for strength and resistance training exercises without the need to go to a gym.
Is there an etiquette to using / not using poles?
When using your poles be especially considerate of your fellow bushwalkers  – not everyone wants to listen to the click clack of trekking poles when they are out to enjoy the natural environment – keep the rubber stoppers handy!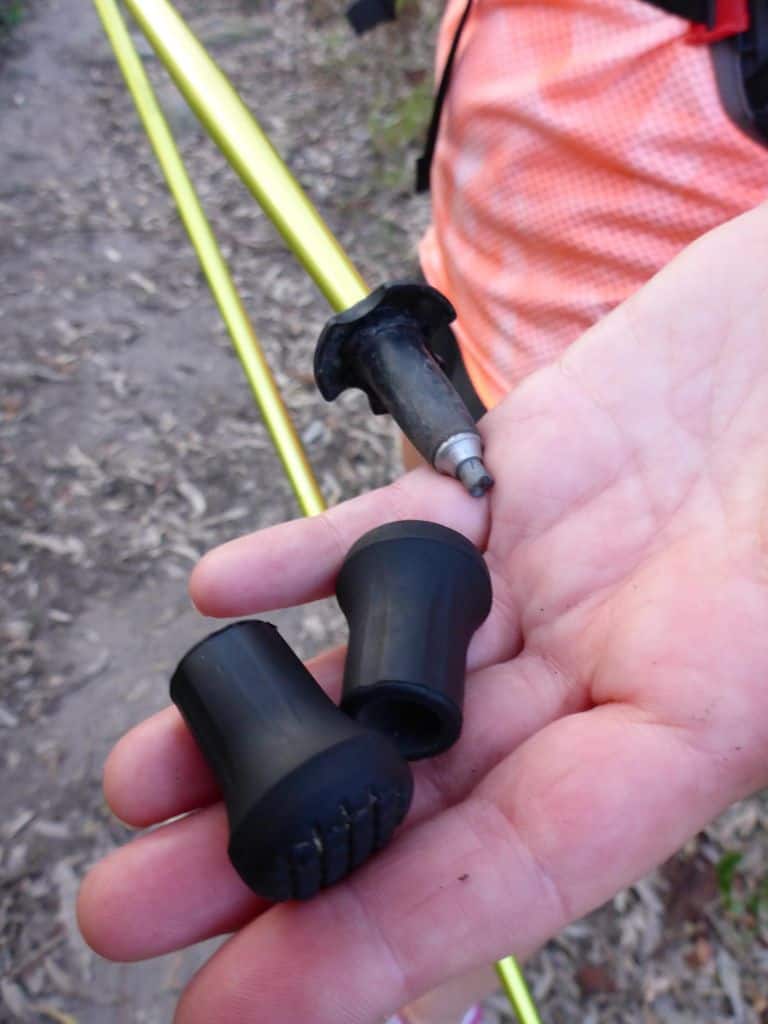 I personally wouldn't recommend using poles in sensitive environmental areas where flora and fauna need to be protected and scraping the pole tips on boulders is also not a good look.   It's worth practicing your technique so that you keep your poles in check at all times and can put them away easily when not in use.
[Caro: And my personal favourite, if you've got them stowed in your pack or if you tend to swing back, don't stab your fellow walker behind you with them. You will be most unpopular!]
What should I look for when buying a good set of poles?
Poles should be reliable and strong as you will have to trust them for stability and safety.  Cheap poles are not engineered for the task and for the high loads of bushwalking, especially with a backpack.  Serious injuries have been caused by the sudden failure of cheap poles.
Choose poles for quality and simplicity.  Experienced walkers choose simple poles without overly bulky hand grips or shock absorbers.  Fixed length poles can be cheaper, lighter and easier to use than adjustable poles but aren't suitable for off track bushwalking when you want to fold them away in your pack.
Look for poles that have minimal protrusions to catch on undergrowth and lawyer vine!   Strong, light weight material options are carbon fibre (graphite) and 'high tech' aluminium alloys.  Graphite can suffer impact damage so the more robust aluminium is preferred for bushwalking.
In summary
Walking poles help bushwalkers enjoy their activity more, with less fatigue, less risk of fall injuries, less risk of wear/damage to lower body joints and with improved exercise to remain fitter, healthier and more physically active for longer.
Two poles or one?
Bushwalkers who use just one pole for some added stability get only that one benefit.  Poles are used as a pair to receive the full health and fitness benefits.
Other uses
Poles can be used to hold up a 'fly' shelter when there are no convenient trees or branches lying around.
In emergencies can be used as a splint or put 2 inside a sleeping bag to make a stretcher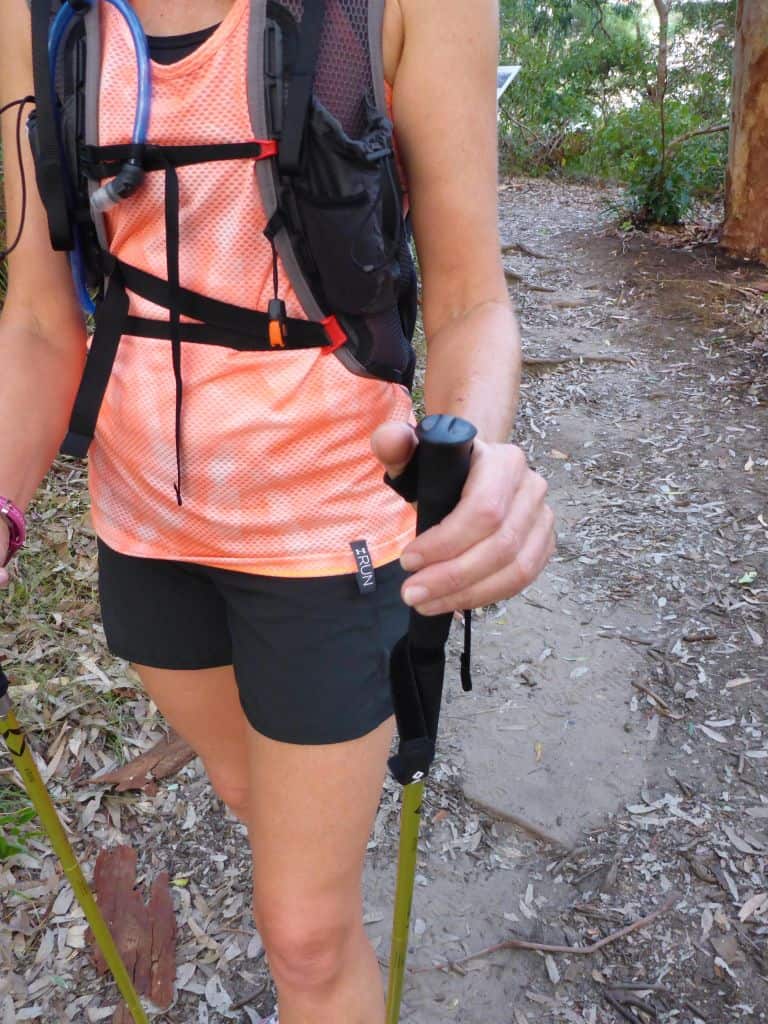 Can't I just use a fallen branch?
As they have no wrist strap to take the weight – muscles in the forearm will become stiff from holding on too tightly and branches are more likely to break and cause injury.
Where can I buy a variety of poles?
Easy! You can buy a variety of Hiking and Trekking Poles over on the Wild Earth website. They stock Black Diamond, Leki, Komperdell, MSR, Vipole and Elemental. Loads of choice with a variety of features and price points.