Choosing what shoes to wear for hiking, bushwalking or spending time off the concrete, means being confronted with choice… lots of choice. No shoe is going to be right for everyone and the decision is as individual as the types of undies you like to wear… especially your favourite pair… you know the ones.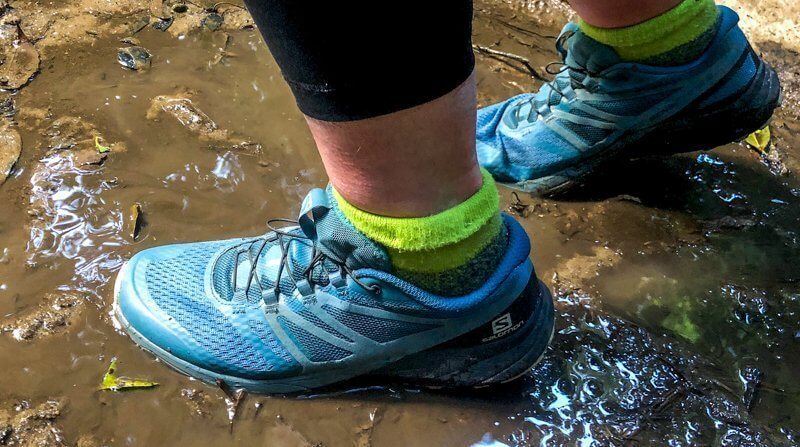 How to choose a shoe for hiking
There's lots of factors that can help you decide the best shoe for you. It depends on what best fits your foot, where you're going to be walking and on what terrain, plus the existing stability and strength in your feet and ankles.
It comes down to two types of fit:
FIT and comfort for your foot
FIT for purpose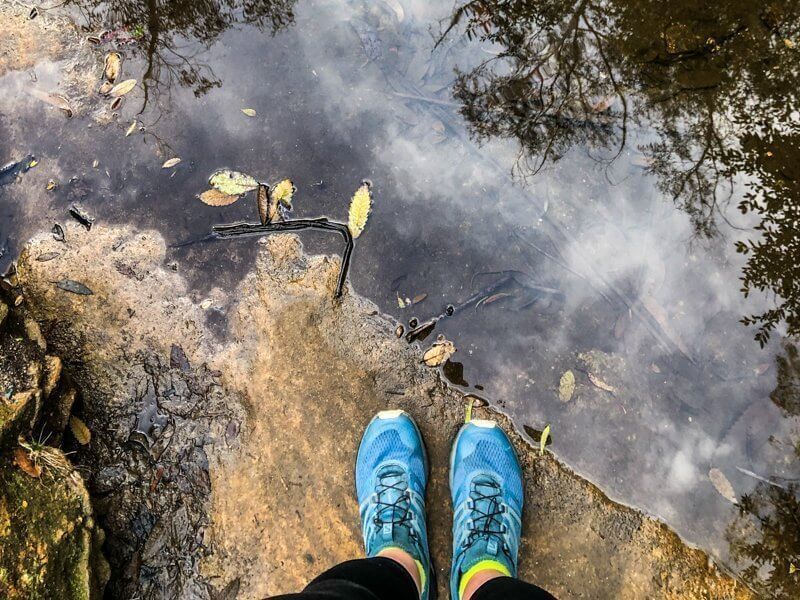 Trail Running shoes for hiking
As a sport, organised trail running hasn't been around for that long, however it's long enough for sporting and outdoor manufacturers like French company, Salomon (or the Italian, La Sportiva), to have recognised the unique demands for shoes needed to carry runners long distances over varied terrain styles.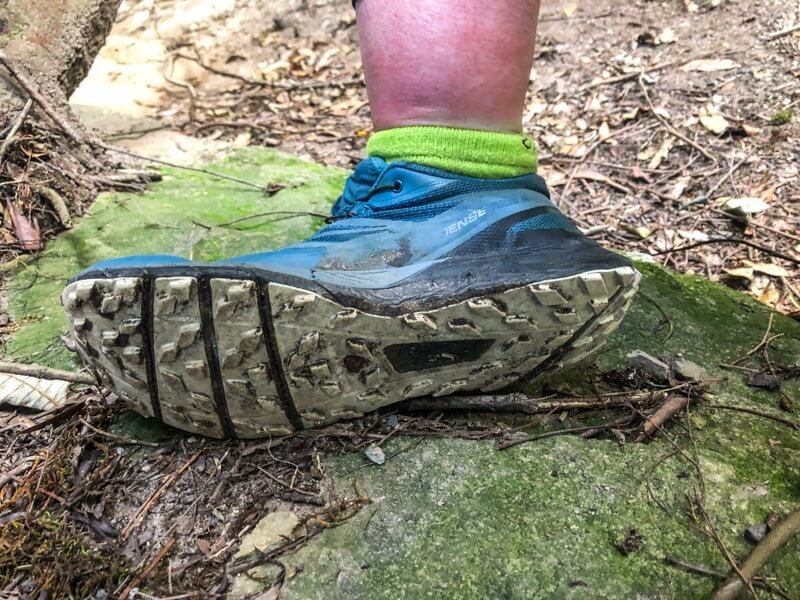 The main differences between a standard running shoe and trail runner are a:
chunky and knobbly sole pattern for added grip
more rigid and stable
tougher to withstand sharp rocks
generally less cushioning
lighter overall
With foundations like this, it's not hard to see how trail running shoes can be a great option for hiking and bushwalking. To test out this theory I decided to put Salomon's Sense Ride 2 through its paces. Over a three month period I tested the shoes in a variety of conditions, including:
Trail running – single track, fire trails, technical single track, stairs, creek crossings, (conditions: wet and dry, loose and compacted, up n' down). [nb: I'm a beginner trail runner]
Hiking/Bushwalking – single track, rock scrambling, stairs, off-track (conditions: wet and dry, loose and compacted, up n' down)
Abseiling
Distances: 3 – 25kms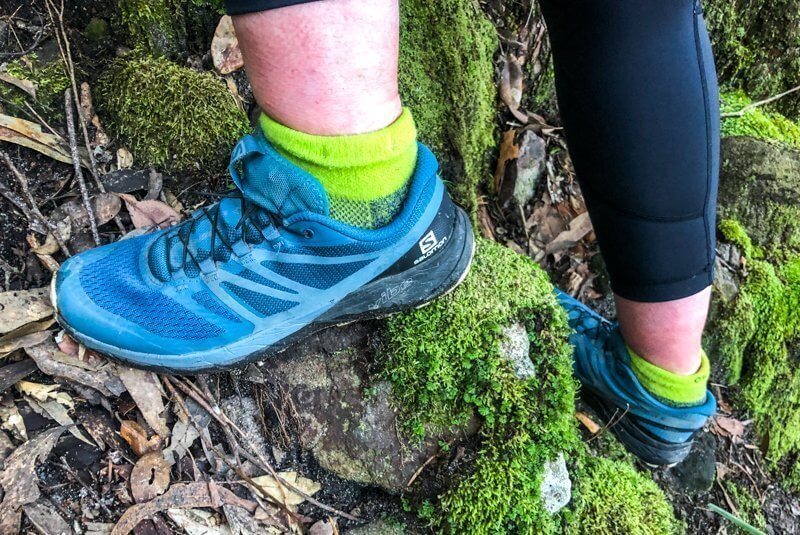 Fit
From the first time I put them on, the shoe hugged my feet and gave a strong sense of a solid base and foundation, with a flexible, yet form-fitting upper.
I was initially concerned that the size was a bit short (USA 9), but once I got used to the unique Salomon draw-string lacing system (they call it Quicklace), I was really surprised to find I didn't come back from a run/walk (even a long, steep downhill) with sore toe nails. The flexibility around the upper meant that my toes could still throw a toe-party and wiggle around without feeling like there's a Mickey Mouse worth of length in the tip. Nice. I wore them with a mix of different sock types over the months, ranging from thick Injinji, to minimalist Macpac merino blends and never had a blister or hotspot. Oh, and I had my hard orthotics in them too.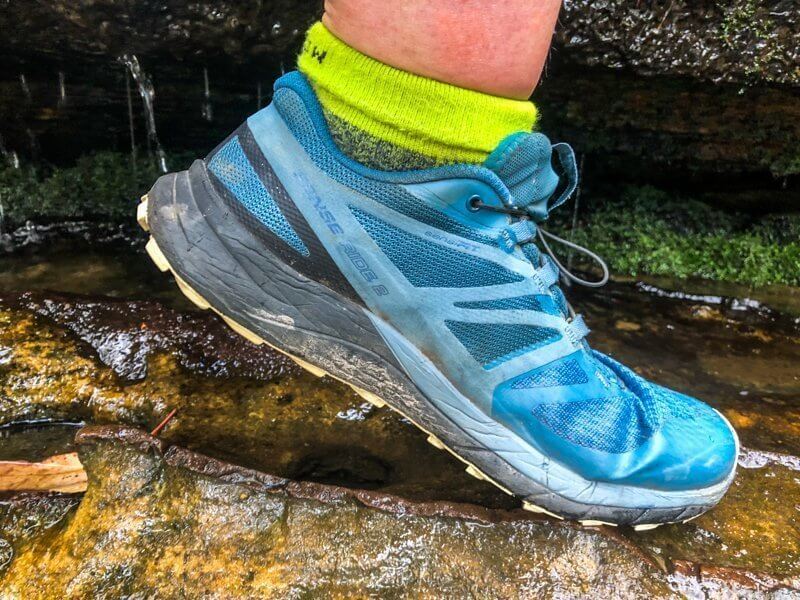 Comfort
There's a whole lot of design/tech-talk/marketing speak around the different systems and materials that go into making modern footwear (all with trademarks of course!) and the Sense Ride 2 is no exception. From the Contragrip MA on the sole (the tough, knobby, grippy bit), which is designed to hold you tight on all different types of loose, wet, dry or compact surfaces; to the Vibe in the midsole with it's EnergyCell+Opal to deliver shock absorption and cushioning.
Let me translate that for you = this shoe gives a good balance between performance, responsiveness and cushioning.

Caro Ryan [marketing speak translator]
Breathable Mesh Magic
The places I took these shoes were a mix of standard Aussie dry sclerophyll eucalypt forest with pockets of rainforest. This means that these babies went through mud, water and creeks, along with bog-standard Aussie bush. One of the features of trail running shoes is that they're designed to keep runners going for long distances and not to bother with getting a bit wet.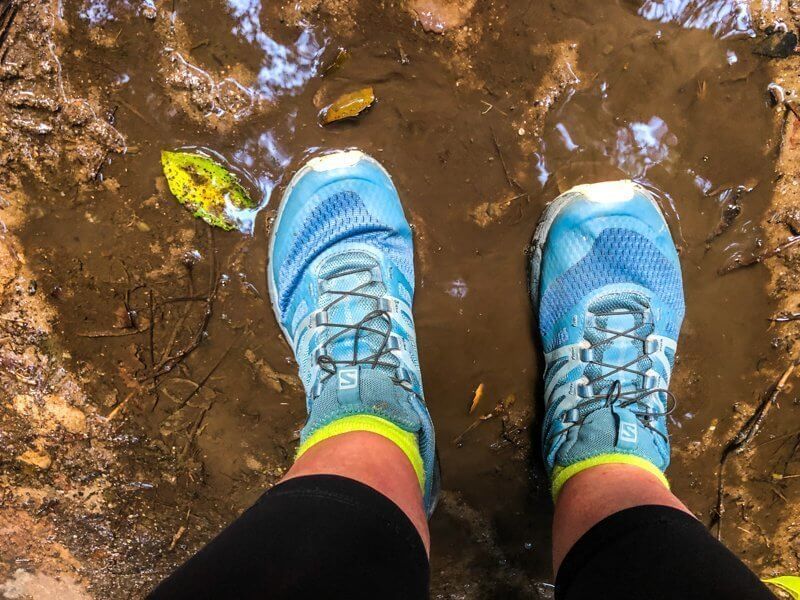 The 3D mesh design of the upper, which features layers of different types of mesh (a single layer in some spots and multiple in others), meant that when I went through creeks they drained very quickly and didn't hold water to inundate my feet. Not only that, but when I gave them a serious muddy going over, the weirdest thing happened. After about 15 minutes the mud seemed to disappear! Spooky. Even after three months and spending about an hour almost every day on the trail, they still look pretty good. Maybe not magic, as I'm sure the rubberised toe and sides had something to do with it, but I could still wear them up into town with jeans without having to give them a clean.

Look and style
Speaking of 'wearing into town', the colour and streamlined design of the Sense Ride 2 and the nice colour range (aqua, red, steel blue or royal blue), means that I was able to wear these shoes to work (a film set), where they provided day long comfort and support on hard steel floors, whilst still looking smart.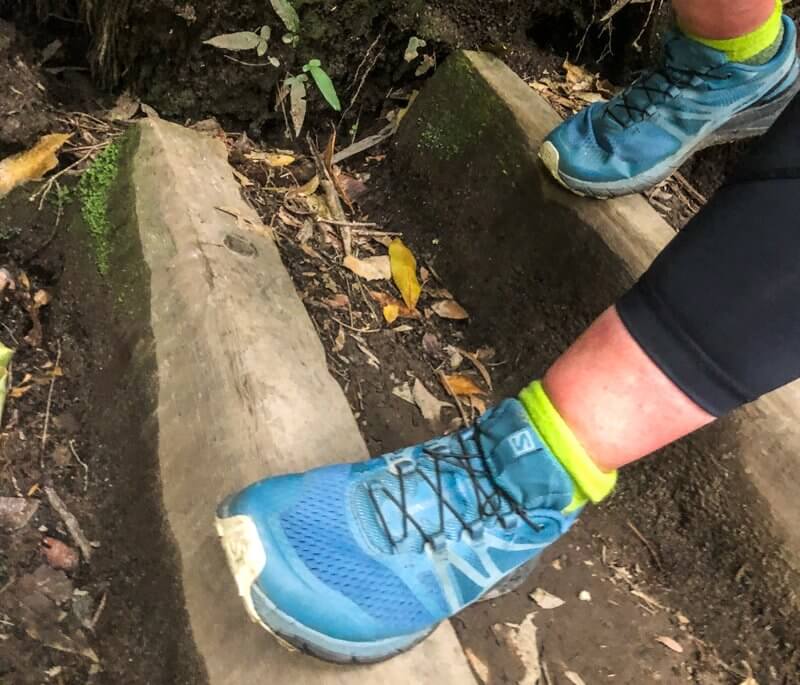 Weight
When I took them out of the box I thought, 'This is a serious game-changer'. These bad boys weigh in at 240 grams each, which when compared to a standard hiking boot (say, up to 750 grams for a Scarpa) takes a lot of weight and angst off your body in the long run and can lead to much less fatigue.
Laces
Anyone who's owned a pair of Salomon's always mentions the lacing system as one of the positives. Now I've got a pair, I have to agree. Even though the actual lace is a fine 2mm, Salomon reckon they're four times stronger than traditional lace and the draw-string technique is certainly handy for never coming undone or quick adjustments on the track. The design also includes a handy hidey-hole (they call it a Lace Locker) to stash the excess lace and toggle so to avoid trip hazards.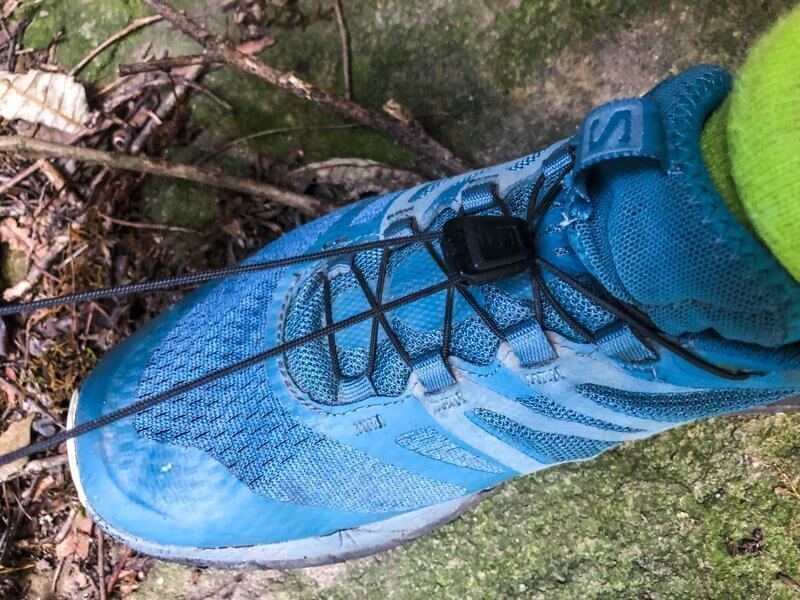 Where they're not great
There was only one terrain type where I wore them and felt they didn't hold up. Mind you, they're not designed for this, so that makes sense that I'd found their limit. It was a scrubby, steep and off-track area, around the base of cliff lines and on talus slope. I'd accessed the area by abseiling and was then moving around, sometimes on safety lines, and found that the upper just doesn't give the type of protection to my foot that I need in those areas. It's simply too flexible and forgiving (which is nice on track) and I found my foot slipping inside the shoe on very steep sections.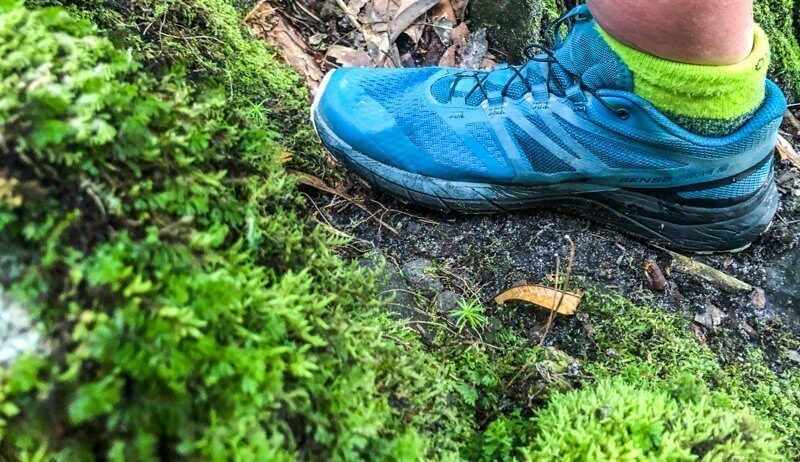 Conclusion
As my first foray into trail running shoes, I am very impressed. I can see that they bridge the space between cross-trainers/standard runners and shoes or boots specifically made for hiking on trails.
If you've been thinking of trying something different for hiking (especially if you're looking for something lighter), or are wanting to get started with trail running, I think the Salomon Sense Ride 2 is a good place to start.
Buy them now from Wild Earth.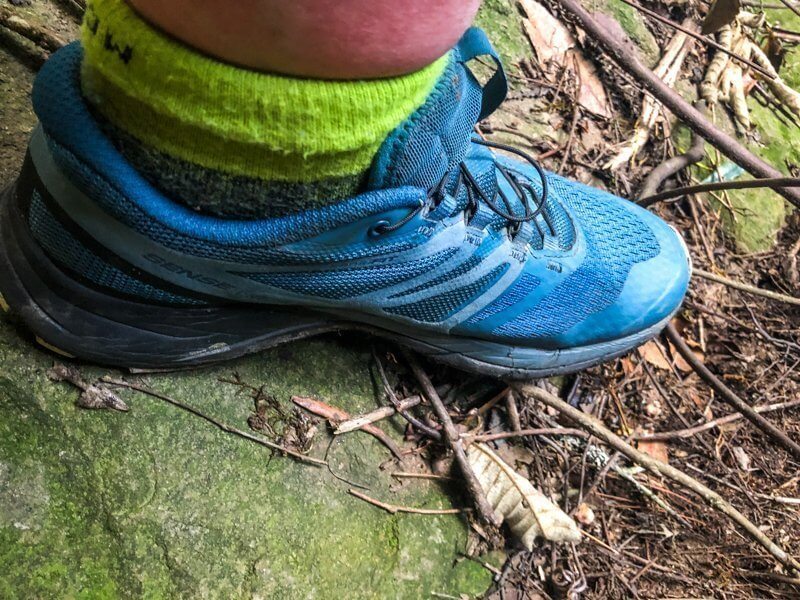 This article includes affiliate links to retailers that I trust. This means that I receive a small commission on purchases, but you pay no more. It's a way of supporting the work of this site… thanks!