Merrell Moab versus Merrell Bravada Gear Review
Is it just me, or does anyone else feel like a sleepy bear emerging from Winter? Rubbing our eyes as we adjust to the warmer, brighter, longer days of Summer? Days when all our lockdown dreams of holiday adventures can finally come to pass.
With the limited travel of the last couple of years, my trusty old Merrell Moab hiking shoes have been hiding at the back of my wardrobe, while my trail-runners, gave them a run (cough) for their money. 
Is it possible I could keep cheating on my Moabs now that that honeymoon is over and grander adventures are calling?
With a weekend in the NSW Barrington Tops on the calendar and the promise of some day-hikes, it proved the perfect testing ground to find out; and the timing couldn't have been better. Merrell recently released their latest versions of both their Moab and Bravada – two very different walking shoes.
My experience with Merrell Moabs
I've been a long-term user of Moabs and have worked my way through their history (like 25 million other people around the world), from the original Moab Ventilator 1, Ventilator 2 and now Moab 3. In this new 3, they dropped 'Ventilator' from the name, but not the characteristics of it being a shoe with great drainage through its mesh upper. This aids fast drying after creek crossings and reduces sweat, increasing breathability and comfort.
It's important to note that Moabs (fun fact: the name means Mother Of All Boots!) come in different styles and cuts. The Moab 3 (the shoe formerly known as Ventilator or Vents) is the base model that also comes in a boot style. If you like your footwear waterproof, it is also available with Goretex waterproof lining (GTX WP) as boots or shoes, along with kids' waterproof boots.
It's no secret that I'm a fan of this shoe. It's beyond comfortable for my feet and feels like a hug from a Jason rocker-recliner. Sturdy, cushioned, strong and with a generous (and wide) toe-box, it supports me in the rugged, unforgiving and diverse terrain that I travel: steep n' deep, off-track shenanigans that often find me crossing rivers and rock-hopping on wet, mossy bowling balls; to rock-scrambling and pushing – hands and knees style ("wombatting") – through dense hakea and tough banksia… the stuff of dreams!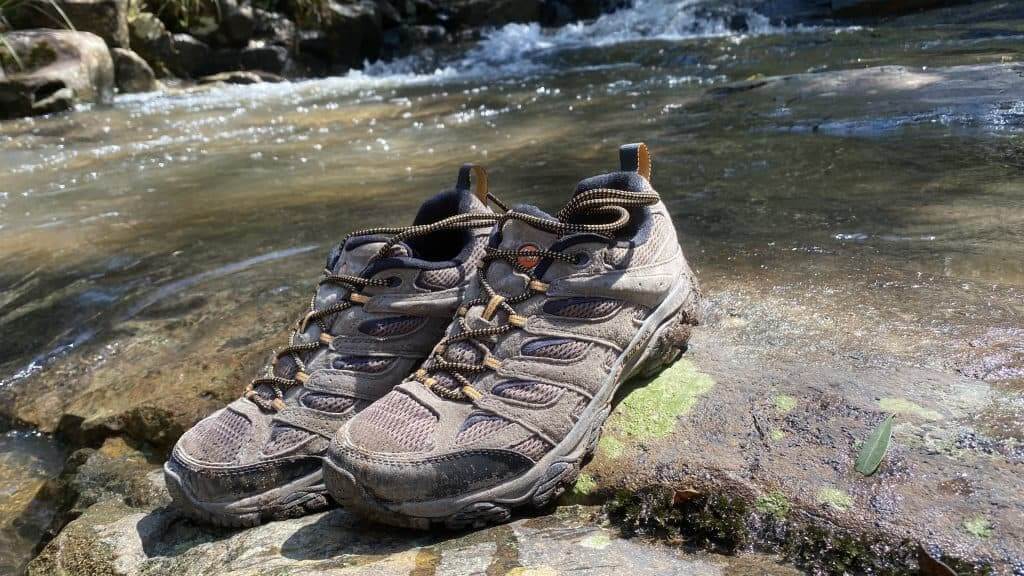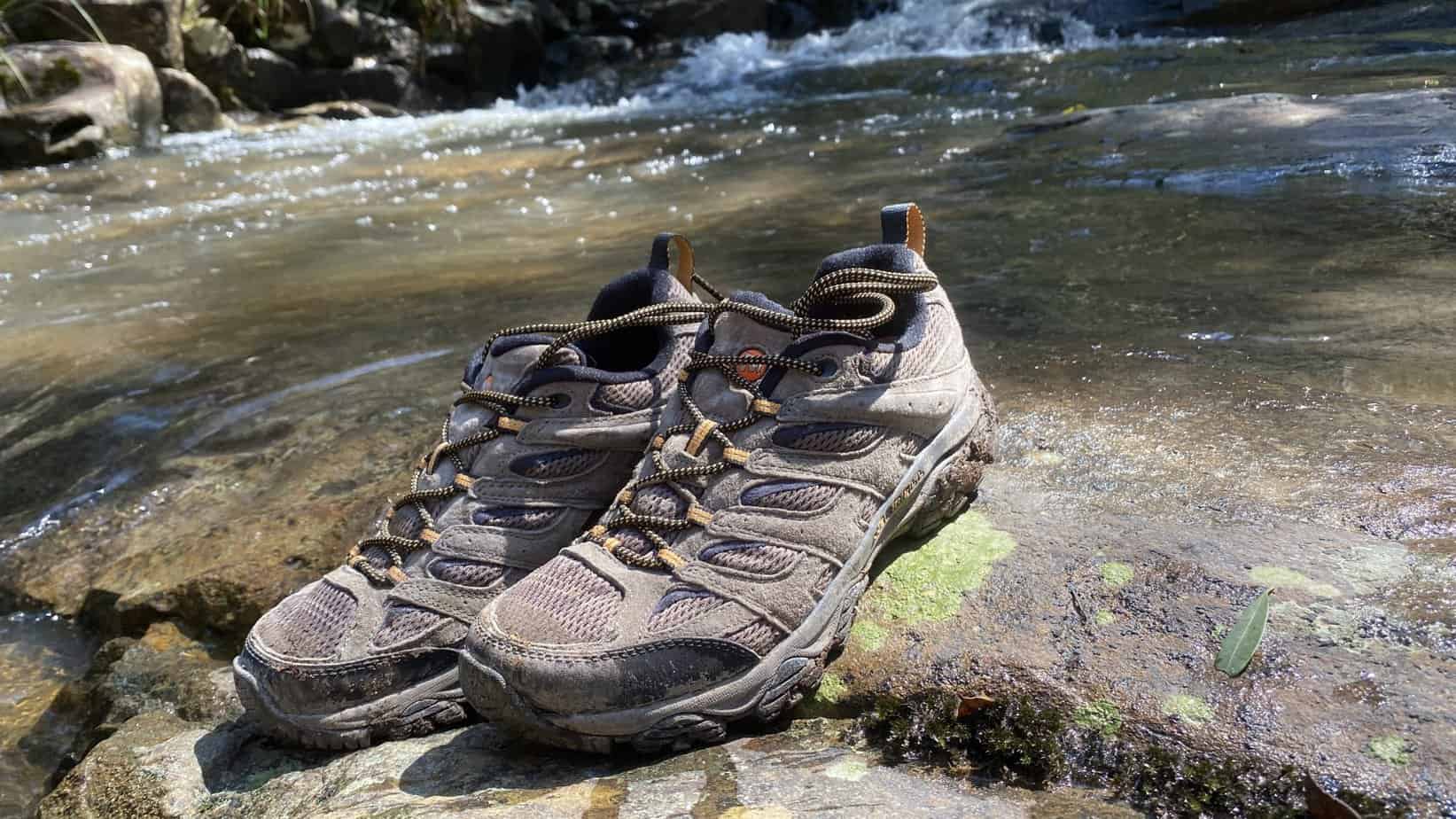 Sure, it's not going to win sexiest-shoe-of-the-year (I wear the men's style which comes in 'walnut' whereas the women's 'smoke' colour is prettier), but given the punishment I put my hiking shoes through, I'm after support, protection and comfort for my feet, not beauty queens.
Merrell Bravadas – first impressions
In contrast, the Merrell Bravada 2, can walk straight off the track and down the main street into a nice cafe after a walk or workout. These sleeker, minimalist-looking shoes wouldn't look out of place teamed with leggings, whilst the traditional styling of Moabs screams for hiking pants or shorts.
For anyone who has walked in the Barrington Tops region, you'll recognise that this landscape is perfect for putting gear (and people) to the test. Its rugged, cloud-topped ridges and deep gullies hide a variety of single-track, fire trails and off-track routes, with gradients to make you cry for mummy – or at least a chairlift. Where better to compare a pair of pairs… the new Moab 3 vs Bravada 2?
How did I test them?
Thankfully (for our knees), the weekend was an annual meetup for a group of friends who have been coming to the eco-getaway, Wangat Lodge, for over 30 years. Many, who first came as kids, now have nature-loving rascals of their own and see the weekend as an escape from technology and devices, where kids (big and little) run amok and follow hidden creeks to jump off waterfalls and climb peaks with names like Dragons Back and Endurance Hill. All this activity was guaranteed to provide rough single track, steep ascents, muddy trails (hello, La Nina), rough creek walking and rock-hopping; recipe for a good shoe test.
Knowing that Saturday was to be a warm-up for a grander escapade on Sunday, I chose the Bravada's for the day. The first thing I notice is the lack of tongue. The upper of the Bravada 2 is knitted and glove-like; almost like a tube that hugs your foot with 100% recycled webbing. It's designed to fit like a sneaker, but wear like a hiker. Encouragingly, I found that like the Moab's famous out-of-the-box comfort (I've never had a 'breaking-in' period with Moabs), the Bravada seems to have inherited this cunning characteristic.
Noted as a vegan-friendly shoe, which has worked hard to include recycled materials wherever possible, it includes laces and a 50% recycled EVA foam footbed.
The single track from the lodge, zig-zagged down along muddy switchbacks to the banks of the Chichester River, roaring with the increased flow from recent rains. It was hard to work out what was louder – the river, the frogs or the squeals of delight from the kids as they made their way along the edge, in search of secret huts and shelters.
The rounded, rolling stones of all shapes and sizes, were wet from spray off the small rapids and light rain that was starting to fall from the storm clouds above. The verdant moss added an extra test for the Merrell mountain-grade Quantum Grip™ rubber sole with its 4mm lugs. I had heard that this was one of Merrell's 'stickiest' shoes. I can testify to this as our pace slowed to a crawl as parents and kids slid, slipped and made some interesting choices on the ice-like rocks, as the Bravada's kept me vertical.
The terrain made me appreciate the supportive padding and outer leather that frames the upper of the Moabs. The light upper webbing of the Bravada doesn't provide protection for your feet against hazards likely encountered in off-track or technical terrain. So whilst it does include a moulded nylon arch shank and rock plate for firm sole protection, it demonstrates that this sleek, lightweight (400g each) shoe is a good fit for on-track or trail style hikes.
Sunday morning erupted with bright sun and the promise of a wild swim. With several hours and kilometres between our beds and this hidden waterhole, including a breathless ascent up and over The Dragons Back, I chose the Moab 3's for the day. 
Into the Barrington Tops National Park
Sliding my feet into their welcoming cavern, I instantly felt at home as I threw my swimming cossie into my day pack, looking forward to the first wild-swim for Spring.
The 5mm lug depth of the improved Vibram® rubber sole, held me fast to the muddy track on the now-familiar descent to the river. First port of call was to cross the Bridge of Silence (which yes, must be made in silence – a great challenge for the toddlers in our group, but a sombre rite of passage for the teens); a gateway and separation from our home at the rustic lodge and the day's adventures near the boundary to the Barrington Tops National Park.
Silence ensued as our group gathered it's collective courage to conquer Endurance Hill – the most direct (and challenging) route to our ultimate destination, a hidden swimming hole and pristine cascade, fed from the weather-attracting ridge, 700m above us.
Possum Carriers were loaded up with the smallest of adventurers, whilst the teens proudly led the way with their whittled spears, swinging from vines and discussing the qualities of a good dried scat fight.
Once on top of the Dragons Back Spur, Dan, our guide taught the kids how to take their navigational cues from the sun. They then successfully lead us to the rough, steep and muddy footpad down into a boulder-strewn stream. Here, the Moabs come into their own. The dynamic angles that feet find themselves when creek walking and rock hopping, means that your feet can really take a beating. The supportive upper and generous toe-kick protection kept me feeling confident as the Vibram® stuck to the variety of rainbow rhymes for each coloured rock: 'if it's brown, you'll go down with a frown', 'if it's grey – you'll stay', 'if it's white – you're alright', 'if it's green – it'll treat you mean'. Thankfully, all colours (and a few wise choices from past experience) and the trusty Moab's kept me vertical.
Arriving at the secluded waterfall and swimming hole, I shed my lockdown cocoon and embraced my inner Wim Hoff to jump into the 11c water. A welcome baptism into walking for the warmer months.
This tale of two shoes (and two walks) has revealed itself to be a tale of two different terrains and perhaps, different hikers. However, I can see both of them serving me well and sitting alongside each other in my wardrobe – no cheating necessary.
Given the thin upper mesh of the Bravada, that lacks the additional protection of the leather frame of the Moab, they would make a good choice for well-formed walking tracks, although be aware that they lack the cushioned comfort and shock absorption of their beefier big brother, the Moab.
This is a sponsored post. You can buy my time but you can't buy my opinion ;-).