So you've got your backpack and all the gear you'll need for a day, overnight or multi-day hike and you've even picked out a fabulous trail to go with it. It's booked into your friends' diaries and now all you've got to decide is what food you're going to take hiking and how best to plan it all.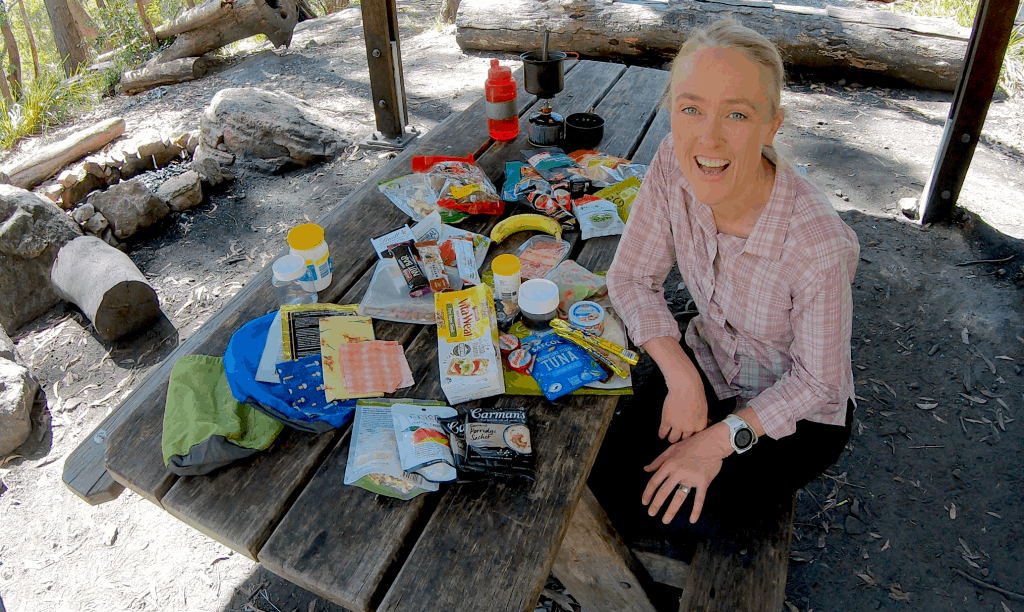 Just like in the kitchen at home, you can go as simple as 2-minute noodles (maybe bung in some tuna and dried veg) or as elaborate as dehydrating your own culinary masterpieces to enjoy in the wilderness.
Whichever way you want to go, there are a few golden rules and basics to consider when choosing food for hikes.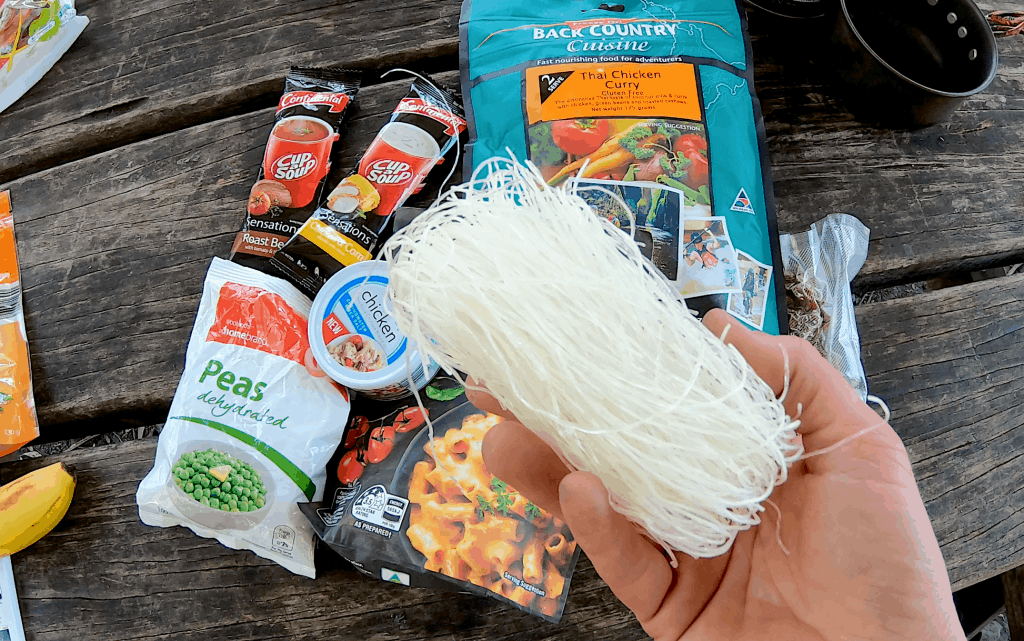 Golden rules of hiking food
keep it lightweight (say goodbye to heavy tins of baked beans!)
pick items that aren't bulky and easy to pack
reduce excess packaging and leave at home
high nutrition value for lots of energy
consider the temperature for food spoiling
preparation time at camp
The food you take hiking is totally up to you and depends on how much time/effort you're prepared to put in beforehand, how much of a fussy eater you are and how much faffing you're willing to do at camp.
Once you develop a list of easy go-to choices for breakfast, lunch and dinner, you'll find your confidence will begin to grow and packing food for a weekend hike (or longer) will become second nature. By then, you'll probably find your outdoor culinary adventurous-side busting to break out and try new things.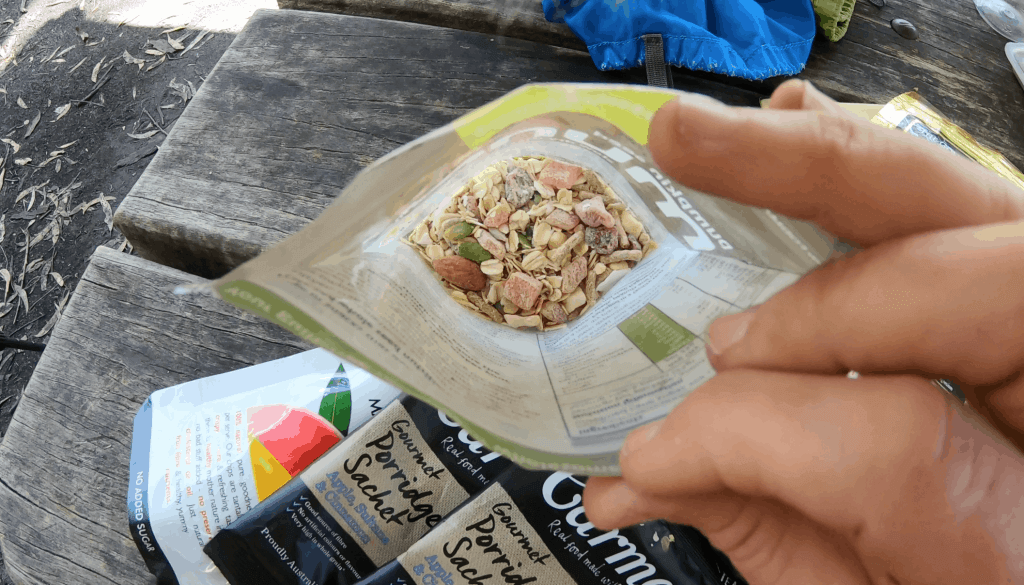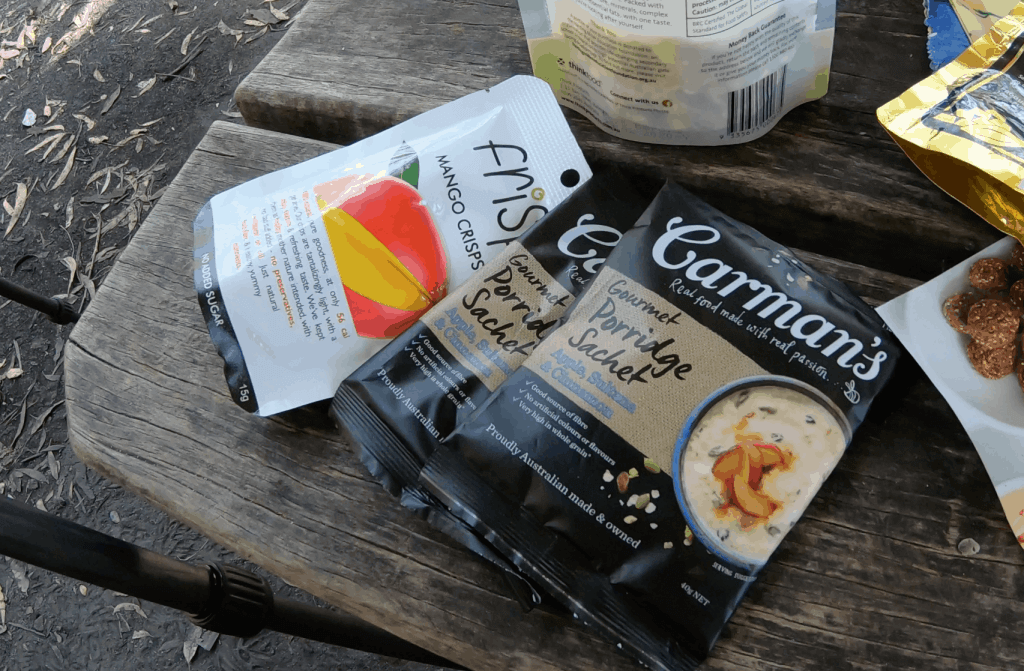 A beginners guide to hiking food
In this video, I share a whole bunch of easy ideas for hiking breakfasts, lunches, dinner and snacks, perfect for the beginner, and generally all available at your local supermarket.
Sometimes, you might be so tired at the end of a big day on the track, that all you want to do is collapse into your sleeping bag and the most work you want to do is boil water for noodles or rehydrate a store-bought freeze-dried meal. Trust me, there's no shame in taking the easy way out – I've done it plenty of times!
If you want to mix it up just a little, you could try the uber-simple, "not-so Mexican mash". Deb (instant mashed potato, taco seasoning sachet and cheese + optional tuna.) I know what you're thinking… it's not the type of food you'd eat at home, but here's the thing… you're not at home and everything tastes good in the bush.. even cuppa soup.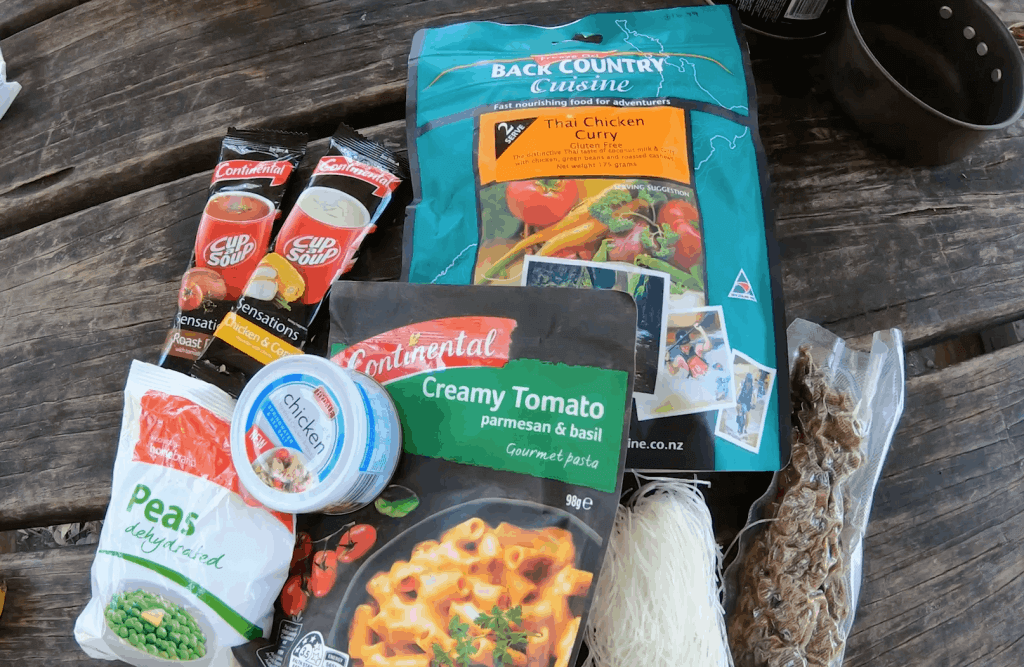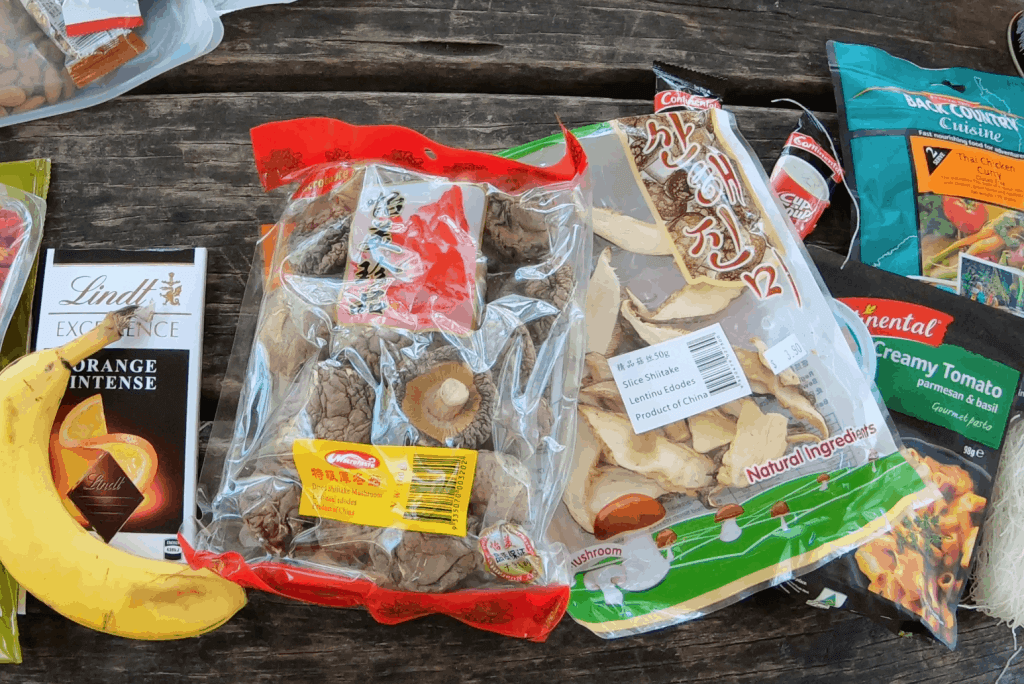 Planning food for a multi-day hike
When I'm planning food for a multi-day hike, I use a spreadsheet (or just scribble it on a bit of paper) to work out how many of each meal I need to prep for. It looks a bit like this:
Meal
Day 1 (Sat)
Day 2 (Sun)
Day 3 (Mon)
Totals
Brekky
n/a (eat at home)
muesli, milk powder
muesli, milk powder
2
Lunch
wrap, salami, cheese, cherry tomato, spinach, chutney
wrap, salami, cheese, cherry tomato, spinach, chutney
wrap, salami, cheese, cherry tomato, spinach, chutney
3
Dinner
Pasta Mornay
(Xtreme Gourmet cookbook recipe)
Chicken Laksa
(Feed the Hike cookbook)
Emergency food
2
Snacks
Scroggin
+ happy hour
Nutty Bites
+ happy hour
Pub dinner on the way home
2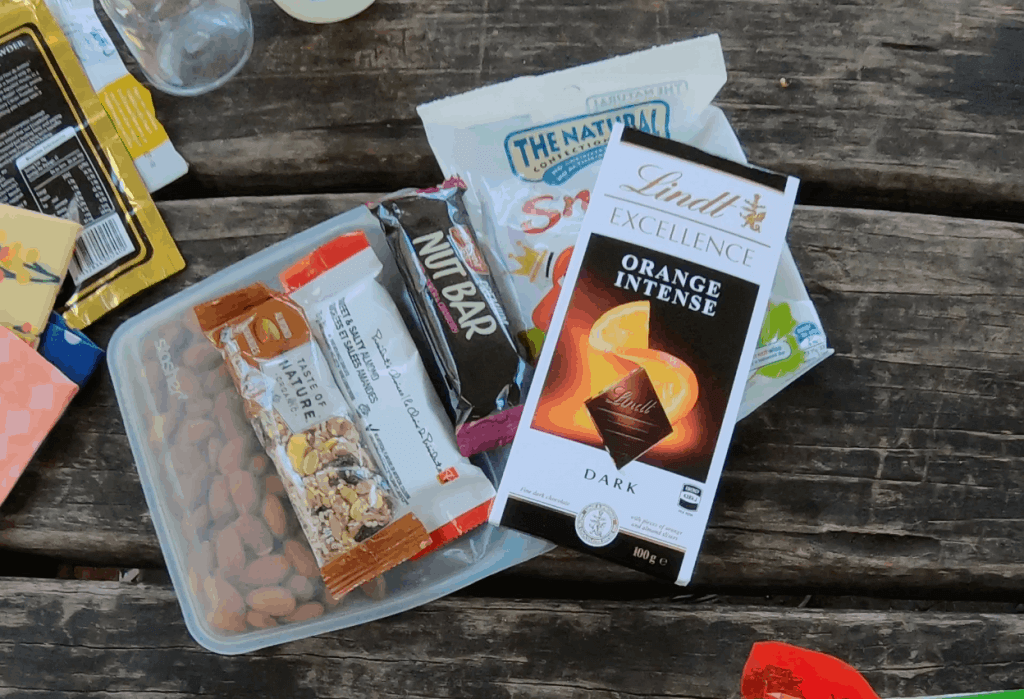 Get organised
If you're going for multi-days, it can be a good idea to keep your food in different coloured bags so it's easy to grab the right meal bag at the right time.
In an effort to reduce my single-use plastic, I keep any ziploc bags that come with commercial products (everything from cocoa, felafel, dried fruit, frozen berries, etc), wash and re-use them for taking my food hiking. I also keep a hold of any small plastic jars that I can use instead of buying a Nalgene-style bottle (I see you, Nutella jars). These are great for carrying chutneys and cherry tomatoes. Keep an eye out for small juice bottles as these can be good for carrying booze like Cointreau, Fireball or a slosh of red wine – perfect for happy hour.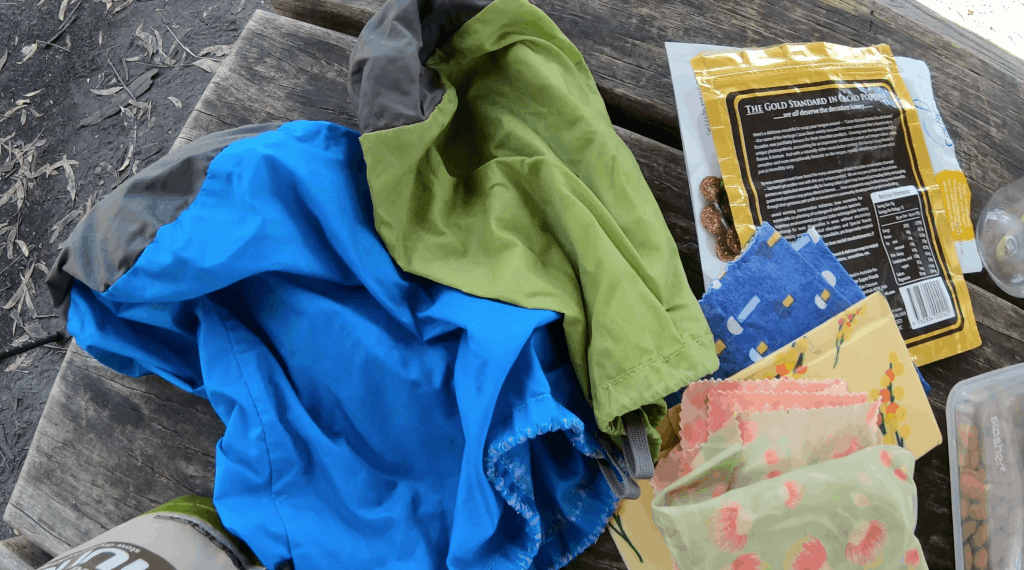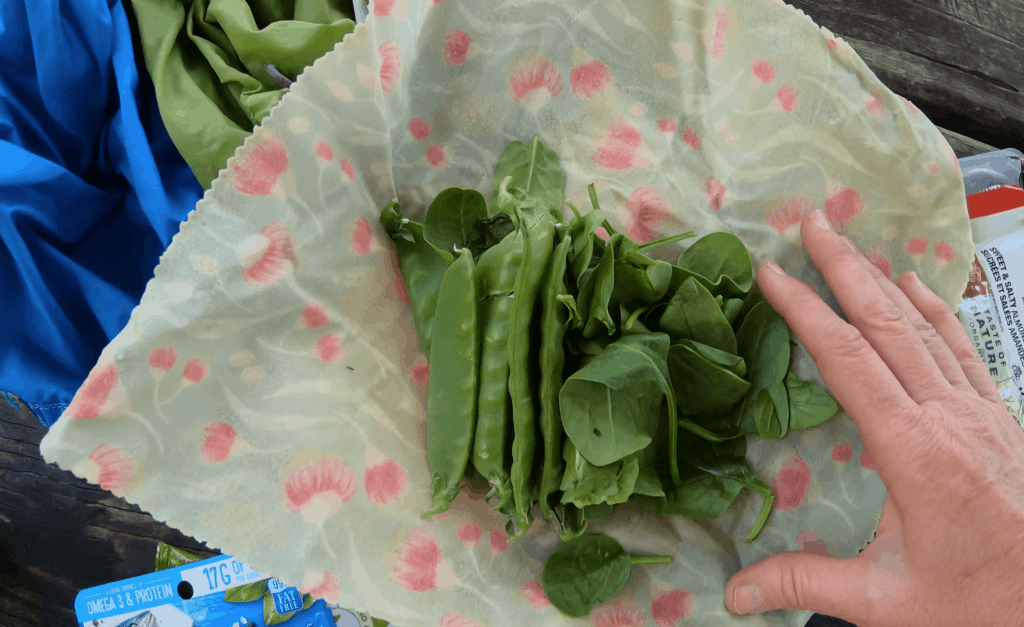 Hiking cookbooks or recipe resources
There are some really dedicated hiking foodies out there and I'm delighted to be able to share their wisdom and ideas. Two Aussie books I recommend are Sonya Muhlsimmer's Xtreme Gourmet and Michelle Ryan's Feed the Hike. The recipes in these books need a bit of prep time at home (but the taste is worth it) and Michelle's is a great resource for using a dehydrator.
I've also recently come across Chef Will from MontyBoca and am getting mighty inspired to build my trail recipes – Check him out!
Extra resources