Just about everyone I know seems to struggle with creative ideas of what to eat for lunch on a hike, especially for multi-day hikes. After many years of experiments, I've now settled with my 'go-to' of dehydrated dips on crackers.
The great thing about these dips is that you can rehydrate them in their own ziploc bag, then simply rip off the corner and use them a bit like a cake decorating bag and squeeze your dip onto your crackers. Check out the video above for how that works in the field.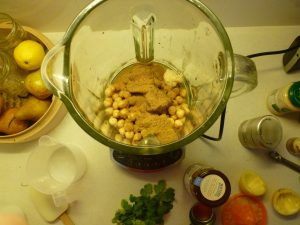 After last year's cooking/dehydrating extravaganza, I was delighted over Easter to find that my now 6 month old dip 'powders' are still going strong, kept in an air-tight container in the fridge.
Packed with flavour, the dehydrating process seemed to heighten the zing of the lemon in the hummus and the zip of the chilli in the red capsicum (pepper) dip.
HOT TIP:  Don't forget to turn your dehydrated dip into powder by putting it back into the blender after it's dried. It makes all the difference!