Check out Part 1 and Part 2 of this adventure to get the full story…
Day 5 – Sandy Camp to Sweetwater Pools
By now, we were well and truly in our natural swing. The group (a mix of mostly professionals from Sydney) were chatting easily, but also were very comfortable with the silences that happen naturally whilst walking for days at a time. For those unused to packs, they were now significantly lighter having eaten through almost all the food and our feet and hips were content with the pendulum of our rhythm. It's always the way isn't it? Just when things feel right, we're set to go home.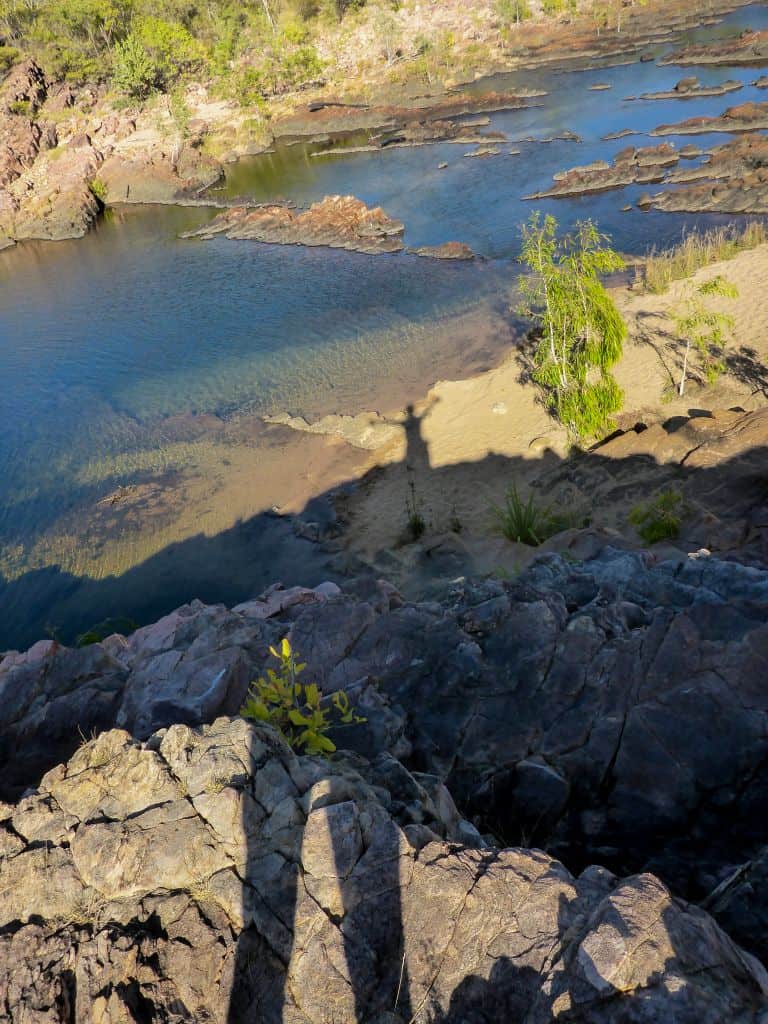 The last supper, of veggie risotto, although now well and truly at the end of our group food supplies, turned out to be one of my favourites. I really can't speak highly enough of the quality and taste of what we ate and I'm still in amazement that we managed to have crisp iceberg lettuce for lunch on day 4 given the heat. However, with the MASSIVE size of the two guides packs (I estimate around 30kgs), I shouldn't have been surprised. As an aside, I have a personal struggle with guides carrying this amount, I just can't see it as sustainable or healthy for their bodies and a longterm happy place for the industry.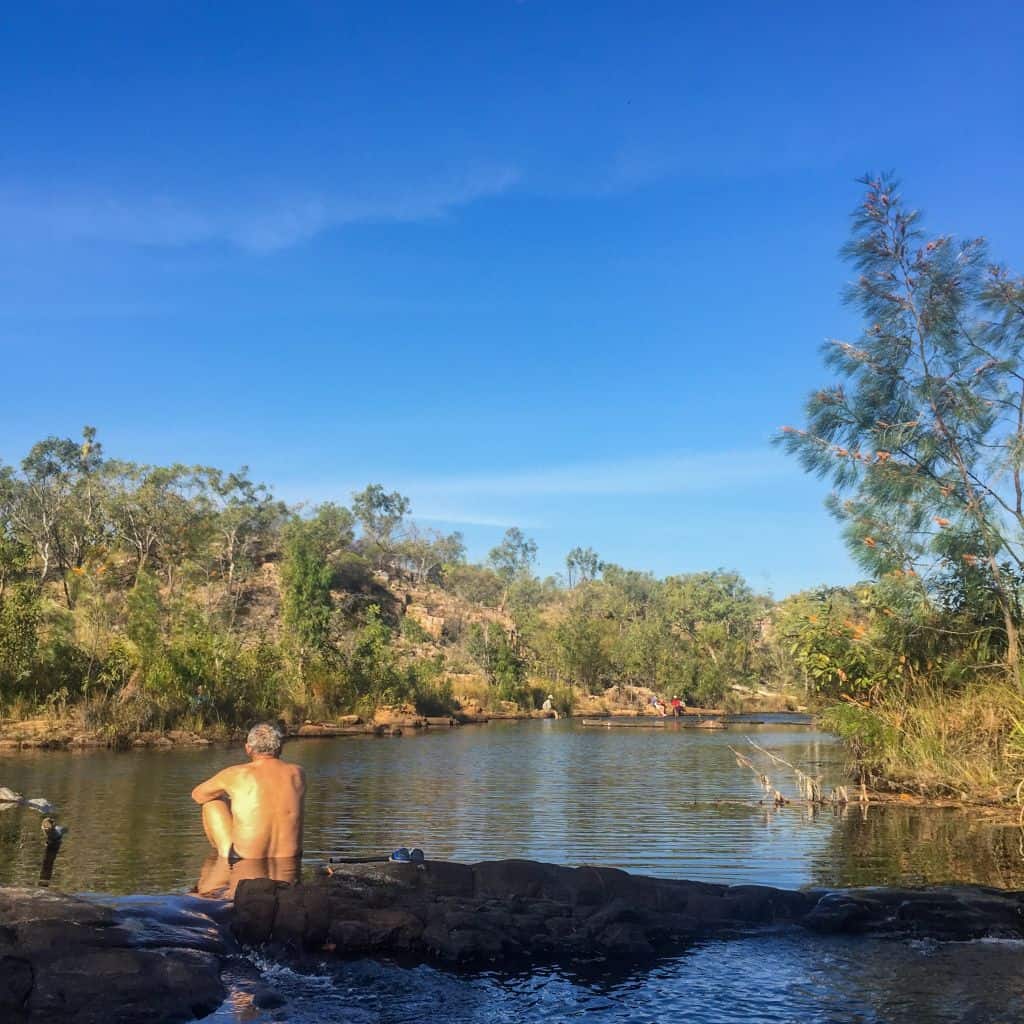 If you're doing the trail independently, with wise and careful packing, along with good quality dehydrated meals, I think you could easily get out of it with carrying around 14kgs for the whole trip, including 2 litres of water each day. Trust me, your knees will thank you!
Day 6 – Sweetwater Pools to Edith Falls
Having not met another soul for the week, we knew that Sweetwater Pools was only a couple of hours walk away from civilisation (campground, carpark and kiosk) at Edith Falls. As expected, this meant that as we got closer to Edith we started our gradual acclimatization back into our normal lives. The smell of soap, shampoo and deodorant on people we met on day walks going the other way, surprising us by it's strength, having been on our soap diet (actually, fast) for the last week.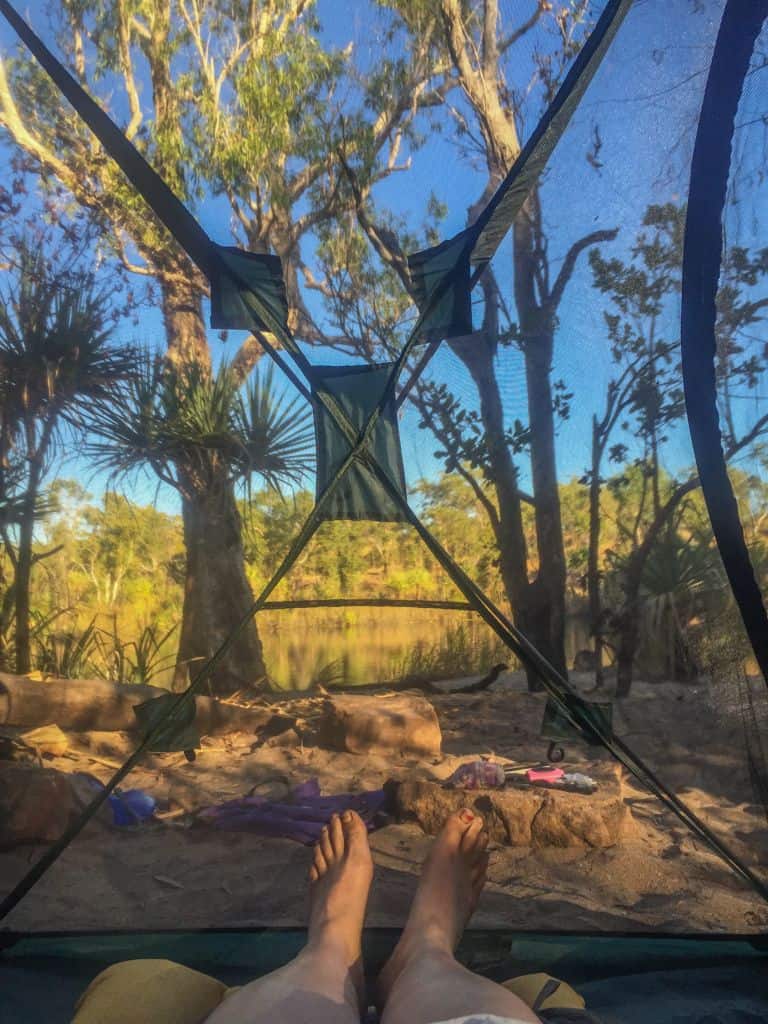 The last day is only around 4kms, so the short, easy distance means that you've still got ample time to travel back to Darwin on the same day.
Huge thanks to all my fellow walkers and our great guides Jakob and Clare. You were great company. Oh and special mention to Vijay for shouting us coffee milkshakes at the Edith Falls kiosk (rate!) and for whoever shouted the red wine for our farewell dinner in Darwin… so good!
Conclusion
Although there's a couple of spots that look over the escarpment at Crystal Falls and Seventeen Mile Falls, this trip isn't about big, jaw dropping vistas.
What Jatbula is about, is all the amazing campsites and their waterholes, lazy afternoons and a true walking 'holiday'.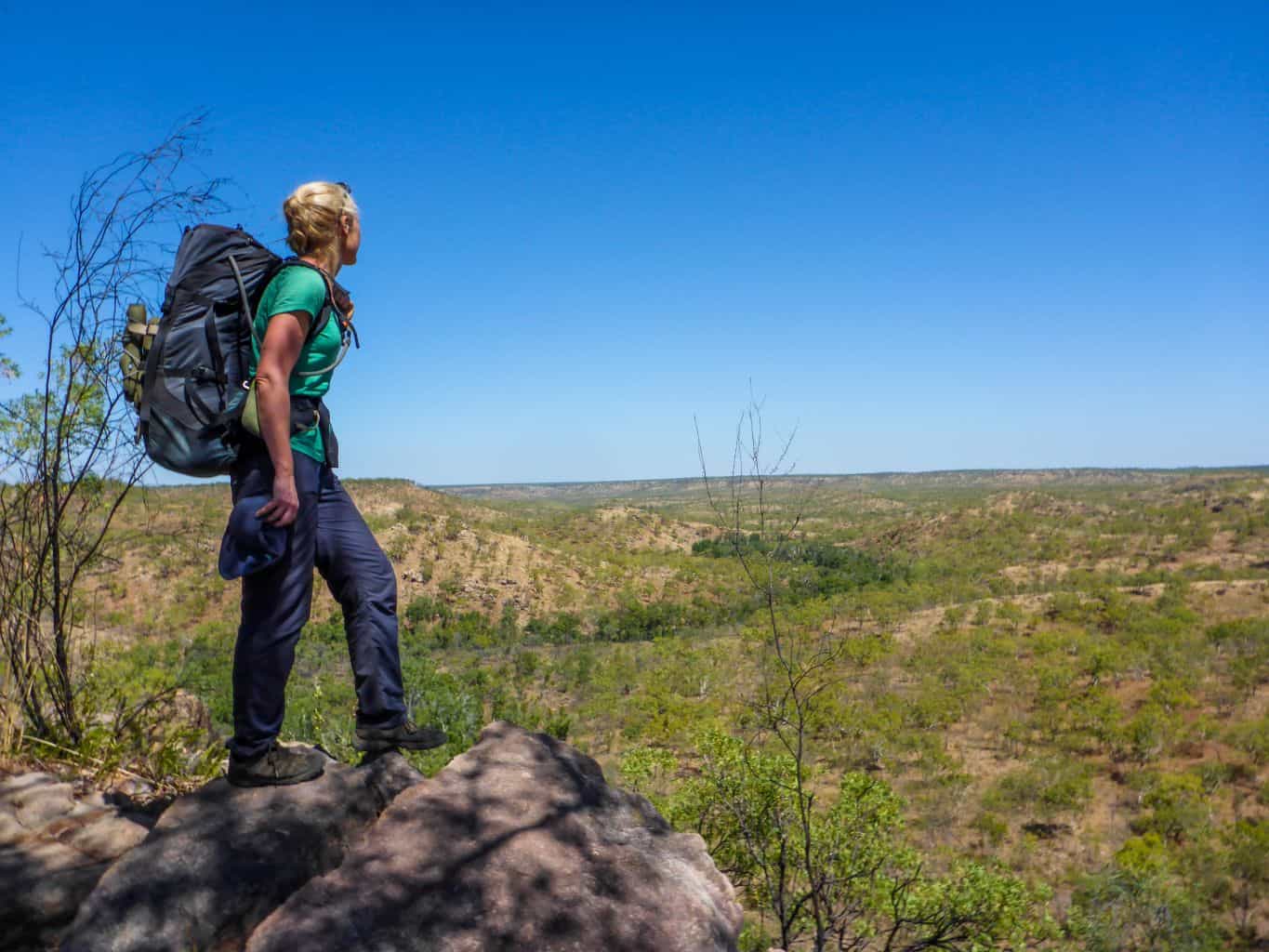 From an experienced hiker point of view, the walking in between certainly couldn't be called 'exciting', which is why the changes, when they happened – like The Amphitheatre – were such highlights.
It is possible to do it independently and the navigation is not difficult, the toilet facilities at each campsite have been clean, generally smell free and well maintained. There is also an emergency alert system at each of the campsites to use in case of any major dramas.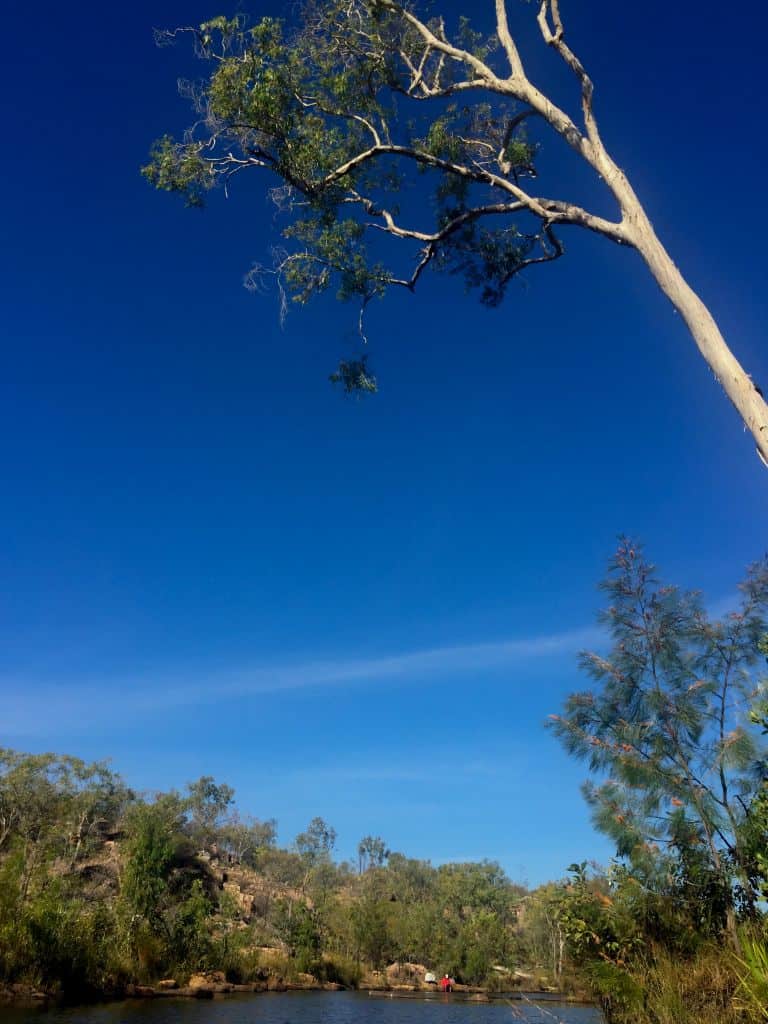 With it's good facilities, excellent campsites, short daily distances and generally flat terrain, The Jatbula Trail makes the perfect step-up for anyone wanting to try a multi-day hiking holiday.
Hot Tips to doing the Jatbula Trail:
Arrive the day before and visit Darwin's famous Deckchair Cinema down on the waterfront for quality films with great atmosphere. Buy your ticket online and don't forget to grab a cushion on your way in. This is also a great way of passing the time if you're flying out on one of Darwin airports notorious red-eye midnight flights back to the east coast.

For women, wear a sports bra and matching boy leg undies underneath as your everyday cossie/underwear. Makes for a super quick transition when you arrive at a swimming hole.

Bring your own mozzie dome/tent-inner if you have it. The ones provided by commercial companies are understandably heavy as they need to be bought for durability. Same goes for sleeping mats.

Essentials for lazy afternoons around camp = sarong, camp shoes like Crocs, reading (I used Kindle app on my iPhone + battery backup or solar charger).

If travelling independently, transfers can be arranged through Gecko Tours.
All info, maps and trail notes are available at the NT Parks site.
Caro travelled courtesy of Trek Tours Australia.