It seems like only yesterday (it was 1998) that Osprey Packs burst onto the Australian market. For the bird lovers amongst us, it was as though the regal Western Osprey, found in many parts of the world, merged with the Eastern Osprey (much more familiar to us Aussies) to create a powerful raptor force.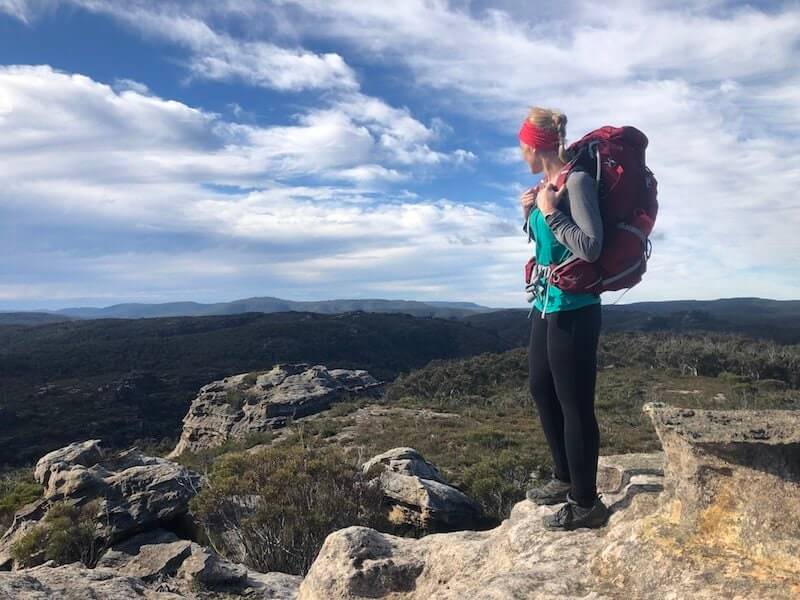 Since 1974, when American Mike Pfotenhauer sewed his first backpack with his mum at age 16, Osprey has been a one-job company. By one-job, I mean they started making bags and still make only bags. And if anecdotal evidence is anything to go by, they're crazy popular being the most widely found pack brand in Aussie independent outdoor stores.
I have to admit, having never used one, I was super curious. To find the answer I needed to test one myself – so thanks to Osprey Australia for sending me their Osprey Aura AG 50 litre (medium) to put through its paces.
How I tested this backpack
I headed out for two weekend bushwalks (with approximately 40% of these being off-track in light scrub), carrying everything I'd normally take for a weekend hike, along with daily training walks (albeit with overweight pack) for two weeks.
1 x overnight weekend walk (14 kg inc water) – 20 kms, +780m elevation gain
1 x overnight weekend walk (14 kg inc water) – 27 kms, +1000m elevation gain
10 x short training walks (22 kg) – 7 kms, +/- 350m elevation gain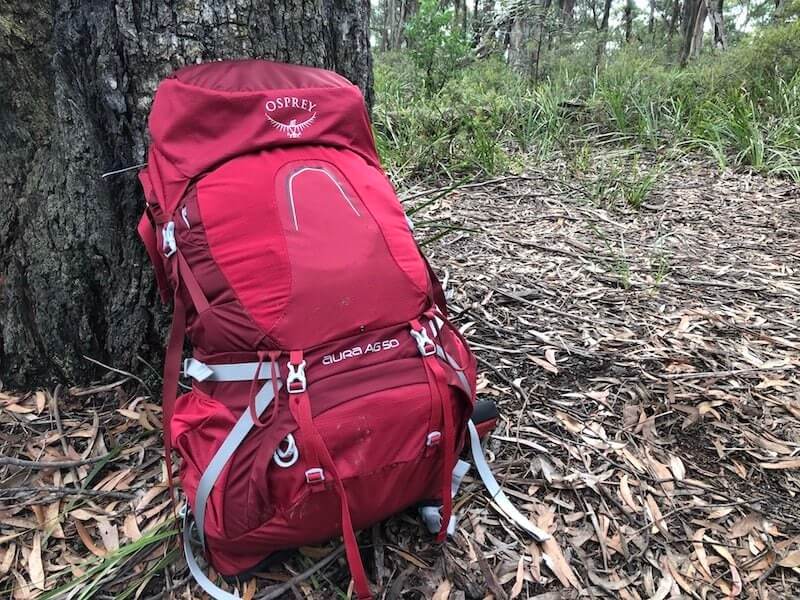 Osprey Aura AG 50 Litre
First things first. The Aura is the women's specific model in this line of packs. The mens model is the Atmos. According to Osprey, the Aura design takes into account the structure and anatomy of women's shoulders, chest and hips, understanding that our curves (and back lengths) vary from men. During the road tests, the padding seemed to be in just the right place.
| | |
| --- | --- |
| Sizes | Extra small, small and medium |
| Weight | 1.9 kg (medium) |
| Fabric | 100D x 630D Nylon dobby (dobby is not a character from Harry Potter. It's the built-in geometric pattern in the weave that helps strengthen the fabric) for the main compartment, with 420HD Nylon Packcloth on the bottom for strength and durability. |
| Load | 11 – 18 kgs |
| Colours | Red, grey or blue |
Harness, suspension & frame
I like to give all my packs a name. This one I call, 'The Huggy Hugger' and you'll know what I mean if you pick one up and try to throw it on like other backpacks. Because of how they've continued the unique style of mesh in the back panel (think trampoline style, first invented by Deuter) down and into the hip belts, the hip belt never flaps around when you're trying to put it on. In fact, it's quite fixed, with a fairly rigid feel, that you need to physically pull apart/open to wrap around your hips. It means that whilst the air movement across your back and breathability is excellent, that putting it on takes a bit of getting used to. Get ready for a big warm hug.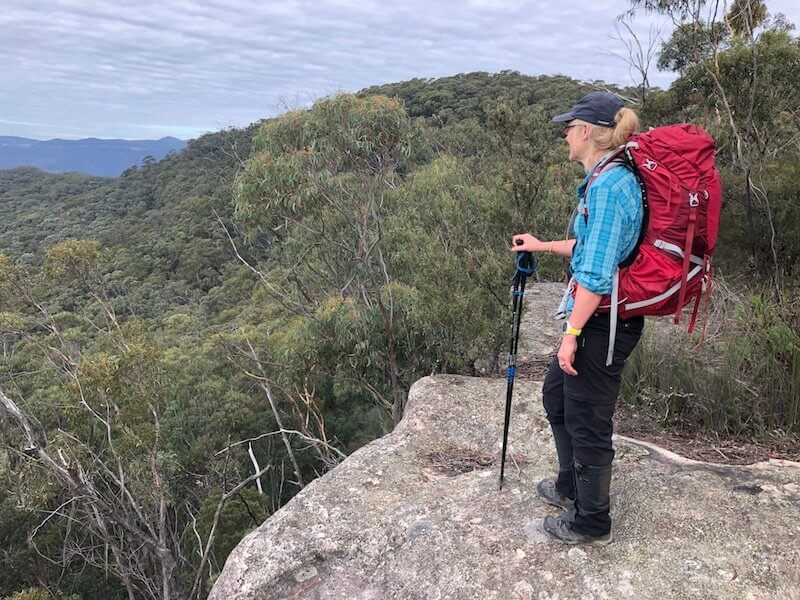 Importance of choosing the right size
Osprey refers to the harness as Anti-Gravity (hence the AG in the name) and at first glance, you can tell that a lot of engineering and design has gone into it. It's unlike any other harness adjustment system I've ever seen before. As a result, making adjustments yourself isn't intuitive and for that reason I recommend getting fitted and buying one of these from an expert in a bricks and mortar store. This also applies to getting the right size pack. As I chose a size based upon the online Osprey sizing chart, rather than trying them on, I unfortunately ended up with a frame size too big. This is odd, considering that I am 175 cm tall (5'9"), with a long torso. Surprisingly, I really needed the small size.
Whilst their recommended maximum load is 18 kgs, I can vouch for their marketing speak of, 'feels like you are carrying less weight than is in your pack', as I trained for and undertook my annual SES Bush Search and Rescue arduous pack test (don't ask) with the required 22 kgs onboard. True to their word, it felt more like 18 kgs… although it didn't make the test any more enjoyable!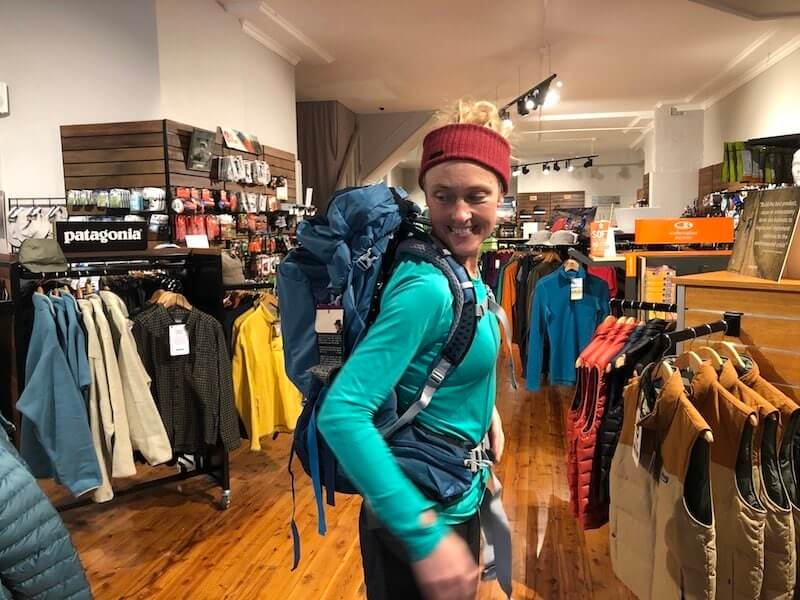 Compartments
Osprey have opted for a dual internal compartment (with option for un-doing the internal floor) design, with a robust two-way zipper (with looped toggles) to access the lower (or sleeping bag) section. The outside features a generous external pocket at the back, with stretchy mesh sides, that's handy for raincoats or other soft items. They've been smart and chosen to include a panel of nylon dobby here for durability.
The brain (or lid) of the pack is detachable and features 2 external zippered pockets.
Dual hip belt pockets are a good size, just remember that because of the fairly rigid rounded shape of the belt that solid items (phone, camera) don't bend around corners.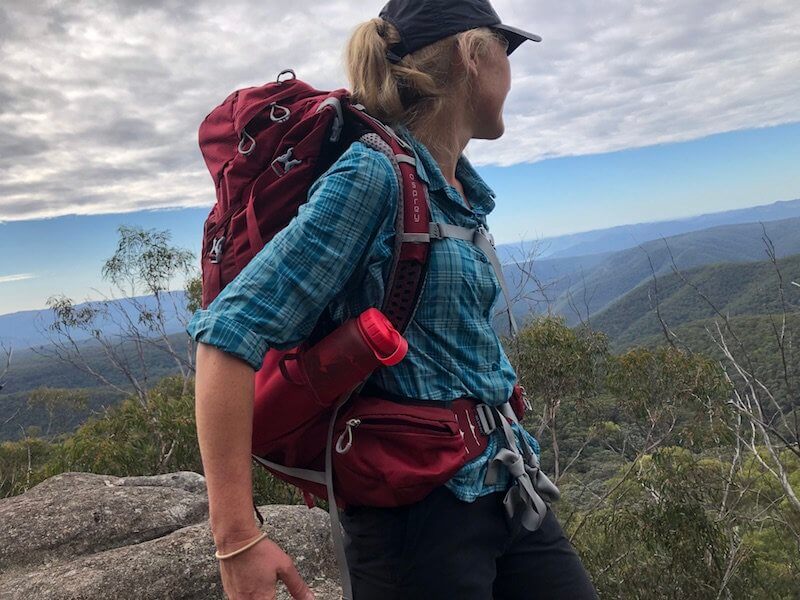 Something I really loved about the side pockets is that they're perfectly designed for accessibility to drink bottles (I used a 1L), through the addition of a clever forward facing opening, with a thumb loop. No more, "Would you mind grabbing my drink bottle?" or dislocating your shoulder just to quench your thirst.
On the topic of water, the internal hydration pocket is one of the biggest I've seen and can handle a 3 litre bladder.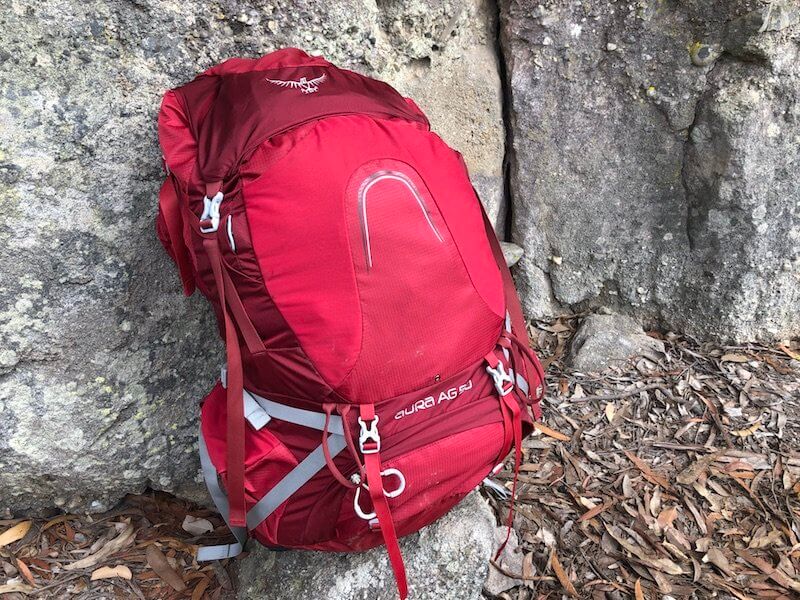 All the bits
The best way I can describe the Aura, is to say it's like a Works Burger. It really has so many features and extras, including beetroot, pineapple, bacon and egg. Including:
removable lid & subsequent FlapJacket
trekking pole loops (that you don't need to take off your pack to use)
compression straps on the stretchy side pockets to stop you losing your bottles
2 ice axe loops (with tuck-away slot for 1 part if not needed)
removable sleeping bag straps
whistle in the sternum strap
internal compression strap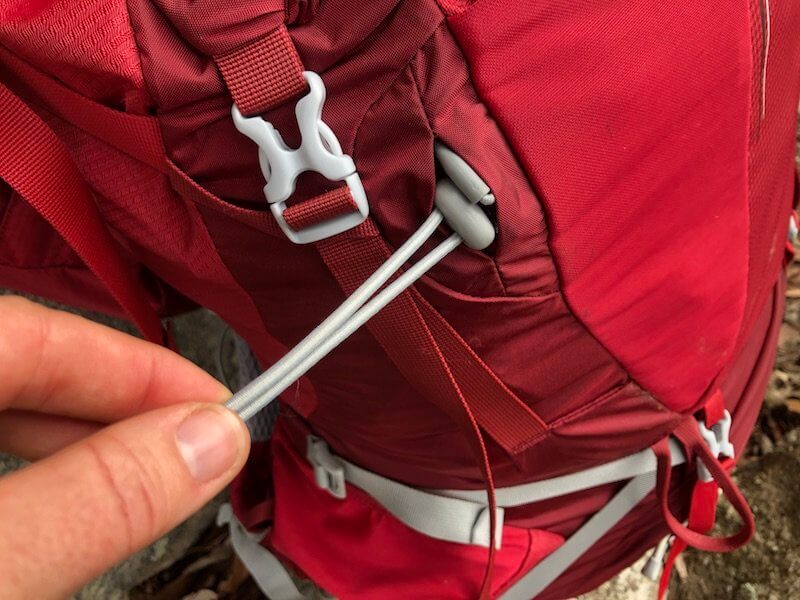 Who would suit the Osprey Aura AG?
If you're already a fan of Osprey's daypacks and want to step up to an overnight pack, it will offer a good sense of the familiar, absolutely loaded with features, pockets and compartments.
It's not for someone who does a lot of off-track bushwalking through scrub due to the amount of bits that could snag and abrasion on the stretchy pocket fabric on the outside. [Not everyone wants beetroot or pineapple on their burger.]
Summary
The Osprey Aura AG and Atmos is a complex design that hugs your body like a Jason Rocker-Recliner with all the extra bells and whistles. The AntiGravity harness, in trampoline style, is supported by lots of padding and if properly fitted, succeeds in shifting weight onto the hips. 
There's lots of 'bits' on this pack that places it about as far away as possible from a simple, bucket backpack with one job to do. It wouldn't suit someone looking for a paired-back, lightweight minimalist design or for off-track bushwalking.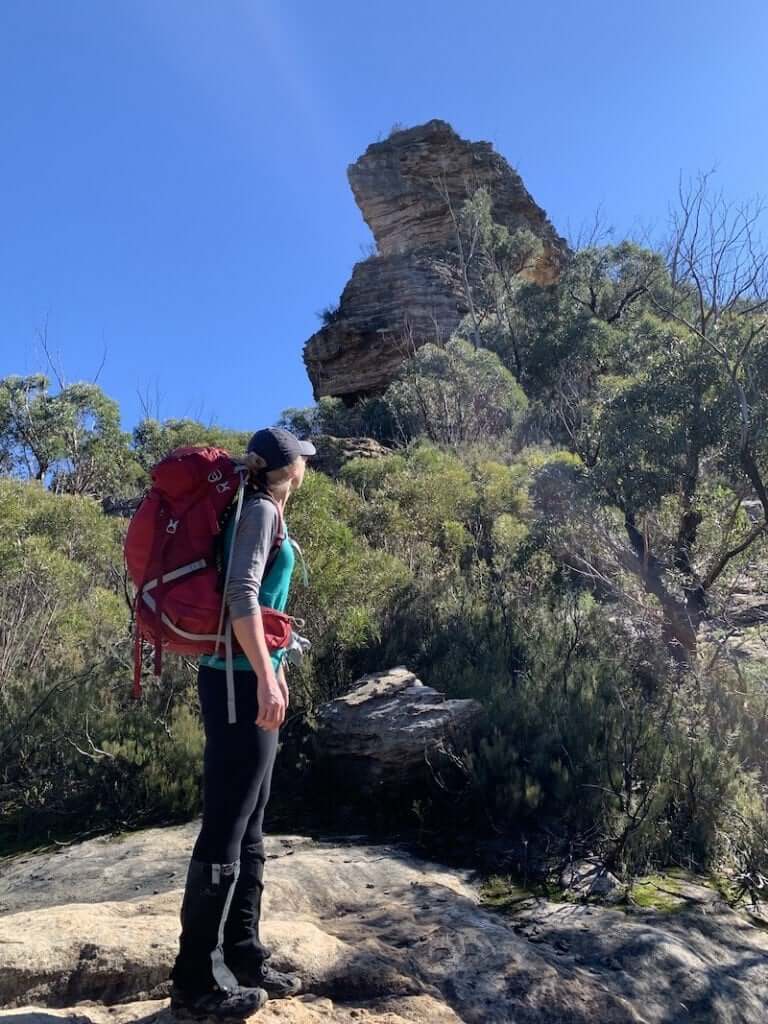 What I love
Lots of thought in the design, like a LOT – they've thought of literally everything
Empty weight <2kg
Side pockets with forward facing opening for water bottle
3 different fabrics depending on positioning
Areas for improvement
For security, I would prefer one of the zippered brain pockets to be accessible underneath the lid, rather than both being external.
Would be good to be able to remove the internal floor divider completely.
FlapJacket only makes sense when using the pack without the brain. Perhaps a roll-top closure would've saved this extra flap.
Improving the online sizing chart. I measured as per the instructions, but still ended up with a pack that was too big.
Buy Osprey Aura AG 50 now from Wild Earth.