The pack I wanted to hate but ended up loving
I can still hear the words of my old bushwalking mentor ringing in my ears. "Never buy a pack with a zipper". His opinion was based on what appeared to be sound advice to my then novice ears and became a gospel that I preached for many years – until now.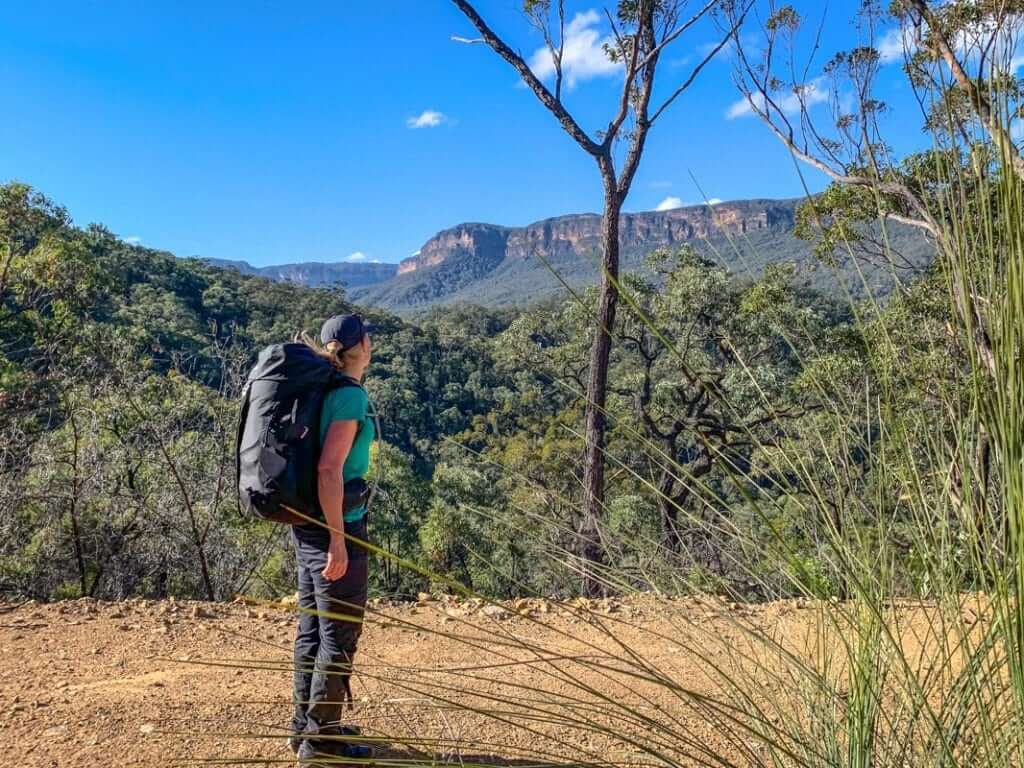 That philosophy was based upon two fundamentals of traditional pack mentality being water ingress and weight. Standard zippers, by their very design (check out Wikipedia if you want to lose 10 minutes researching the history of zippers!) allow water to pass between their interlocking teeth and due to their metal or plastic materials, weigh more than a fabric that you might normally see in backpacks, like cordura, canvas or nylon.
I get it. So how could my 20 year passionate anti-zipper proselytising become so completely turned around that the pack I reach for most weekends is now the 47 litre Macpac Rhyolite and features a 62 cm zipper that runs the full length?
I couldn't get it. I didn't get it, until I tried it.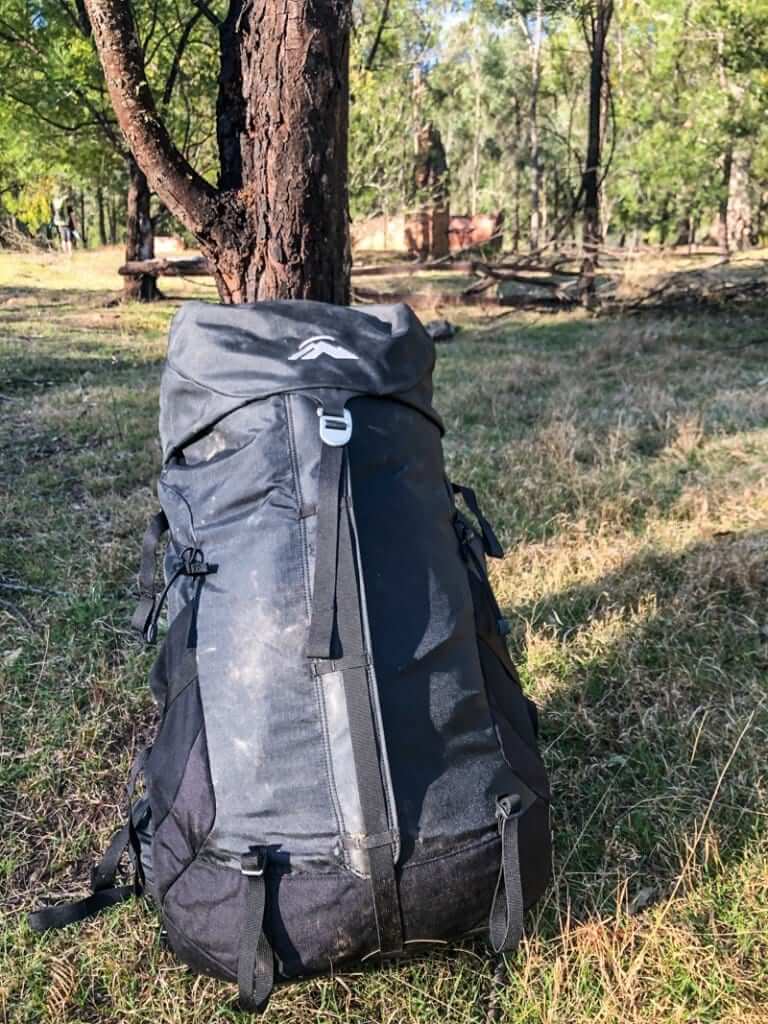 First Impressions
My preferred style of backpacks has always been the simple, single compartment. One job, load from the top and 'pack with puff' to ensure there's no air gaps and a streamlined shape all round. This pack allows you to do that with a drawstring (+ pull release), and for those who like them (I don't use them), there's a 2 litre water bladder pocket inside. I think the shape looks great and the single main compression strap and metal hook are quite stylish.
Capacity
The 47 litre capacity (1.5 kg) is a good size and it fills the gap left when Macpac discontinued the Tasman 45L (which was my previous go-to, multi-purpose, mid-size pack). It's the kind of size that allows a luxurious weekend getaway with extra food (read: chocolate, happy hour and wine) and with clever packing and gear choices, can still see me enjoying a 4 day trip and maybe just one or two luxe additions. The techie stuff tells me that 15 kgs is it's comfortable carrying capacity, which is fine considering I'd be hard pressed to exceed this for a 4 day trip.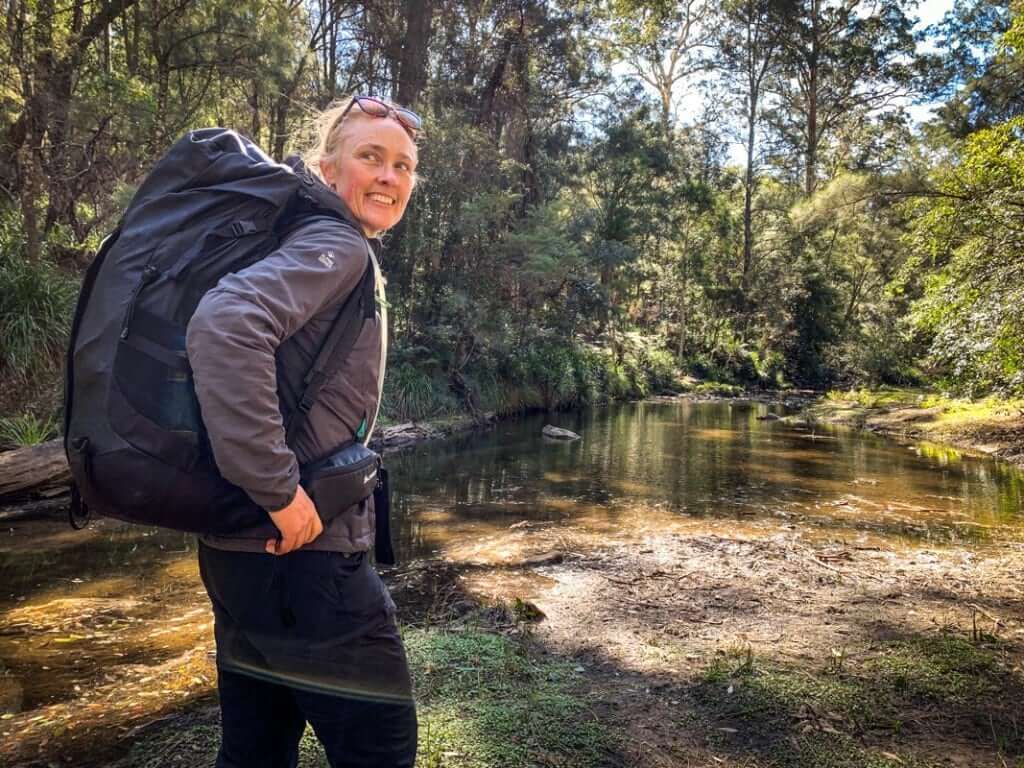 Backpack lid (aka The Brain)
The main outside pocket of the lid is a generous size and I like that the zipper opening doesn't gape which could lead to stuff falling out if asking a friend to access it on the fly. There is a standard internal zippered pocket underneath, surprisingly, none of the pockets have a key loop, but given that they're website says, 'Designed for simplicity with a streamlined aesthetic,' I'm assuming that they've removed any non-essentials.
Rock Climbers will love this pack
Straight up, it's easy to see the appeal for rock-climbers. Get to a crag, drop your bag, one zip and bingo… your gear is instantly accessible and it's easy to see everything laid out and to keep it in order.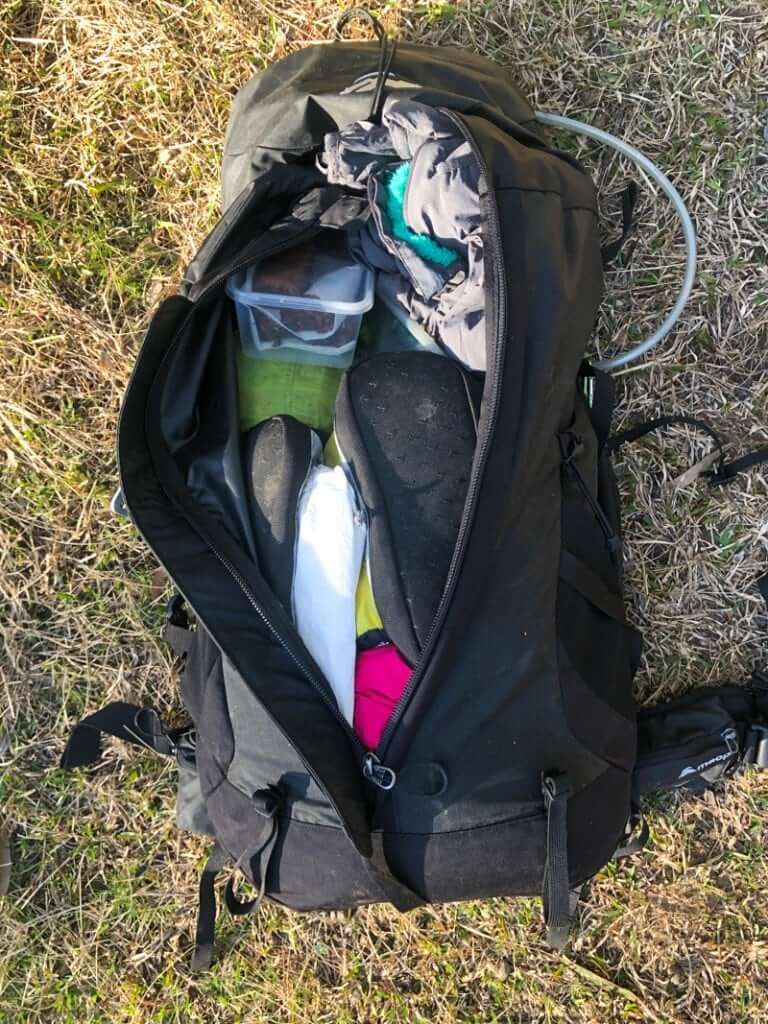 Zipper Closure
Let's talk about water for a minute…
I don't use rain covers on my packs… hate the flappy flappy things. I also don't usually use the one large packliner method for waterproofing my gear. What I do use is the multiple small dry bag method. To be honest, unless you're out in torrential rain over an extended period of time (days), you shouldn't get water inside your pack if the coatings on the fabric is still in good nick.
The pull loop on the zipper is backed up with a press stud at the top, I'm assuming to avoid accidental unzippering. The zipper is completely covered externally by a double storm flap which goes a long way to decrease any water finding its way inside.
I'm not saying that I'd take this pack canyoning (I wouldn't), but I'm confident that the zippers are not going to be a hassle for me in terms of rain.
Materials
The main fabric is 210D Nylon Ripstop, which thankfully is backed up with 500D Cordura on the bottom and strap attachments where the most wear and tear would normally occur. Think bum-shimmey-ing down a rock surface, dragging along the ground or simply dropping your back on the ground for a break.
The top-loading side pockets are stretchy mesh, backed up with a compression strap over the outside, which easily hold a wide-mouth Nalgene style water bottle.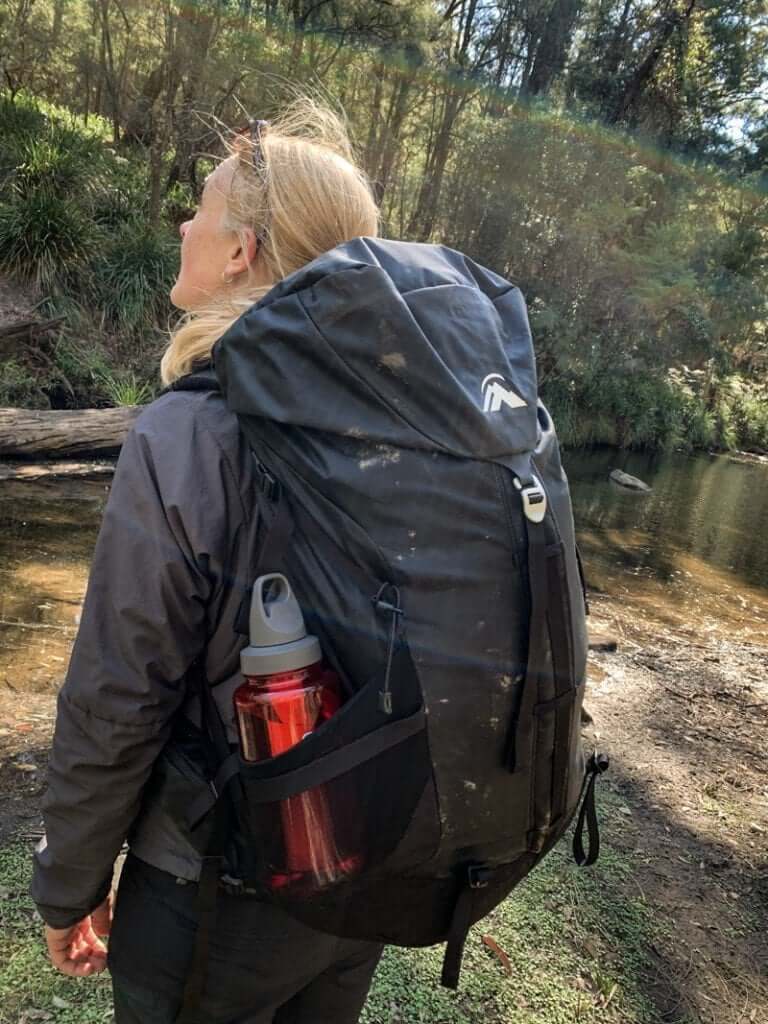 Straps
Speaking of straps, the two side compression straps also help address another concern that I've had with zippered packs in the past. Zippers are a potential point of failure and difficult to fix in the field. This design means that if the robust YKK 10RCT zipper was to fail, the side straps can be pulled across the wide opening to get you out of trouble.
Hip belt and pockets
The hip pockets are an average size with a slightly odd pointy back corner which, according to Macpac, is for water drainage. Length wise, they can hold an iPhone 8 in a Lifeproof case (15cm x 8cm), but could be bigger.
With a bit of tinkering behind the lumbar pad, it's possible to remove the hip belt completely to either create a simple shoulder strap only pack (not sure why you'd want to do that) or for a handy option, use the hip belt and it's pockets as a lightweight summit/side track version of a bum bag, leaving your main pack behind as you go exploring.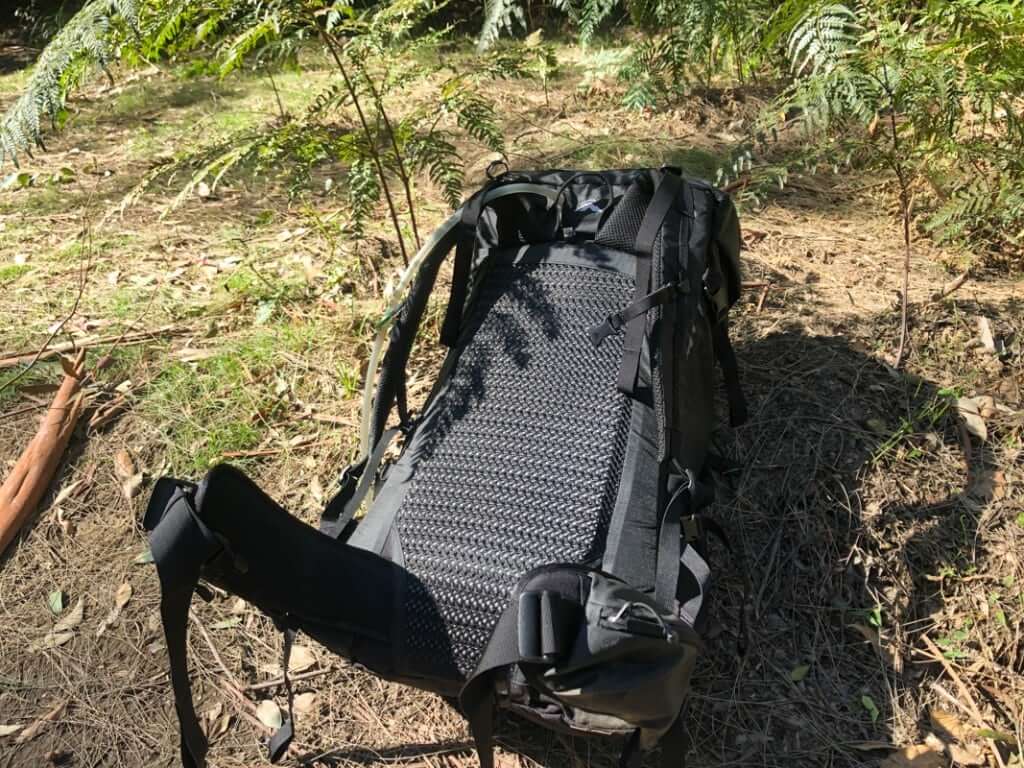 Back pad
Further wrangling of hidden velcro pockets behind the water bladder compartment allow you to remove the ridged foam padding if you fancy a seat pad… however, it would be quite a wrangle to get it out and back in again.
What I love
We all know that our bodies are built differently. When you find a harness system that 'works' for your body, it's like finding Lasseter's Gold. Whilst the pack has a fairly minimalistic approach to padding and cushioning, the frame seems to mimic the old Tasman 45L narrow metal tube frame, which my body shape loves. This is the most comfortable pack I have worn in a long time.
I've fallen in love with the exploding pack qualities of the accessible zippered opening. Getting setup at camp was the easiest in a long time, with quick access to my tent and being able to see everything at a glance. The other benefit was as the pack lays flat with everything visible, there's no need to pull everything out onto the ground, it keeps everything cleaner and tidier both inside and outside my tent. I kept the pack in the vestibule, zipper open, in case I needed anything during the night. It's like having your suitcase open in a hotel room.
And I know it's a shallow thing, but I really like the look of the pack, the single main compression strap and lightweight metal hook closure and the fact that it is a paired back, simplistic design, without a lot of additional extra features or nik-naks.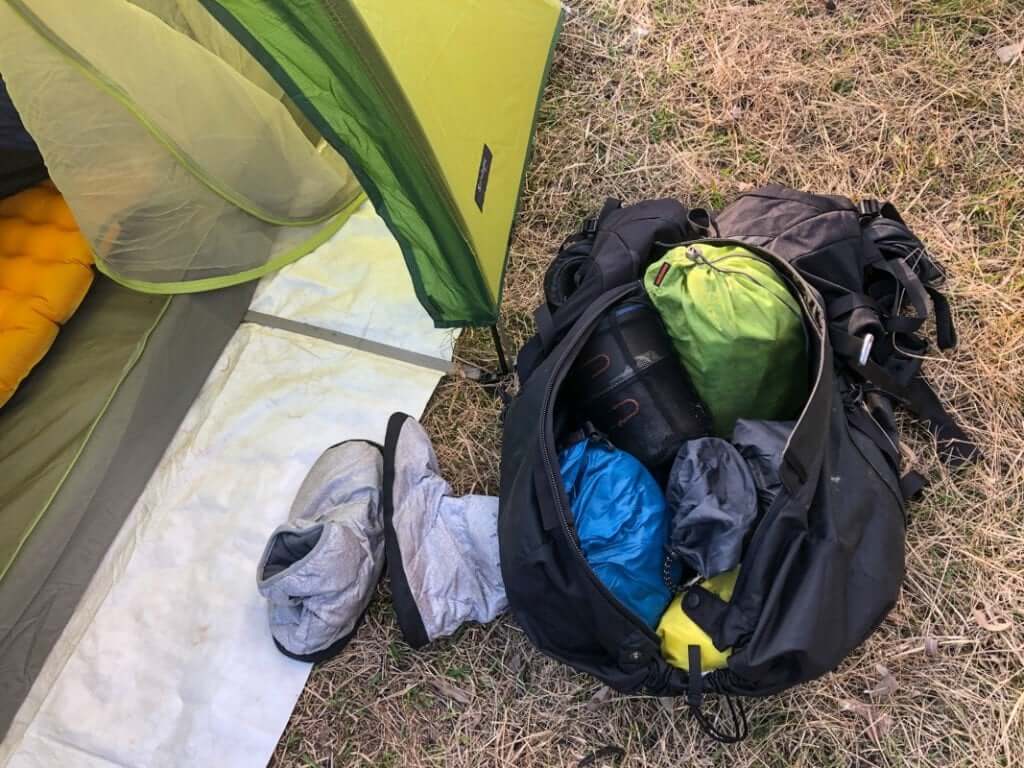 What I wish they'd change
Black. Yes, it might look smart in the streets of Melbourne or in a hipsters outdoor Instagram shoot, but it's not great for being visible in the bush.
With so many packs these days sporting adjustable (and detachable) lid/brain straps, which allow you to extend the capacity or stow items (like a warm layer or rain jacket) between the throat and the lid, if feels like this is a missed opportunity.
It's a small thing, but the main hook fastener can't be lowered more than one loop to compress down the pack if it's half empty. It's a simple stitching change.
Buy this pack
You can grab yourself one of these packs online here!
Disclosure: I am a Macpac Ambassador. My opinions are based on actual in-field experience and I will not promote a product or brand I do not believe in. You can read my not-so fine print here.