What the FUD?
It might come as a surprise, but the idea of a FUD (Feminine Urination Device), sometimes called an STP (stand-to-pee), is not new. In fact, there were patents for such gadgets dating back to 1922. Which, when you think about it, is interesting as it's also when western women started appearing in pants (that's trousers to my UK friends).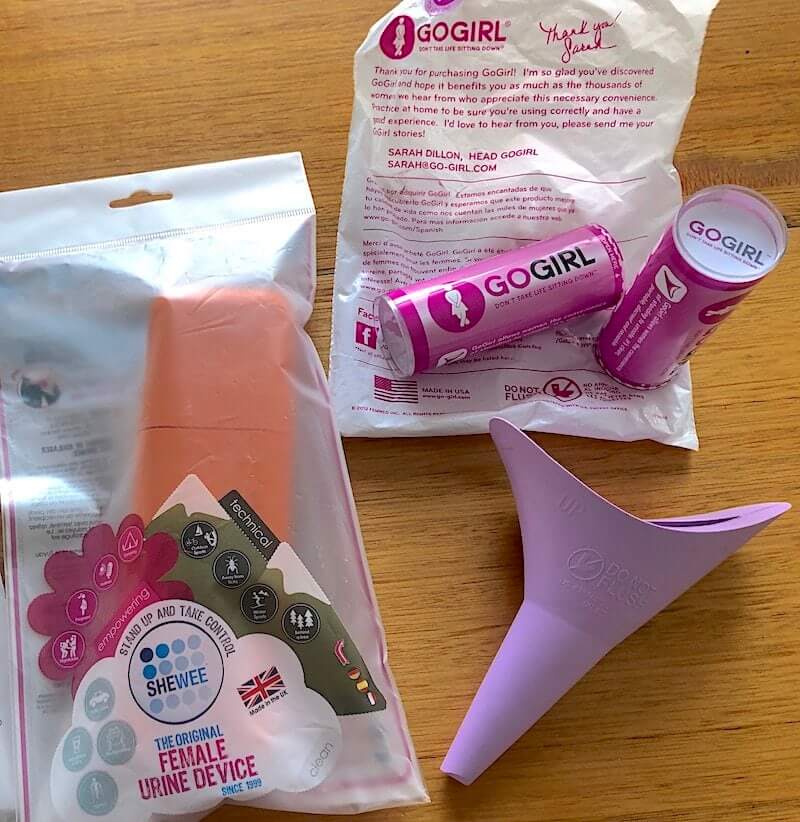 In their simplest form, they're a funnel designed to direct wee so us chicks can stand our ground when a normal sitting loo isn't available… or if the loo available is enough to make you heave.
Personally, I'm pretty comfy with a traditional squat when I'm out in the bush and I'm yet to find myself in a situation where one could be helpful. However, I have a good friend who is a mountaineer and swears by one to avoid getting out of all the clothing layers or dropping your dacks* just to pee when it's -40c. For some women though, maybe through dodgy knees or injury, squatting isn't possible and trying to hold the quad-burning hover just doesn't work. For them (or one of the other reasons mentioned below), a FUD could be the answer to all their awkward peeing dilemmas.
There's lots of different types of feminine urination devices, but the promo video that comes with the Tinkle Belle, is well… pretty freakin hilarious… Adventurous woman you… and actually goes a long way to explain the reasons why you'd want to use a FUD and answers most of the questions you might have. Nice one!
A variety of these devices started appearing in the late 90's with the Shewee becoming one of the best known. There's now many different brands available and they come in either rigid plastic, flexi silicone or even disposable ones made of paper. So which is better?
How to choose the right FUD for you?
As with any piece of bushwalking or hiking kit, it comes down to what you want to use it for.
If you need to be able to push aside your undies and clothing layers with it or use it in places with little privacy, then a solid or rigid style FUD is going to work best. The downsides are that these ones don't squish or fold down too small – however, they can be pushed down beside other soft items in your pack pretty well. If you like, you can use the supplied carry-case, but that just adds to the bulk.
On the other hand, if you're looking for something that you can use in relative privacy (behind a tree or for travelling/backpacking where there's squat or dirty dunnies), that you don't mind dropping your undies slightly for and that you want to be able to squish up into a compact size, then go with the flexi style designs in something like a medical grade silicone or TPE (thermoplastic elastomers).
How to clean a FUD
Generally speaking, most FUDs today (except the paper disposable type of course!) are anti-microbial and hydrophobic. That means they're made from materials that repel liquids and with a simple shake and flick, most remnant wee should flee! Afterwards, a simple rinse in water is a good idea, with a wipe with a sanitiser cloth after extended use if you really must.
How to use a FUD
Each of the different manufacturers provides instructions either with the device or via video – this simple explainer from Tinkebelle is the best I've found.
I recently found myself with a couple of samples and asked a friend who works as a professional guide to take them for a road test and see what she thought. She spends that many nights in a tent each year, so if anyone is going to be able to put them through their paces – she can. So over to the amazing Pamela…
Pamela says…
There's not much that guys can do that I can't, but there is one thing that has eluded me – I can't pee standing up (or write my initials in the sand/snow with it!)… until now.
"Why would you want to?", I hear you ask.
There are a number of circumstances I reckon a FUD would be useful:
group bike riding in the desert with no large trees or toilets
multi-pitch climbing which requires hanging out on the side of the cliff or camping on a portaledge
trying to avoid squatting in an area known for ticks (ouch!)
a festival where the toilet lines were half an hour long but my fave band starts in five minutes
a leg injury
overseas travel when you're not up to squatting in a pit toilet
filthy toilets that you just don't want to sit on
out on a fishing boat/tinny without a toilet or shelter for privacy
working in overalls or uniform (ie. military, emergency services)
GoGirl
GoGirl has created a compact device that fits into its own little storage tube 3 cm x 9 cm. It's a flexible device made of medical grade silicone that is meant to create some suction when held in the correct position. I found it tricky to put into position without removing clothes as it easily collapses if not held correctly. I found it quite tricky to use without leaking. [Caro: Eeeek, this was my suspicion. The slightest squeeze at the wrong moment and wee would go everywhere!]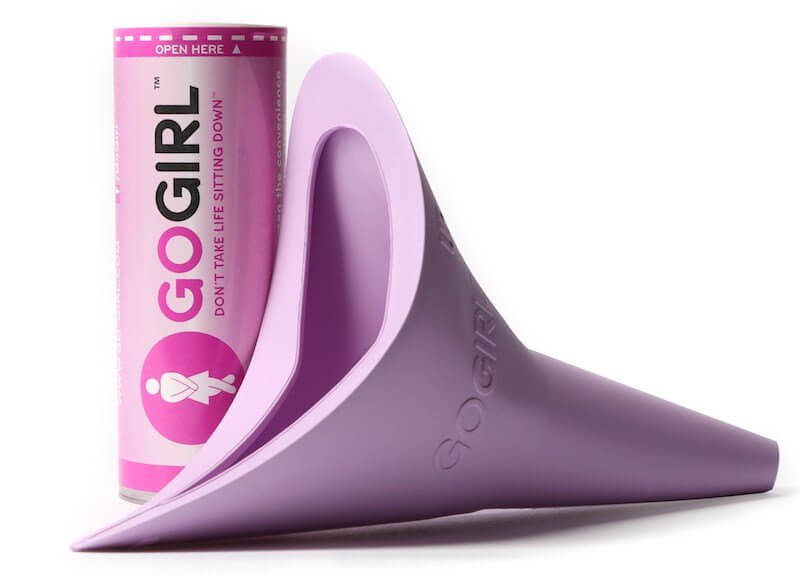 SheWee Extreme
The Shewee is a rigid device that fits into its own storage container measuring 19 cm x 3.5 cm x 6 cm. It comes with its own 15 cm extension hose piece which makes it convenient to use while leaving trousers on. The rigidity of the device also makes it easier to slip into place with confidence that it won't collapse. An additional benefit is that you can keep all your clothes on (including your undies) and use the rigidity of the device to push your undies aside. In practice this means that it's easier to protect your modesty if there's no privacy. (Interestingly, SheWee have released an additional model which is of the flexi-silicone type.) Whilst it's only 2.5 cm wide, which seems quite narrow at first, practice makes perfect and it's recommended to use it in the shower at home until competent.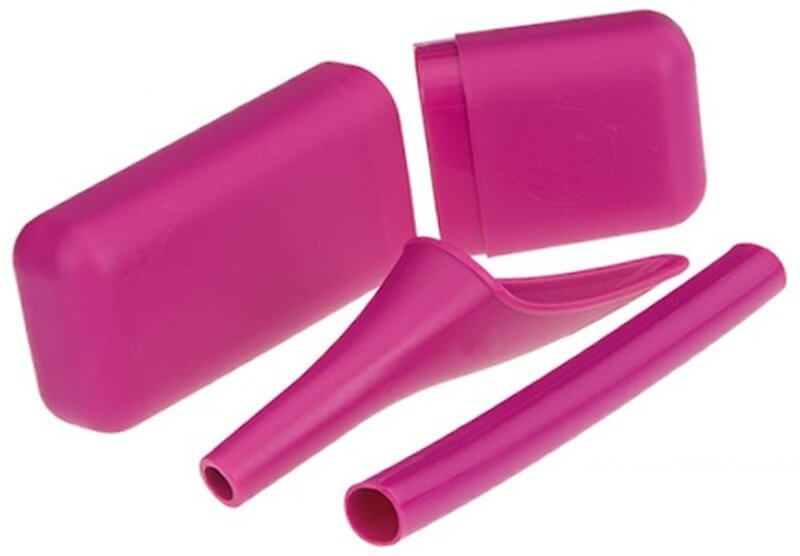 Other feminine urination devices
Tinklebelle – combo hard shell against body and soft folding funnel – Caro's pick! "I tested this out in the Snowies and completely rate it. If you're going to try a FUD… try this one!"
PStyle – rigid type with open top channel
Jtshy – Hydrophobic (flick dry) flexible silicon
Urinelle – single use, paper
Whiz Freedom – Hydrophobic, flexible medical grade TPE
Pibella Comfort – version that allows peeing sitting or lying down
Buy a FUD here
Related Posts
*you will never find the revoltingly cringe-worthy 'p+ies' word in something I write to describe women's underpants. When I hear it, I need a shower.