Here in Australia, we are acutely aware of the devastating effect of Bushfires. By their very nature, fires generally happen in wilderness and national parks – the very places we love to spend time in. So what are the key tips on bushfire safety for hikers and bushwalkers?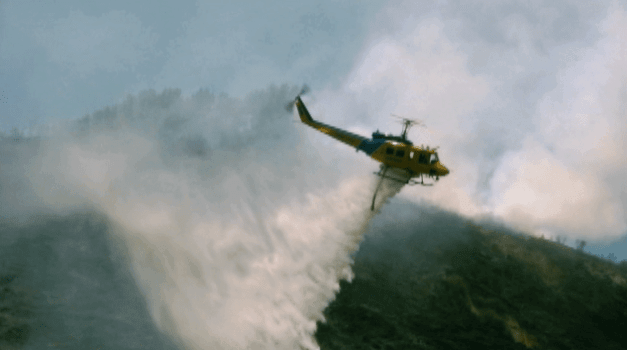 There's a few simple things that I do before every bushwalk, regardless of the season or the conditions. There's the obvious thing like checking I've packed everything that I need, but in addition to this I always check for information about weather and conditions. Such as:
1. Check the weather forecast
Everyone has their own favourite weather app. For me it's a combo of the official BOM (Bureau of Meteorology) and WeatherZone+. Although I've been known to check out those wacky Scanda-wegians and I love the visuals of Windy.
2. Check fire danger and activity
I use the NSW Rural Fire Service Fires Near Me App, which gives great up to date info about active fires, Fire Danger Ratings and if a Fire Ban is in place. Check with your own local fire authority for relevant info.
3. Check National Parks Alerts
The management of fires is done through very close relationships with fire authorities and land managers. Check out the site for the relevant national park, state forest or recreation area that you're visiting. By referring to the Parks alerts and the Fire Service alerts, you should get a pretty good idea of what's going on.
So although it's tempting to still head out on a trip when the conditions look dodgy, especially if it's been months in the planning, it's just not worth it. The combination of >high fire danger, hot and dry winds and dry ground conditions not only make for a pretty volatile load for a fire, but hey… it wouldn't be very comfortable walking conditions anyway. A Fire Ban means that no fires or stoves can be used, so if you're hoping for a friendly night around the campfire, with a good hot meal and a coffee in the morning… think again!
For anyone who knows the Blue Mountains, you'll be familiar with my nemesis – Perrys Lookdown. A steep 600m climb from the Blue Gum Forest in the Grose Valley, to the jagged sandstone cliffline of Blackheath above. Near the top is a silent and sad reminder of how unforgiving bushfires are to walkers, with a memorial to the lives of four boys who were taken during a hike here in 1957. You can read the story of how their friends survived by heading to the river here.
What to do if caught in a bushfire
Here's the advice from the experts at the NSW Rural Fire Service if you do find yourself caught in a fire whilst hiking:
Call 000 (or the relevant emergency number in your area) if possible or activate a PLB (Personal Locator Beacon)
Don't panic and don't try to outrun the fire
If you see smoke, turn back or find an alternate route
Find a cleared area. Look for rocks, hollows, embankments, streams or roads to protect you. Head to lower ground, avoid going uphill and don't shelter in water tanks. In your trip planning, scope out possible areas on the map before hand.
Keep low and cover your skin
Drink water and cover your mouth with a damp cloth
Move to burnt ground when the fire has passed
Know the first aid treatment for burns, shock, asphyxiation, smoke inhalation, foreign objects in the eye and heat induced illness
Try to wear natural fibres (ie. merino is ideal). Synthetic clothing can melt and burn the skin
Let someone know what is happening
And as a last resort: Choose a place with fairly clear ground and flames less than one metre deep and high. Take a deep breath, cover your face and run through the flames to already burnt ground.
And of course, if you do use campfires, be smart and demonstrate good fire management and minimal impact bushwalking:
Use an existing fire site and rehabilitate the area as much as possible
Don't surround it with rocks (I call them 'fairy rings' and some rocks can explode – they're unnecessary)
Always place fire and stoves in a cleared area and away from tents
Have enough water to put it out properly and again – rehabilitate the spot
Don't cook or smoke in tents (smoking in National Parks in NSW is illegal)
Extinguish all fires, candles and lanterns before bed
Other helpful resources