Australia's Ancient Lava Tubes
It's easy to think about a Queensland holiday in shades of blue and green. The vivid colours of ocean and jungle, where two World Heritage treasures meet in a classic postcard image, tells only one side of the diverse Queensland experience. It's like eating the main course whilst missing out on the tasty treats of an entree and ignoring a decadent dessert.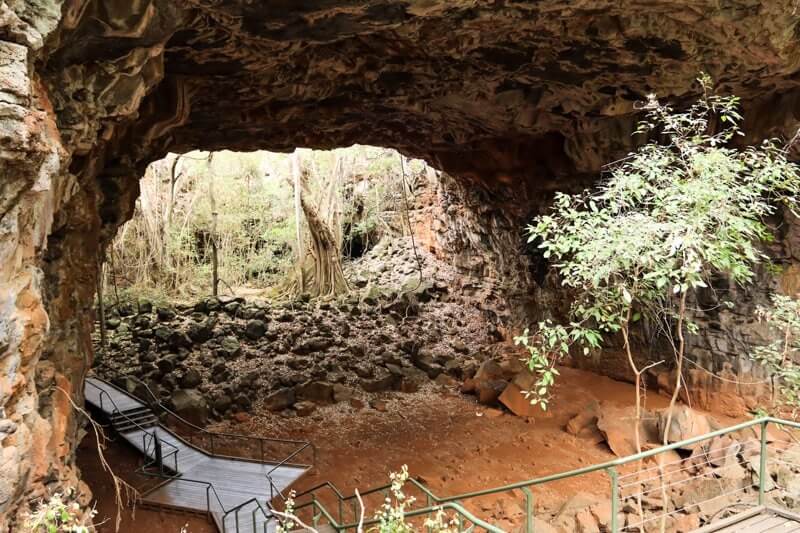 For lovers of a kaleidoscope of changing colours and moods, Queensland delivers in ways you might not expect and often within a stones throw of the more popular destinations.
This particular day, I found myself having breakfast by blue at Mission Beach, chasing waterfalls in green at Millaa Millaa Falls and then catching sunset amongst the ochres and olives of Savannah land.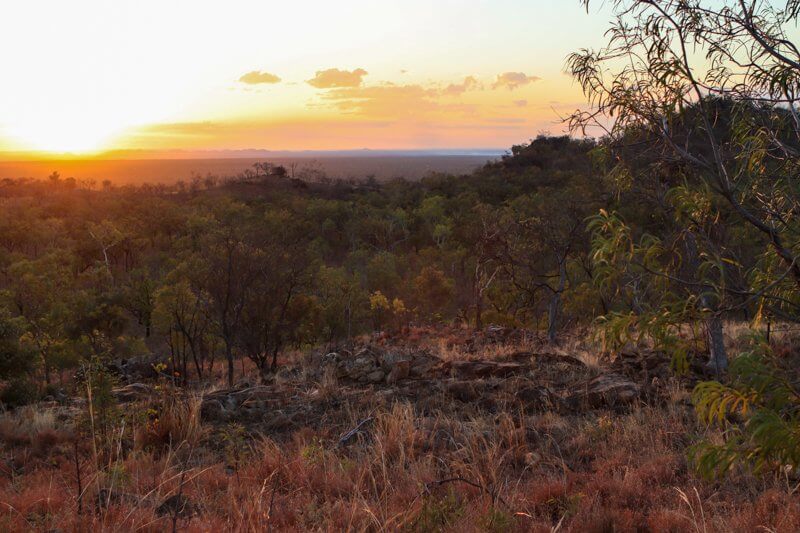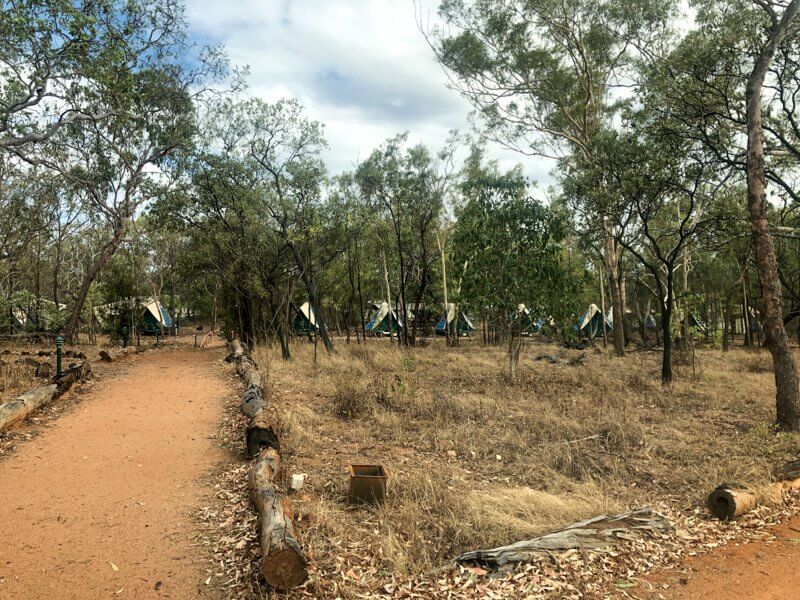 I was shocked. Shocked that what my feeble brain expected to be a subtle, sliding transition from the rich dairy country of the Atherton Tablelands, into the drier, arid plains of Savannah country was actually sudden and dramatic. It was as though a stage manager had rolled down a new backdrop behind our small group of players on this rolling road trip stage and caught us all by surprise.
The tyres slowed to a halt just four hours after leaving our beachside breakfast, but the view couldn't have been more different.
We'd entered the precinct of The Undara Experience and for a lover of the Aussie bush, more familiar with eucalypt than rainforest, I suddenly felt at home. Truly home among the gum trees.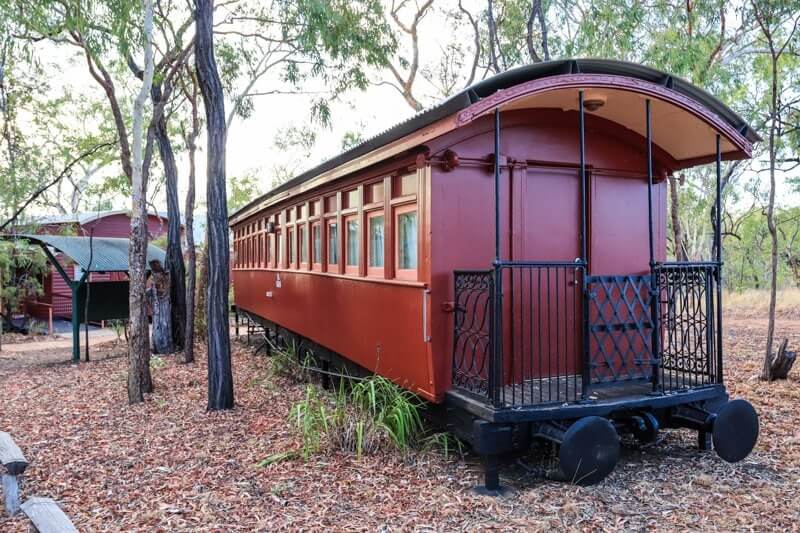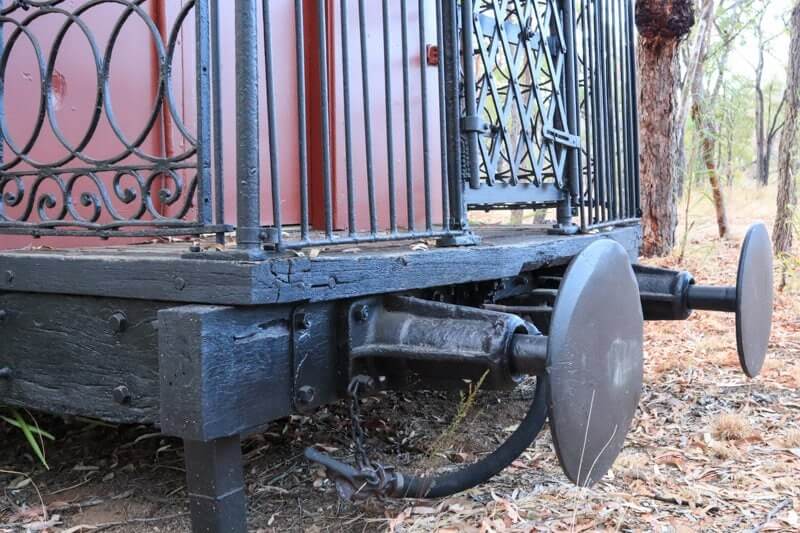 Speaking of home, the inner train-spotter in me squealed in delight (internally, so no-one else could see how much I secretly love trains) when I saw that our accommodation for the night was to be restored turn-of-the-century train carriages. Separated by an internal wall, each carriage holds two queen/twin guests rooms, each with their own ensuite and access. I dreamed of a lazy few hours to sit on the timber verandah reading a book in the gentle breeze, however there were adventures to be had and more surprises to uncover.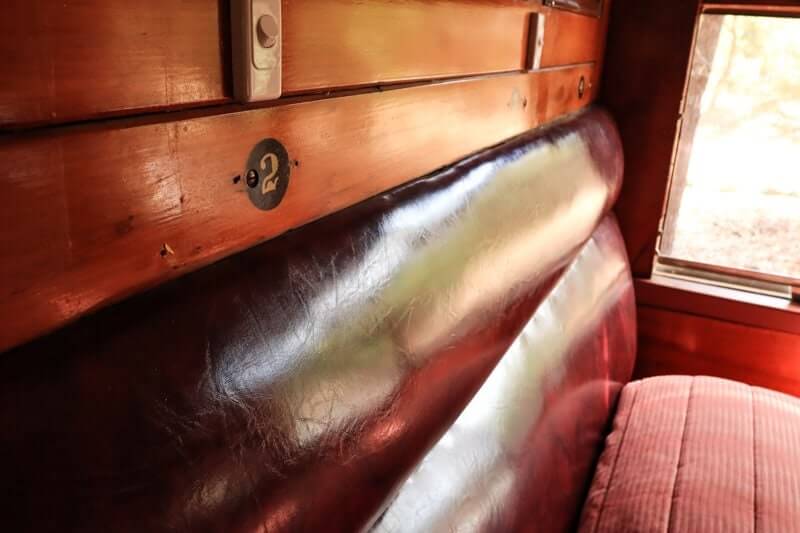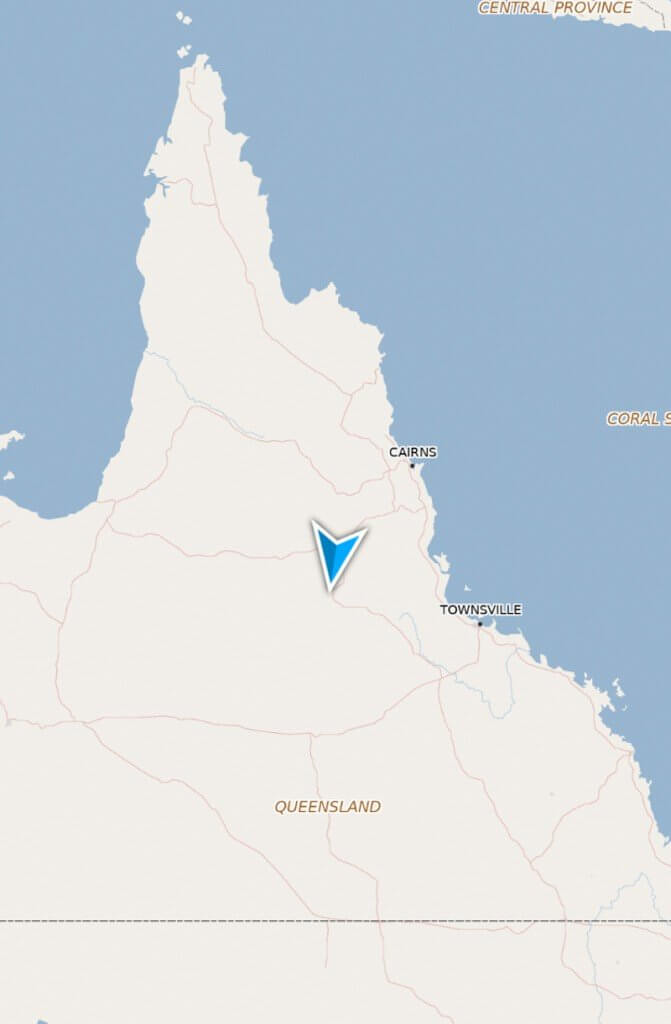 If you've never heard of Undara (I hadn't!), it sits roughly 300 kms due west from the coast, about half way between Townsville and Cooktown. Keep heading west from here and you end up crossing Gulf Country and hit the Northern Territory border in 900 kms.
Undara is famous (to road trippers, 4WDers, Grey Nomads and backpackers) for one thing – Lava Tubes. So whilst I knew of southern Queensland's spectacular volcanic scenic rim, I was blown away to learn of the 190,000 year old eruptions that led to the creation of the largest lava tubes in Australia.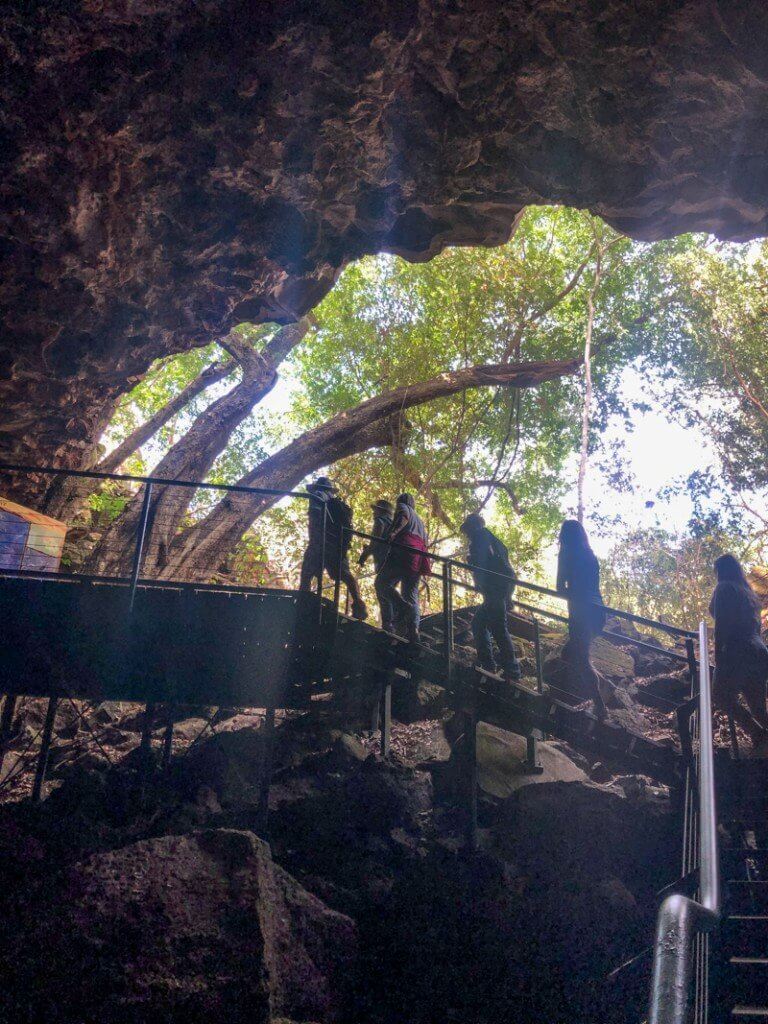 Now, I'm no lava tube virgin having abseiled into and swum through their dark depths in Tahiti, but I had no idea that Australia had its very own.
Whilst those Pacific tubes might have been high on adrenaline, they lacked accessibility to all but the most adventurous and fit. That's where The Undara Lava Tubes excel.
Although our tight itinerary only allowed one night, three would be perfect and would give you a relaxed pace to enjoy all the bushwalks, Lava Tube tours and more than one sunset.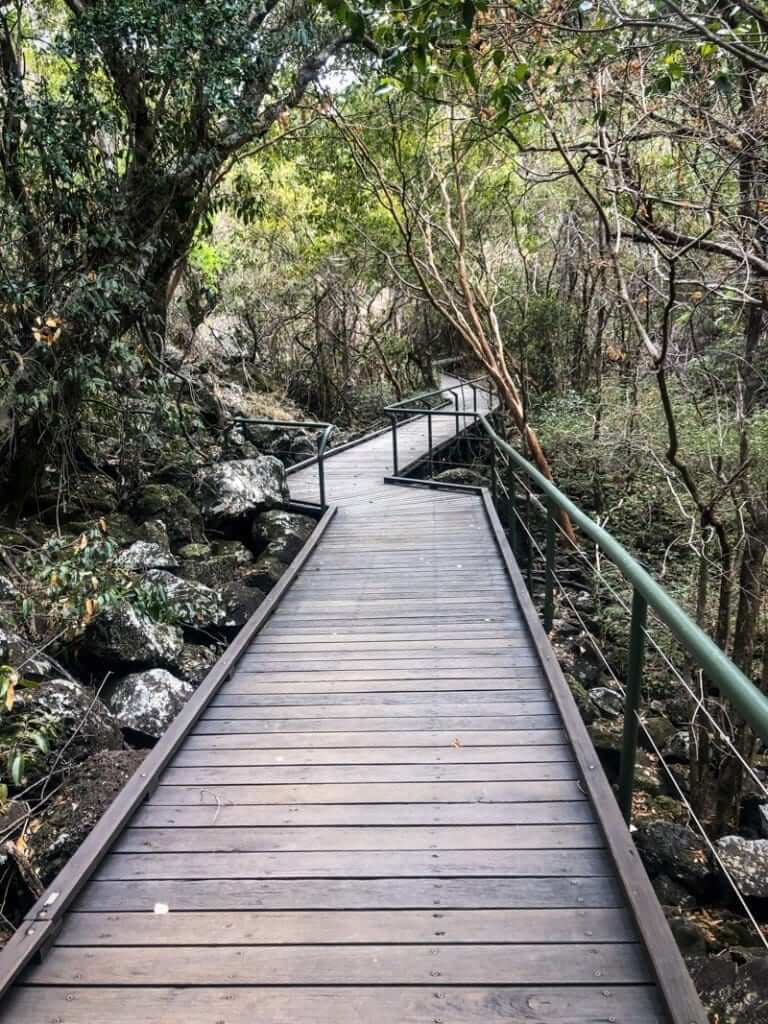 What to do at the Undara Lava Tubes
Get to know Undara
After I dumped my bags (and checked out the mod-cons of my train carriage including the compact ensuite), I changed into comfy walking shoes to check out the area. It's a sprawling site that includes a variety of accommodation levels from top end Pioneer Huts (think: good quality caravan park cabin with ensuite and air conditioning), the Train Carriages, Swag Tents (glamping) to caravan park and campground (powered and un-powered sites). There's even a setup for groups with their own facilities and camp kitchen and the must-have swimming pool. If you walk in an anti-clockwise direction around the site, you'll finish at the central hub where you'll find the Fettler's Iron Pot Bistro (serving classic pub grub) and the bar, which is also in a converted train carriage. It's the perfect spot to finish the day with a coldie in a space which miraculously seems to catch the breeze under its expansive roof. I can only imagine the sound under here when those top end rains come – amazing!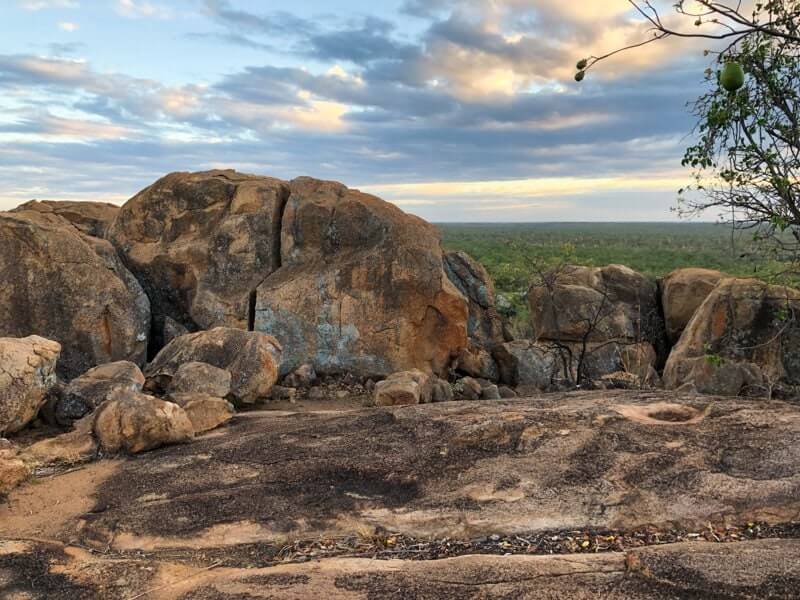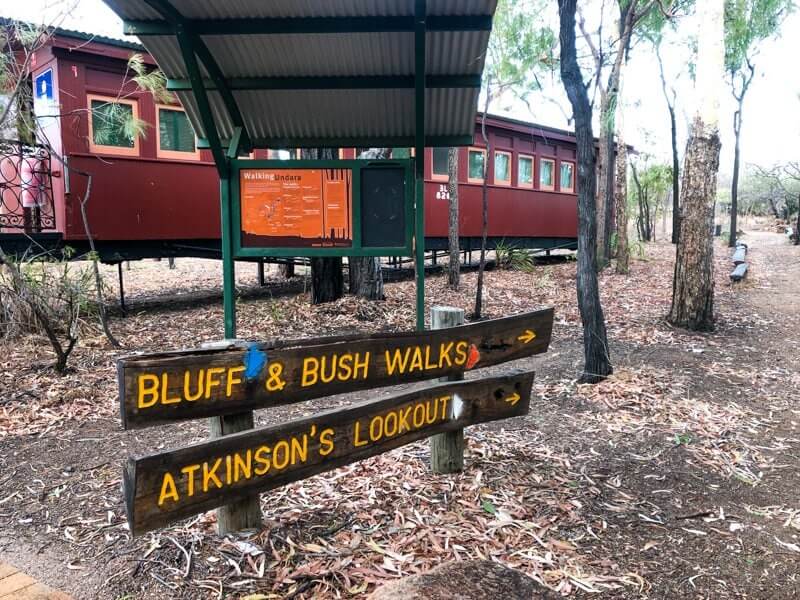 Take the Wildlife at Sunset Tour
Hop on a minibus for a slow drive (so you don't miss any animals) as the sun is starting to sink. We saw Eastern Grey Kangaroos, Pretty Face Kangaroos and Wallaroos (keep an eye peeled on the granite outcrops) whilst hearing about the Tropical Savannahs of Northern Australia from Bram, our host and guide. According to UNESCO, they're one of the most pristine savannah landscapes left on planet earth – just as well they've developed the Savannah Guides Network (along the Savannah Way) to help educate, interpret and protect it. The drive ends with a short walk up to a lookout point for views that stretch forever… served with wine and cheese. Magic!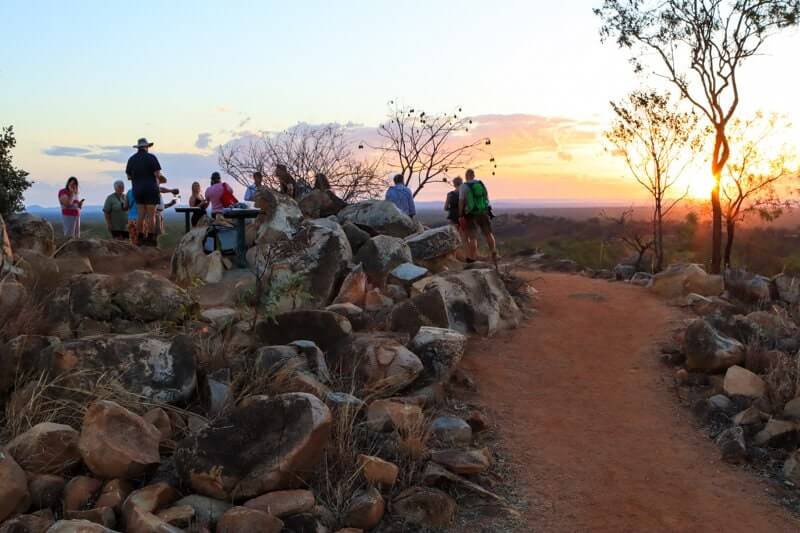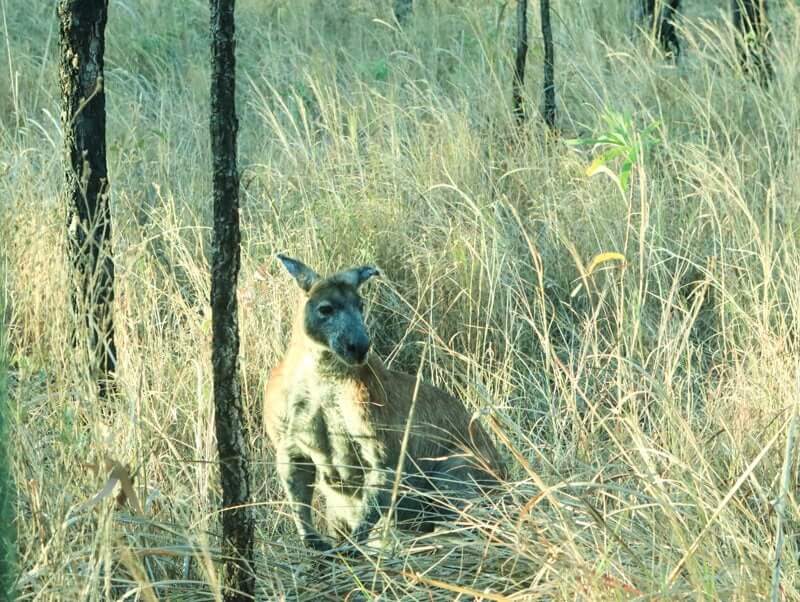 Sunrise from The Bluff bushwalk
To witness the sounds and wonder of the Savannah waking up, you'll need to check sunrise time, then allow yourself enough time for the gentle ascent to the boulders (about 750 m – 1 km from the hub) and add a buffer of 15 mins. Take a thermos (you can grab a free tea and coffee from the Bistro anytime) and sit in silence as the light creeps over the horizon towards you.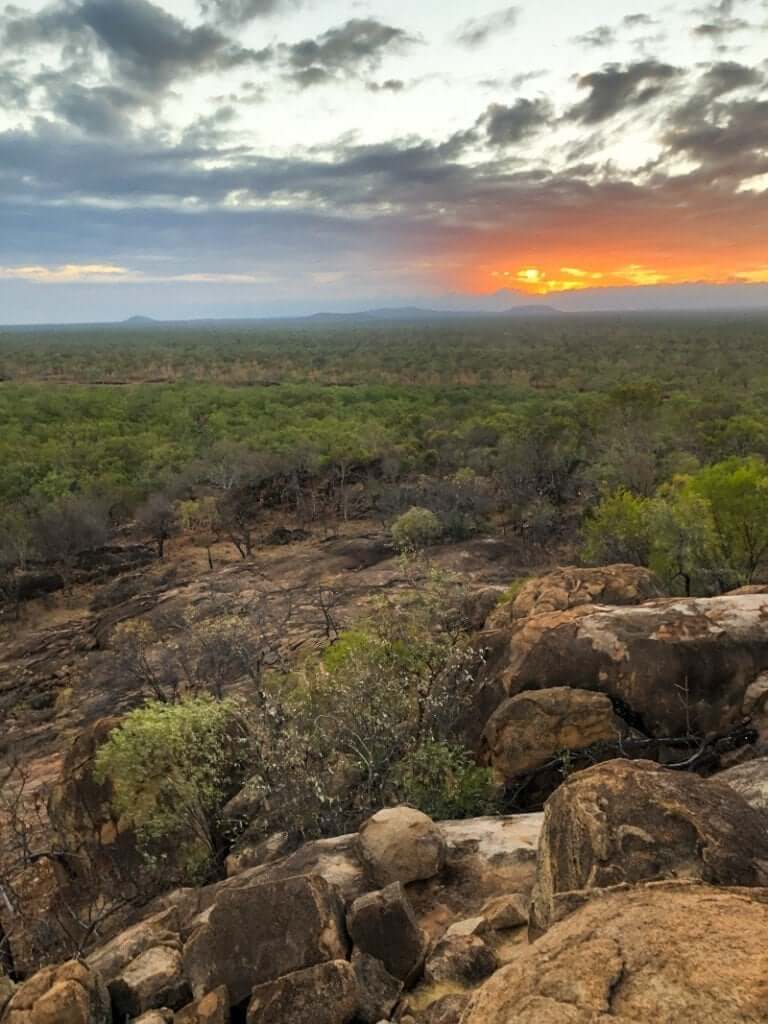 Lava Tubes Guided Tours
Looking across the relatively flat and fertile landscape, it is impossible to imagine what treasures lie beneath. The Undara Lava Tubes are the oldest standing lava tubes on earth and it's 190,000 years since lava flowed through these parts, creating a subterranean rainbow of geological wonder. The only way to see the Lava Tubes is to take one of the guided tours from Undara, so it's important that visitors don't come expecting to be able to wander through at their whim. Given the precious (and potentially dangerous) nature of this site, there's good reason for this. There's also a great back-story in how the visitor setup here came to be – how multi-generational (5 generations) graziers, The Collins', moved away from running cattle across the land, to become custodians and tour guides to help protect it!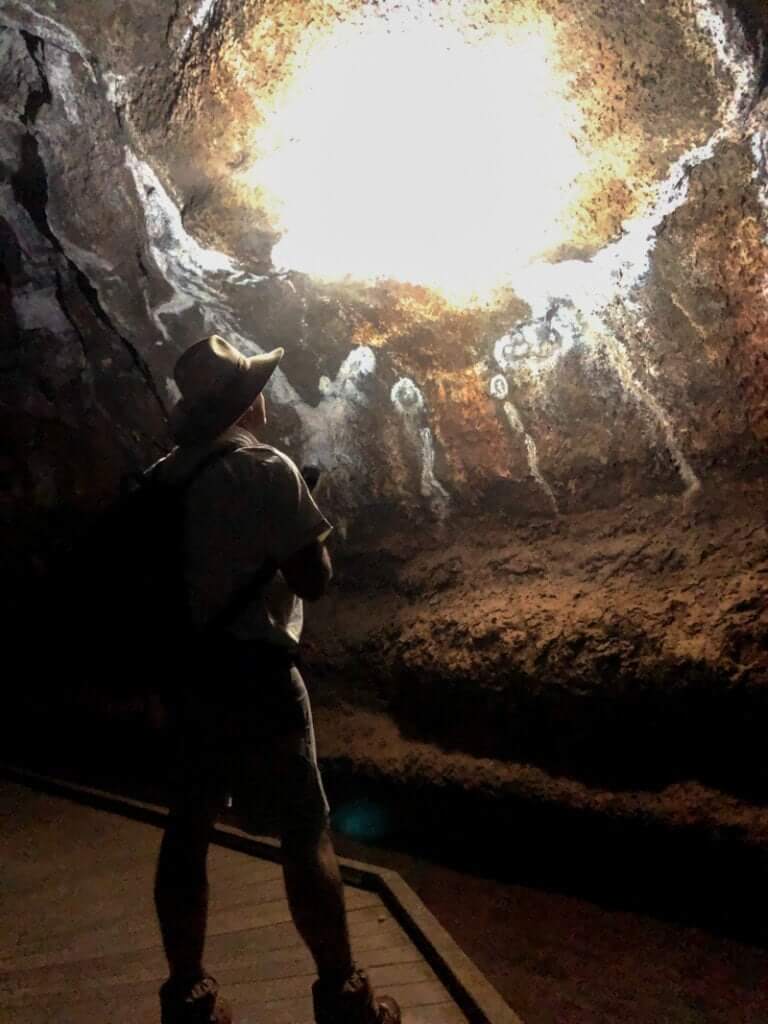 Take a Bushwalk
Undara is based on the edge of Undara Volcanic National Park – a restricted access Park. So although walker permits are not possible in the park (due to dangers such as no natural surface water, collapsed lava tubes, carbon monoxide buildup, etc), there's a small network of 7 walks within the Undara site. Grab the self-guided bushwalks (and mountain bike trail) guide from the central hub for walks ranging from 1.5kms (Bluff Walk) to the Rosella Plains Lookout Track (12 kms) and don't forget to sign out (and back in again) at Reception.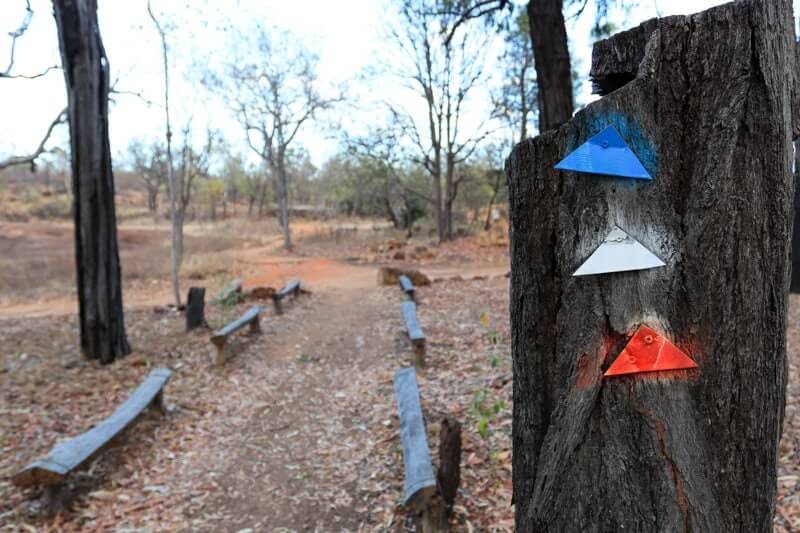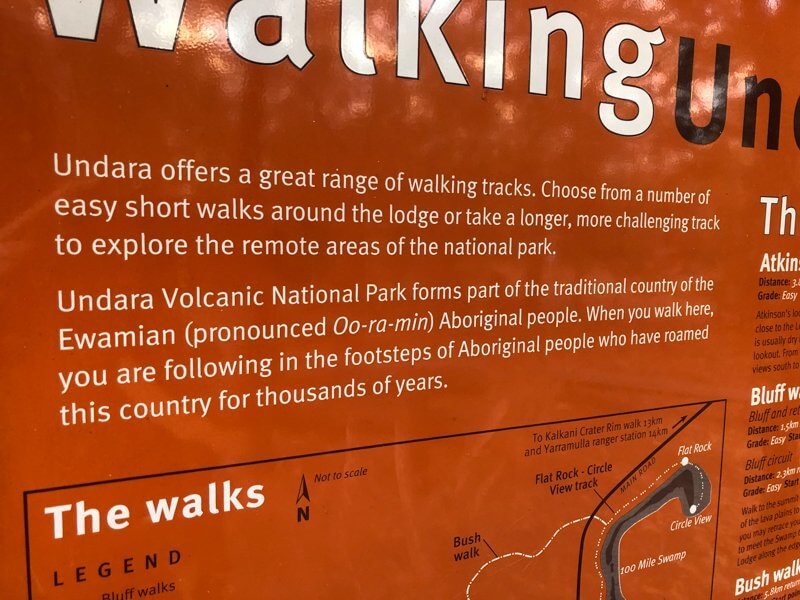 Bush Breakfast
I smell bacon! The gentle morning breeze carried the smokey goodness of bacon cooked over an open fire towards me as a I walked the 150 metres to the special bush breakfast location. Don't worry if you're more plant based than that, there's other options too, with a great spread of fruit, juices, cereals and yoghurt. And coffee… did I mention real coffee – bushie style? Strong, rich and black – a great start to the day.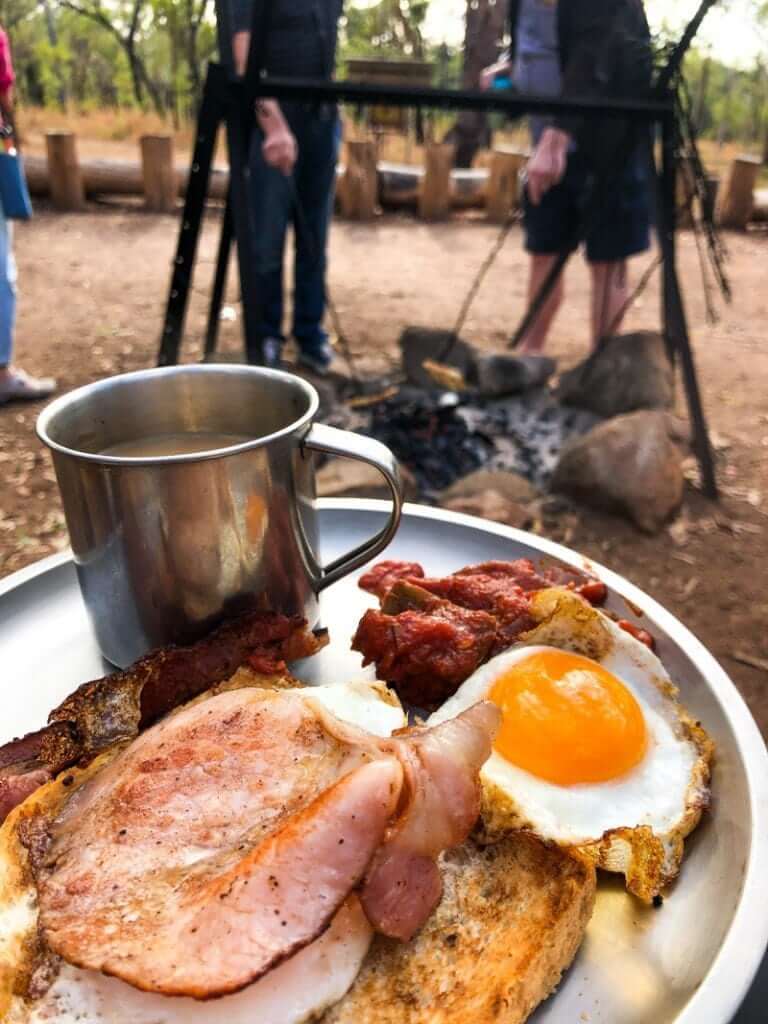 Other things to do near Undara
Drive to the Kalkani Crater for a 2.5 km self guided walk up to the saddle of the ancient crater.
If you're an experienced off-track bushwalker, Misty Mountains Wilderness Trails joins four different walking tracks (with road sections in-between) in the Atherton Tablelands. Tracks are remote and can be indistinct at times, so a good knowledge of navigation is essential.
Also for experienced scramblers and adventurous types, QLD's highest peak, Bartle Frere calls to many peak baggers.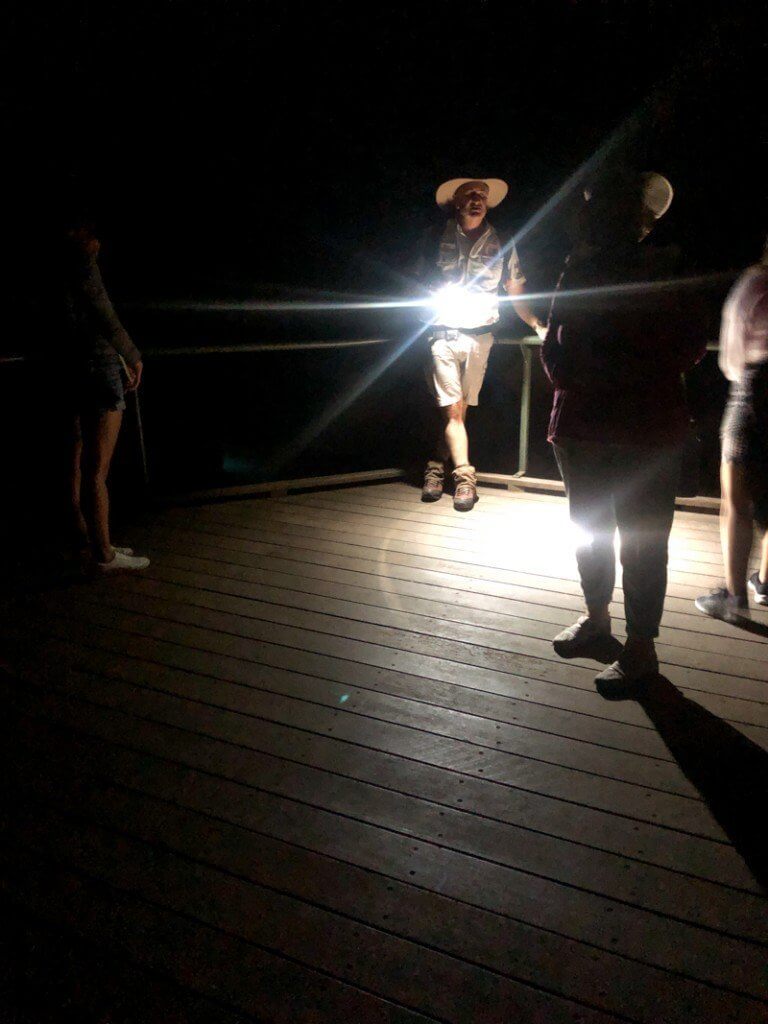 When is the best time to visit Undara?
The best time to visit is during the peak of June, July and August when the 25 employees at Undara welcome 6,000 visitors per month – roughly 60% of their annual numbers. However, don't discount other times of the year, like green season (aka. Summer) assuming that it would be too hot. Sitting at 800 metres above sea level (twice the height of the Atherton Tablelands) means that temperatures rarely pass 40 degrees in summer and with almost no humidity. In fact, when you compare Savannah Country weather to that of Melbourne or Brisbane during December, Undara suddenly looks very appealing.