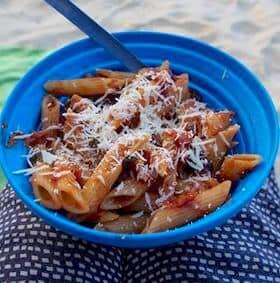 This great dehydrator recipe is from Katherine Hastie, who's part of the LotsaFreshAir Facebook community. Have you got a fave bushwalking/hiking recipe you'd like to share? Drop me an email!
Serves 2 hungry hikers
Ingredients
250g penne pasta
1 tablespoon olive oil
2 cloves garlic
4 – 6 anchovies
2 tablespoons capers
¼ cup chopped black or kalamata olives
400g tin crushed tomatoes
Fresh basil leaves
Pecorino to serve
Method
Cook pasta as normal. Rinse and set aside to cool.
Heat oil in saucepan, add anchovies and stir until dissolved.
Add garlic and cook until softened.
Add crushed tomatoes and simmer for 5 minutes.
Stir through olives, capers and basil and simmer for a further 5 minutes.
Spread pasta out on dehydrator trays and place in dehydrator at 55 degrees for 2 – 4 hrs.
Spread puttanesca sauce on a solid dehydrator tray or on baking paper in a thin layer. Dehydrate at 55 degrees for 8 – 12 hours until hard and brittle.
Store pasta sauce together in a ziplock bag.
Rehydrate with approx. 1 -2 cups of water.
Serve with grated pecorino.
"I LOVE food and so does my partner; so when I pitched the idea of embarking on our first multi-day hike (hiking is my thing) I figured that good food and a supply of scotch and wine would ensure he enjoyed the experience and would be happy to go on more adventures with me in the future! I have tried store bought freeze dried and dehydrated meals over the years on overnight hikes and I have never been overly impressed so I started looking into the option of making our own and after a little researching I was convinced to buy a dehydrator. The puttanesca recipe is one we usually cook at home – it is quick and simple and as it was going to be my 30th birthday while we were hiking I thought it would make the perfect birthday dinner with a glass of red wine! I was also inspired by your post about taking real cheese on multi-day hikes so I wrapped a small chunk of pecorino (and a block of cheddar cheese for snacks and lunches) in a damp piece of calico cloth to put the finishing touch on our puttanesca – it worked great!" – Katherine Hastie.