If you've ever slept on the newer style inflatable sleeping mats (as opposed to the traditional Thermarest self-inflating or foamie styles), you'll know that one of the biggest issues is a noisy one. Whilst you might sleep soundly and comfortably, your tent neighbours might think otherwise. When the folk at US based NEMO released their latest version, the NEMO Tensor Insulated Ultralight Sleeping Pad this year, I was skeptical about their claims of a quiet night's sleep.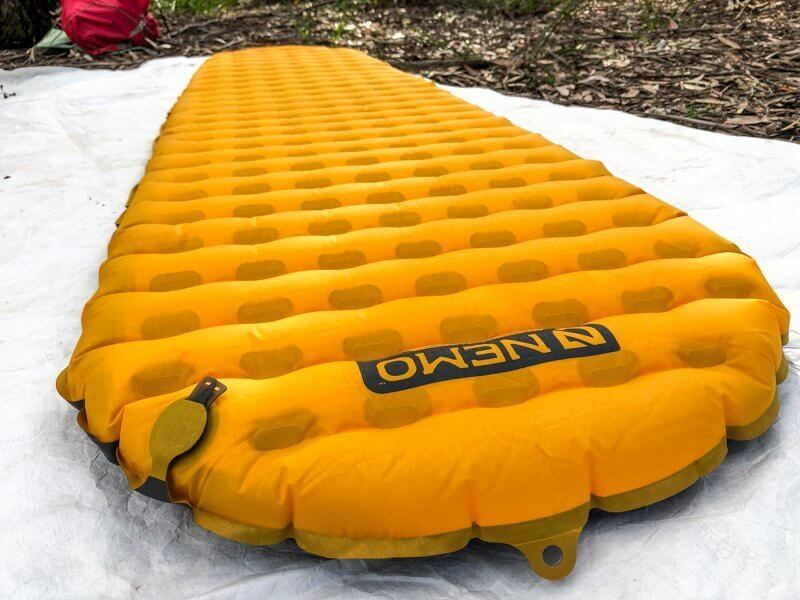 Whilst I found their earlier model (Tensor 20R – read my review here) a great all rounder and gave it a 4/5 for sound, there was still room for slight improvement.
How did I test it?
Over the past few months, I've been testing their latest version, the Tensor Insulated Ultralight sleeping pad and have sleep over 15 nights on it. Conditions and temperatures have been on the cooler side, ranging from evening temperatures from -8c to +10c. Terrain has been a mix of generic Blue Mountains dry sclerophyll eucalypt forest floor to the sand of the Simpson desert in western Queensland. This was also the sleeping mat I took on the Hume and Hovell Track at the start of winter.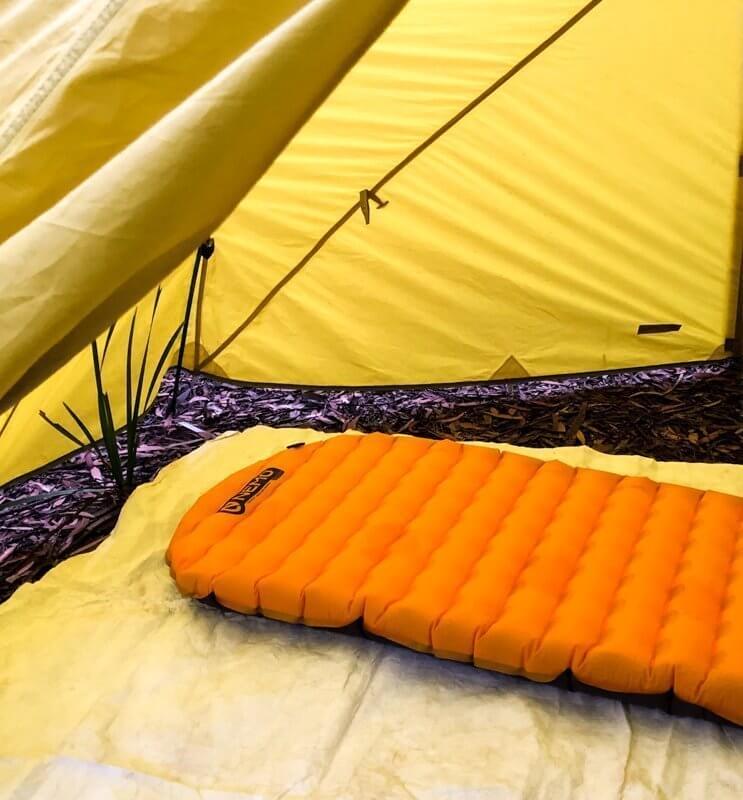 Overall
I'm always impressed when I see manufacturers genuinely working to improve their products. Compared to their earlier model, it appears that they've listened to consumers and have made changes and additions to try and make this mat the best it can be. Sure, it was pretty good already, now they've taken it even further.
Comfort – 4.5/5
Still one of the most comfortable hiking mats I've ever slept on, I've nudged up their comfort score for two reasons. 1) the new flat-lying and easy to use nozzle and 2) the inclusion of the NEMO Vortex Pump Sack, which increases my comfort by not having to blow the whole thing up!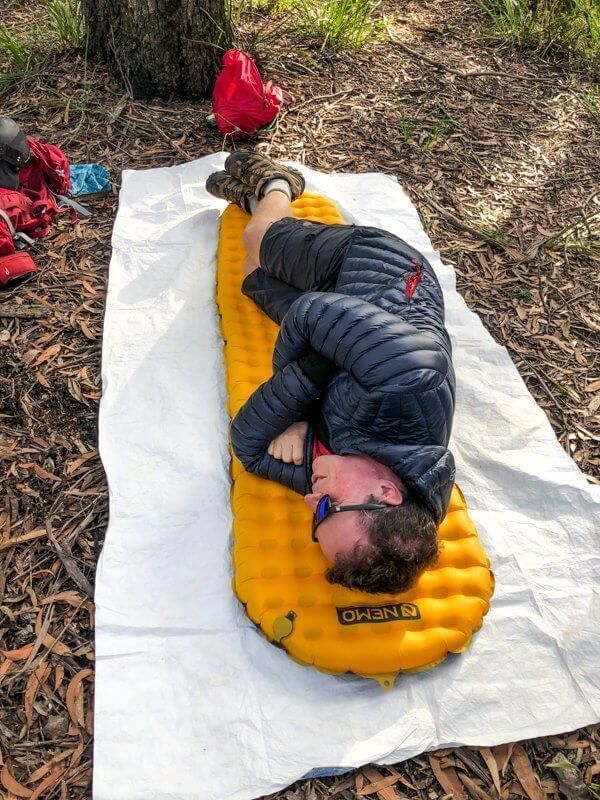 Size – 4/5
Unchanged from their previous model, the 183 cm x 51 cm x 8 cm dimensions seem to suit my 177cm/5'8″ frame and I like having the choice of mummy or regular shape to suit your style of sleeping or shave off grams of pack weight. When sleeping on my back I'd love just a couple more centimetres of width to stop the elbows hitting the ground, waking up with the ol' 'numb arm syndrome'.
Choice of Styles – 5/5
NEMO have gone to town when it comes to offering choice. They've recognised that there are different types of hikers, campers and preferred sleeping positions, offering everything from the minimalist 122 cm (short) non-insulated mummy style at 230 grams, through to the long wide (193 cm x 64 cm) insulated at 595 grams.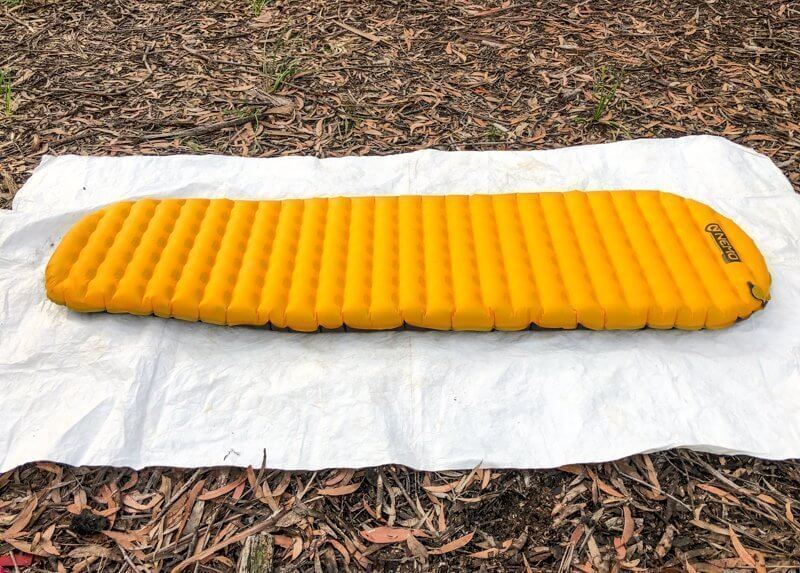 Inflation / Deflation / Adjustability – 4/5
I love that they've included the Vortex inflation sack which apart from saving my breath each time to inflate it, will help sustain the life of the 20D materials, avoiding warm/moist breath that can encourage mould to grow inside. Having said I like the new flat-lying nozzle, the only downside to this is that it's a bit more awkward to add extra air in the night if needed.
Weight and packed size – 5/5
Pretty much the same size as a 1 litre Nalgene bottle, the NEMO Tensor Ultralight Insulated sleeping mat has a minimal weight of 410 grams or 490 grams including the velcro strap, Vortex inflation sack and stuff sack. (My scales clocked it at 500 grams.)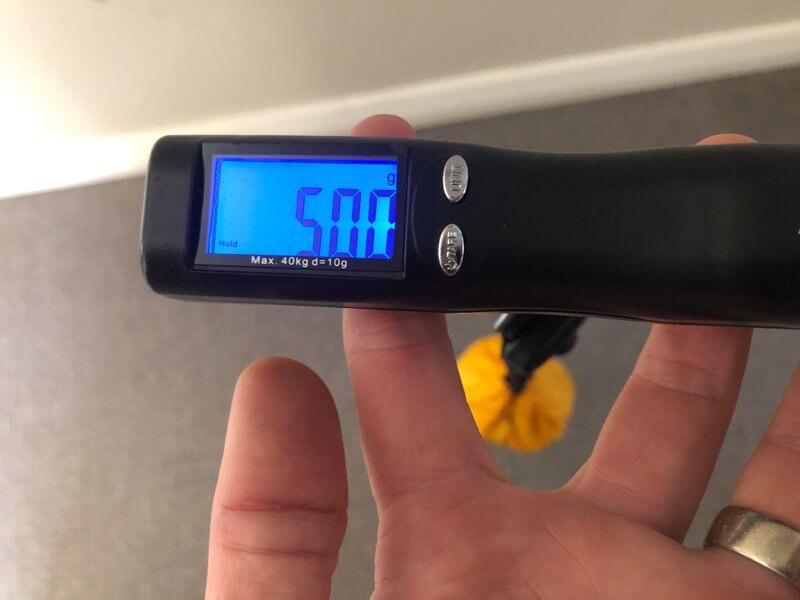 Noise – 5/5
The all too common 'crinkly' noise of many of these style of mats has been dramatically reduced in this model, according to NEMO because of the 'suspended film construction'. Here's a demo from one of my mates… sounds pretty good to me!
[embedyt] https://www.youtube.com/watch?v=Eg62kxHueOI[/embedyt]
Warmth 5/5
On colder nights I certainly enjoyed being more of a back sleeper, than a side sleeper. Rolling over onto my side highlighted the insulating qualities of this mat, with my exposed back quickly feeling the chill. I'm due to take this snow camping in a few weeks and will really put this to the test then…. and will report back! It's interesting to note however, that NEMO don't use the traditional R-rating when it comes to classifying their mats. You can read about why they don't, here.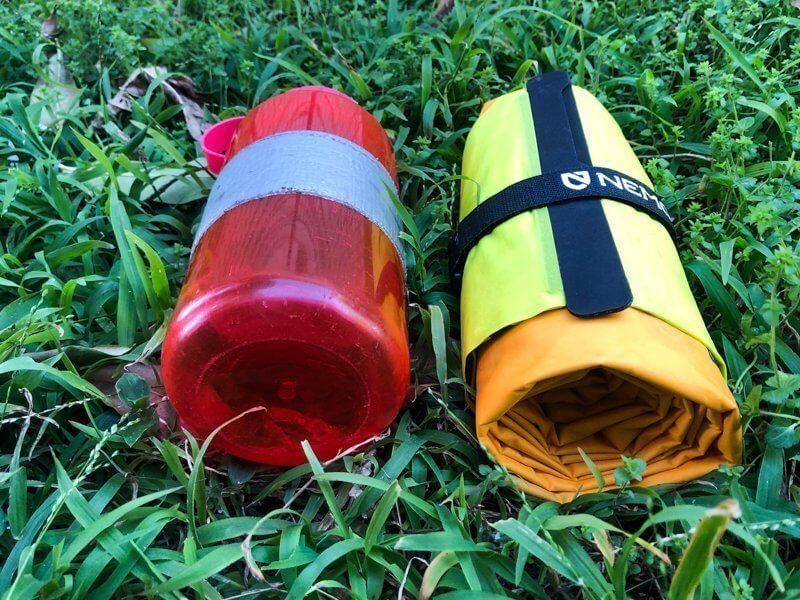 Where to buy the NEMO Tensor Insulated Ultralight sleeping pad
If you're looking for a new sleeping mat, you can buy it now here from Wild Earth.