Mt Buller Hikes
When I was told that I'd be hiking along the lowland flows of the Delatite River (730 metres above sea level), from the Mirimbah Picnic Ground all the way to the top of Mt Stirling (1749 metres), I began steadying myself for a massive uphill day with an overnight pack.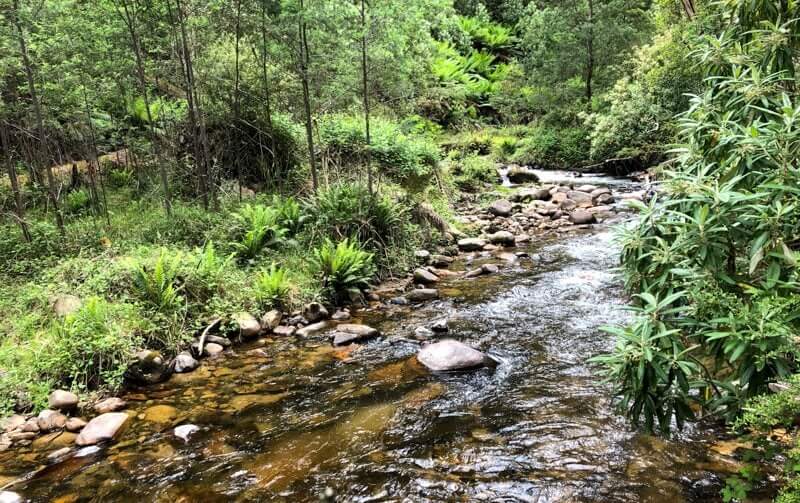 A gentle climb
But a couple of hours into the gentle ascent it was as though some wonderful mountain magic had swept down the valley and carried us upwards.
I'm putting it down to the gentle pace, the verdant green wallpaper and ever-changing habitats, mixed with insightful commentary from my guide Ness, from Skadi Adventures, that eased the journey. Just a taste of some of the magic that Buller–Stirling had in store for me.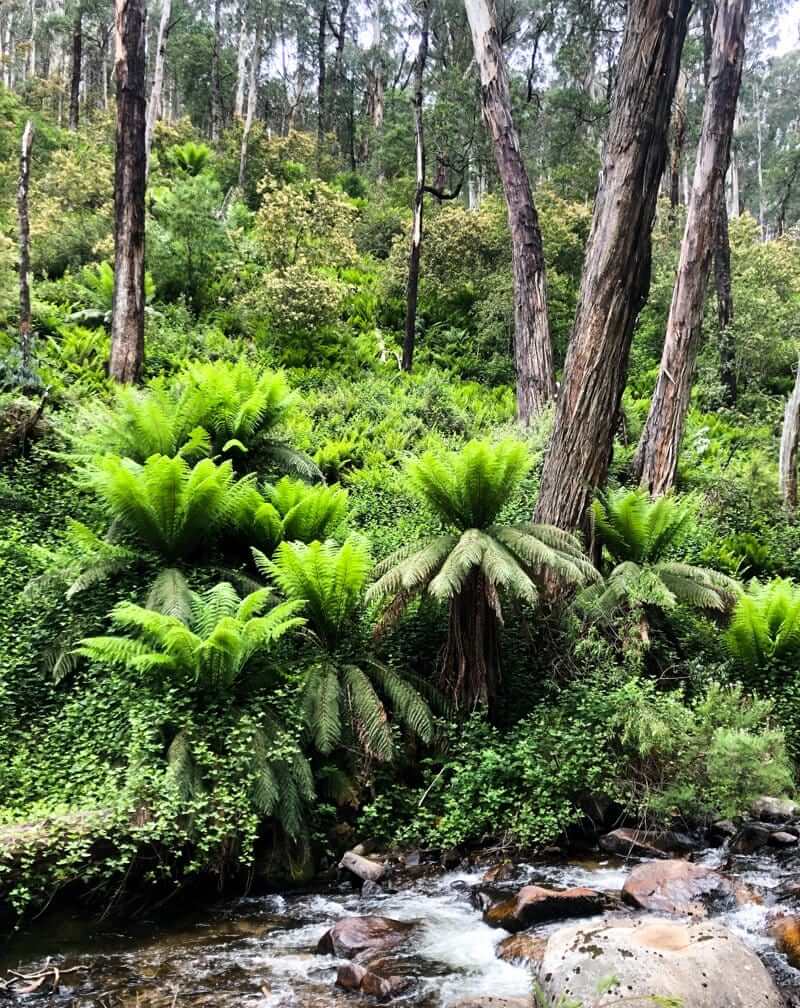 This was my first time to the Mount Buller side of the Victorian alpine region and this hike to Mt Stirling via the Delatite River was a great introduction to the best that the area has to offer.
Starting point
We started from the picturesque Mirimbah Picnic Area, at the junction of Mt Buller and Mt Stirling roads. This is a perfect spot for a car-based picnic and I had stopped here for lunch on my way up to my overnight accommodation at Mt Buller the day before.
The Delatite River is one of those mountain flows that transforms with the seasons. Fed by snowmelt in cooler months and with its origin up in Howqua Gap, it's the type of river I was happy to drink untreated.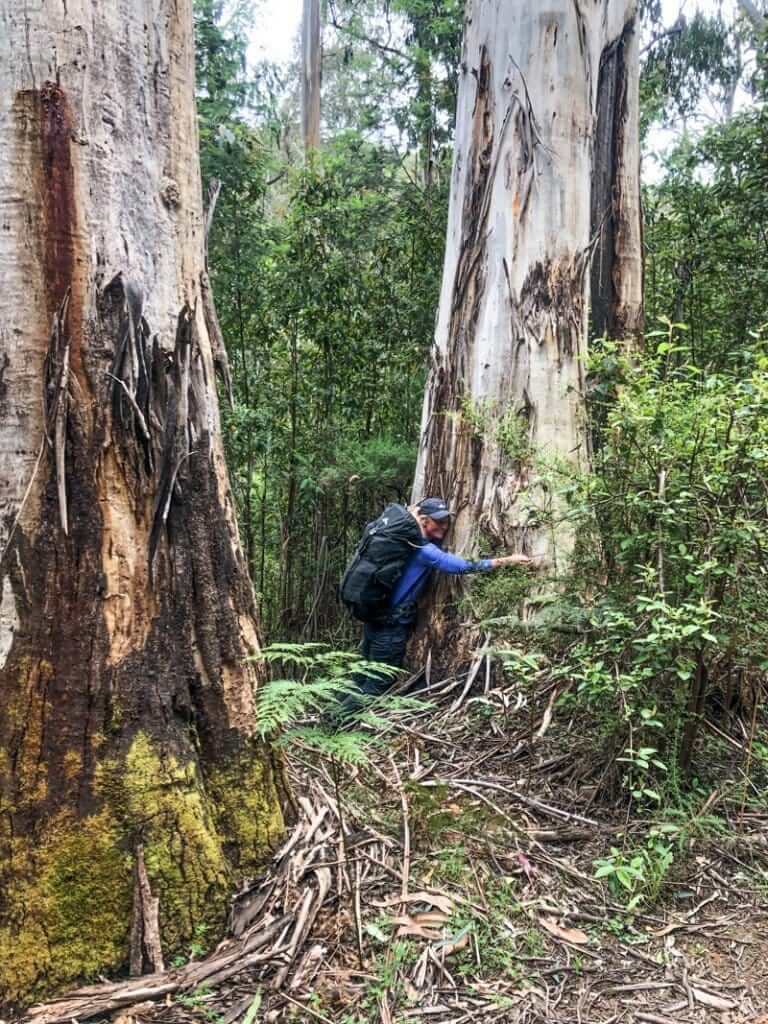 It was this downhill flow of water, singing a soothing lullaby of it's journey, that we were following for most of the day.
The Delatite River Trail is a shared-use track (walkers, mountain bikers and horseriders) that served as an access route for forestry workers when stands of alpine ash provided the main industry for the Mansfield area, last logged in 1945. Tourism is now the main economic driver, with Mt Buller (and it's backcountry cousin, Mt Stirling) receiving 500,000 visitors each year for snow sports in winter and 132,000 embracing green season pursuits like hiking, mountain biking and trail running. Make that 132,000 plus 1.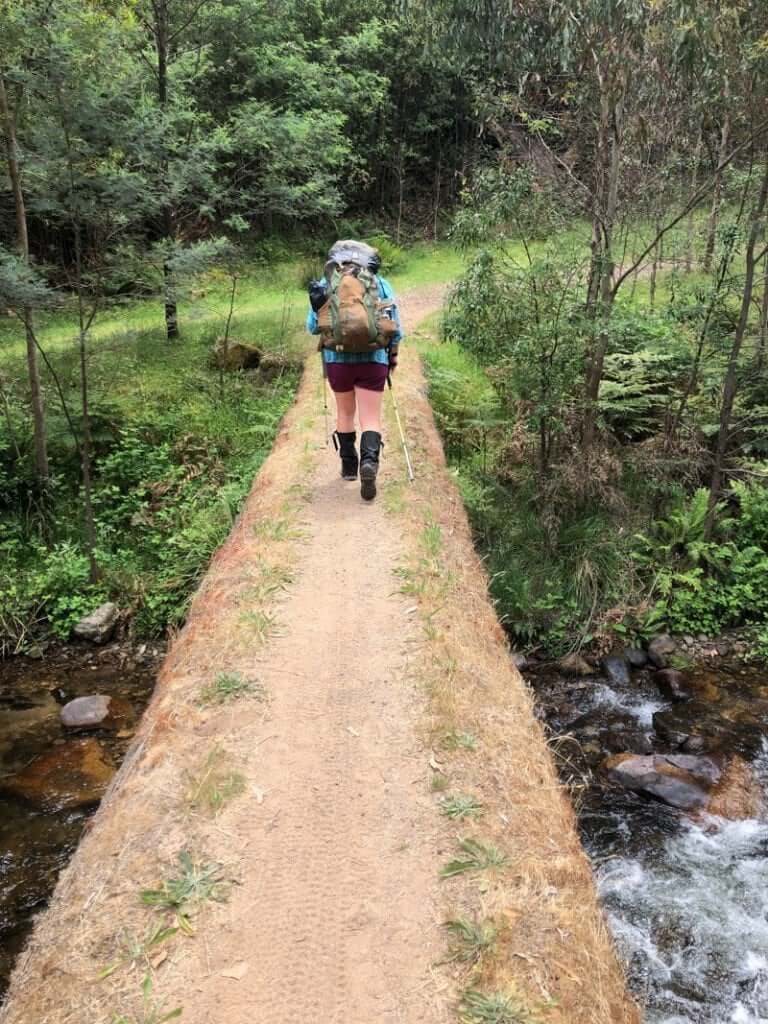 I didn't have to walk for long before coming across the first of 12 unique log bridges that stretch across the charming river. If you're up for just a short walk with a young family, these bridges provide a great opportunity for adventurous young ones to stretch their car-legs on the drive up to Mt Buller.
Whilst there didn't appear to be any trolls living underneath the bridges, I found myself stopping many times to marvel at thickets of lush green tree ferns and to have Ness explain some of the other native flora like the flammable Kerosene bush and tasty Native raspberry – yum!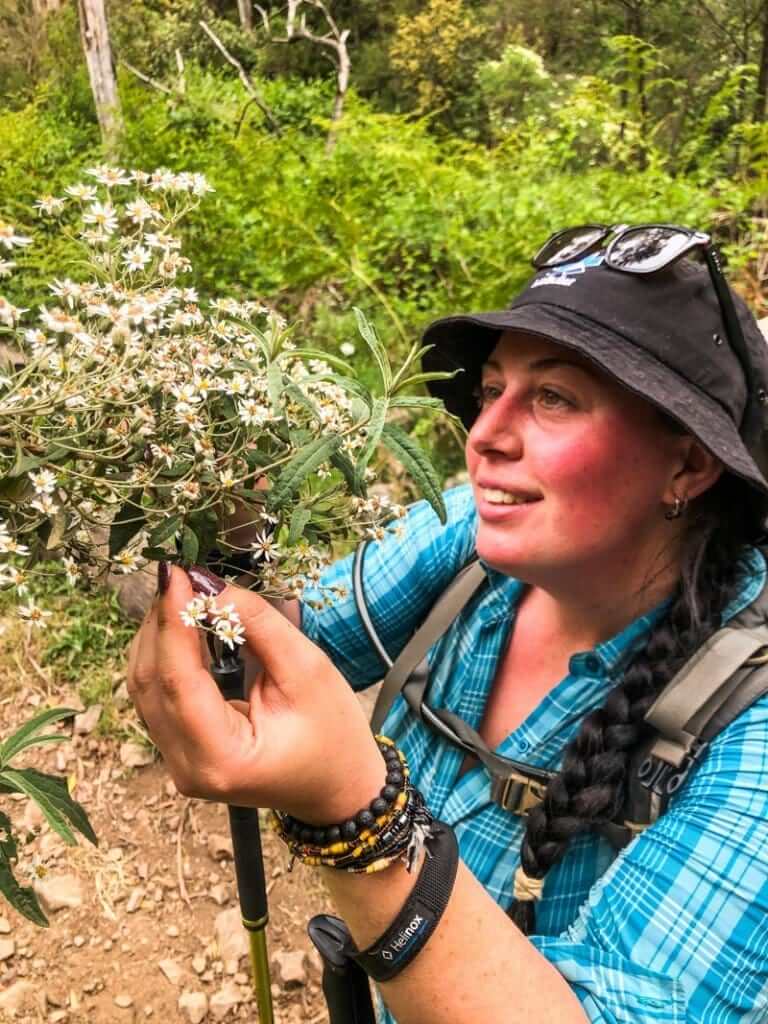 A steeper climb to Mt Stirling
Time came for us to step away from my new friend, the Delatite, and to increase the angle of our ascent with wide gentle switchbacks onto the River Spur Trail towards Mt Stirling. It was here I started to see the distinctive changes in the types of towering giants, whose dense canopy whispered their own special kind of local knowledge. From alpine ash (aka woolly butt – love that name!) to snow gums – each growing at different altitudes to suit their needs – a reminder that us hikers need to carry different clothing layers for changes in temperature too.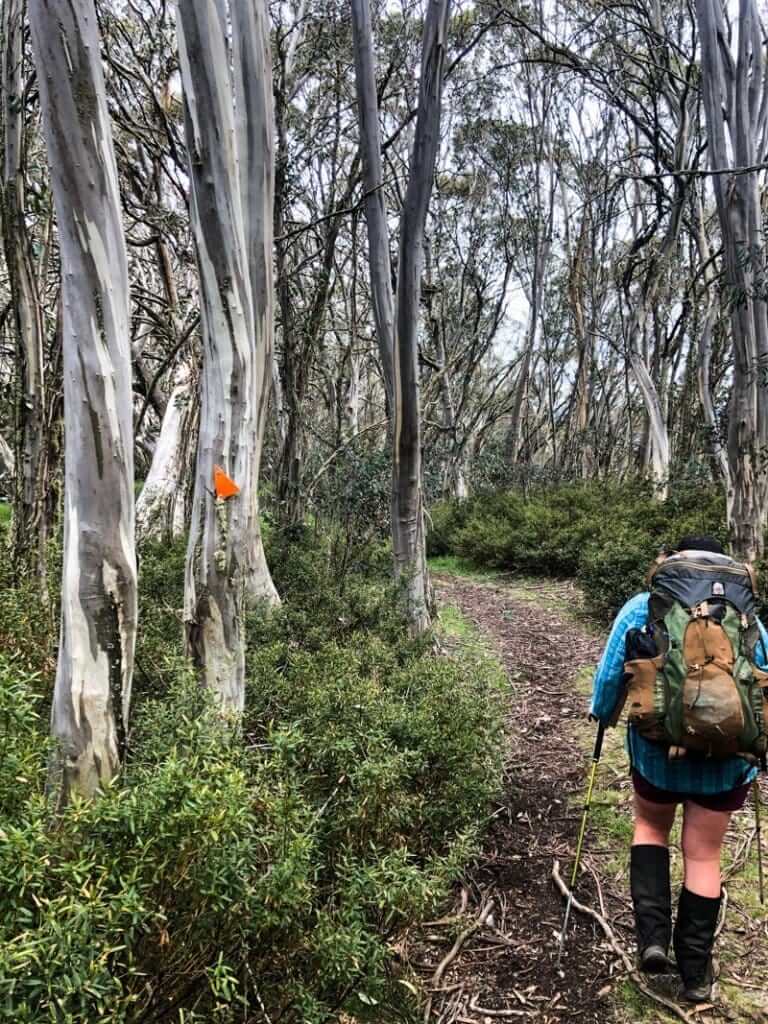 We made good time as we plodded upwards on the excellent single track (I'd love to go trail-running here!) that led us into the most wonderful forests of snow gums on a high plateau. Here, trunks shone in soft pastels of white, grey and pale green that somehow manage to withstand temperatures down to -23c in winter. The understory filled out with the delightful white pom-poms of Tall Rice Flowers waving in small green meadows, announcing that we were well and truly in alpine country and above 1500 metres.
We passed only two groups of 2 people on the River Spur Trial: a couple on a day walk and a father and daughter doing a 5 day variation of the Buller Huts Trail, mixed with parts of the Oscars 100 Hut to Hut ultra race route.
Mountain Huts
There are eight huts in the Buller Stirling area, each with a history and a story to tell. For fans of The Man from Snowy River, Craig's Hut, perched high on a ridge for cinematic appeal (as opposed to practical use) garnered this response from a local historian I met, "You'd be a bloody idiot to build a hut in that location". A popular spot with 4WDs (that don't usually get off bitumen) I'd encourage people to instead, put a backpack on and walk to some of the more remote (and genuine) huts. Spots that have provided lifesaving shelter for cattlemen, skiers and bushwalkers for decades.

Nearing the summit of Mt Stirling (and our blustery campsite for the night) we passed the turn off to Bluff Spur Memorial Hut (built 1987). There's a long drop loo here, however as we were completely self-sufficient, we would be setting up our tents in the saddle just shy of the summit of Mt Stirling.
Camping on Mt Stirling
Even though every smart camper sets their tent up lengthways into the wind, I really wanted to enjoy the view from my door, so bit the bullet and set up cross-ways to the wind. I may have said a prayer as I pushed the guy rope pegs into place and was glad I bought ear plugs. It was worth it. From my cosy little cubby I had views to the north east across the entire length of the Cross-Cut Saw ridge. From The Viking to Mt Speculation and Mt Buggery, to Mt Howitt, Mt Magdala and King Billy(s). It's a challenging ridge walk that has been on my bucket list for years – now more so than ever!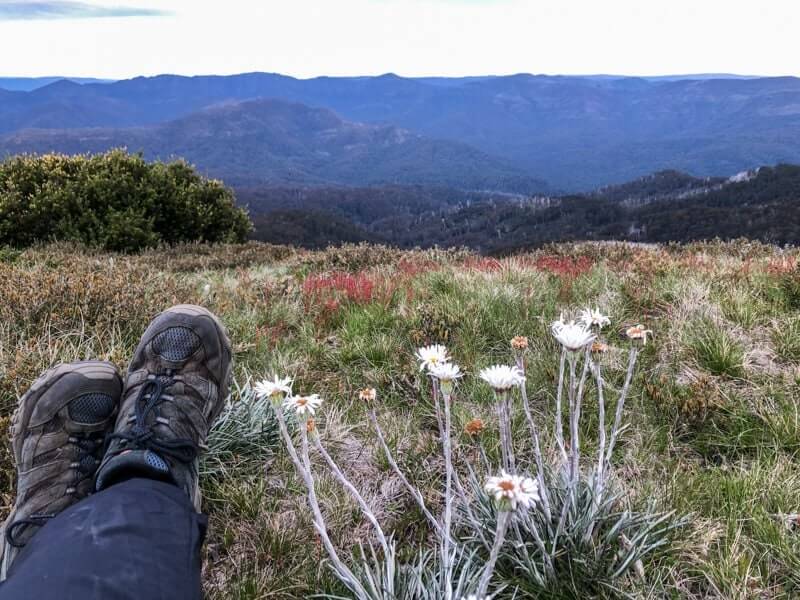 With our tents in place and the entire summit of Mt Stirling to ourselves, we donned a couple of warm layers and walked the short distance to watch the sun falling from the sky behind Mt Buller. The views are vast. To my right, the valley gave way to plains towards Mansfield and the famous Bonnie Doon (To quote Darryl Kerrigan, 'We're going to Bonnie Doon!').
In no time at all, Ness had whipped us up a delicious gnocchi bolognese, with not so hidden veggies and a mountain size serving of parmesan. Just the way I like it. Sheltering beside the boulders, watching the last rays of sunlight disappear behind Mt Buller, with a belly full of good food and a body full of adventure, we watched the lights of the village start to turn on. These sparkles of light on the dark hillside were reduced to 'meh' as the true evening show of Venus and her astral relatives lit up the growing darkness above.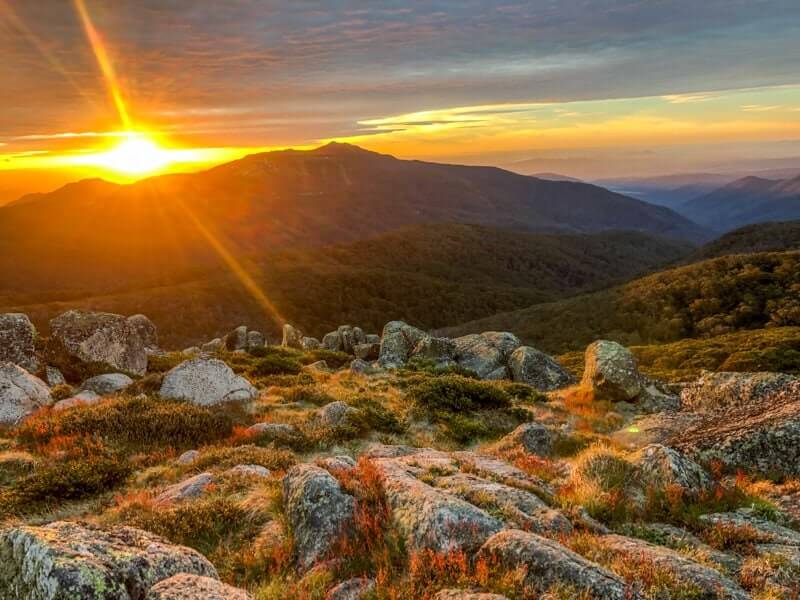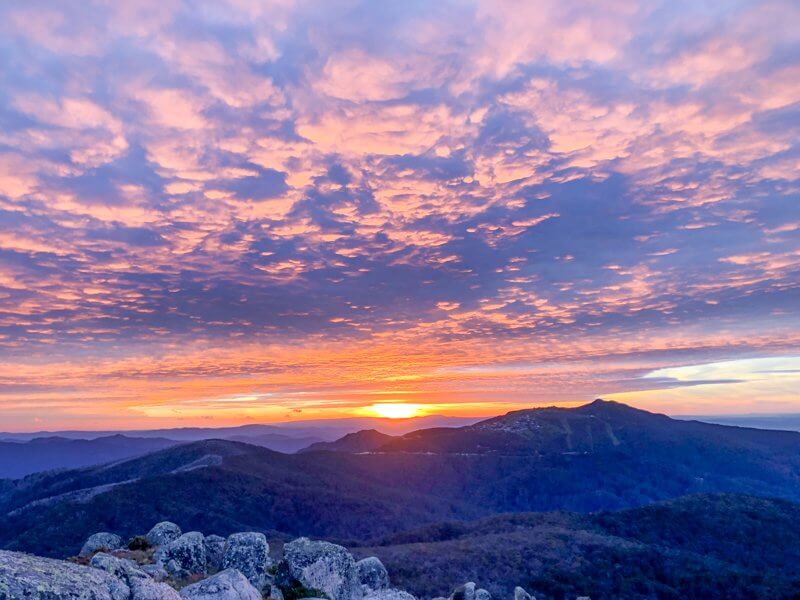 Pulling ourselves away, we dived into our tents and I was glad (for the 2nd time this week) that I had brought my winter sleeping bag for this December trip. Temps got down around zero overnight and I slept in thermals.
The alarm was set for the 5.45 am sunrise and it's now that I admit, the other strategy in my seemingly inappropriate tent angle. There's only so much suffering for my art I can handle. If I can witness a new day emerging, without having to escape my sleeping bag cocoon, I'm a happy camper. So in case you're wondering, yes, I went back to sleep for a couple of hours. Again, I call strategy on this one. The extra sun on the tent helped to dry any condensation… cough.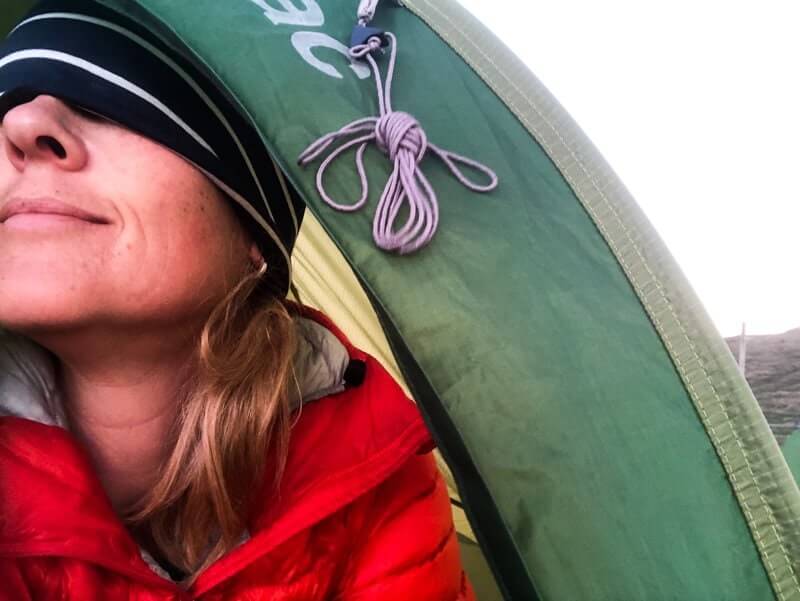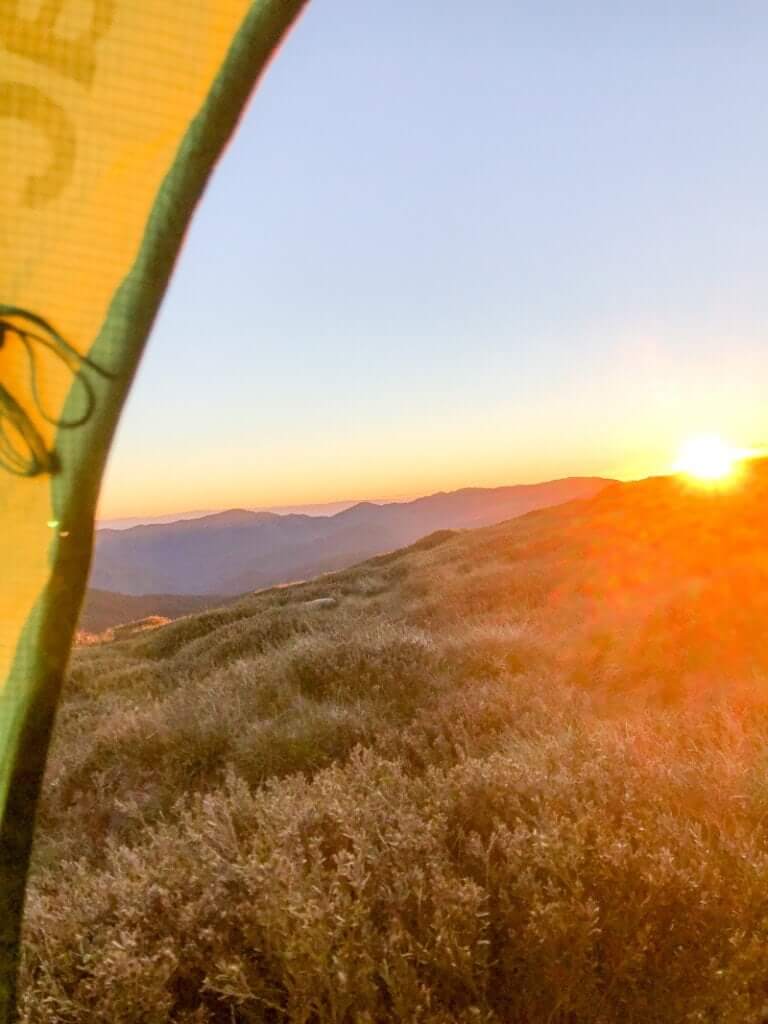 Packing up was quick as we decided to head to the nearby Geelong Grammar School Hut for breakfast (and a loo stop), before closing the summit loop to Bluff Spur Memorial Hut.
Returning to Mt Buller
Given a full schedule for my day ahead (there was so much more to see in Buller!), Ness arranged for 4WD transport to pick us up below the summit and take me back to my accommodation in Mt Buller. The network of unsealed roads and old logging tracks is a great way for people with less mobility to see this part of the world. It also gave me the chance to see a couple more huts at Howqua Gap (a place I've heard about for years) before continuing along the Corn Hill Road.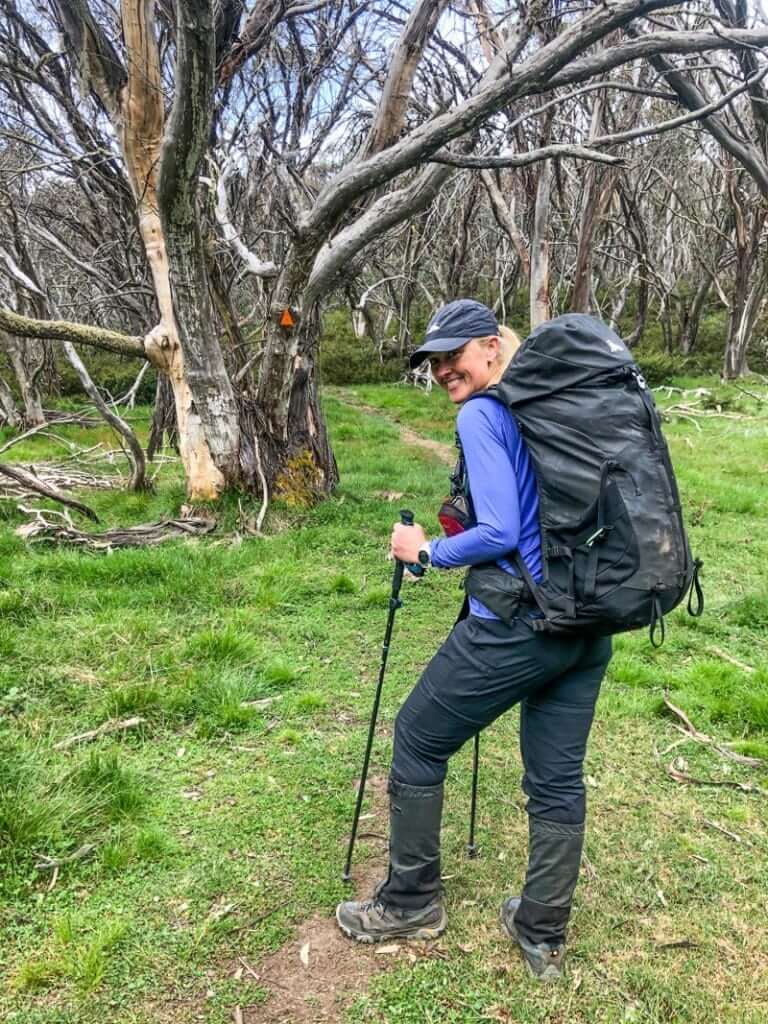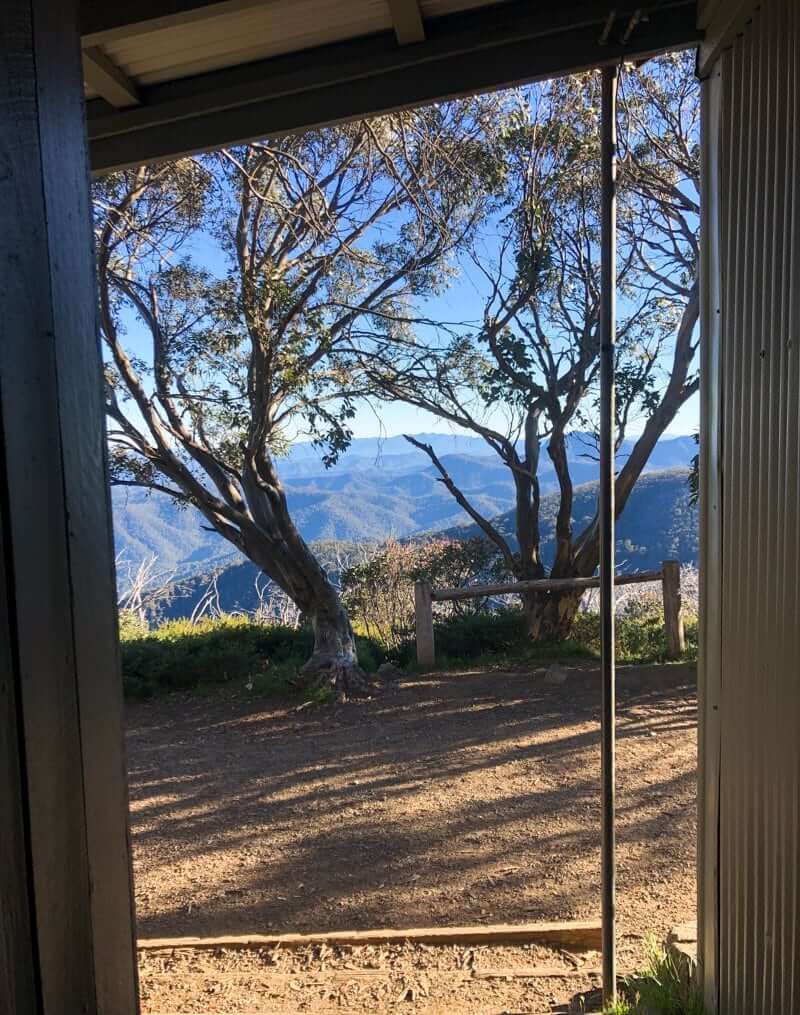 You can download a Mt Buller and Mt Stirling Walk or MTB guide for the network of trails in the area. For more experienced bushwalkers and hikers, grab a copy of the SV Buller-Howitt Outdoor Recreation 1:50K map for all your backcountry adventures. (It's also available on Avenza as a PDF). I'll be taking it with me when I return to do the Cross Cut Saw!
Hiking Mt Stirling via Delatite River trail post 2020 bushfires
Note: The Mt Stirling via Delatite River is a well marked and maintained set of trails, that features good signage and downloadable maps. For a hiker with reasonable fitness, it makes a great beginners overnight hike and can be achieved without a guide. Whilst Ness and Skadi Adventures are taking a break over the 2020 season, there are other commercial tours available if you prefer a guided experience.
As with hiking at any time of year, it's important that you check the forecast and any emergency alerts or warnings for the area.
Caro travelled courtesy of Tourism North East.
Helpful resources: