Centennial Pass to Porters Pass via Colliers Causeway
When it comes to things to do in the Blue Mountains, going for a bushwalk or hike is usually somewhere near the top of everyone's list. Here's one of the best Blue Mountains hikes of around 3-4 hours and best of all, it's not affected by the terrible bushfires of 2020. That's right, there are some incredible experiences and walks that are open, with the same great views, jaw-dropping escarpments and lush, diverse vegetation that the Blue Mountains are famous for.
This video will give you a great idea of the type of walk this is, the terrain, the track and some of the incredible things you'll experience along the way.
Colliers Causeway is a walking track that hugs the base of the cliffs, between Centennial Pass and Porters Pass – two naturally occurring passes through the cliff line, joining Blackheath to the Kanimbla Valley below. It's all part of the Centennial Glen Reserve, managed by the Blue Mountains City Council. Be sure to check out their site for track updates or alerts.
It's a spot that's popular with rock climbers, however for the keen bushwalker and hiker, the spaghetti junction of tracks, some dating back to 1894, feature hand carved rock steps and a water cistern, through a variety of Blue Mountains habitats.
Getting to the start
There's a variety of access points into this loop hike, however we parked in the Centennial Glen Carpark, just 1.5kms walk from Blackheath Station. Thanks to the awesome folk from Crag Care and the Council, there's a spotless composting loo nearby. Just remember, there's no water tank (or shop!), so you need to come with a good amount of water (I took 2 litres for the hot day and drank 1.5L), along with everything else you need and don't forget to tell someone where you're going.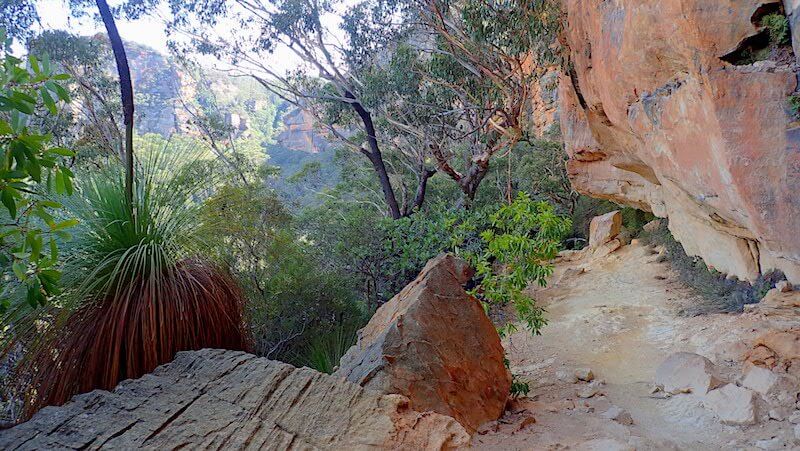 Track description
The track starts by the blue council sign on well-formed, single track. As the walking track starts to descend, so does the quality (depending on your idea of quality), onto rough rock steps. There are so many side tracks and options in this area, that to carry a good quality topographic map probably isn't enough. This is the type of location where an app that uses Open Street Maps really comes to the fore.
By the time you are on Colliers Causeway track, there are sections of rock-hopping and lots of uneven and slippery surfaces. The track is one of those fabulous traverses, hugging the base of the cliffs, so there's times where it drops away dramatically towards the Kanimbla Valley, as well as times where it forms an overhang, with a rock roof above you.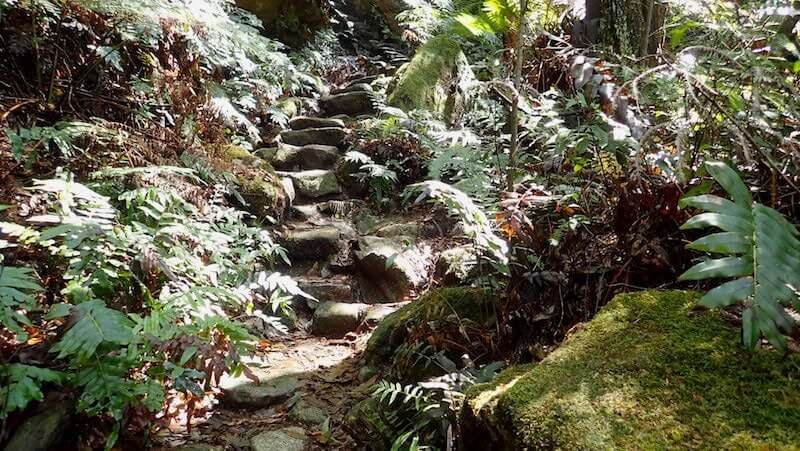 There's a wonderful diversity of habitat on this track. Whilst Colliers Causeway is predominantly wet, lush and rainforest-like, there's sections (often whilst rounding spurs) with more typical Blue Mountains dry eucalypt forest.
The section of the walk that's along the top of the cliffline, near Fort Rock, is well defined and clearly receives lots more traffic than down below. This section also is the cracker for views across the Kanimbla.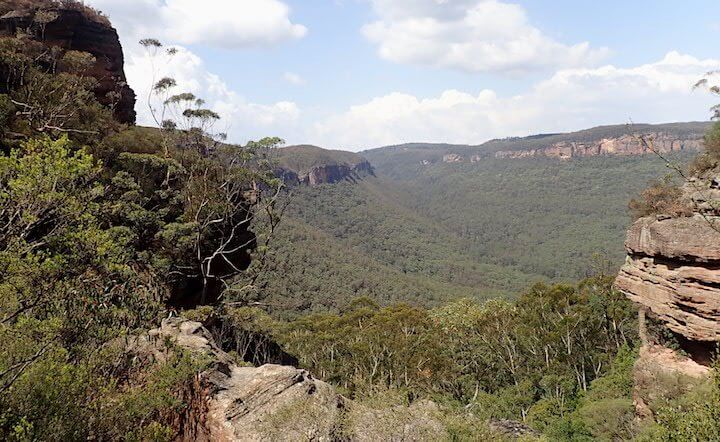 How hard is this walk?
Overall, there's about 450 metres of vertical elevation. That means that all those lovely, rough, hand-cut steps that lead you down, down, down, must go back up again. Thankfully, most of the time, these are in shaded, protected gullies and out of the sun. You need to have moderate to good fitness to enjoy this walk. I wouldn't recommend Colliers Causeway for people with no bushwalking or hiking experience, however the tracks above the cliffline, without the descent and ascent, provide great views as an alternative. In 'old language' before we used the classification of tracks that some do today, it would be medium-hard. In new language… Grade 4.
| | |
| --- | --- |
| Distance | 7.5 km loop |
| Elevation Gain | 450 metres |
| Allow | 3-4 hours |
| Nearest Station | Blackheath |
Where to go afterwards?
If you're worth half your salt as an outdoor guide in the Blue Mountains, you know that the best sandwiches, lovely folk (and pretty good coffee too), is to be had at Altitude Deli. If you want more of an inner-city-hipster-vibe served with your coffee, head to Anonymous and for bevvies afterwards, grab a cold one and head for the patch of a beer garden out the front of the New Ivanhoe Hotel… some call it the dirty ho! If you want to go all fancy-pants, celebrate something or just looking for great, locally sourced fine dining, check out Cinnabar, usually only open weekends.
Where to stay in Blackheath
If you're not lucky enough (like us!) to live up this way, I can recommend a couple of options for you. If you are passionate about the bush, a little bit arty and want to be away from it all, Rough Track Cabins are perched high above the Grand Canyon walk on Evans Lookout Road. Be surrounded by bush and the sound of birds – magic. If you'd prefer to be somewhere walking distance from the station, near to cafes/restaurants, etc, then check out Glenella Guesthouse. It's run by a couple of keen Camino types and takes the best bits of Blue Mountains heritage guesthouse vibe, without too many doilies in sight.
Other related links