The perfect High Country escape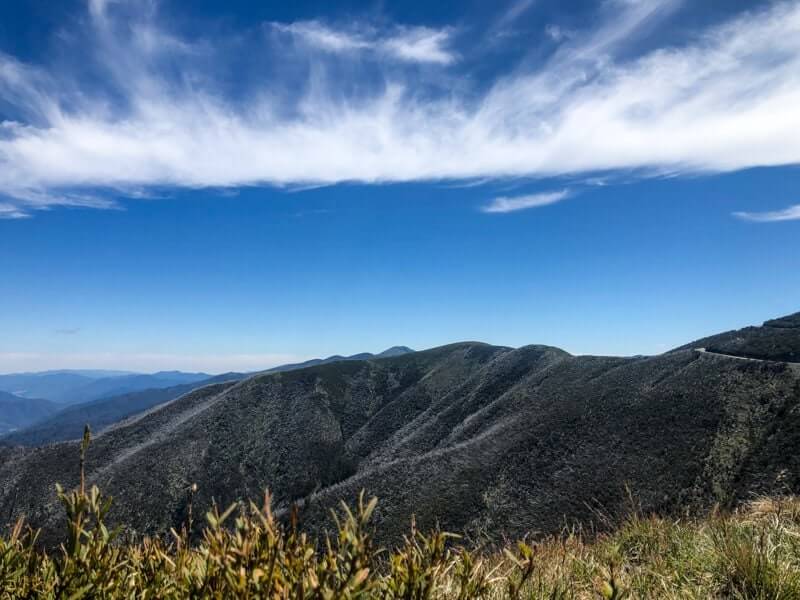 If I could wave my magic wand and create the perfect High Country escape, one of the must haves at the top of the list would be a good bunch of people to share it with. It could be my family, a bunch of bushwalking or hiking mates or even a girls (or boys) only adventure.
The next on the list is somewhere that kept everyone happy and ticked all the boxes. What if there was a place touching wilderness that was not only easy to organise, but that offered something for everyone? Bushwalking trails from short to epic, mountain bike trails, great accommodation options and a friendly, small town vibe.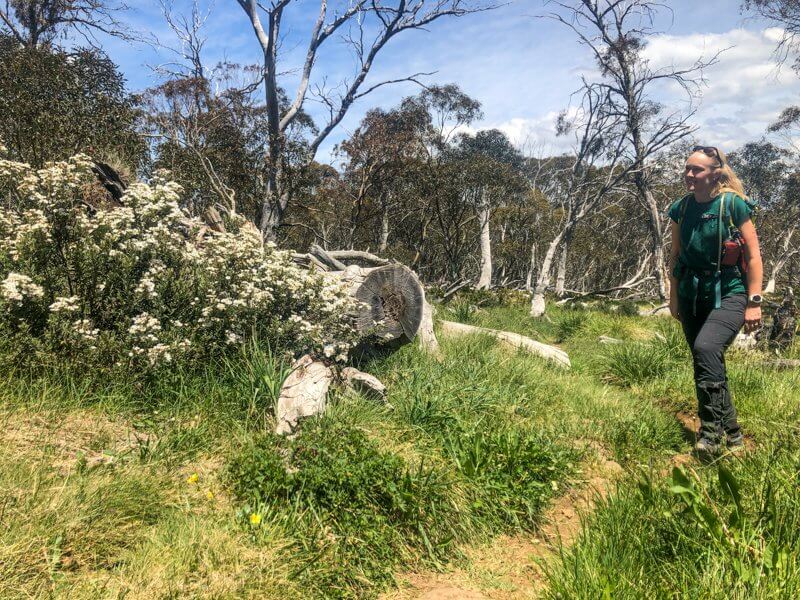 Let's face it, not everyone loves the idea of camping or massive 20km/day missions, so trying to keep everyone happy can be a bit of a drama.
Enter the best kept secret of Australia's alpine regions and High Country escapes – Dinner Plain.
Dinner Plain – Australia's best kept alpine secret
Hidden away, just off the Great Alpine Road and only 15 minutes from Mount Hotham, is Australia's cutest high altitude village and the only freehold land above the snowline.
As I drove in, I couldn't believe I hadn't been here before or heard much about it. Talk about low profile – but then again, I think that's part of the strategy and charm of the place.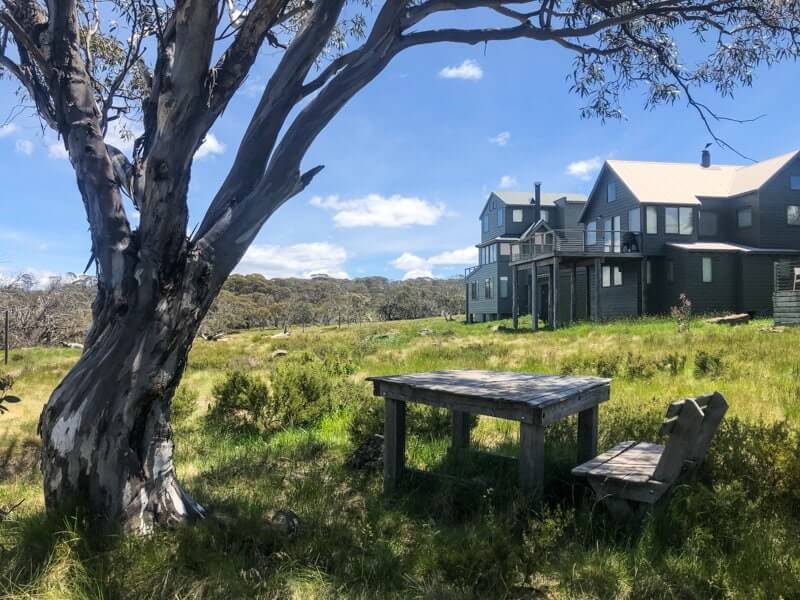 Officially opened in 1986, it's location was no secret to gold miners or cattlemen who were coming to the area since the 1850s. When the road from Omeo to Bright was pushed through in 1900, the place that the horse drawn coach would stop for midday dinner (yep, let's just call that lunch these days) found that the name, Dinner Plain, stuck.
What makes Dinner Plain different to other alpine resorts?
It's easy to see why it has kept humming along under the radar and in some ways, I reckon the locals like it that way. Speaking of locals, Dinner Plain is one of those places that mixes the best of country village life (80-100 locals call it home over Summer) with a friendly, community vibe that's welcoming to visitors with relaxed chatter at the Hotel High Plains bar.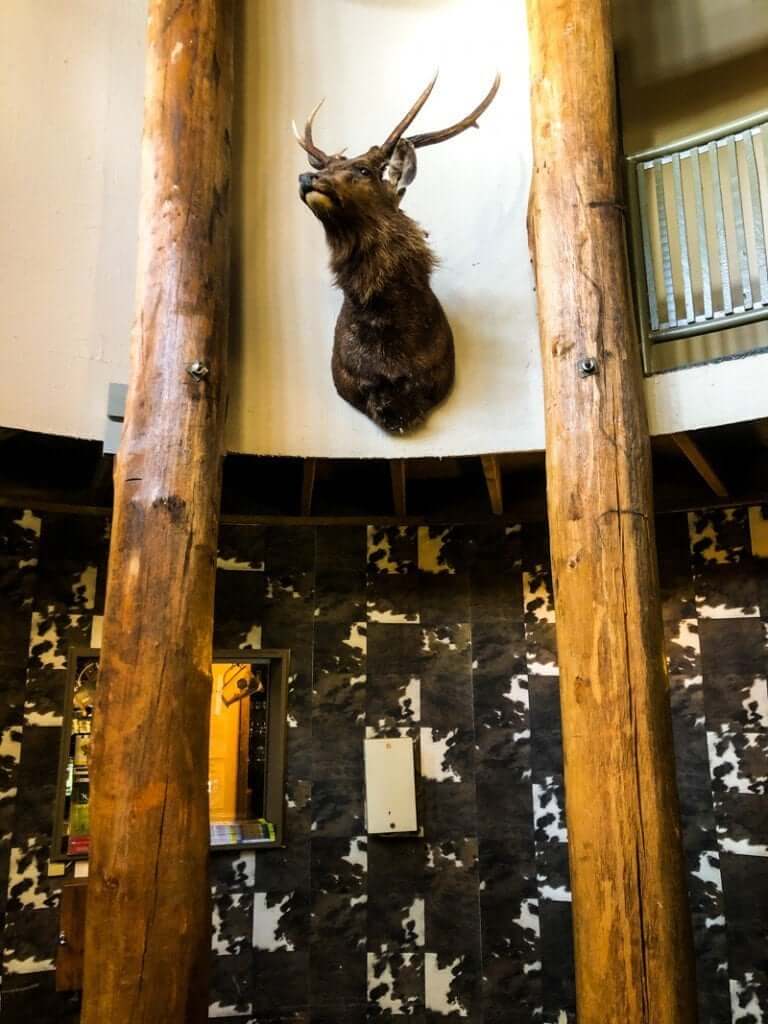 Unlike many ski resort towns (Dinner Plain has just one ski run and it's perfect for beginners with no resort entry fees!), it has been designed with community in mind. It feels more like an inviting residential village, the place where kids roam free on bikes amongst snowgums, rather than the all-too-confusing mish-mash of retail, food n' booze and apres ski offerings elsewhere.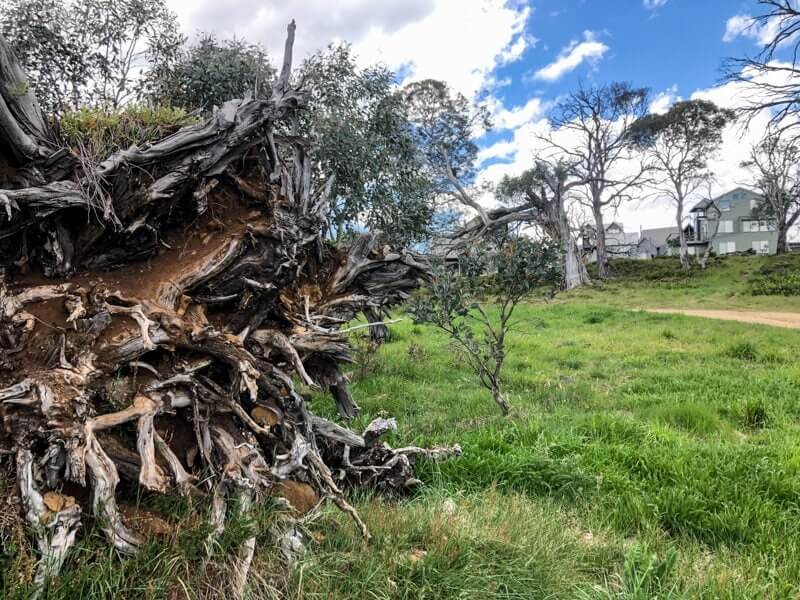 Everywhere I look in Dinner Plain, it makes sense. The unique architecture of the town (along with the strict building code) is refreshing and creates a visual flow and design aesthetic that reflects the environment that it sits within. Not surprisingly, the village was designed by renowned Melbourne architect Peter McIntyre, known for his commitment to emotional functionalism, that is, the effect the built environment has on its occupants. The holy trinity of stone, timber and corrugated iron – teamed with a colour palette taken from the surrounding snow gums – creates a human-made environment that is easy on the eyes and calls for relaxation.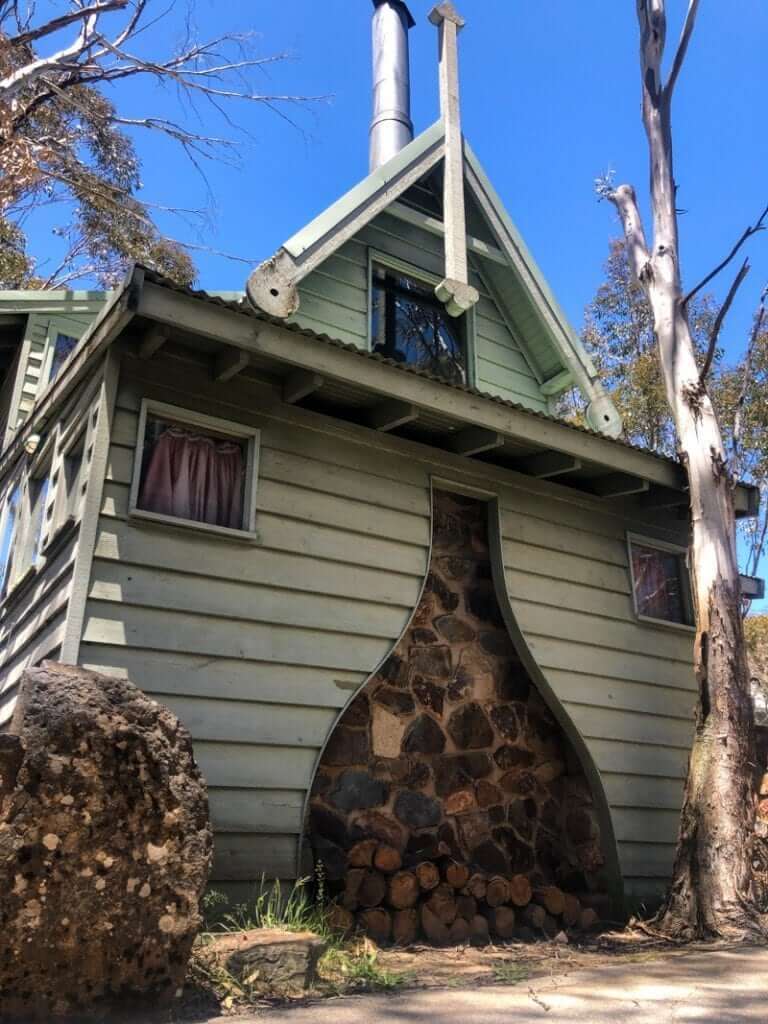 This is village life that mirrors the 1570 metres above sea level snow gums and alpine heath. Rather than screaming for attention – it is easy on the eyes where the relaxed pace of life (some would say sleepy) spreads into everything about it.
The residential village feel translates into accommodation options that invite you to become a part of their small town life – albeit briefly. This is the perfect place to rent a whole house, fill it with family or friends, and create a base for exploring, adventuring or chilling. Like I said, something for everyone… including dogs.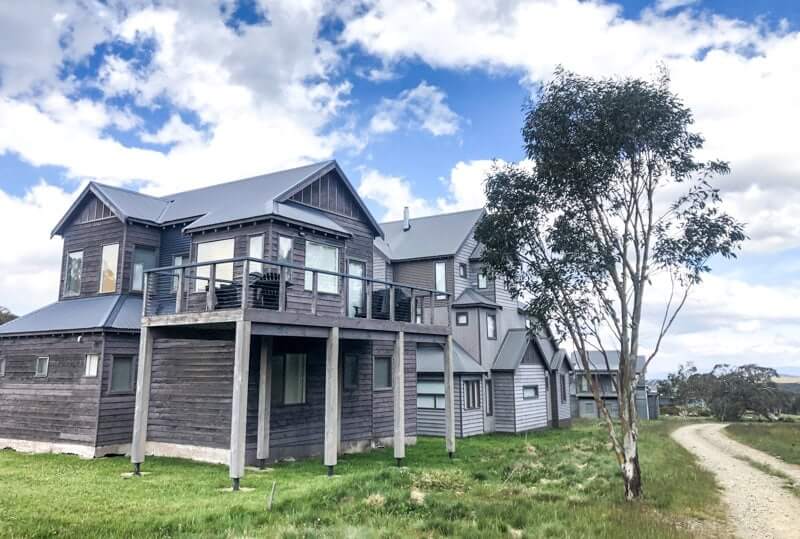 Speaking of adventuring, Dinner Plain is the kind of place you can do as much, or as little as you want.
Although I only had two days there (I reckon a week would be perfect) my hiking shoes got to step out on several forays close to base, before setting off on the 21 km mission of walking from Hotham to Harrietville (along the Razorback) via Mount Feathertop, in a day.
My top pick of what to do in Dinner Plain can't be confined to just one – it's five. That's 5 walks under 5kms. Dinner Plain has a small but well established walking trail network (with signage), which stretches across both sides of the Great Alpine Road that I accessed right outside my door. So I grabbed all I needed for a day walk and hit the trails.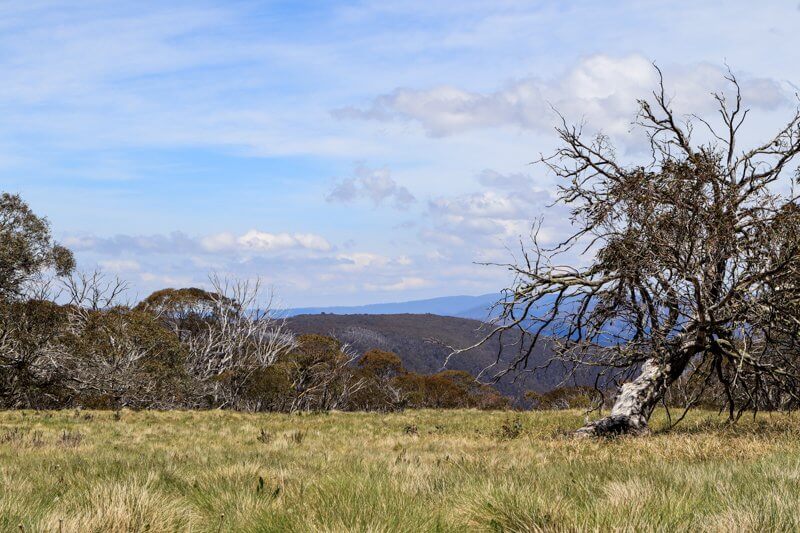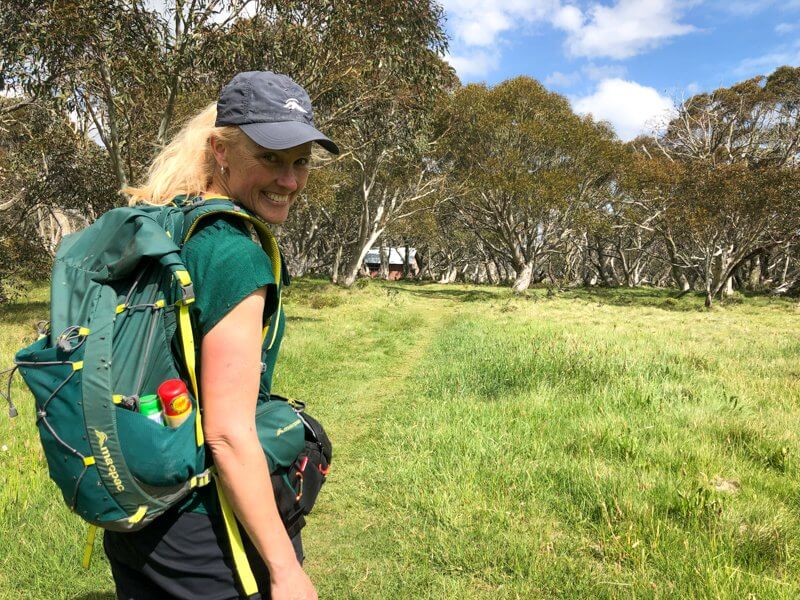 Dinner Plain's 5 walks under 5 kms
Carmichael Falls – 2km return
Start out on the Dinner Plain 4WD track south of the village. After 200m, take the signposted track to the right (SW) where it becomes a well defined single track, with some easily negotiated natural hazards like rock steps, tree roots and fallen timber depending on the season. The track follows along beside Dinner Plain creek where a short (must do) side track leads to a lovely series of cascades. Returning to the main Carmichael Falls track, the gentle descent (150m over 1km) leads to a viewing platform and a surprising rock escarpment (I literally did not expect to see that!) where I saw the waters of Precipice Creek falling over. Experienced off-track bushwalkers and scramblers, can make their way down to the base of the falls for a closer view before returning the same way to the village. You can download the tracknotes here.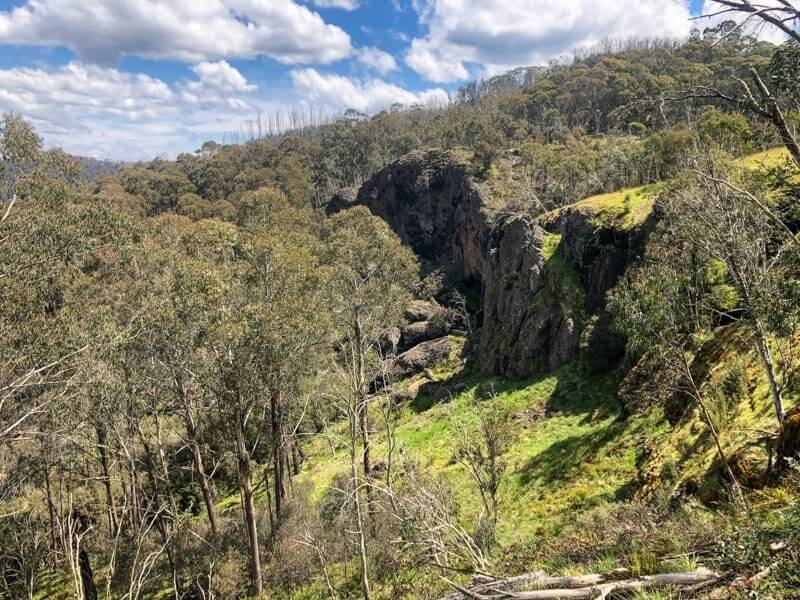 Dead Timber Hill Track – 4.5km Loop
There's lots of ways to join up different trails within the Dinner Plain network to make things longer or shorter to suit your fitness, mood or time of day. I reckon the way we did the Dead Timber Hill Track (as a 4.5km loop from the village) is the best way of experiencing it. We started by walking a couple of kms west along the Brabralung Track (the excellent shared use MTB and walking track that links Dinner Plain and Mt Hotham) until we reached the JB Plains Hut and campground. Although we didn't see any of the resident emus here, I did spy the start of the Tabletop Mountain bushwalking route, but I'll have to save that one up for another day!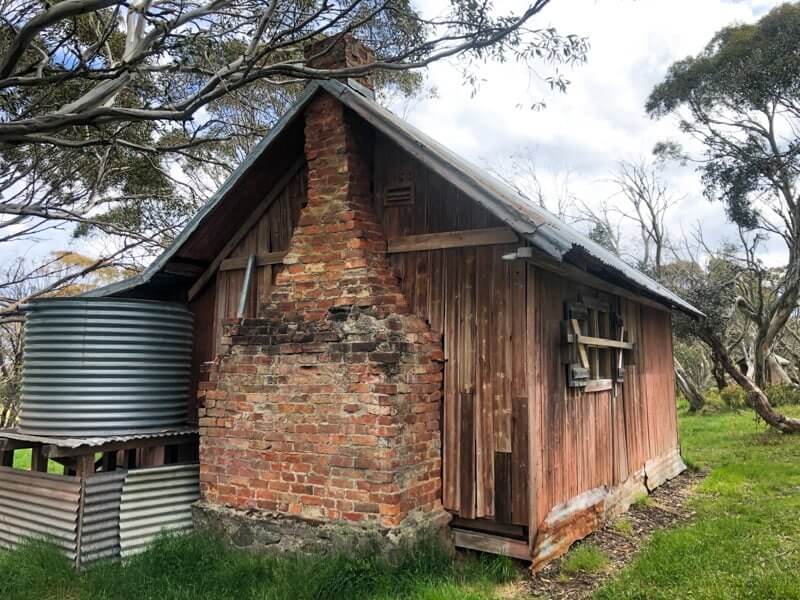 From the campground, it's simply a matter of crossing the Great Alpine Road and picking up the Dead Timber Hill Track on the northern side of the road. This is simply delicious single track that winds through snow gum forests with gentle undulations heading east, parallel to the road (but you'd never know) until it takes a northern detour to bring you out to my unexpected lookout number 2. A stunning view north across Cobungra Creek to Mount Feathertop and Falls Creek. If you're looking for a nice spot for sunrise, this could be it! After pulling away from the view, the track continues east past CRB Hut to a significant track junction (intersection of Room with a View Walk and Montane Loop) before crossing the road again and bringing you back to Dinner Plain village.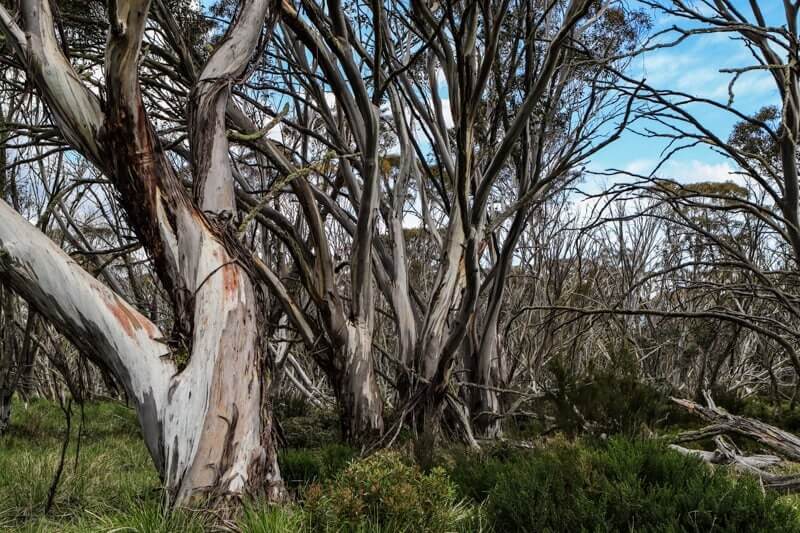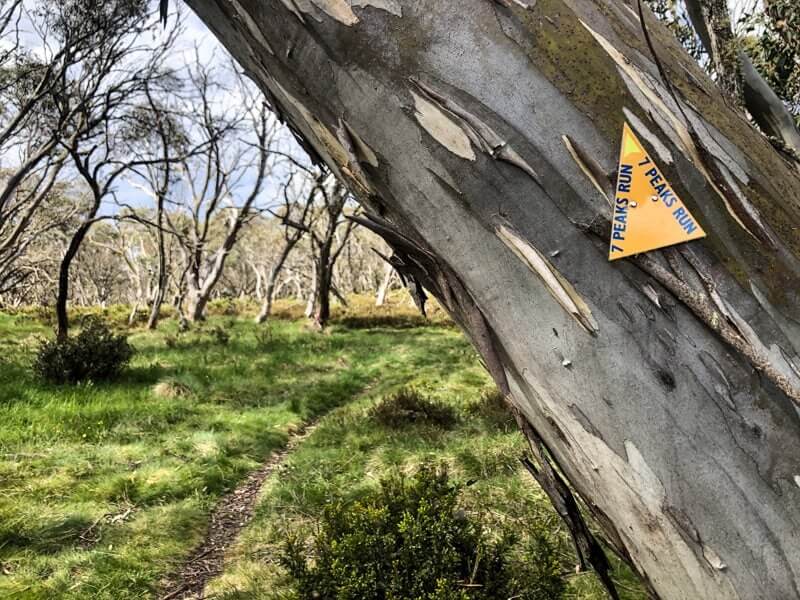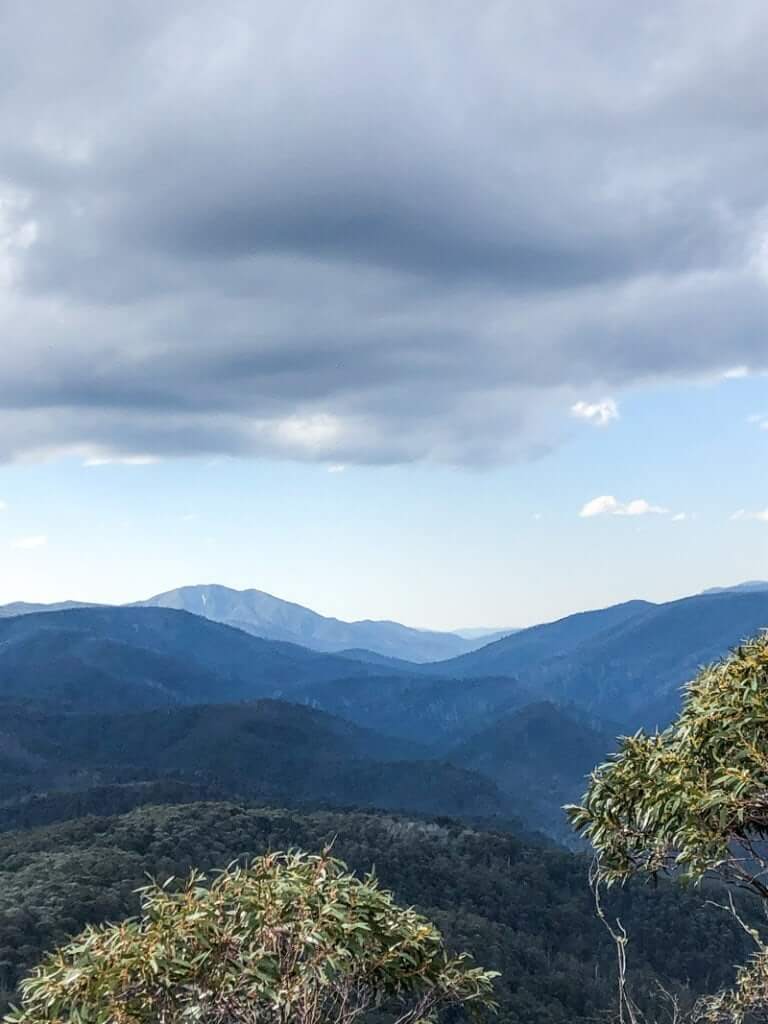 Room with a View Walk – 2km
If you're feeling more energetic after finishing the Dead Timber Hill Track, then you can add an extra 2-ish kms to venture along the most northerly track of the Dinner Plain network. This easy track continues the snow gum forest theme, drawing you out to a clearing with views to Mount Hotham, Mount Feathertop and across the valleys of the Cobungra and Bundara Rivers towards the Bogong High Plains. This gentle walk can also be completed as a standalone escapade from the village by starting at the Dinner Plain Hut at the north of the village. Oh and if you notice strange metal baskets, elevated off the ground… wonder no more!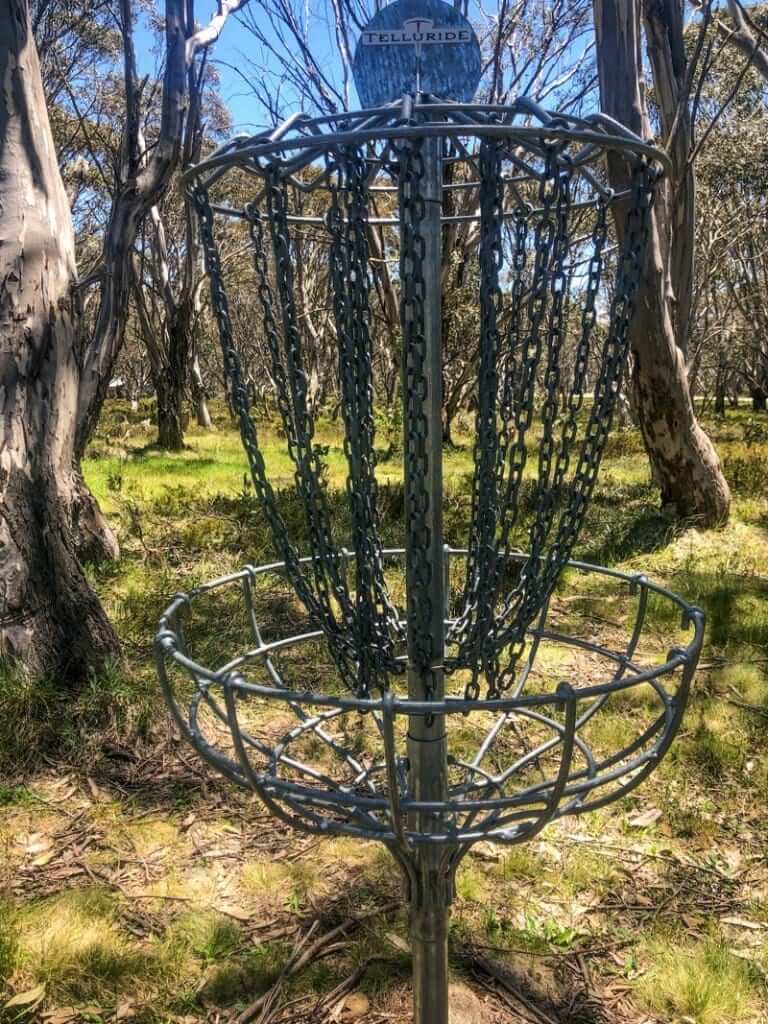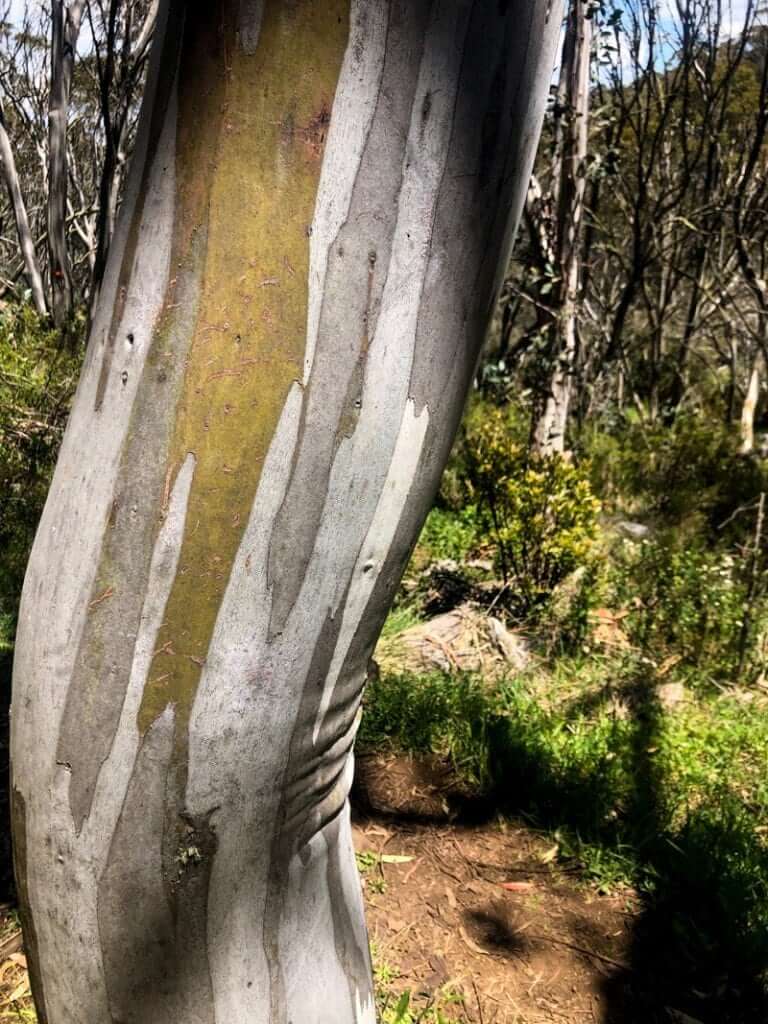 Fitzy's Circuit – 1.2kms
You know when you land in a new place and you just want to stretch your legs, find your feet and get the lay of the land? Fitzy's Circuit is Dinner Plains easy answer to that. Running parallel to the road, yet hidden in the snowgums, Fitzy's leads you gently along behind the buildings at the north of the village, giving you a good overview of the unique architecture and variety of habitats. It's great for the kids to stretch their car legs and you can take in a round of the curious Dinner Plain Frisbee Golf Course at the same time.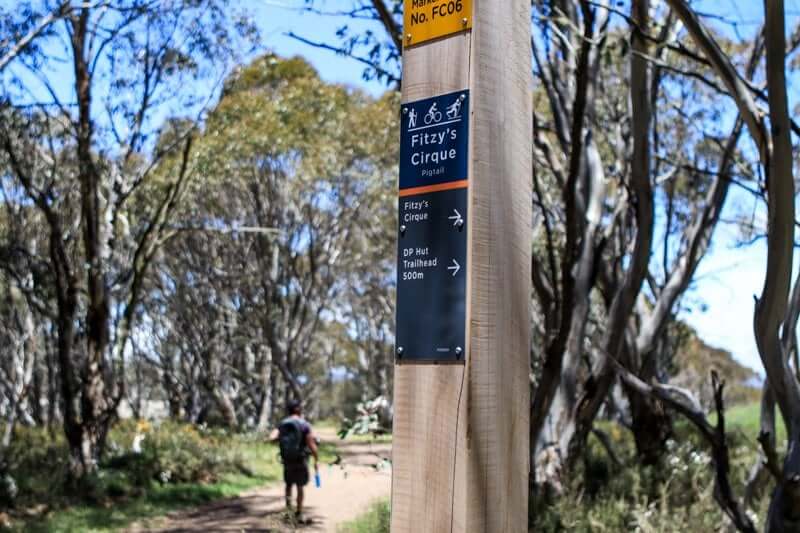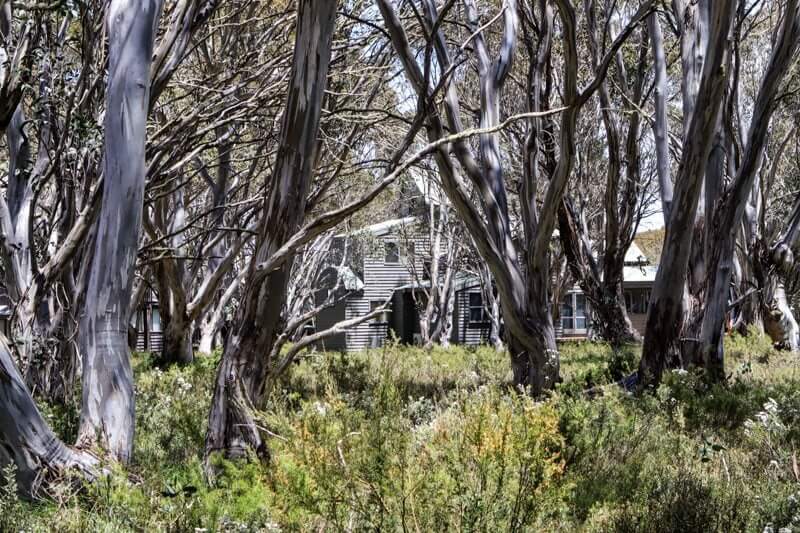 Choose your own adventure with a beer (Fitzy's + Collector Cirque) – <5kms
The very nature of Dinner Plain (a very rough circle), means that you can literally walk around the whole village in under an hour. That is, unless you get way-laid at Blizzard Brewery, the highest brewery in Australia at 1550m. Blizzard prides itself that 95% of its beer is pure, 100% snow melt, stored and naturally filtered in underground basalt aquifers… the other 5%… that's alcohol and great tasting beer. So say g'day to Mark the owner (a passionate hiker, skier and cyclist) and hit him up for some more trail ideas before you continue the clockwise loop around the village, along the Collector Cirque before joining up on the western side with the Dinner Plain 4WD track. Grab the Dinner Plain Tracks & Trails map in the village before you go.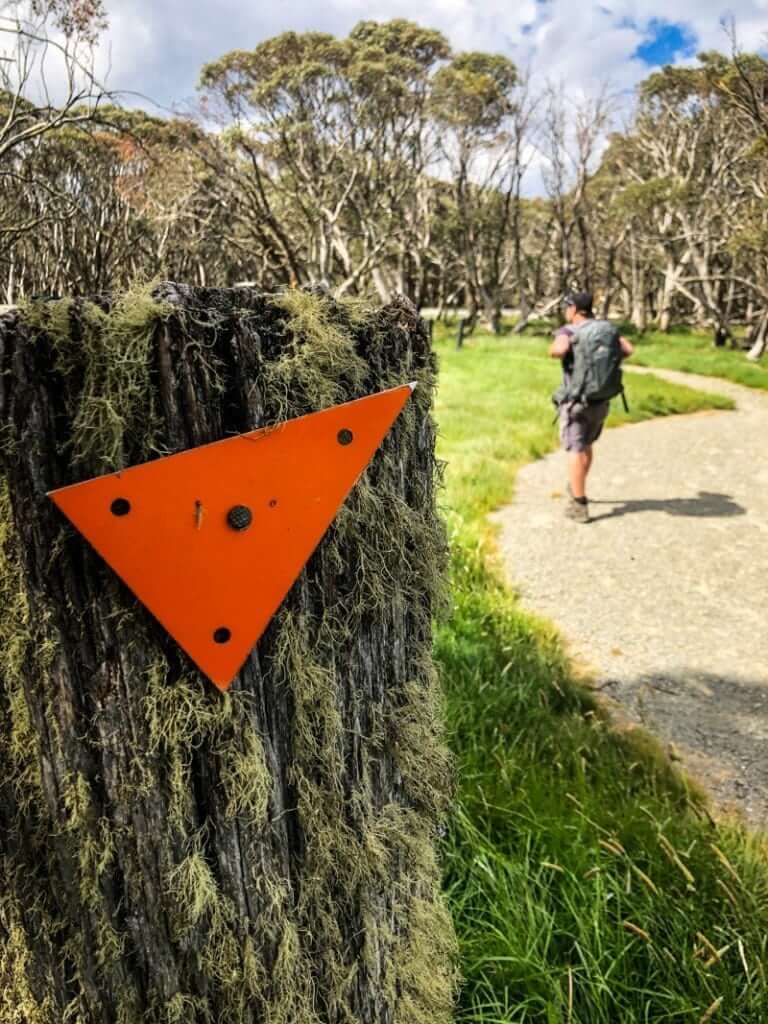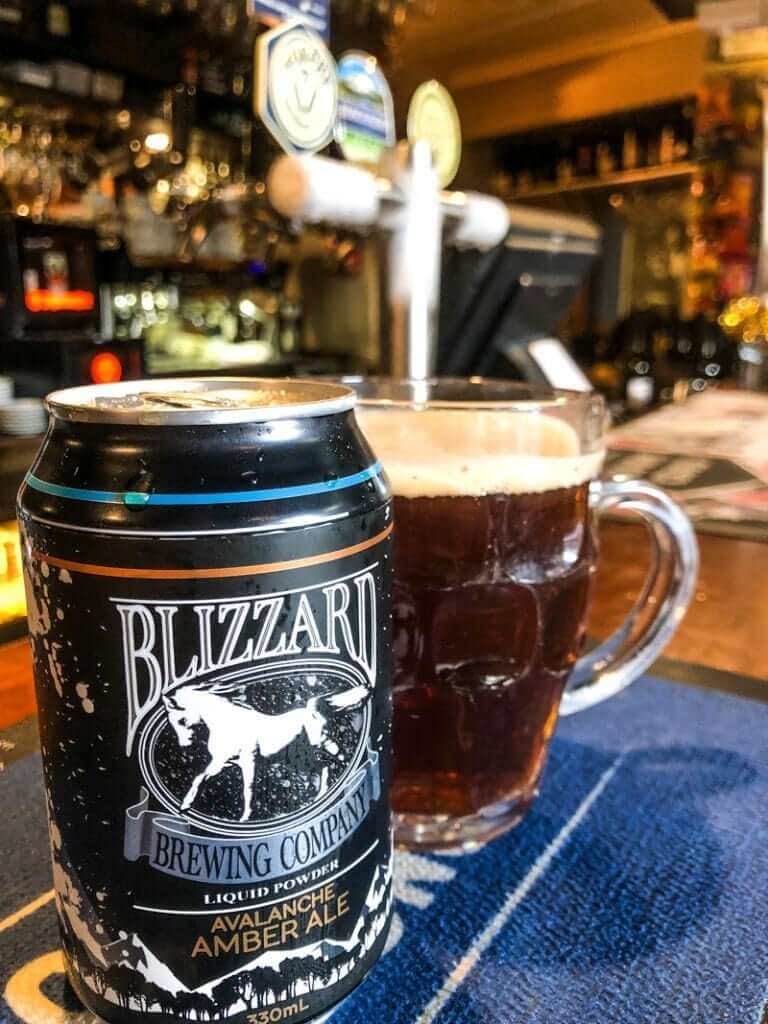 The Low Down
How to get to Dinner Plain
Getting to Dinner Plain has got to be one of the great road trips of Australia. The 300km Great Alpine Road stretches from Wangaratta to Bairnsdale in Victoria and can be joined to create a breathtaking driving loop that starts and finishes in Melbourne. If you're feeling a bit la-de-da you can book a charter flight to the local Hotham airport (just 12 kms down the road), alternatively, you can go the full PT and grab a bus service from Bright three times a week, which connects with VLine bus and train services at Wangaratta.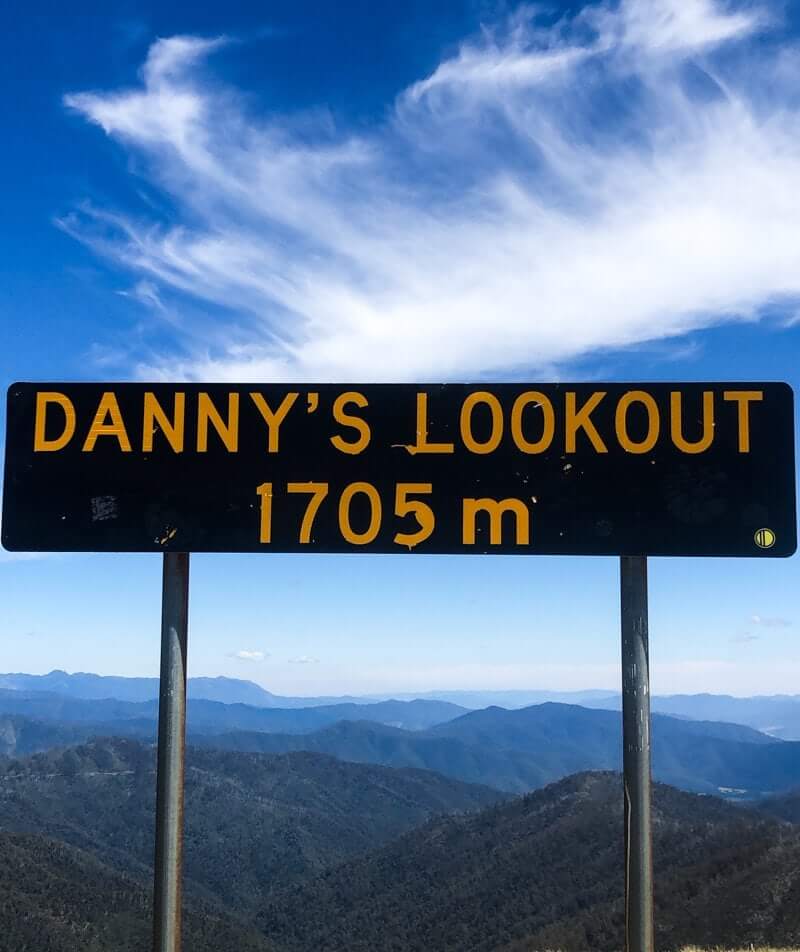 Where to stay
I stayed in the 2 person Merlot Apartment, right in the heart of the village, operated by Dinner Plain Accommodation who offer options for up to 22 people… yep, that's quite a group!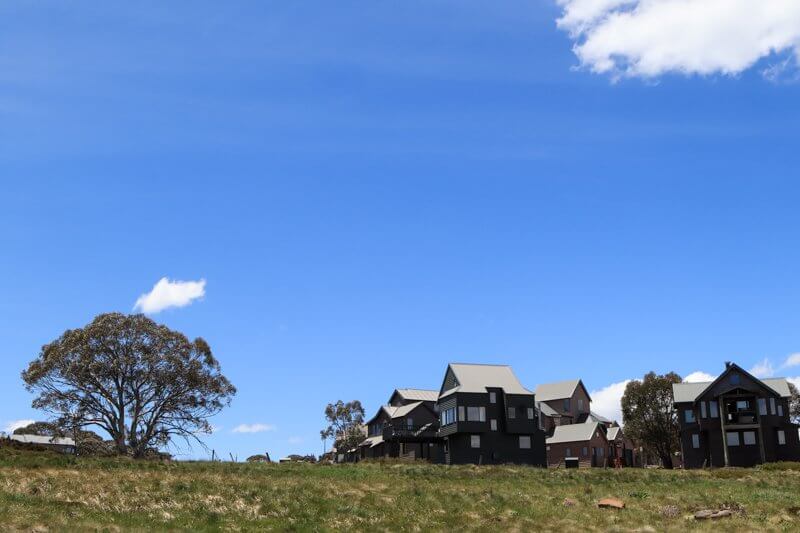 Where to eat
Be greeted by Bullwinkle (or is that Rocky?) as you enter the High Plains Hotel and hang a left to enter the friendly bar, stocked with local Blizzard beers among many others. Order from the Stones Throw Restaurant (the steak is amazing) and decide if you want to eat in the cosy, sunken restaurant or stay chatting with locals at the bar.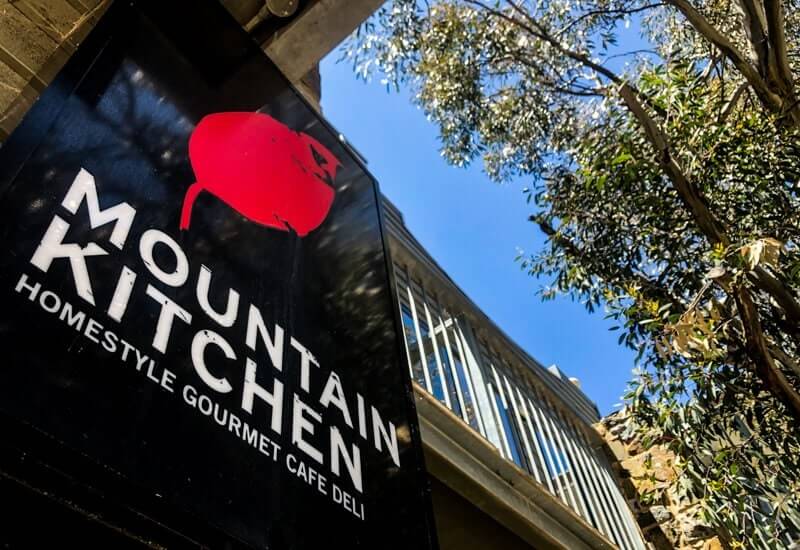 Coffee and Lunch
Never fear, Dinner Plain has your caffeine fix sorted. The lovely folk at Mountain Kitchen not only serve the best coffee in town, but I can vouch for their breakfast muffins (there's a surprise inside) and lunchtime paninis. Drawing on the best of the regions foodie offerings, they also stock a good variety of produce like chutneys, honey and other goodies to fill your self-contained kitchen.
What to do in Dinner Plain
Caro's 5 under 5 (above) – walking or trail-running or loop the lot!
Hike the Razorback – Hotham to Harrietville via Mt Feathertop (21kms one way)
Pack a breakfast hamper and head out for sunrise at Dead Timber Hill.
Give trail-running a go amongst the clean mountain air and easy, flattish tracks. For the experts, Dinner Plain is a great place to base yourself for The 7 Peaks Run, Razorback Run, Dinner Plain Mile High Trail Run or the punishing, Alpine Challenge. More details here.
Mountain bike or cycle amongst the snow gums and on breathtaking alpine roads.
Pack the car with groceries from the lowlands (plus local producers along the way) and spend the afternoon cooking up a storm in your own kitchen with friends, a few wines and good tunes. Lovely, lazy and leisurely.
Alpine Onsen or Yoga at Hepburn Spa Dinner Plain (closed Dec/Jan).
Walk the area with a local(ish) bushwalking club like Border Bushwalking Club or Murray Valley Bushwalkers who've got loads of experience and years of traversing these spots!
Visit all 5 of the cattleman's huts in the area. Some look older than they really are and include the Silver Brumby hut from the film of the same name.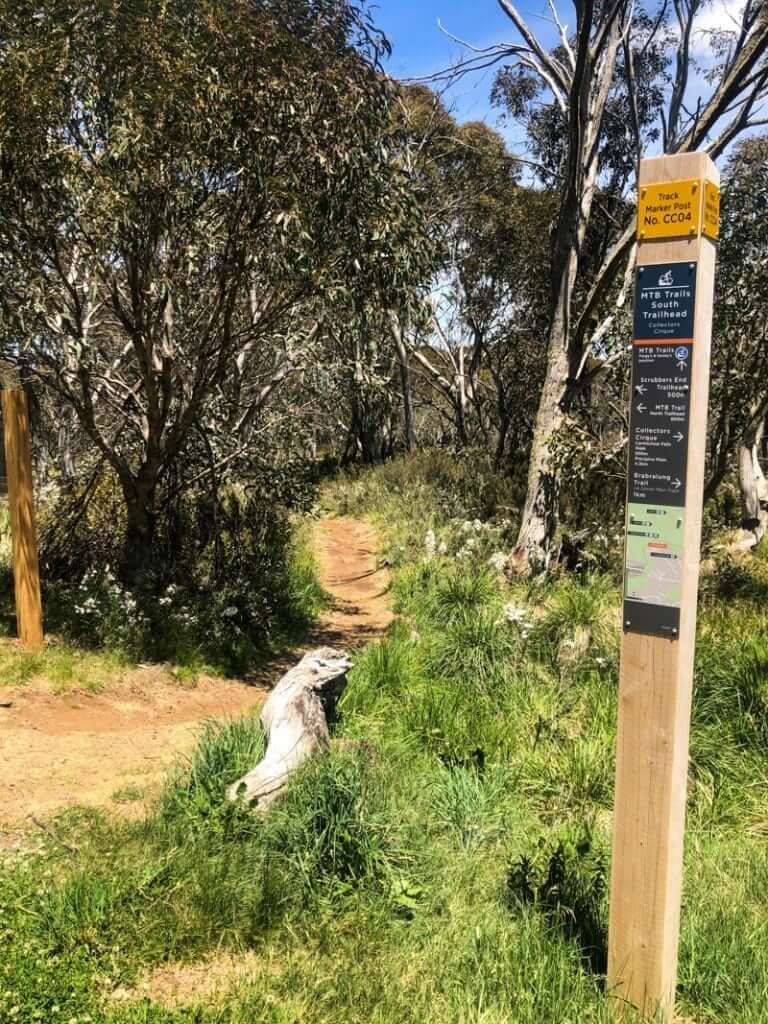 Caro travelled courtesy of Tourism North East. You can buy my time, but you can't buy my opinion!