If you're anything like me, you've got your go-to hiking snack for days out on the track in wild places. It might be scroggin or a favourite commercially available muesli bar type thing.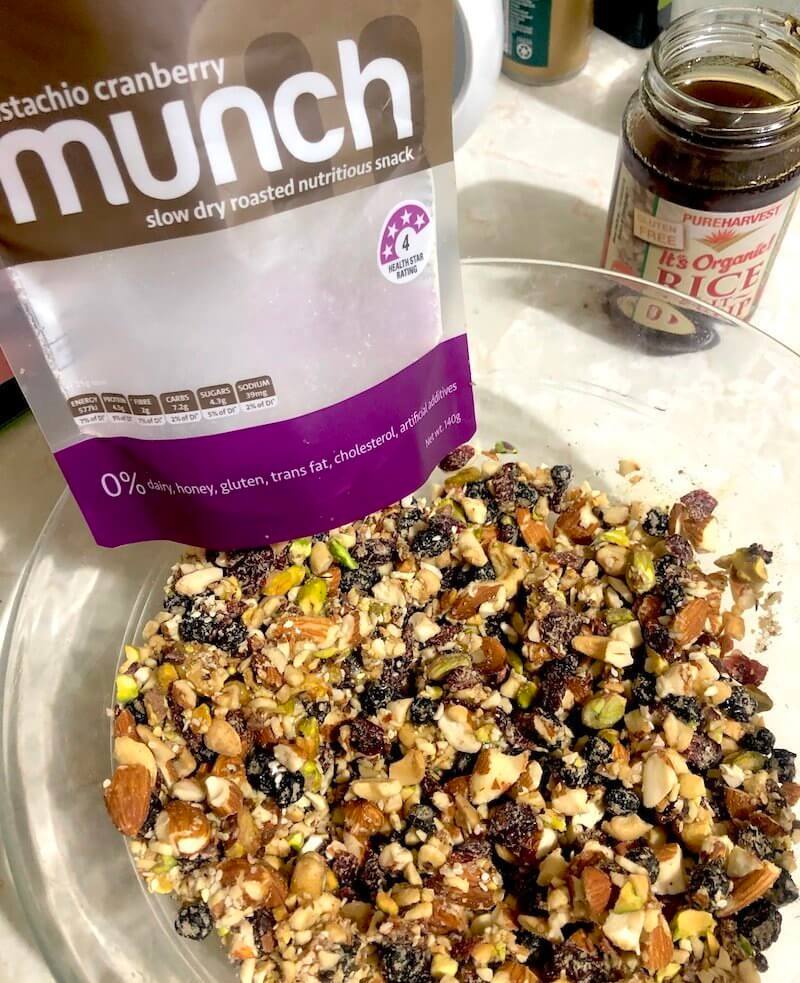 I recently tried a tasty commercial snack called Pistachio Cranberry Munch and thought they were pretty good… but at about $4/100g and with ingredients sourced from all over the world, I wondered if I could recreate these at home, with products from my local co-op. Turns out… I could!
It took a bit of experimentation, but by making some educated guesses based on their ingredients list (plus adding cacao nibs!), I'm pretty stoked with the result. Oh… and BTW, it's an accidentally vegan hiking snack!
Ingredients
1 cup unsalted cashews
1 cup almonds
1/2 cup pistachios (shelled)
1/4 cup dried cranberries
1/4 cup dried blueberries
1 tablespoon cacao nibs
1 tablespoon sesame seeds
1/2 cup rice malt syrup
1/2 tablespoon sugar (optional)
Pinch salt
Method
Preheat oven to 180c.
Line a 27 cm x 17 cm x 2.5 cm oven tray with baking paper.
Place all ingredients (except the rice malt syrup) in a bowl and mix to combine.
Working in batches, place the nut mix into a blender and blitz until the larger nuts (like almonds) are broken down (see image 1). Be careful not to over-blend to powder – chunky is nice.
Place the nut mixture back in one bowl and pour over the rice malt syrup.
Stir to ensure all the ingredients are well coated with the syrup. [It can get a bit sticky and messy!].
Turn the nut mix onto the oven tray and push down firmly with the back of a spoon to create a flat surface. Make sure you get it into all the corners and edges.
Place a sheet of baking paper over the top (to cover the stickiness) and using the rice malt syrup jar as a rolling pin, press down firmly, rolling across all the mixture to create a solid slab.
Bake at 180c for 20 minutes, or until the nuts start to turn golden brown.
Remove from oven and allow to cool in the tray completely.
Lift the cooled slab out onto a chopping board and using a robust kitchen knife, cut through the slab into desired portion sizes. [I cut mine into similar sizes to the commercial product, being 6 x 9 rows in the slab, each weighing approx 10g = 54 pieces.]
To store: I've placed the pieces in an airtight plastic container in the freezer. Whenever I need a snack for a trip, there's no more last minute rushes to the supermarket, they're there!