Sustaining your hike with body, mind and diet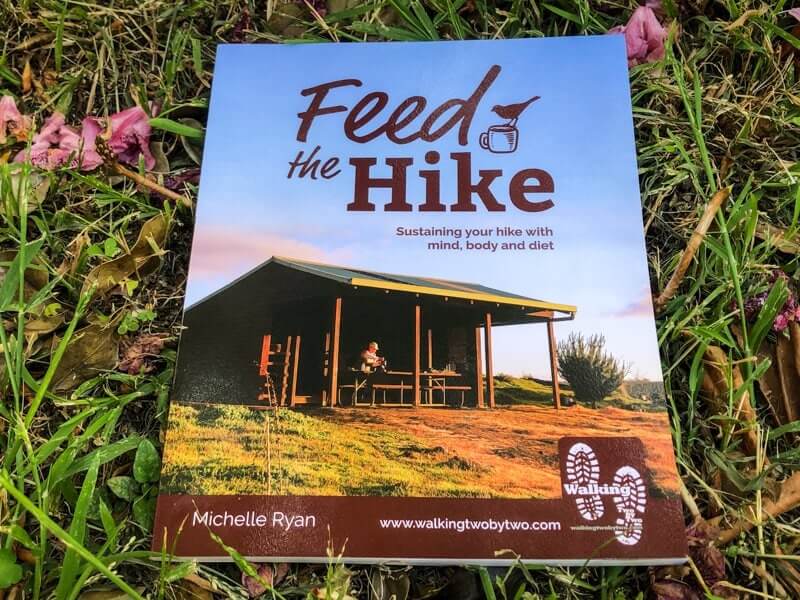 See below for 5% discount offer and coupon code for readers of LotsaFreshAir!
The new hiking recipe book by long distance walker, Aussie Michelle Ryan, is like having a gentle, wise coach and mentor walking alongside you. From the very beginning, she establishes her position as, 'not a nutritionist… just a mum who's been hiking for a very long time and someone who tries to maintain a healthy body.' It's this humble approach, teamed with tried and tested recipes from years of multi-day hiking, great layout and design and solid information, that leads this hiking recipe book to live up to it's tagline of 'sustaining your hike with mind, body and diet.'
About the Author
Best known for her writings (and videos) of the 1,000 km Bibbulmun Track and Cape to Cape Track in Western Australia, her passion for walking the slow track, both here and overseas, means this book is born from experience and learnt lessons.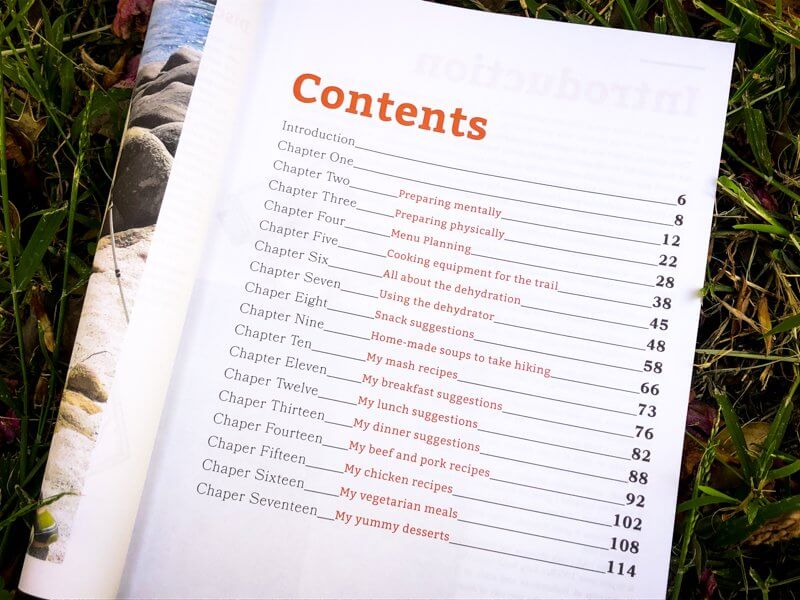 Rather than simply rely on her own opinion, she has drawn on stories, experiences and opinions of a handful of other hikers (hint… you might even find me in there!). She's giving a nod to the fact that everyone is different and finds their own ways of doing things. One thing this book doesn't have, is the single-minded opinions that you often find online, where opinion is often expressed as fact. She has gathered recipes from various sources (as well as her own), with the outcome being a well rounded, diverse hiking recipe book that draws on several voices.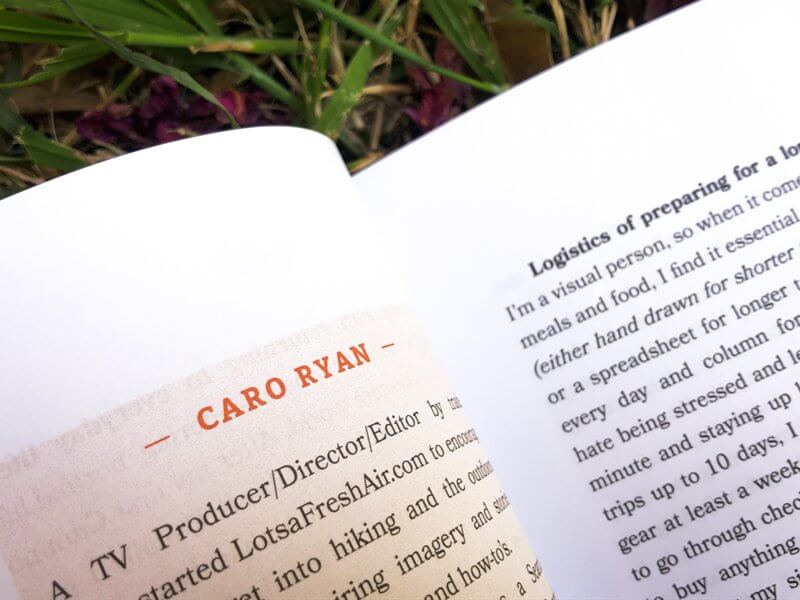 A wholistic approach
Michelle has produced a great resource that encourages us to view our time spent in wild places with a wholistic approach. It's not just about having the right gear, the right food and hitting the trail. Her chapters on Preparing Mentally and Preparing Physically, are packed with thoughtful considerations and practical tips (including exercises from a physiotherapist) that help the reader think about all aspects of multi-day hiking, including the sometimes challenging return to normal life.
In terms of cooking equipment, the book includes discussion on the pros and cons of various types of stoves, again with commentary from different hikers, on what works for them and why.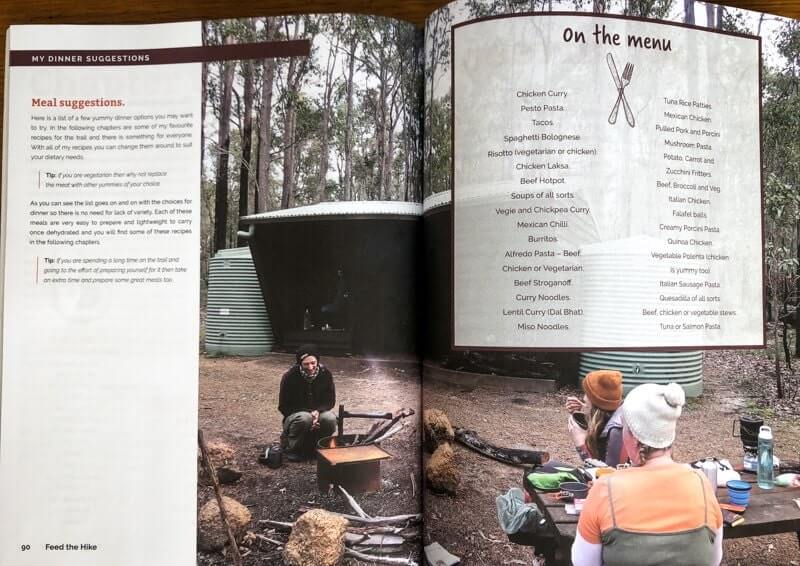 Dehydrating food for hikes
One of the stand out features of this hiking recipe book is a well rounded explanation of the process of home dehydrating. If you've been thinking about giving it a go, her two chapters on Dehydrating are obviously written by someone who's done a lot of dehydrating! She demystifies the process and loads these chapters with tips and tricks to help out both the novice and experienced dehydrator!
But if you're just hankering for good, nutritious and tasty hiking recipes, then you'll find 58 of the book's 117 pages are loaded with recipes for snacks, breakfasts, soups, lunches and dinners and of course… dessert!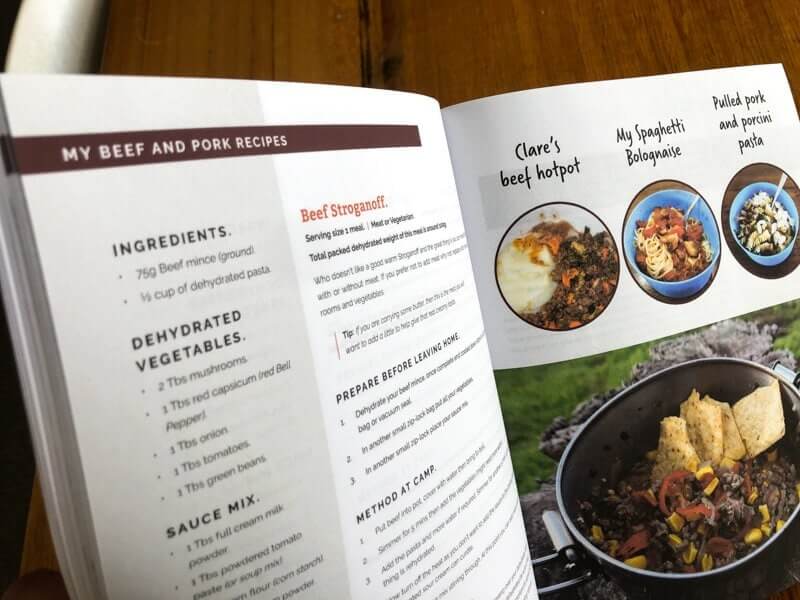 What I loved about 'Feed the Hike'
Solid advice and opinion from a diverse group of voices
Wholistic approach – body, mind and food!
Loads of tips and tricks you'd go a lifetime to learn through experience
Professional layout and design that's easy to navigate
What could be improved
It's just a small thing, but I confess I struggled with some of the grammar and typos throughout. Nothing a good copy editor couldn't fix for the 2nd edition!
With the rise in the number of vegetarians and vegans, a few more plant based recipes could be the icing on the banana cake.
Buy Feed the Hike – 5% discount
Thanks to Michelle, I'm able to offer LotsaFreshAir readers a 5% discount.
Buy Feed the Hike here. Enter the coupon code LOTSA5 at the checkout to grab a copy for $28.45 + P&H. The perfect gift for the outdoorsy person in your life!
Disclaimer: The links to buy this book are affiliate links. This means I receive a small commission from each sale, but you pay no more… actually, thanks to Michelle's discount… you get it cheaper!