As some of you know, I love the concept of the tiny house movement. It was through this interest that I met Christina Nellemann of the Tiny Yellow Teardrop Blog. She is also a keen hiker and I was delighted to hear how Lotsafreshair helped get her out into the amazing wilderness of the USA again. She has kindly shared her story with us here in this guest post.
After an evening of beers, my husband, two of our good friends and I all got the bright idea we were going to hike Mount Whitney. While we are all avid hikers who have tackled some of the highest peaks in our area of the Sierra Nevada, our alcohol fueled minds must have been mad to think we could hike the tallest peak in the Lower 48 U.S. States.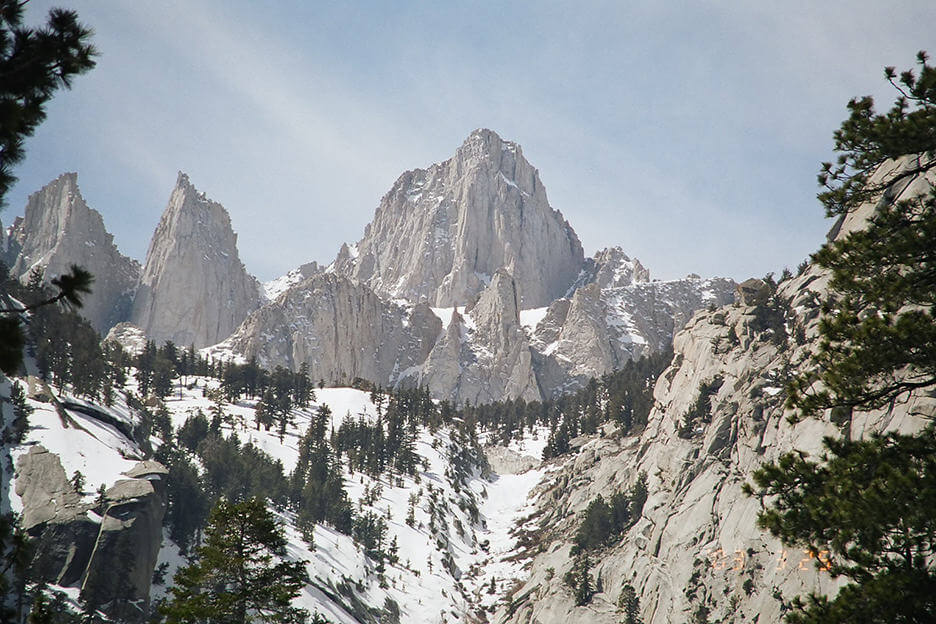 The truth is, the first time I saw Mount Whitney while on a trip to nearby Death Valley, the jagged peak was covered in snow and it literally took my breath away. The peak and the surrounding Sierra Crest tower above the rest of the Eastern Sierra at over 14,505 feet (4,421 m) and just begs to be climbed. However, the typical trail to the top, the Whitney Trail, starts at 8,637 feet (2,4384 meters) and climbs up 11 miles (17.7 km) to the top. Over 30,000 people attempt the climb every year and only 10,000 make it to the top. The altitude, rocky terrain and injuries send 1/3 of hikers back to the bottom.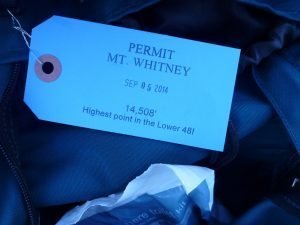 Permits are also required for any attempts up the mountain. Many people will try to do the entire 22 miles (35 kms) in one day—leaving very early in the morning and coming back late at night. Other hikers choose to do it in two to three days—camping at various designated campgrounds along the route. After winning four passes in the yearly lottery held in February, the four of us decided to also attempt the climb in two days and began to train to backpack up the mountain and sleep at Trail Camp at nearly 12,000 feet (3,6576 meters).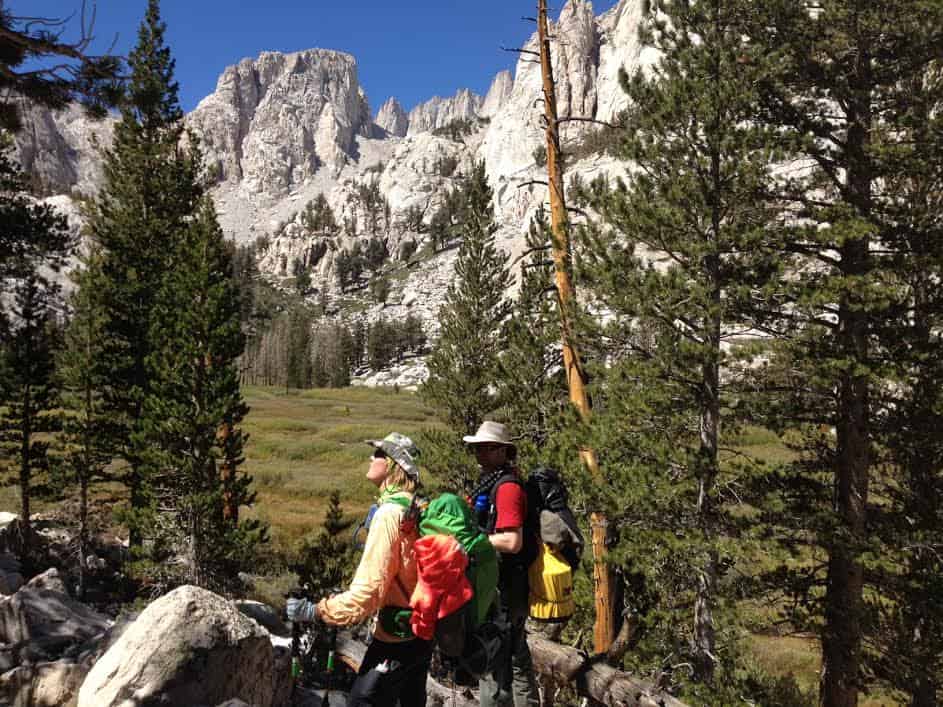 I have not really been backpacking since college. Our favorite form of camping has been to take our teardrop trailer camper out to a beautiful place in the mountains, do a long day hike, and then come back to a comfortable bed, a Dutch oven meal and bottles of beer and wine to dull the pain. Backpacking to me had become uncomfortable and I dreaded sleeping on the ground.
While looking for backpacking and hiking information online, I ran into the Lotsafreshair videos by Caro and her style of editing, information and tips got me hooked. I could do this! The first video to grab me was her How to Pack a Backpack. I still had my old Kelty from college and used her tips on the best way to pack my sleeping bag, sleeping tarp and clothing. I also loved her tips on packing scrub gloves and keeping loose items together in their own bags.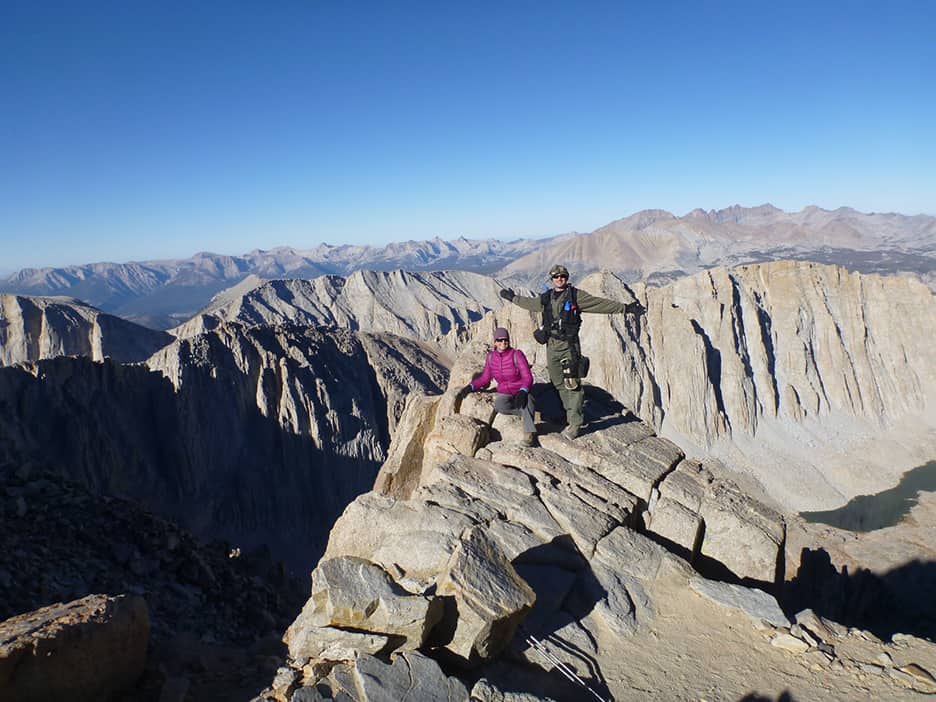 The next video I loved to watch was the Basic Food for Bushwalking/Hiking. I was out of practice with packing and cooking lightweight backpacking food. The best tips I got from this video was about doing all your prepping at home and adding all your ingredients to one bag. On this hike we ate couscous and pastas with added veggies and spices and those great tuna packets and oatmeal with added nuts and dried fruit.
The morning of the hike, we left our comfy teardrop trailers at the bottom of the mountain in a campground and drove to the trailhead. After weighing our packs (mine came in at 32 lbs. (14 kg) with full water bottles) we hit the trail. The Whitney Trail is divided up into 10 sections that include several alpine lakes, meadows, switchbacks and one campground with a waterfall. We made good time and hiked nearly 4,000 feet (1,200 meters) in about six hours. We did begin to feel the altitude at around 10,000 feet (3,000 meters) and our heavy packs weighed us down. When we finally got to Trail Camp to set up our tents and tarps, we were happy to take off the extra weight. The plan was to only take our small day packs up the rest of the mountain.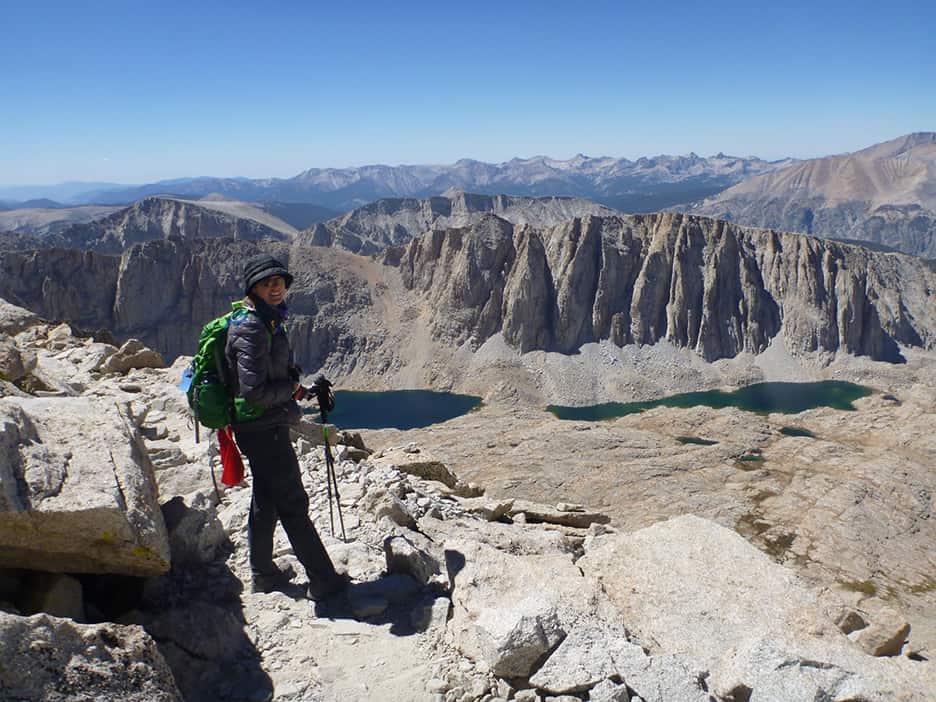 The next morning, we hit the trail at first light. The next section was the dreaded 99 Switchbacks…and…yes…there are 99 of them [Caro: OMG!]. This part took us nearly two hours and brought us up to the amazing Trail Crest where we could see the other side of the Sierra Nevada range and nearly to the Mojave Desert in Southern California. The jagged, rugged and ankle-busting Trail Crest took us another three hours. Our final trek to the summit was at a snail's pace as our oxygen intake was nearly dropped by half. Seeing the small stone hut at the summit was a sight for sore eyes…and feet. I actually felt pretty good at the top with just a slight headache. Our friends could feel tightness in their lungs and my husband had some troubling breathing and tingling in his hands.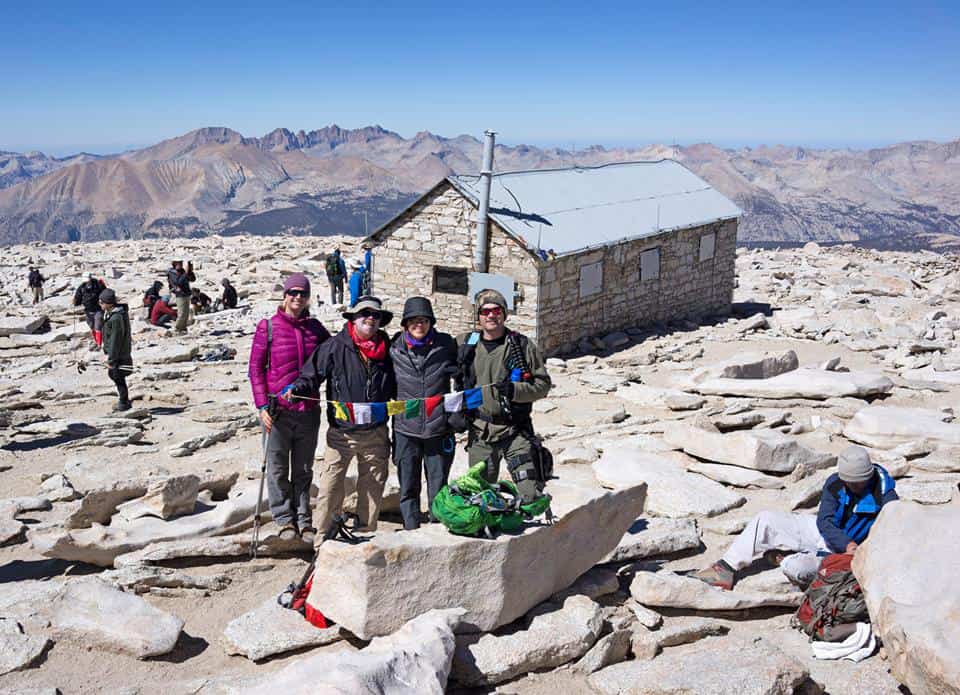 Coming down was more difficult than going up. We had decided to do the entire 11 miles (17.7kms) down in one day and that might have been a mistake. By the time we reached our tents at Trail Camp, my knees and feet were killing me…and we still had six miles to go. Our group separated to make better time (and to be at the restaurant at the trailhead to order burgers for dinner) and my friend Nancy and I began the descent together. I began to remember Caro's video named Making the Tough Decisions and doing mini risk assessments on your body. My left knee was not doing well and I told Nancy to go ahead of me so I could move even slower. It took me about three hours to do the last three miles and at the trailhead I slowly limped up to the table where the rest of my group had just been served four large cheeseburgers and sodas. A cheeseburger had never tasted so good and my teardrop trailer bed never felt so comfortable.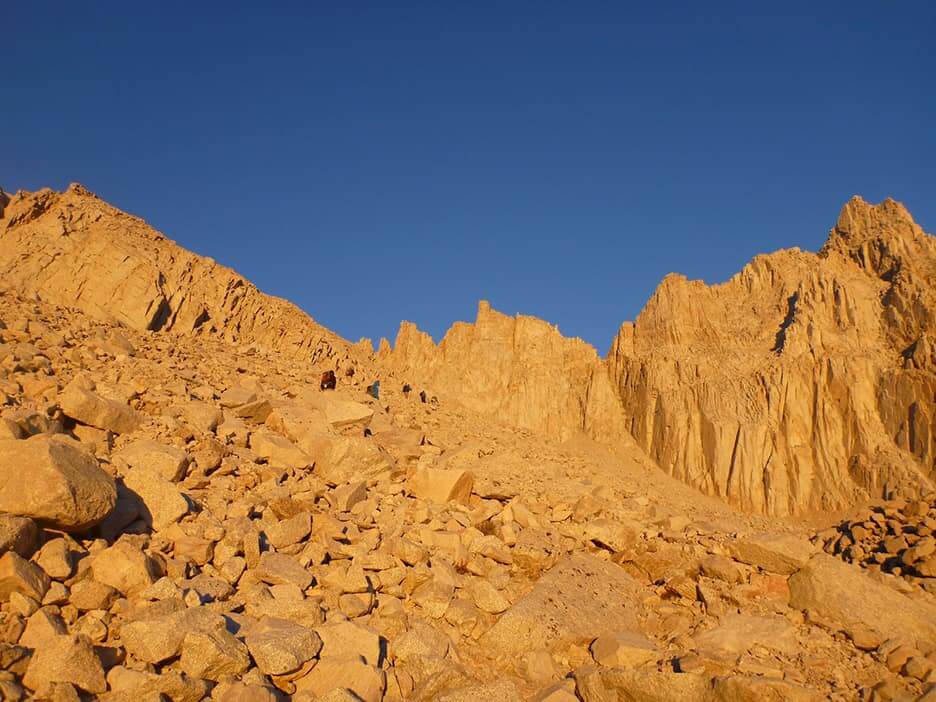 Christina's Tips
I learned a lot from Caro's videos and posts and learned a few things on this trip that might help you with your next hike or backpack trip.
1. Invest in good gear
I invested some money in a good puffer jacket and my down sleeping bag. The temps at the top of the mountain ranged from 37-25 degrees F (2 to -3 C) and those items probably saved my life. I also kissed my good quality trekking poles after they got me back down Mount Whitney.
2. Tape up your bottles
Caro brings fix-it tape along on her trips to use for making small repairs. I took some black electrical tape and put it around my water bottles. Not only does it give me tape to use while saving space, it helps to keep my water bottles from slipping out of their pockets.
3. Keep physically and mentally healthy
A long hike or backpack trip is both physical and mental. Your body may be doing fine, but if your mind is not along for the ride, the hike will be more difficult. There were times on the trip where my mind doubted I could do it—but I made sure to think positively and my body followed. It also helps to have helpful and supportive friends and family along.
[Caro: Thanks so much Christina. I'd love to have a go at Whitney one day. Oh and check out this little clip of them on the way up… good to know that I'm not the only one who goes a little nutty on big climbs!]
---
Christina Nellemann is a designer and writer living in Northern Nevada in the U.S. She writes for various blogs including the Tiny House Blog, 10Best/USA Today and 7×7 San Francisco. She also runs the blog, Tiny Yellow Teardrop, about teardrop trailer camping.
http://tinyhouseblog.com
http://www.10best.com
http://www.7×7.com
http://tinyyellowteardrop.blogspot.com
Photos by Christina Nellemann, Harry Thomas and Wikimedia
http://upload.wikimedia.org/wikipedia/commons/f/f9/Mount_Whitney_2003-03-25.jpg