November 2019 Update: Since moving to the Blue Mountains in 2017, I've become aware of a certain understanding that comes from people who've been here for many generations, seeing many bushfires come and go. I call it, 'To hold people tightly and things lightly.' Over this month, we've seen fires overtake enormous areas of NSW and the effects of climate change be made front of mind, well, for some. Even though there is no immediate bushfire threat to the towns and communities along the Great Western Highway, businesses such as canyoning and climbing guiding companies, cafes and other small businesses have seen a drop in business and lack of visitors. I'm reminded of this post from the archives and wanted to encourage people to think about how they could support communities currently affected by fire (either now through donations or at an appropriate time, visitation), to help locals in whatever ways they need it. 
October 2013 was an incredibly difficult one for many people living in the Blue Mountains of New South Wales.
I've had non-hiker friends say to me, 'Oh, you must be so sad about your beloved Blue Mountains and the fires?' I kind of didn't know what to say. I don't live there, I haven't raised a family there, had the comfort of home and community there, been gripped by the gut wrenching fear of losing my home, physical memories and pets, let alone loved ones and friends.
Sure, I spend a lot of time there, my car can almost drive itself, but apart that, not being able to walk in the burnt or (relatively small) closed areas is only an inconvenience to me. It simply means changing my plans – not changing my life. Nearly 200 families lost everything. It's not about me.
So what can we (those not affected by the fires) do?
Donate money – Cold, hard, cash can bring warm, soft and practical outcomes! There are various charities and funds set up. Choose one that resonates with you. My pick is http://www.salvos.org.au | ph: 137 258
Help a mate – Do you personally know people who are affected? Maybe a member of your bushwalking club? A colleague? Ask them what they need or just be there for them and simply listen.
Encourage anyone you know who may be affected to seek help. The Salvo's are providing a range of services from trauma counselling, practical supplies, short and  long term assistance, helping people plan for the future, financial counselling and legal advice. I mean seriously, when you've lost everything… where do you even start?
And here's the fun one… Visit the Blueys! – It's bad enough that people lost homes and suffered so much during the height of the fires, but now, the lack of tourists and visitors to the region is damaging local businesses. If it continues, people could lose their jobs. What are you waiting for? Get off your toosh and get up there! Sure, you might not be able to visit

some

of the tracks or canyons for a while, but it's an ideal time to see all those other attractions, canyons or tracks that you've, 'always been meaning to do.' Here's some thoughts: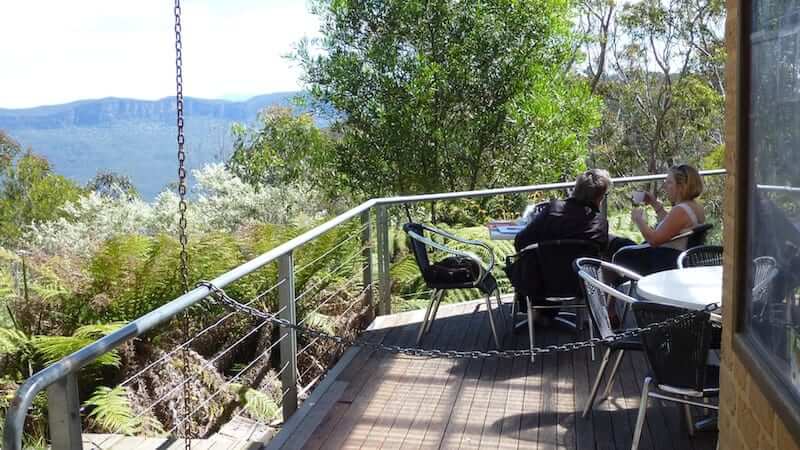 So often, us bushwalkers/canyoners, will leave Sydney at 6am, arrive in the mountains at 8am and head straight to the track-head. We'll spend an awesome day out in the bush, then turn around and head back. 4 hrs in the car for 9 hrs on the track. Why not leave work a bit early on a Friday and spend a night in a local hotel/YHA/B&B, before starting out on the Saturday morning? I've recently become a fan of the wonderful warm hospitality at the Ivanhoe Hotel at Blackheath. If you're on a budget (or had a few too many cooling ales with their enormous steak, salad, chips and pepper sauce after a hike – I deny all rumours to that effect!) this pub is perfect! I recently had a room upstairs, set back from the main road and slept very well. I think I paid $30 for a room (2013) with share bathroom. Good old fashioned Aussie pub accommodation and the squeaky floorboards are thrown in for free!
Spend a day, 'doing all the touristy' things. You've whinged about the tourists blocking the tracks in a dazed state at the bottom of the Scenic Skyway/Railway/Cableway for years… when was the last time you checked it out for yourself? Scenic World might surprise you! 
Whilst you're down that way in the Jamison Valley, see what millions of tourists each year see of our Blue Mountains… look through their eyes… imagine you're seeing it for the first time and walk the Prince Henry Clifftop walk from Katoomba Falls, along past the Skyway to The Three Sisters. Then, put your adventure hat on and research the options for continuing further around the valley, above or below the clifflines.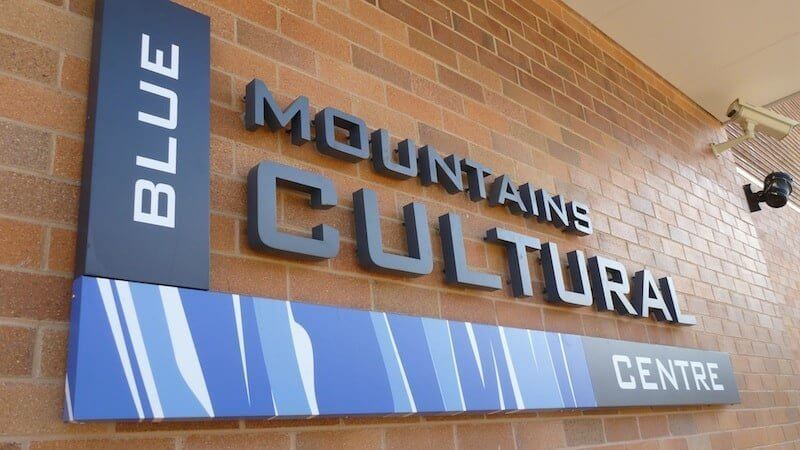 And my new personal favourite… The Blue Mountains Cultural Centre. The audio/visual exhibition about the Blueys World Heritage is really amazing. There's an art gallery, shop, cafe and lovely rooftop open space. A real surprise.
Go for a wander up and down Katoomba Street and check out the Antique and other shops. There's been a lot of change in the last few years and wizzing past at 7.30am, you've probably missed it all. There's great coffee in Katoomba at True to the Bean and Cassiopeia.
Stretch your legs from Katoomba and walk through the back streets to Leura. Dream about owning one of those lovely old timber mountain cottages… maybe even buy one! That's supporting the locals, eh?
Join the Sunday driver crowds in Leura and wander the main drag.
Drink and eat at Red Door coffee (my Leura favourite)
Drink and eat at Altitude Cafe (my Blackheath favourite)
Check out (and BUY) from the local artists at The Nook, Leura.A great co-op of local artists and artisans. Huge variety – from edgy out there stuff, to things that even your Nanna would love. Thankfully, they're a PFZ – potpourri free-zone.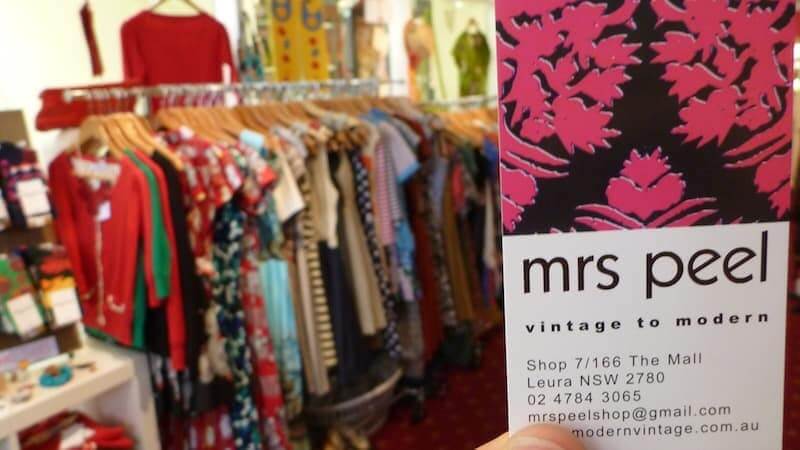 And from the, 'Where have you been all my life?' files… Mrs Peel. Deep love indeed.
Come to the mountains and do ALL your Christmas shopping in the Mountains.
Buy accommodation gift vouchers for friends and family… then they can come too!
Don't just drop in to the NEW Apple Bar for a meal/soothing ale on the way home after a canyon or walk… you Stink! Haven't you often thought, "Geez, it would be nice to spend a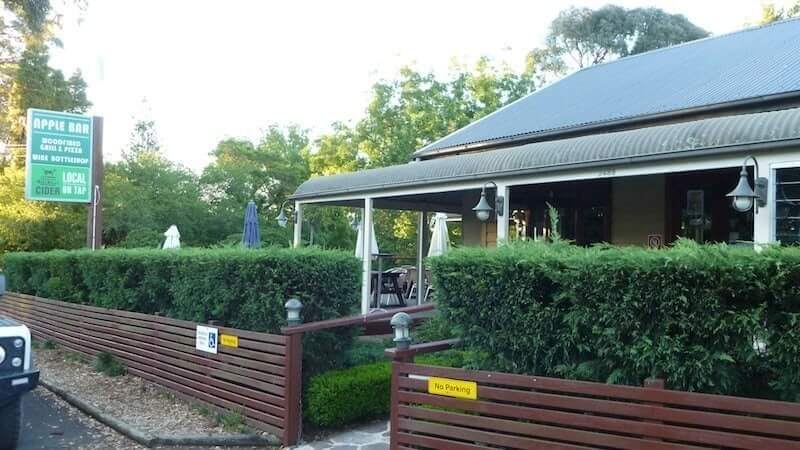 weekend up here." What could be better than a long, lazy, lunch, chowing down on one of their amazing woodfire pizzas with more than one or two shandies, and walk back to a nearby B&B? Sigh, Apple Bar… How do I love thee? I cannot count the ways.
How often have you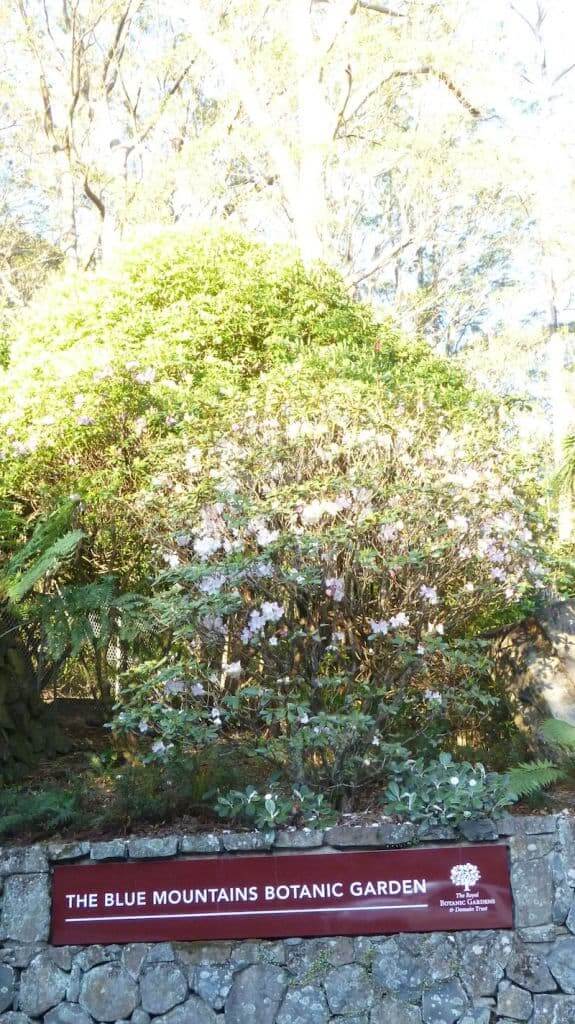 driven past Mt Tomah Botanic Gardens (Now called Blue Mountains Botanic Gardens) and never actually ventured inside? It's truly beautiful and the home to the Royal Botanic Gardens (in Sydney), cool climate plants.
Sick of hearing Simon Marnie talk on ABC702 about the Farm Gate Trail every Saturday morning and never actually visited any of the farms? Giving particular focus to the farms nearby the bushfire area..Stop listening… start visiting. www.hawkesburyharvest.com.au
Go wine tasting… drop down into the Megalong Valley for Darragh Wines, Megalong Creek Estates or Dryridge Estates.
Do a high ropes / zip line course at Treesadventure.com.au in Yarramundi, at the junction of the Nepean and Grose Rivers. If you like being up close and personal with Blue Gums, this put you right UP in them. Oh, and someone else can do the rigging and safety for once!
Challenge yourself to eat the menu (or the list) at the Fat Canyoners Good Grub Guide. Awesome resource (the whole site that is, not just the food page), which outlines all the places to eat on the way to/from bushwalks and canyons.
My advice?
Visit
Eat
Drink
Spend
Stay
Walk
Repeat