One thing that I'm convinced about in this crazy life, is that we're not just put here on this amazing planet for our own benefit.
Something as simple as giving someone a smile or a random act of kindness, has the ability to give light to someone's life. I consider myself so incredibly blessed in many ways, that when faced with the opportunity to help out, I find myself saying, 'How can I not …?'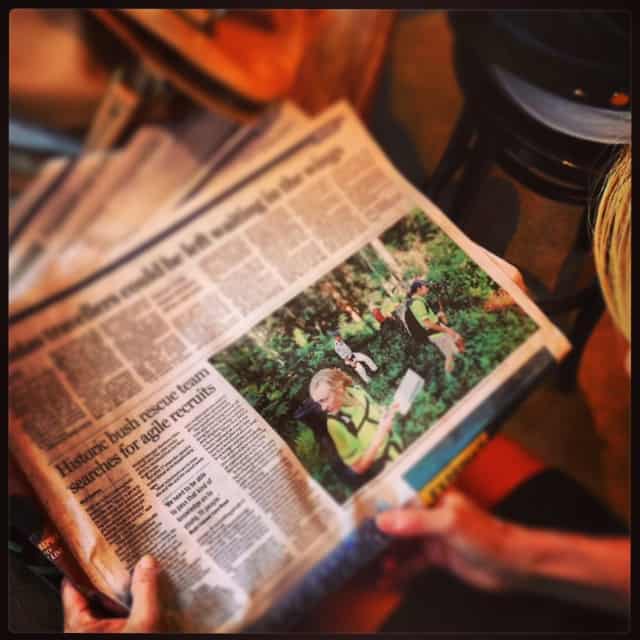 So when I first got into the outdoors over 10 years ago, I was excited to hear about the work of the Bushwalkers Wilderness Rescue Squad or BWRS (now NSW SES BSAR) and to be able to join this great squad.
Yes, a small little band of quiet achievers, we have tended not to promote ourselves in the past, but recently we came to the attention of the Sydney Morning Herald journalist Nick Ralston.
After a couple of phone interviews and an early morning photo shoot, with the help of our colleagues from Police Rescue and Bomb Disposal Squad, a great article appeared in last weekend's newspaper.
So, if you found yourself reading that article, or reading this and wondering how you can use your existing outdoors and wilderness skills to help out in the Community… why not look to see if there's a volunteer land search and rescue unit in your area, like us!
There's probably loads of different organisations out there who are looking for keen volunteers. Anything from Landcare and Bush Regeneration groups, to Scouts and Girl Guides. The skills you have learnt over the years are valuable and you have the ability to share these with others and pass on the knowledge, or simply offer some muscle where it's most needed.