Summer Walking
I'm constantly surprised by the number of people who hit the Six Foot Track Facebook page in December. Every year (as an admin), I have to pop in a word of warning and explain to folk, 'Seriously guys, Summer is not a great time to be doing this walk.' Frankly, it's too hot for open and exposed, firetrail walking up steep long hills. Phew!
So where should a bushwalking hungry Aussie (or visitor to Oz) head for some serious mountain and wilderness highs during our hotter months?
I've tried a few different spots around the country to escape the heat, but for the last few years, I've found myself on an annual pilgrimage to the Snowy Mountains (Kosciuszko National Park) for a week of wilderness, wildflowers and plenty of wow.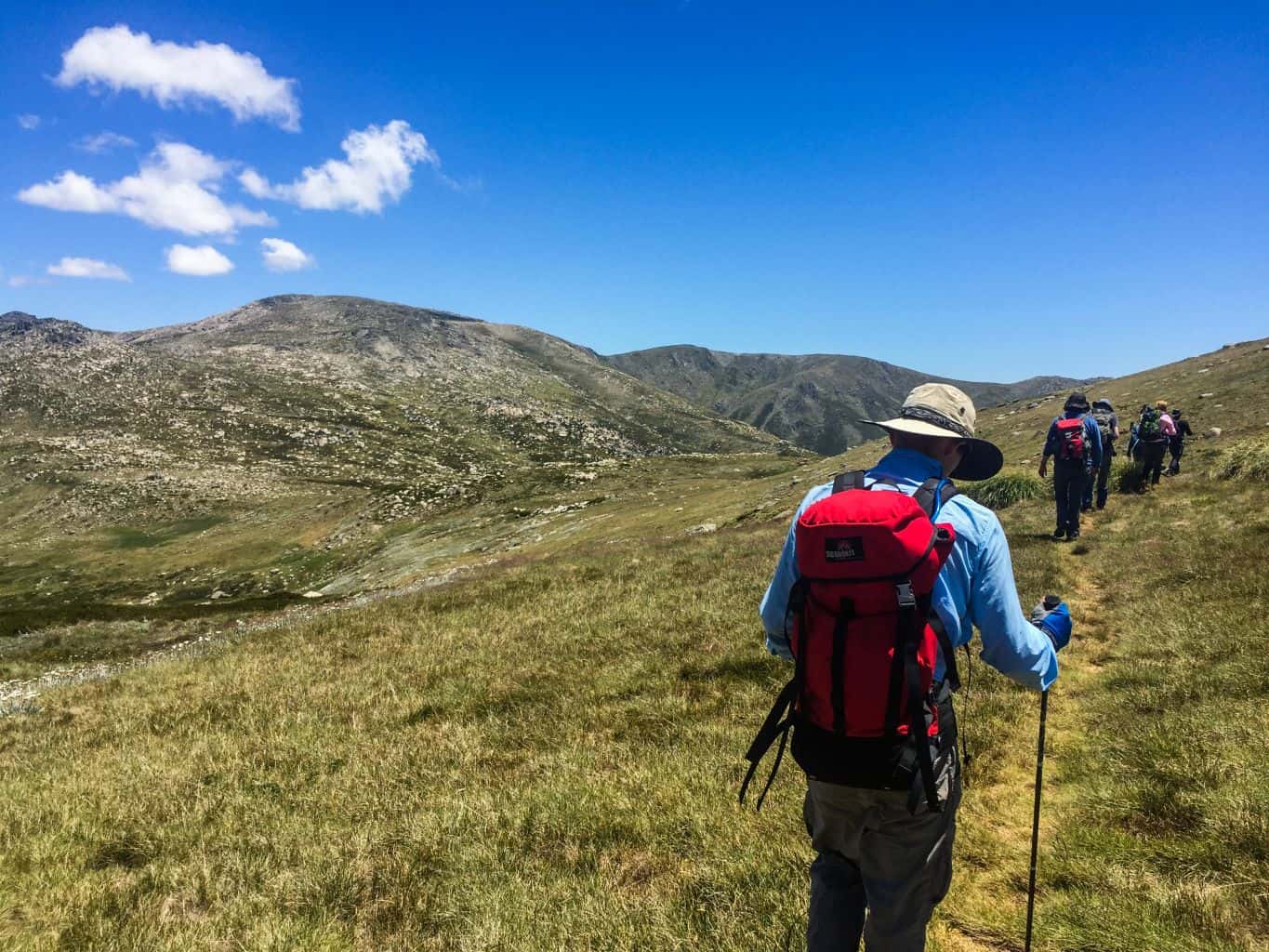 Thanks in no small part to my club who take over several ski lodges at Smiggins Hole during this time and take advantage of the cheap Summer rates to establish a base. It's here we set up shop with around 3-4 different day walks each day and a few overnight trips throughout the week between Christmas and New Year… Not to mention our notorious fancy dress party to ring in the new year!
Guthega Main Range Circuit
Here's one of the day walks that I led this year, although you could easily cut it in half and do it over a lazy two days with camping in one of the saddles along the way. This walk takes in all the key peaks of the northern end of the Main Rain from Consett Stephen Pass to Little Twynam, including: Mt Tate, Mt Anderson, Mt Anton and Mt Twynam. You'll need an early start (around 7.30am) and expect to feel a little weary at the end of this full day! I know I did :-). It's a great way to see all the key areas in this part of the Snowies, as a Guthega Main Range Circuit.
Name:  Main Range Circuit
Start/Finish: Guthega Pondage
Skill Level: Must be able to navigate with map & compass with a good level of fitness
Distance: 23kms
Ascent & Descent: 1300m

Important: Weather conditions in this area change rapidly. It's imperative to check the forecast and consider changing your plans if it looks dodgy. Always carry wet weather gear, emergency equipment eg: Personal Locator Beacon, first aid, thermals, emergency shelter and be prepared to bunker down if things change unexpectedly.
Note: I had reasonable coverage with the Optus mobile network throughout the walk, particularly from the high points.
——-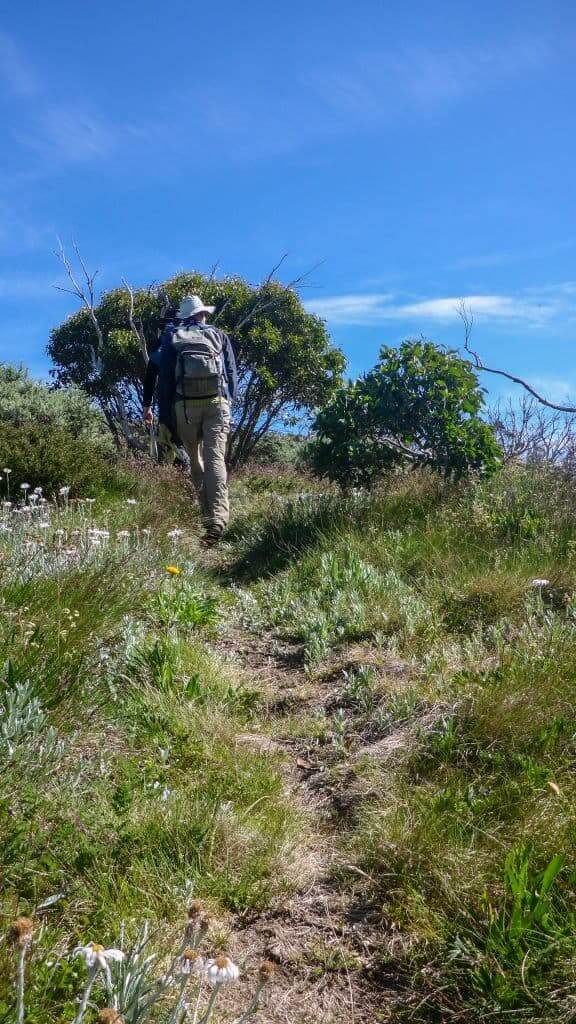 We were all smiles and laughter as we left our cars parked in the carpark above the Guthega Pondage. I can't help but marvel at how different everything looks without snow. I turn around to admire the Woodpecker and Wombats ski run, with fond memories of winters gone by.
The walk starts with a brisk walk across the top of the dam wall of the Guthega Pondage, to then turn right up the service trail that hugs the base of the spur that is our first goal for the day.
This really is a walk that requires a degree of navigation via map and compass as there are no official tracks. So checking that we were at the base of the right spur, we headed off track and after about 30m, picked up the rough footpad that would lead us to the top… Albeit skirting past the Guthega Trig.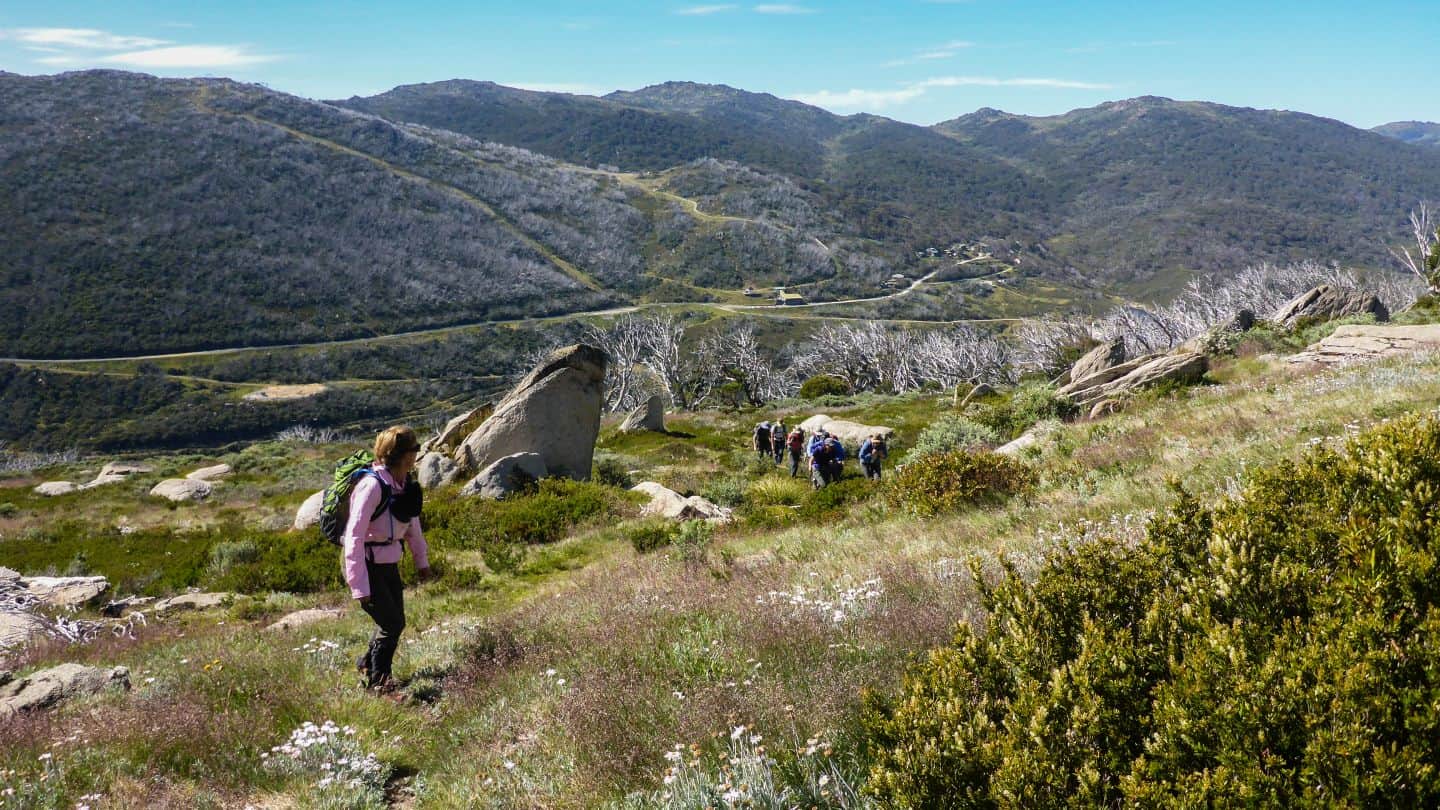 The wildflowers welcomed us as we ascended, with the height granting us a good overview of Guthega and the layout of the area.
From the top, we took bearings to ensure we kept to the best (and easiest) route around to Consett Stephen Pass, without losing too much height, for morning tea.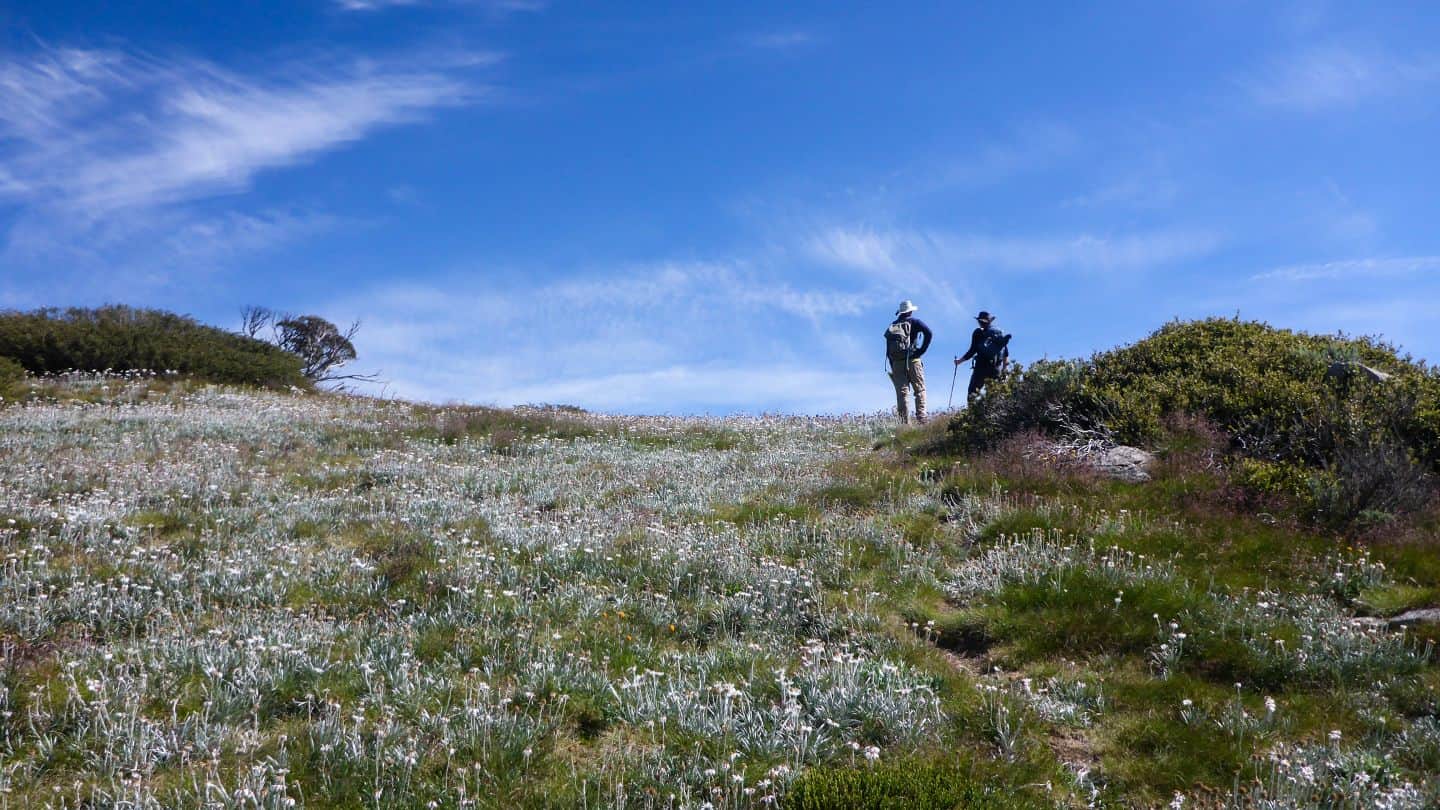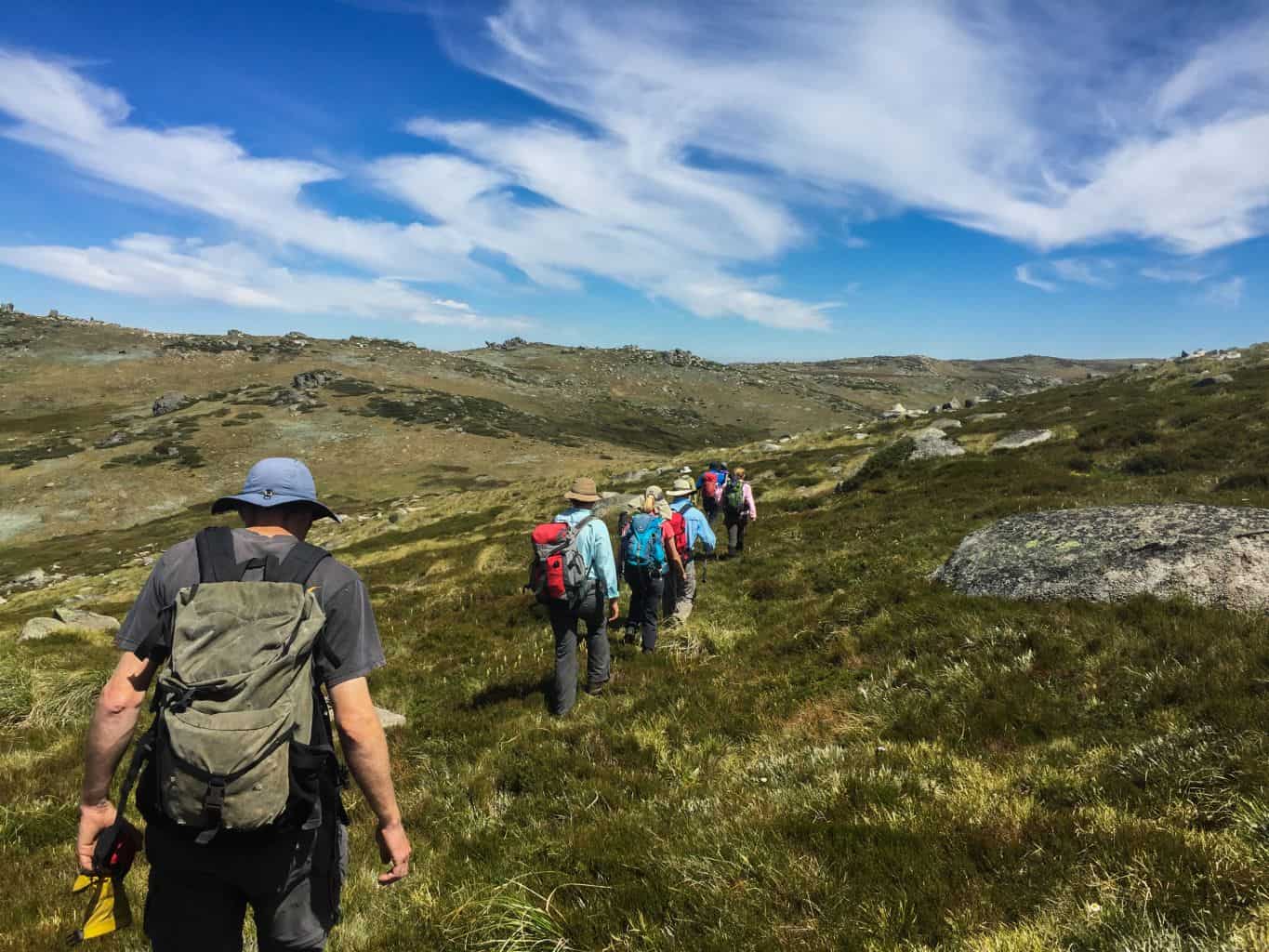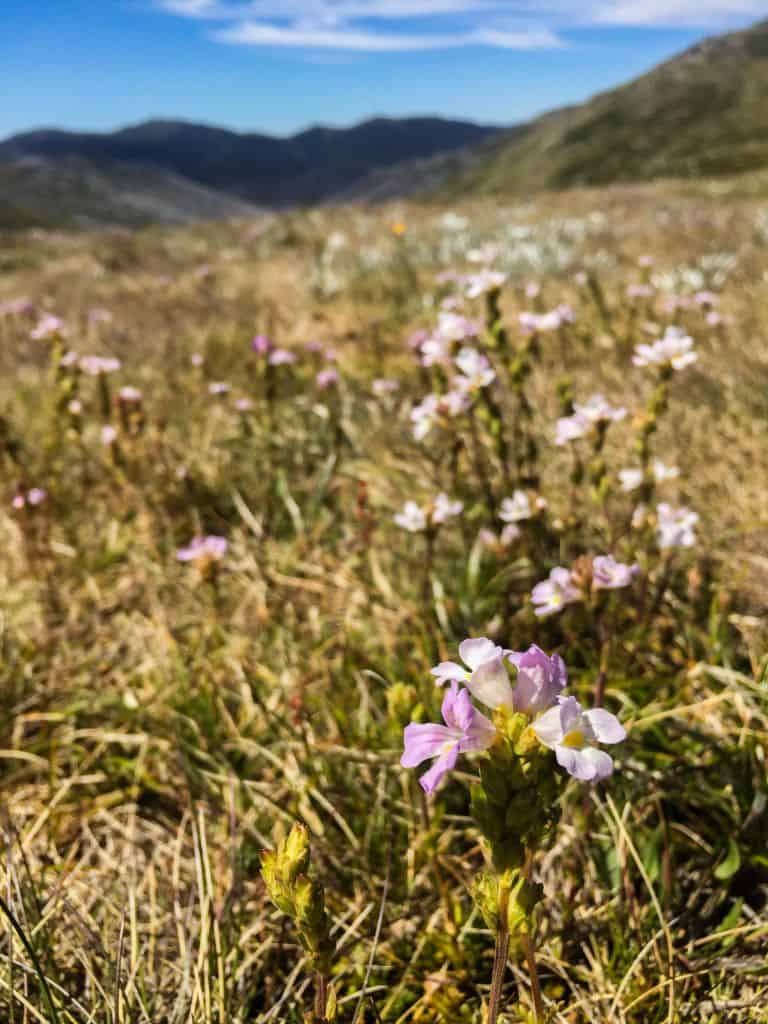 This is a special spot, with views 'right down the guts' to Guthega, over meadows of low lying wildflowers and behind us northwards for Jagungal and beyond.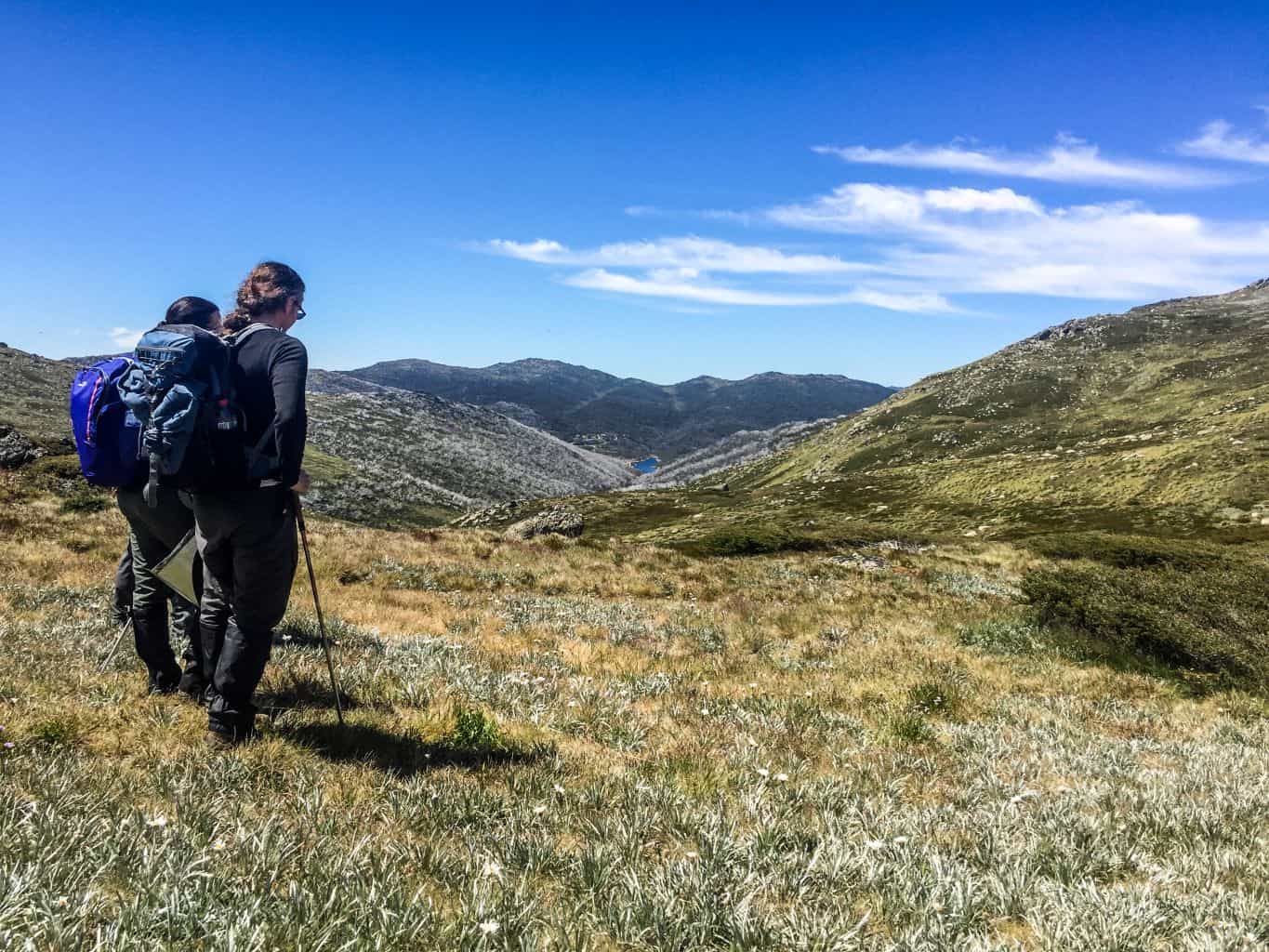 It's from this pass, that the worn footpad of the Main Range becomes much clearer. However, it's also from here that I demonstrated just how simple it is to suddenly find yourself not where you wanted to be, simply because you followed the worn footpad! So, word of warning… the track runs down below Mt Tate and not over the top… so we needed to take a slightly steeper path than really required at this point, to right ourselves again and put us up on top of Tate.
The crows were flying around (Faaaark!) as we took in the incredible views all around us before continuing along the range past Mann Bluff and on towards Mt Anderson.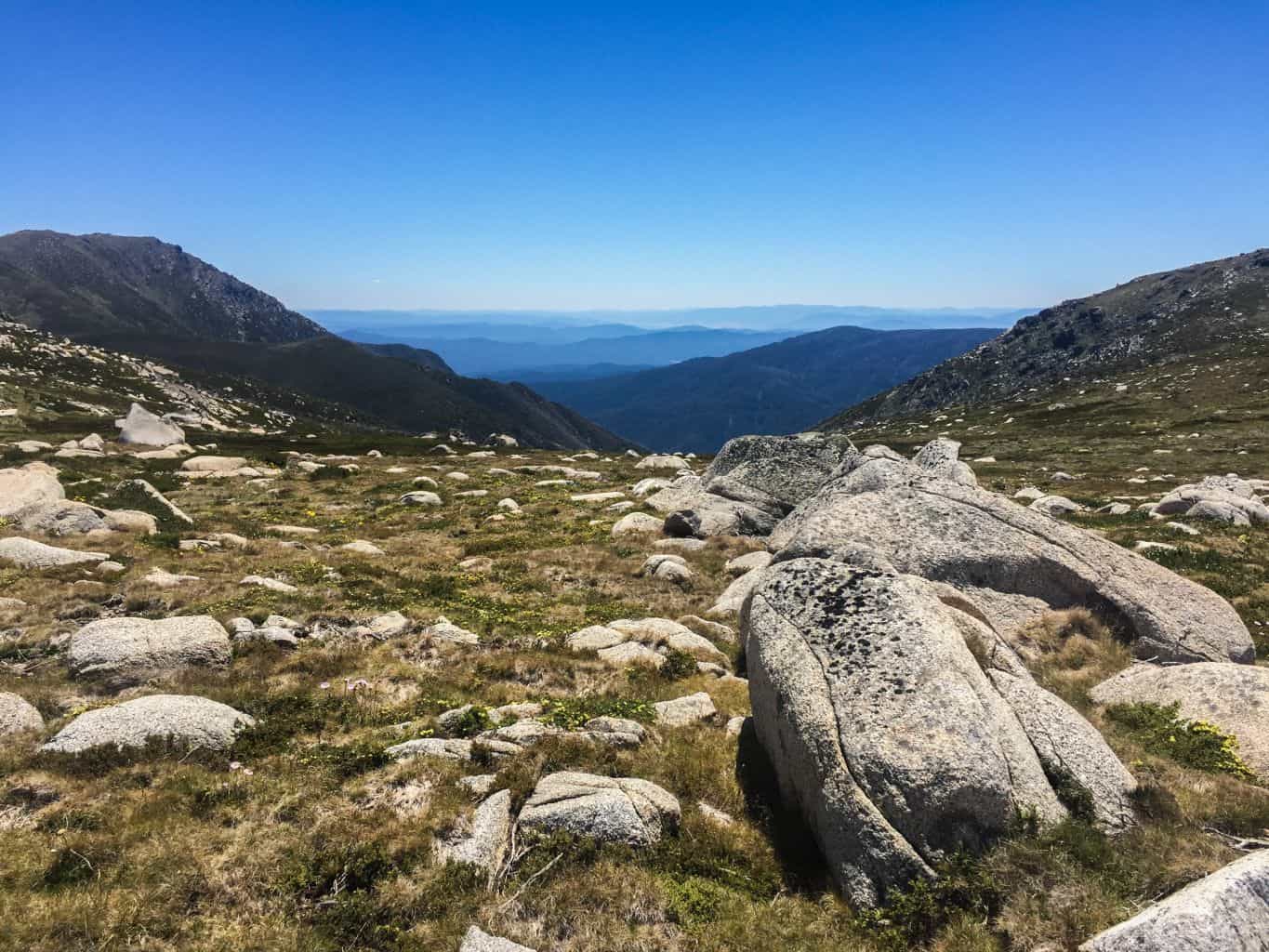 The track leads you into a saddle between Mt Anderson and an un-named knoll to it's south east. It was here that I called lunch and announced that any peak-baggers had 45mins to meet us back at the track, whilst those intent on a rest, taking in the 360 degree views, would laze around this knoll. Three of our party slogged it up to the top, whilst I enjoyed my lunch below!
After our rest (and the return of the peak baggers), we pushed on to Mt Anton, where the track leads around to the north west towards Mt Twynam.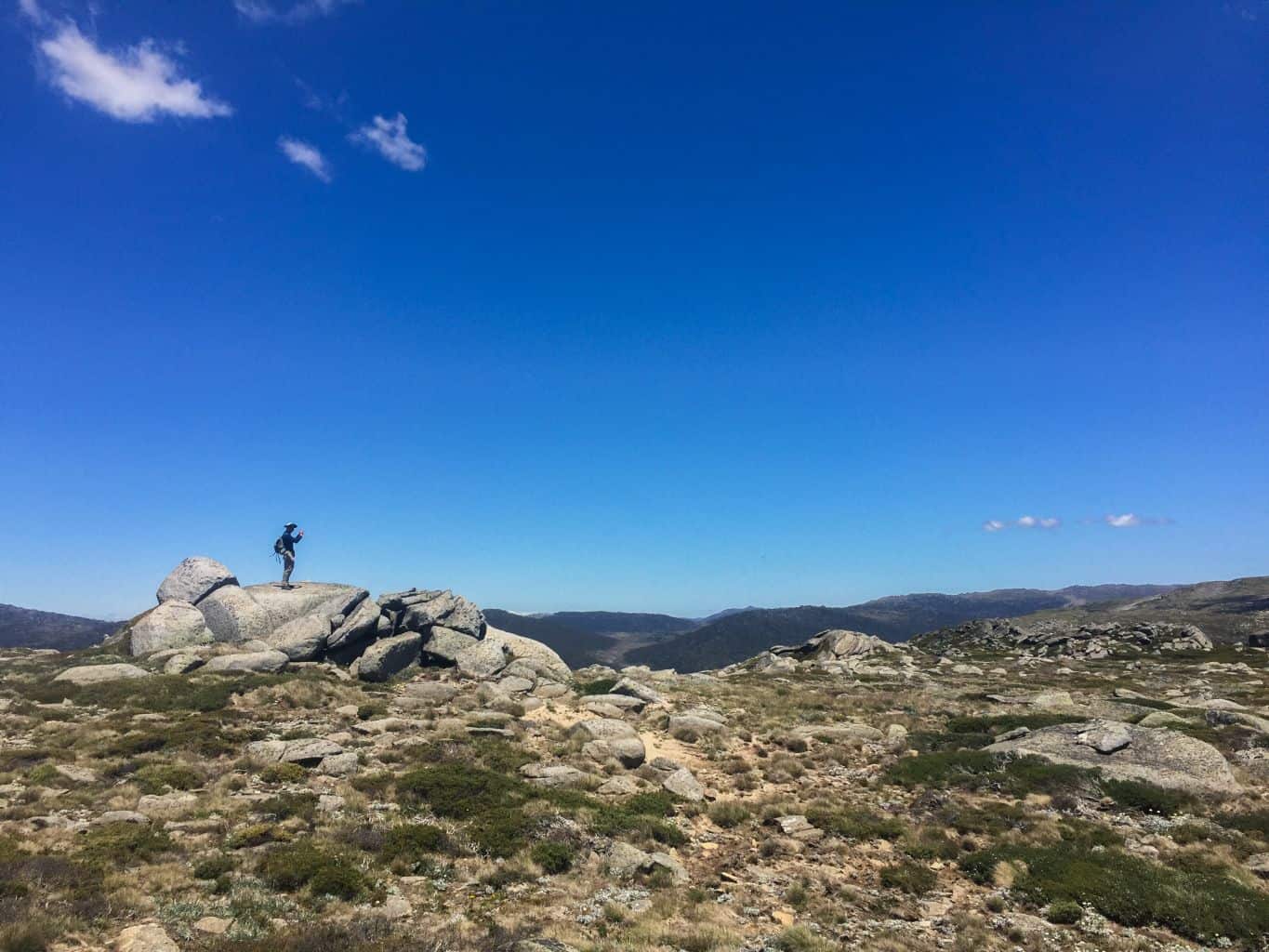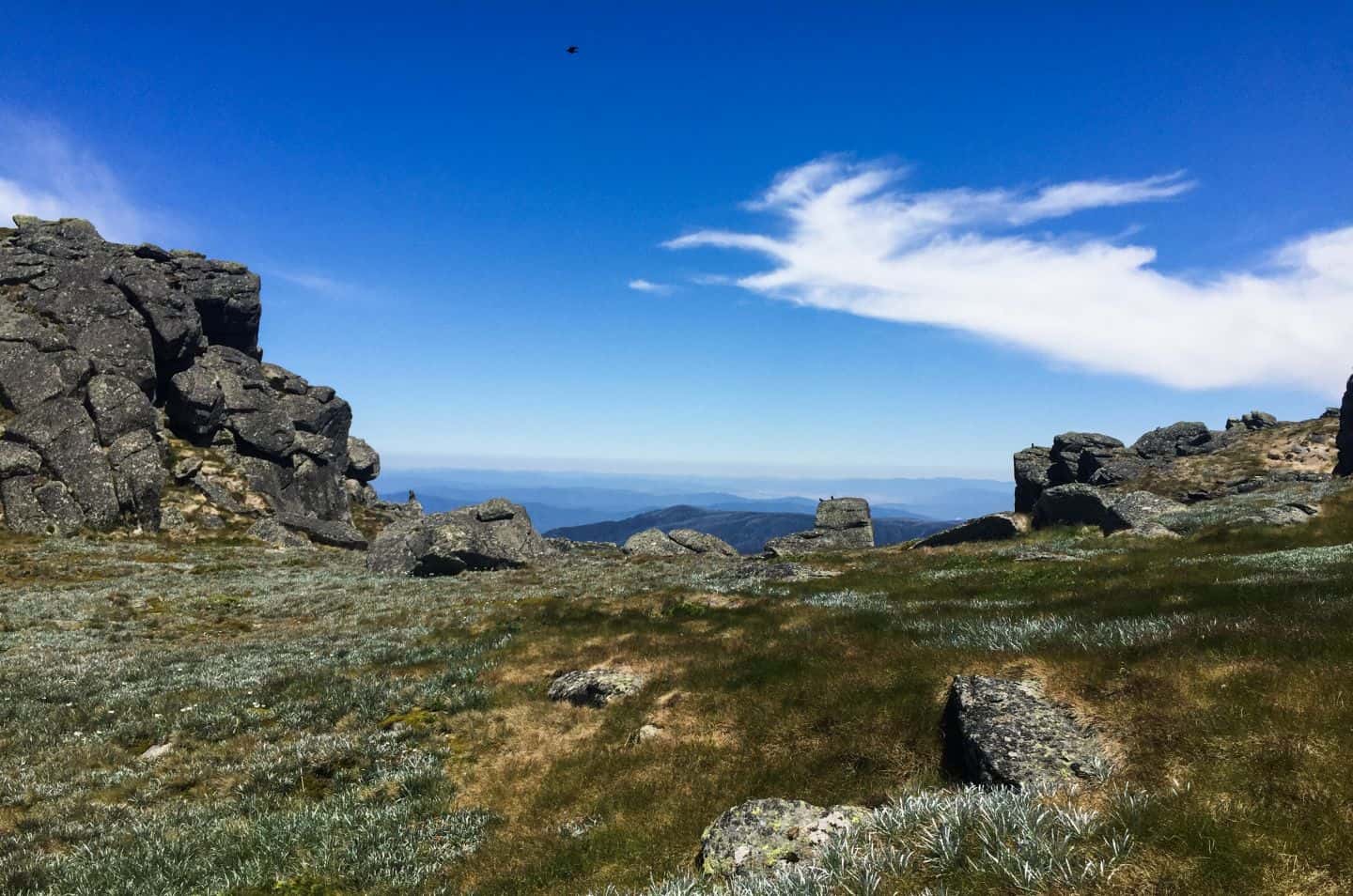 Mt Twynam is like a cat. There are many ways to skin (climb) her and we split our party in two, with the ascent party taking a spur from the east, before turning south south west to summit and celebrate, whilst I led the non-summiting party around and under her slabs to the east.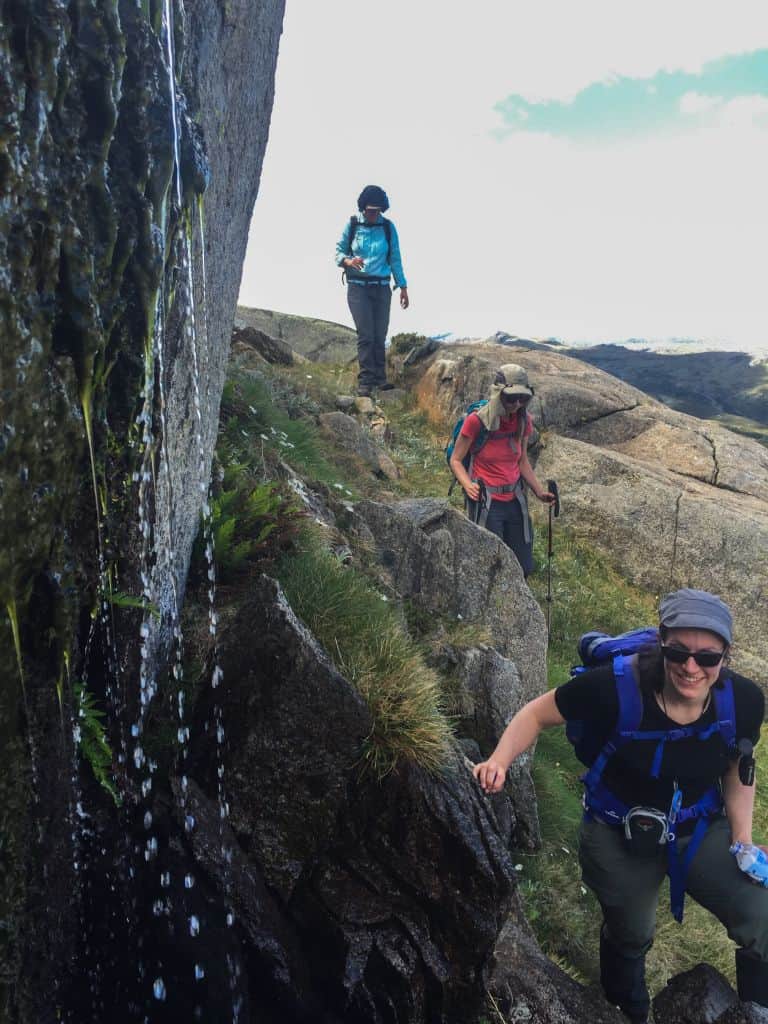 The two parties met up in the saddle before Little Twynam where we ascended together to enjoy afternoon tea.
On reflection, although the 'lower' party made their choice to save energy, it may have been easier to simply continue over the top of Twynam, as the route to the east, although 'interesting', included rock scrambling and boulder hopping, along with traversing small waterfalls and snow drifts!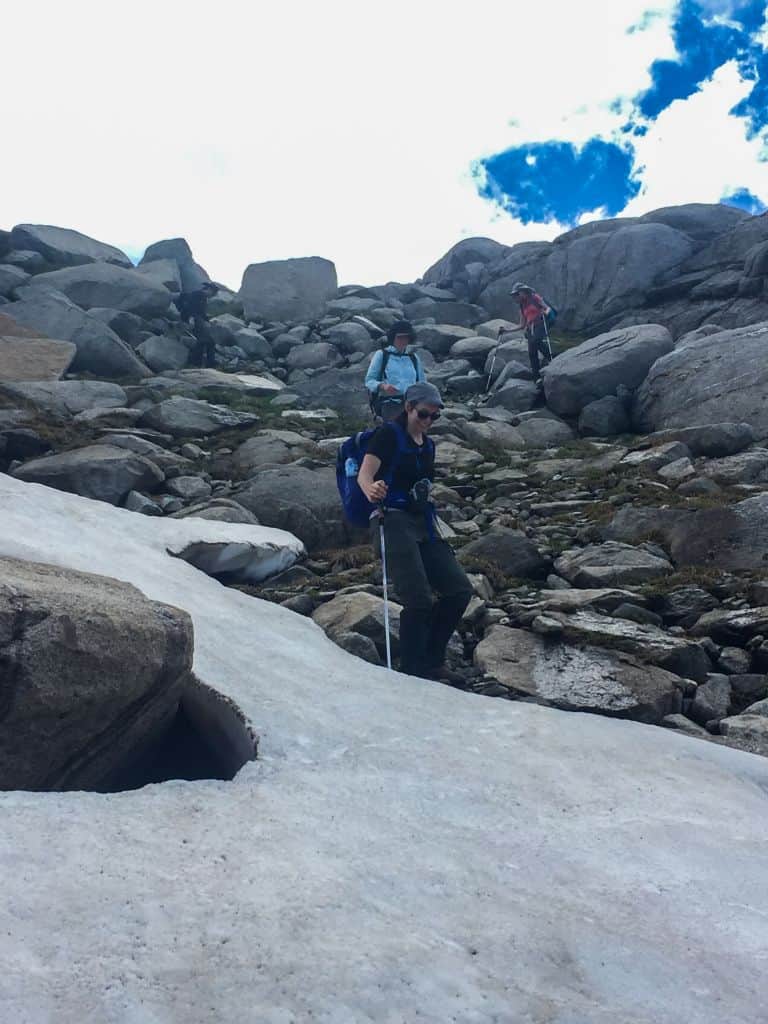 After taking in the great views at afternoon tea on Little Twynam, peering down into Blue Lake, we descended to the north east, down a spur and onto the north side of Twynam Creek. This section is completely off-track with no pad to follow, until we picked up the footpad that would take us down to the swing bridge and past Illawong Hut.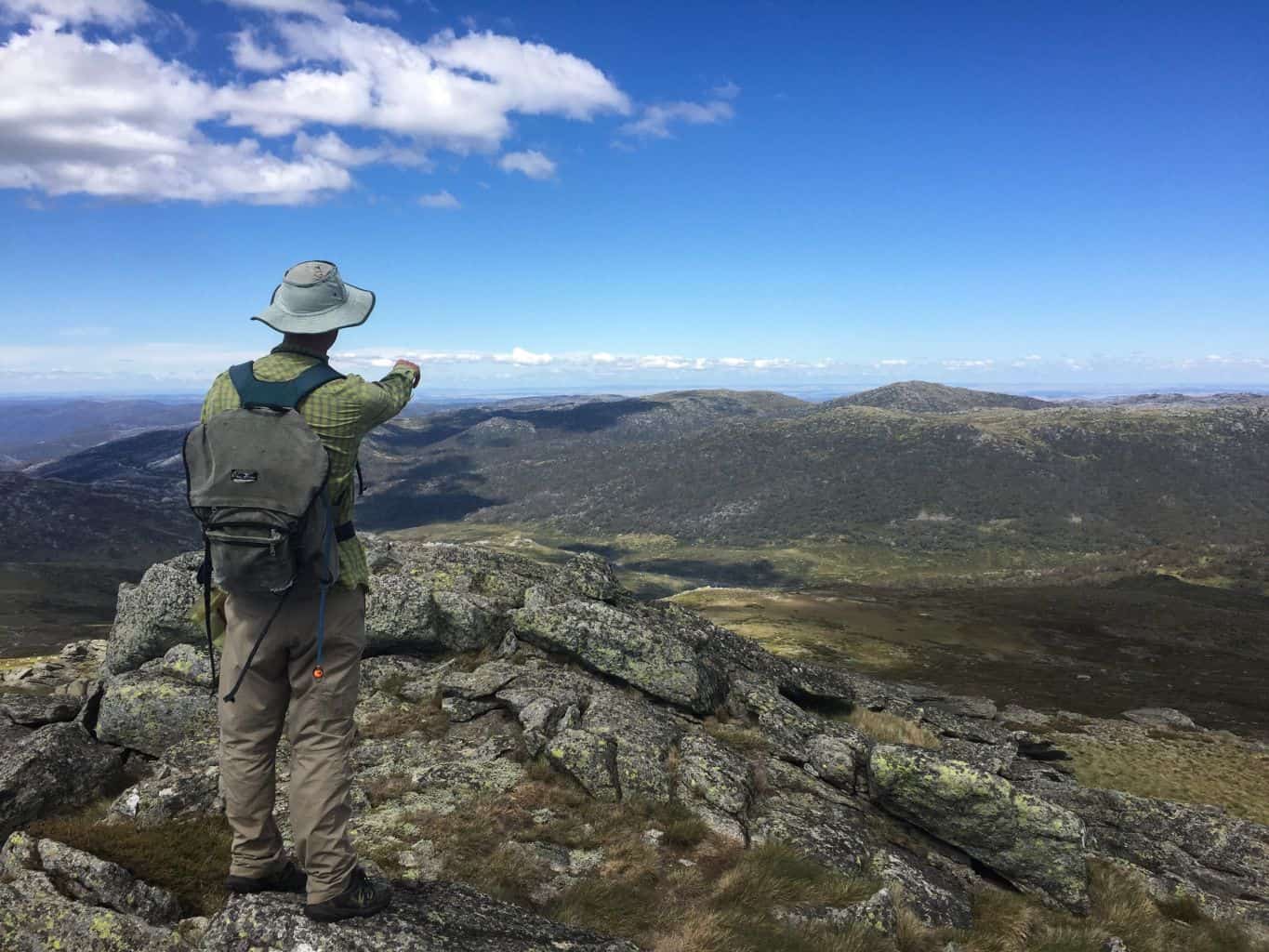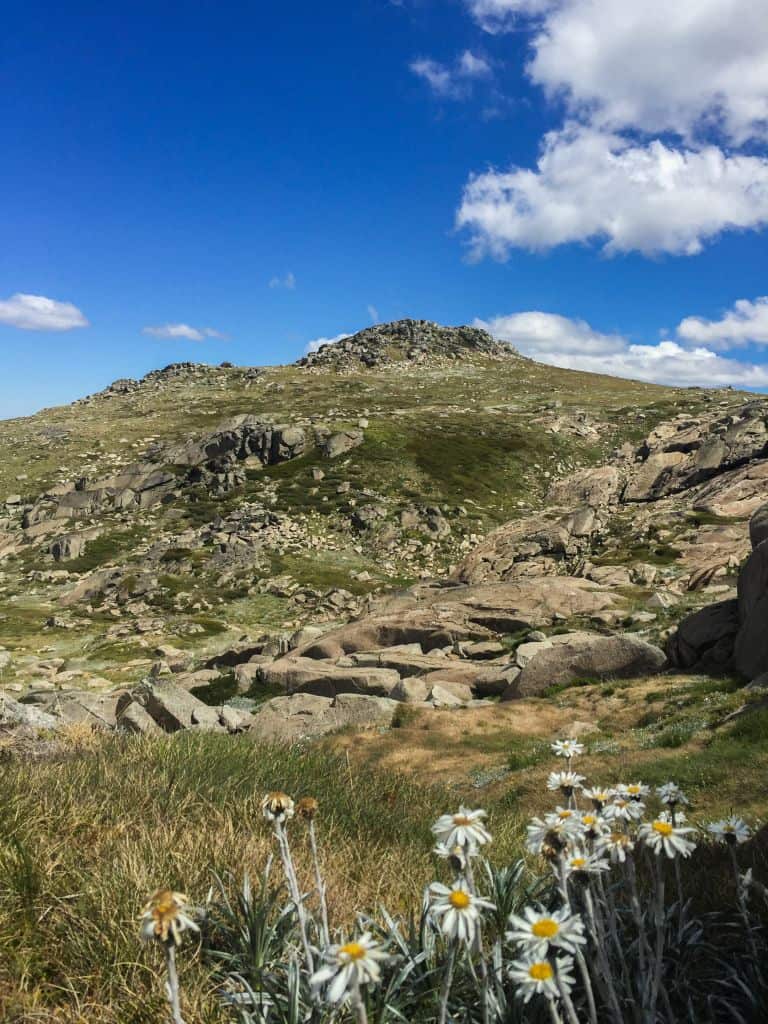 From here, it is very well formed and maintained track (elastic as it was) all the way back to our cars at Guthega.
A great (full) day out, with plenty of laughs and happy memories.
Thanks everyone!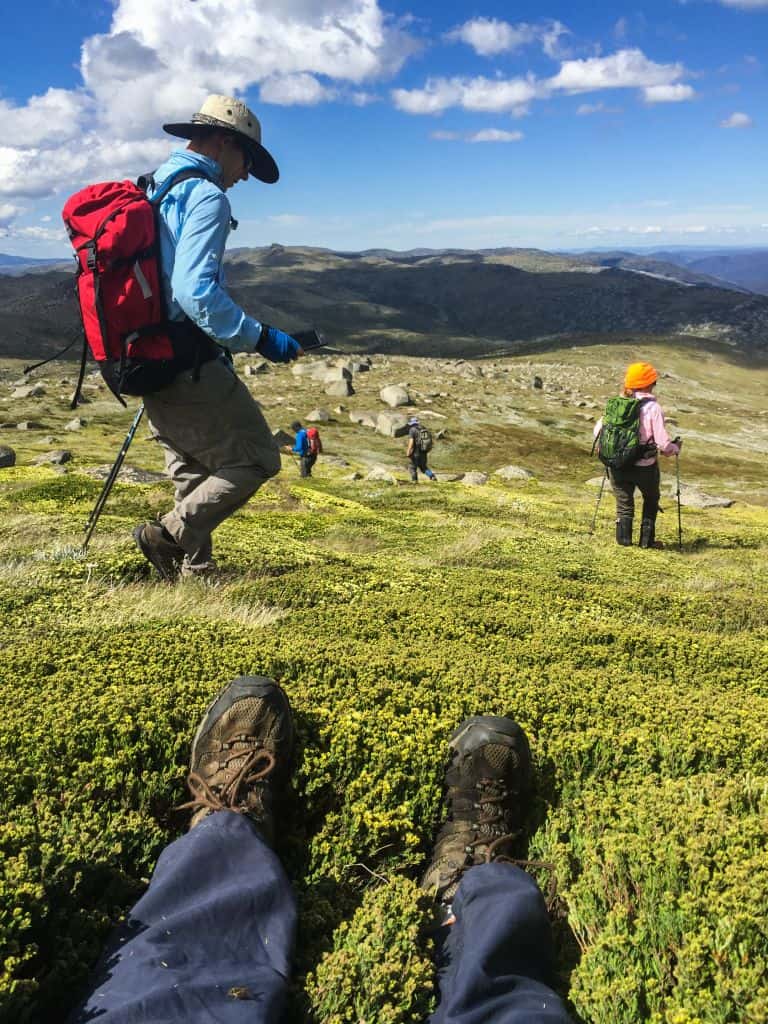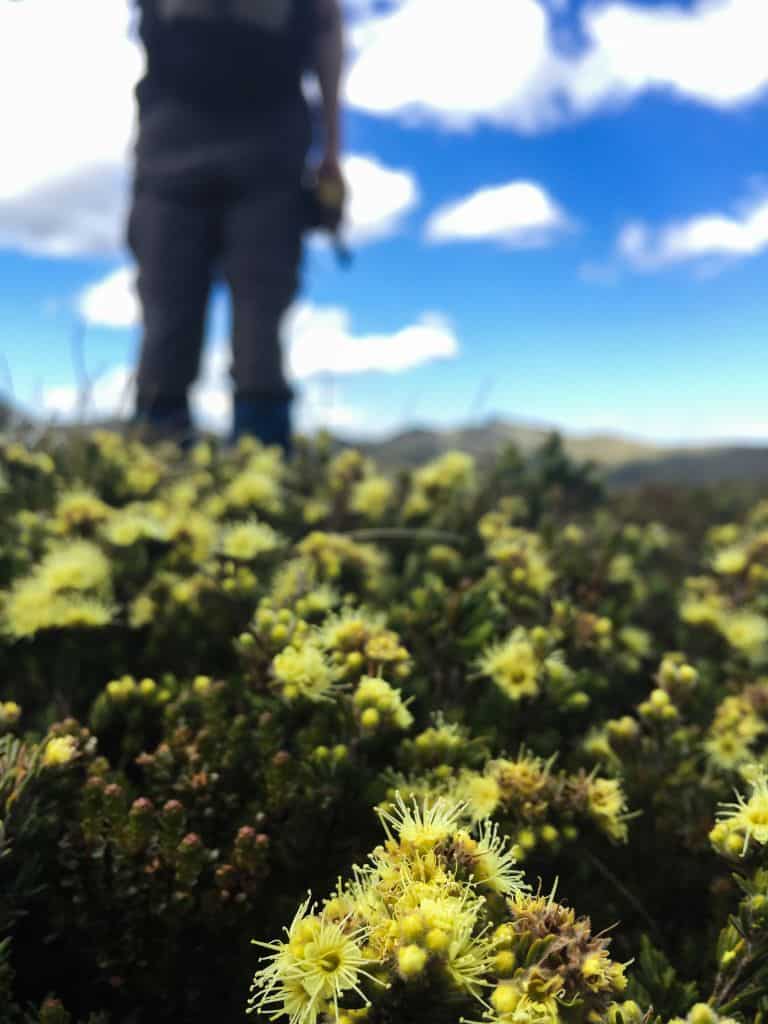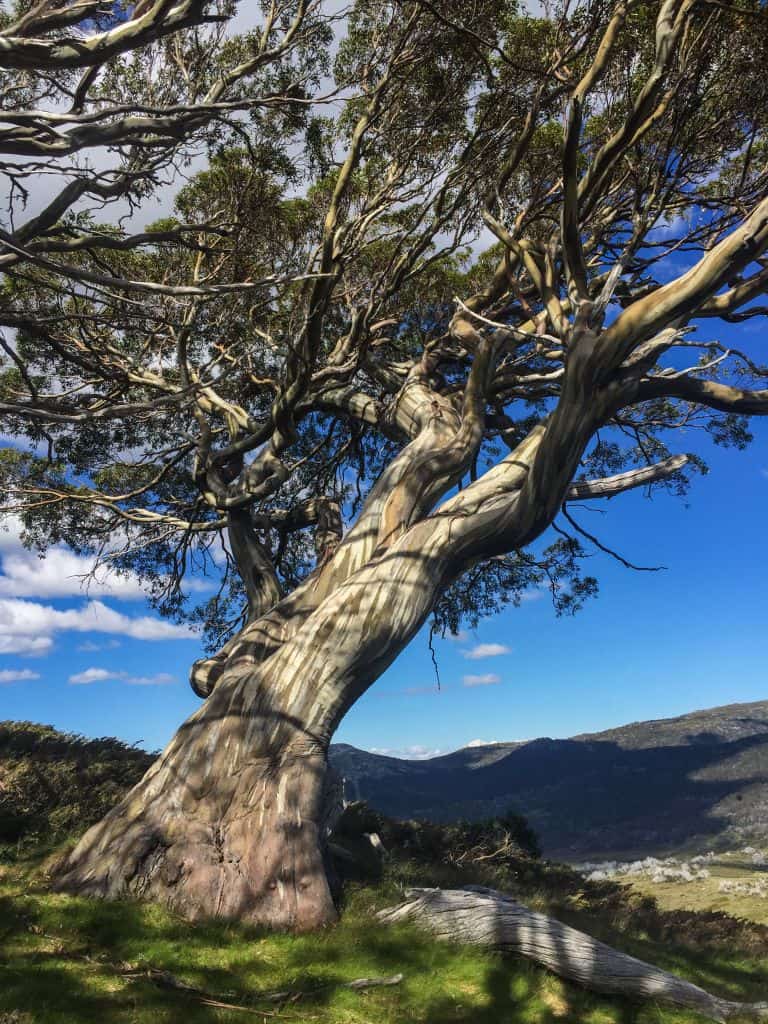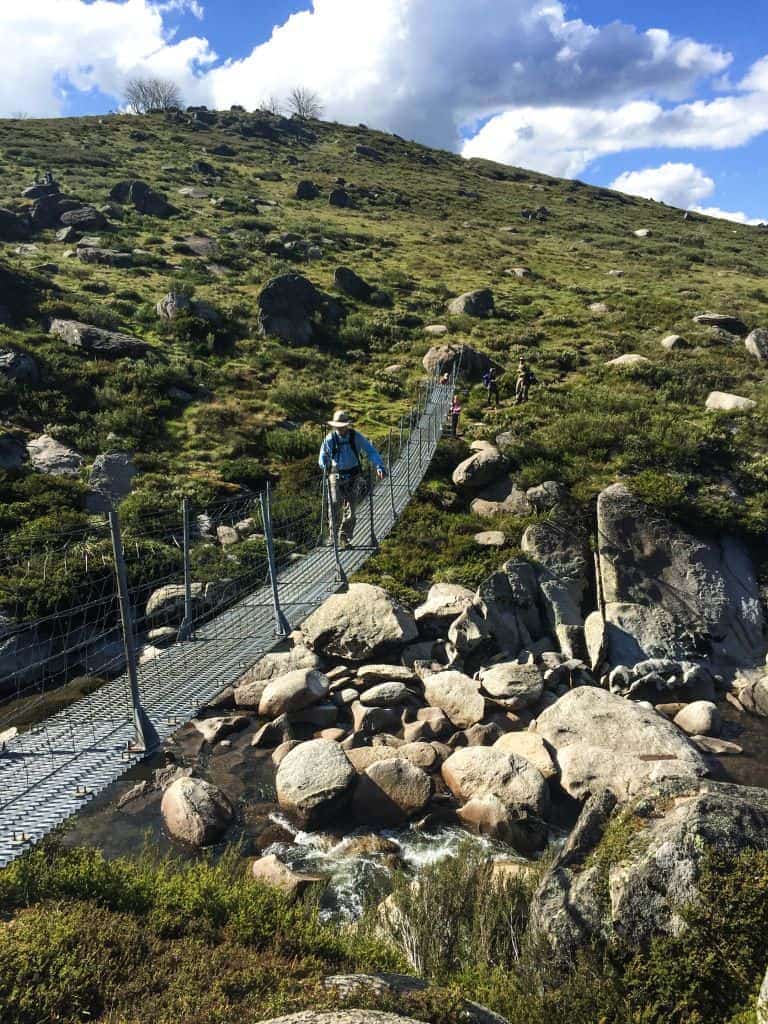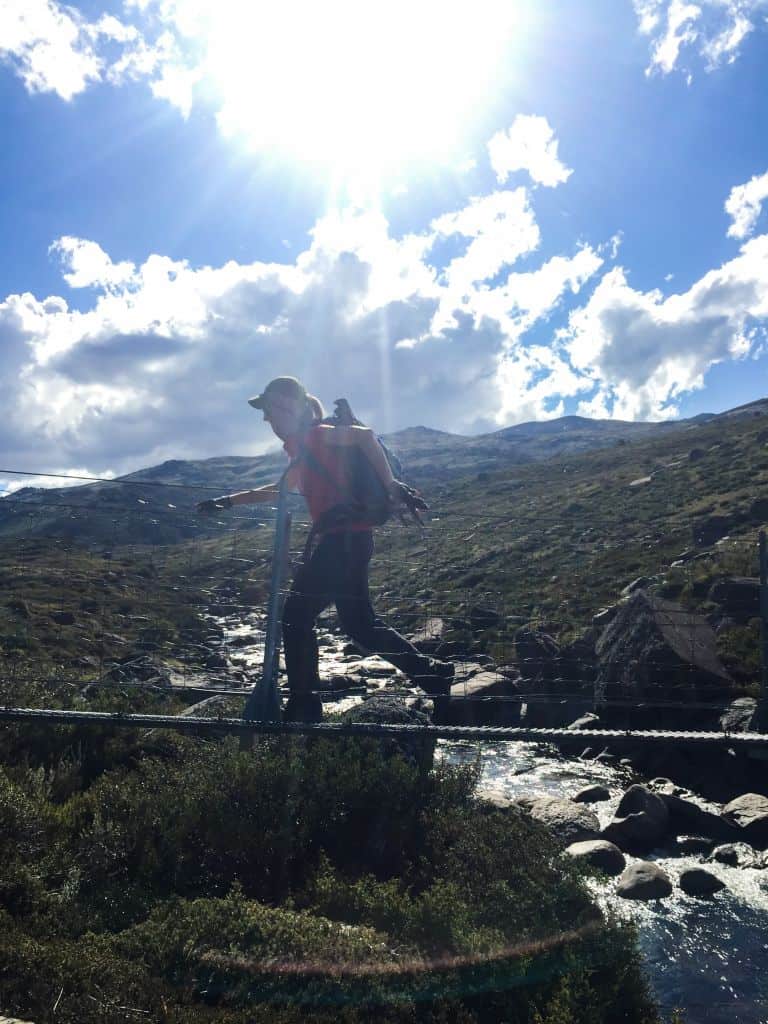 Q: Where do you go to escape the heat, yet still enjoy wilderness, during Summer?