Let's face it: water is heavy. OK, so it's not like mercury heavy (1 litre = 13.5 kg), but it's still 1 litre = 1 kg.  One of the golden rules in keeping our backpack weight down is to minimise the amount of time that we need to carry a lot of water. Apart from walking during the day, when most of us tend to stick with bottles or hydration bladders, it's overnight trips, when we need extra water to cook dinner and refill for the next day, that we need to nail the best ways to carry water for a hike.
Now chances are that unless you're camping right beside a water source, like a creek or river, (Ah, sounds like a 5-star campsite!) you'll need to carry water back to your campsite. Like the creek above, in a perfect world, this isn't further than a couple of k's. Given that it's usually the end of the day when you're tired that you collect this extra water, the shorter distance you'll have to lug these extra kilos = the better!
Choose your route wisely
Back when planning your trip, look for campsites (with achievable daily distances) that get you close to water.
The term, 'dry camp or high camp', doesn't refer to the lack of happy hour (perish the thought!), but somewhere that means you'll have to carry your water some distance. Not something for the experienced bushwalker to shy away from; we know that a high camp can often bring high rewards, like incredible sunsets and views forever, but we'll need to plan wisely.
Methods for carrying water
There's a bunch of different methods and containers you can use – some hard, some soft. Which way you go will depend on your personal choice, the capacity needed, budget, and perhaps even your style of packing. 
Hard containers
This is water carrying 101 and where we all start. The humble bottle – dear god, don't let it be glass or heavy thermos style! 
Options include:
Classic Nalgene (or lookalikes) bottles (Tip: go for a wide mouth which is much easier to fill in creeks and water tanks.)
Re-used 1.25L soft drink bottles
1L Soda Stream bottles (these are tougher than a 1.25L and last for ages) – keep an eye on your OppShop!
That free plastic bike bottle you got from the gym or boring work conference you slept through
Soft containers
I love using soft solutions for their innate ability to shrink when there's nothing inside and be stuffed down the inside of your pack, taking up no room at all! Options are: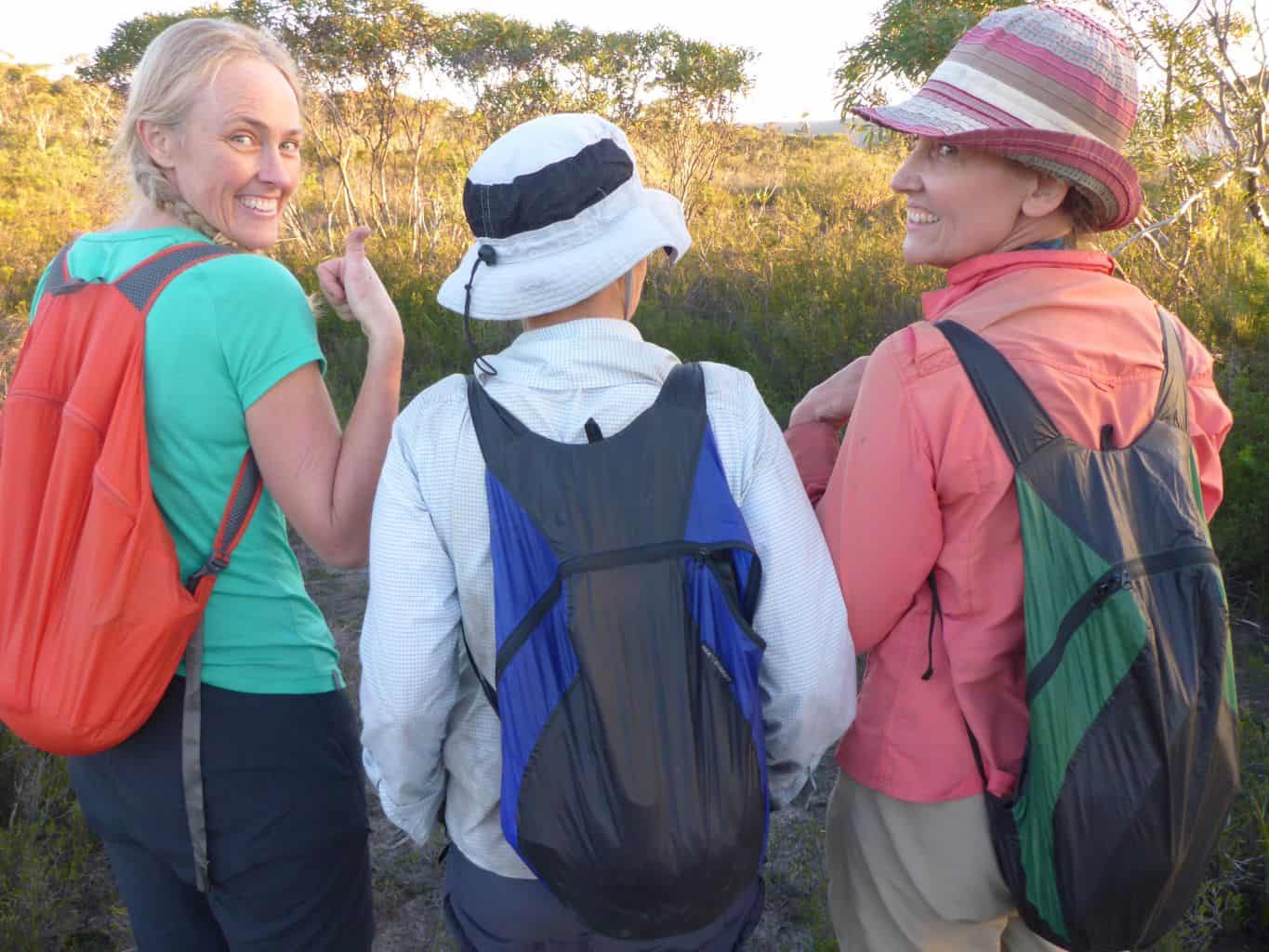 The best of both worlds
Smart contingency planning is all about the shitty things that could happen on a bushwalk. Imagine you only carried one soft water-carrying option and you took a tumble, or put it down on a particularly sharp rock, dropped a full goon (instant tsunami) or you used it to shield yourself from an approaching zombie apocalyse. It's a great idea to carry a hard water bottle, as well as a softie, just in case.
Allow space in your backpack
You know that feeling on a Friday night when, covered-in-sweat, you finally click the buckles shut on your backpack. You did it! You're a freakin Tetris-ninja-Marie-Condo-maven. There's not an inch to spare and you're all set for everything you need for tomorrow, including the 2-3L onboard. Cue Act III at the waterhole, where you proudly show off your new superhero, the Watercell X to the ooo's and ahhh's of your mates, only to realise you have nowhere in, on or around your pack to now carry this extra 6 kg of water weight. If only you'd up-sized your pack… or downsized the Fruity Lexia for happy hour. 
Take a cup
Sometimes the water source you need to gather from is tricky to manoeuvre into your bottle or bag. It could be because of the access down beside it, the size of your bottle or if it's running along shallow cascades or rocks. Always grab your cup with you, along with your soft/hard container to help out. For extra Macgyver points, you can try rigging your hydration hose as a siphon.
Take a collapsible backpack
Taking a micro-weight 20L Sea to Summit Ulta-Sil Day Pack will keep your hands free for that awkward scramble down and up the riverbank, whilst carrying the unwieldy package that water is – especially if it's in a soft container. These scrunch-to-nothing packs are also handy for side-trips during the day when you just want to take your essentials to bag a peak or checkout a lookout for lunch.
Size does matter
Whilst grabbing the biggest 10L/10kg behemoth might sound like the kind of take-one-for-the-team-martyrdom-caper that you're up for, think about how much better it might feel if every member of the party had the ability to carry an extra (say) 4L and spread the H2O love around.
Water contingencies
Having the ability to carry extra water if you need to, especially for unplanned reasons (eg: empty water tanks at campsites or dry creeks where your mate told you there was water 5 years ago) is a great habit to get into. This is where having a softie option, tucked away in your pack, that you may or may not use, could (literally) be a life-saver.
You might also like: