One of the things I really wish I knew in my first year of bushwalking and hiking was how to adjust a backpack. It's all about maximising the job of the harness and straps, to get it as comfy as possible. Thankfully, it's not hard to do.
6 steps to adjusting a backpack
With your full pack on the ground – loosen off all the straps.
Put your pack on and shift the weight up your back to bring the hip belt in line with your hip 'pointy bones' and fasten the hip belt buckle. Tighten both sides equally. (All the weight should now be supported on your hips with shoulder straps loose.)
Slowly tighten the shoulder straps until they're firm (but not tight) bringing the weight of the pack into your body. (You should still be able to put a finger between the top of your shoulder strap and shoulder).
Gently pull the Stabiliser Straps (usually around the sides of the hip belt) to slowly bring the pack into your lower lumbar area.
Slowly pull your Load Lifter straps (yep, they're the ones right up the top of your shoulder straps) to bring the top part of your pack into your body. These don't need to be too tight.
Finally, clip the Chest Strap and tighten to a comfortable position. The purpose of this is to add stability to your pack to stop it swaying left and right on your body, but also to help bring the straps off the front of your shoulders and avoid any rubbing/chafing.
For some reason, I had it in my head that the way the shop assistant had fitted the pack to me, was fixed in cement and I needed to protect and preserve these settings at all costs. I didn't realise that adjusting my pack was something that should be done regularly, every time I'm out on the track because all the lifting, shifting and walking that I was doing, was slightly shifting these 'factory settings'.
It's important to know that adjusting a pack is different to fitting a pack. From personal experience, one of the ways I judge the quality of an outdoors store is by the skills and ability of the staff in helping me choose the right pack for my needs and then in fitting it correctly to my frame. If you're in the market for a new pack, perhaps ask around your walking buddies and in online forums for recommendations.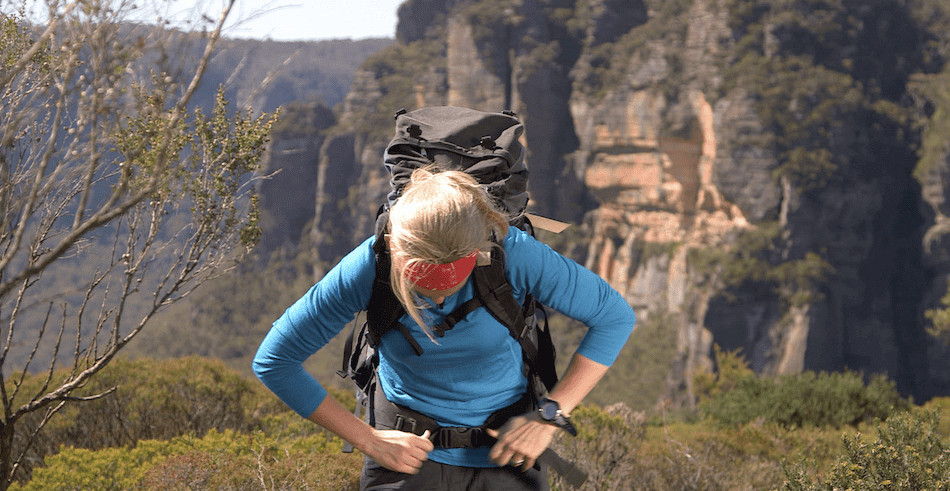 This is one of the major downsides of buying gear online, especially packs. Apart from your undies and clothes, your pack is going to be the thing that needs to be a part of your body for hours and hours each day. It can either contribute to a great outdoor experience… or a really crappy one.
The classic bad pack purchase experience came for me from a store on Sydney's Kent Street (the home of most outdoor retailers), where I bought my first pack. Back then, I knew nothing about what I needed to buy and was sold a pack with a frame that was way too small for me, simply because it was a "women's pack". No thought to my 179cm height (5'9″) or my particularly long torso. Sigh.
Having a well fitted and adjusted pack is such a major contributor to having a more comfortable trip. If you've ever had a blister or a hotspot in your shoes, you'll know how a relatively tiny problem can become all-consuming in a relatively short period of time. In fact, I once had to pull out of a 7 day Aussie Snowy Mountains summer trip around the Rolling Grounds and Main Range because of the immense pain that I was in from an ill-fitting hip belt. I had 3-inch bruises with blistered and bleeding welts on both of my pointy hip bones (warning anatomical term: anterior superior iliac crests). Nice.
I often come across (or guide) Duke of Edinburgh students out doing their expeditions and cringe with sympathy at both the fit and size of their packs. For many of them, they've borrowed gear from whoever they can and just take what they can get. Sadly, I've heard of many people doing DofE and never going bush again because of a crappy, painful or uncomfy experience. I can't help but think it's due to their ill-fitting and overstuffed backpacks. Sigh. Even when provided recommended pack lists, we often found that it was their parents who would pack their bags for them, putting way too much stuff they didn't need inside… just in case!
The great news is that it's really easy to adjust a backpack and make it as comfortable as possible for you out on the track.
You might also like: