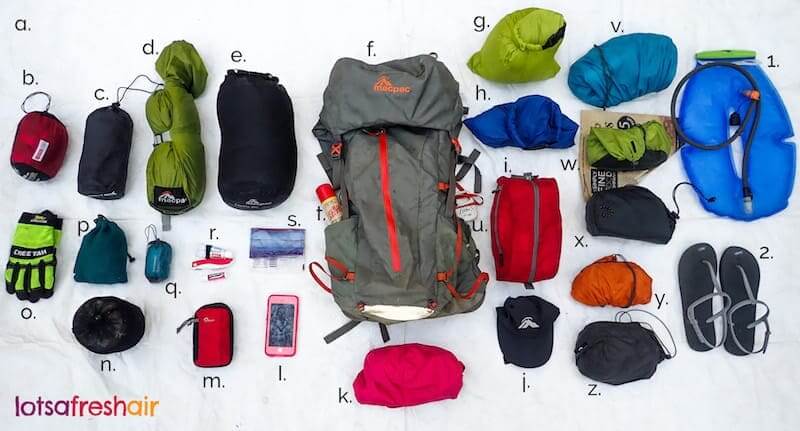 There's something in all of us that's a bit of a voyeur, right? I love reading blogs and seeing photos from other people's backpacks and learning how they organise things. It's great for getting ideas and rethinking how and what to pack for a weekend hike.
As it's been a few years since I made my first video for the Lotsafreshair Youtube on How to pack a backpack and things have changed a bit since then, I thought it was time to open the lid (aka The Brain) of my pack once more and let you see inside.
In coming posts I'll also be sharing in details about what's inside some of these separate bags, like my first aid kit, so make sure you subscribe to learn about these extra bits and bobs and download some handy checklists for day and overnight hikes.
As a heads-up, some of the links in this post are affiliate links, which means I can earn a small commission from any purchases you may make, but you pay no more.. win-win!
a. Groundsheet
I use a 230cm x 120cm sheet of Tyvek as a ground sheet, which weighs in at 220g. This white stuff is superlight, tough, waterproof and has thermal qualities which make it perfect for house insulation… and ground sheets. As I use it with the fly-only option of the tent, you'll just need to trim the size of the Tyvek down to be just slightly smaller than the floor space so rain doesn't run off the fly and onto the groundsheet, pooling inside.
b. Sleeping Bag Liner
I use a Sea to Summit Thermolite Reactor Extreme to add extra warmth to my summer sleeping bag (which I'm using here) when still wanting to go lightweight, or when I really need to boost up my winter bag for super chilly trips. For 110g you get up to an extra 15c of comfort.
c. Sleeping Mat
I've been using a range of different mats in the last year and am currently with the Thermarest NeoAir Xlite (410g). They've improved the scrunchy, scrunchy noise that was a problem with the early models (thankfully), but I'm still finding the tapered end takes a bit of getting used to. I must admit I do prefer baffles that run the length of a mat (like the Macpac one), as I find they give a more comfy night sleep, (I'm a back sleeper), but I like the packed size and weight of the Thermarest one.
d. Tent
So you're thinking that is the weirdest shape tent you've ever seen, eh? Well, it's the tent fly, poles and pegs only. As this is my trusty Macpac Sololight tent, it is multi-pitch which means I can leave the mesh inner/floor at home and travel lighter. Alternatively, in dry season up north (say on the Jatbula Trail or Kakadu), I can leave the fly at home and just take the mesh inner. Handy! Fly, poles and pegs is 900g. You can read my full review and video of the Macpac Sololight here.
e. Sleeping Bag
I love being cosy in the bush, especially when using fly-only options. This is the Macpac Express 400 which I use for most trips. It weighs 1kg and has recently been replaced by the Overland 400. With tapered Mummy shape (yet with room to move for hippy females like me) and hood it does most Aussie trips year round for me (except for alpine or deep winter), with or without the liner above to extend the season.
f. Backpack
Ah, my turtle shell. The Macpac Tasman 45. This was Macpac's first foray into designing lighter weight contemporary packs to compete in this brave new world. Although they don't stock it anymore, I'm excited to try out the new Fiord 40. Hmmm, let's see if I can get my stuff down to 40 litres for a weekend, if I can't lose the wine, what will be next to go?
g. Thermals
Have you figured out that I like colour? Apart from being a good contrast against the ground and less likely to be accidentally left behind, using different coloured bags helps me find things quickly and keep gear organised. More importantly, for important (life changing) gear like thermals, I make sure the bag is also a waterproof dry bag. So inside this green dry bag is a pair of thermal bums, thermal (merino) long sleeve top, beanie and dry socks. I actually indulged a few extra inches of space recently when I changed my thermal bottoms to fleece bottoms… oh. So. Good. This is essentially my clothes bag as I don't bring a change of day clothes for 2 or 3 days. These are my camp/night clothes and depending on the temp I'll sleep in my thermals… or not. The other thing I'll keep in this bag is a clean hankie as I'm a devoted no-tissues in the wild person and I'm one of those people whose nose always runs when I'm out walking.
h. Electronics/warm layer dry bag
This bag is usually a little bigger as it normally has my warmth layer – the incredible Macpac Supernova hooded down jacket – in it… I just happened to be wearing it when I took this photo! The other things in this bag are a pair of clean undies and my phone powerbank and cable.
i. First Aid Kit
Since I made the How to Pack video years ago, I've started guiding for commercial trekking and hiking companies. This means that my first aid kit needed to grow to manage a wider range of issues and to have enough supplies to cover my clients too. I hunted around to find the right bag to keep it in and strictly speaking, it should probably be a dry bag too (as I don't use a pack liner), but I'm really happy with this stand-up toiletry bag and anything inside that needs to be kept dry is in a ziplock bag. It's in regulation red (hopefully a visual clue that it's first aid) and I've also drawn a cross on the side to make it clearer. I'm going to do another of these types of posts soon called, 'What's in my first aid kit'… so until then, the mystery remains!
j. Hat
It's personal choice and hats can divide people. I've moved to a cap in recent years, making sure that I put sunscreen on my ears and back of neck. Mine is a simple baseball cap style, dark in colour to cut down glare.
k. Raincoat
As this trip was during warmish weather, with good forecast, I only took my lighter rain jacket, being the Macpac Traverse. In winter, alpine or bad forecasts, I'll take the more robust, bomb-proof Macpac Prophet. As a side note, the jacket and the ground sheet roll up to fit nicely into the outside front pocket of the backpack.
l. Smartphone
I've got an iPhone 6, within a Lifeproof waterproof case. I use it with mapping and navigation software Pocket Earth (iOS) (my new favourite!) as well as many other apps that are great (some life saving) in nature. I also shoot video and stills with it.
m. Camera
I recently upgraded to the Olympus TG-5, shockproof compact camera after using the TG-4 for the last few years. Many people ask me what I shoot most of my videos and photos on and generally speaking, it will be this little workhorse. Although I've also been shooting quite a lot lately with the iPhone and a DJI Osmo Mobile Gimbal, as seen in the nice, smooth shots in the Walls of Jerusalem videos.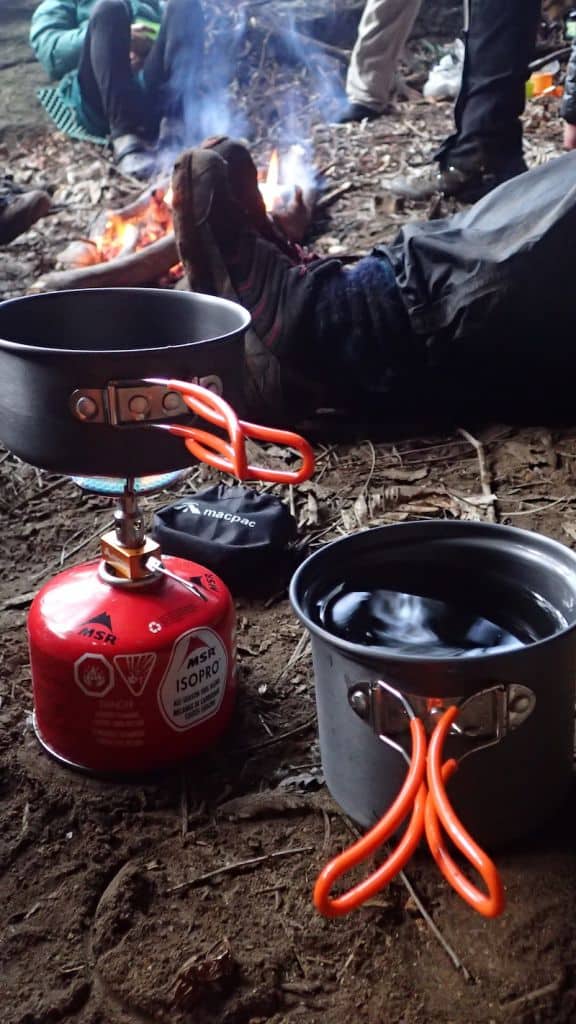 Solopot set, Micro stove and gas (Macpac)
n. Stove & Pots (The Kitchen)
I love how everything stacks and packs inside itself with this setup. It's the Solo Pot Set from Macpac, which hides a medium sized (300g) gas bottle, Micro Stove and teensy tiny cigarette lighter. I've also squished a Sea to Summit collapsible cup inside and I slide in my extra long titanium spoon into the side of the mesh bag that the pot set comes with. Trust me, the only piece of cutlery you need is one long spoon.
o. Scrub Gloves
These lil' Cheetahs are actually from Bush Search and Rescue uniform kit, so strictly speaking, I shouldn't be using them outside of squad operations (shh, don't tell anyone). However, as my other gloves fell apart, I grabbed the 'mighty Cheetahs' as I ran out the door. You can usually pick them up at Bunnings, but if they're not available, I know a lot of my off-track adventuring friends also use Iron Clad brand gloves with good protective results. I'll only pack them on a trip that promises some off-track adventures where I want to protect my hands.
p. Headtorch
I bought a headtorch years ago that came in this little green fleece bag. I've kept using it ever since as I find it handy with the texture to quickly locate my torch in my backpack by touch. I'm currently using an old Black Diamond, but I'm about to upgrade to a new Black Diamond ReVolt for it's 300 lumens AND (on certain models) USB recharge/AAA options. 89g.
q. Pillow
OK, so a gals allowed a luxury item or two, right? Well, this is mine. The Sea to Summit Aeros Ultralight inflatable pillow. For 80g and a few nights experimenting to get the 'Goldilocks-just-right' amount of air, I'm now sold.
r. Toiletries
Yep. That's it. Toothpaste and folding brush and a strawberry Chapstick. Gotta be strawberry. I use a small syringe to refill the teensy toothpaste tube and keep the Chapstick in my hip belt pocket.
s. Wallet
I know it looks like a recycled ziplock bag that Himalayan Rock Salt came in (it is), but it's also my waterproof wallet for the trail. Classy. It contains my:
Drivers licence
Medicare card
SIM card (alternate carrier on long term pre pay) + iPhone 'spike' to switch sim.
ATM card
Credit Card
$20 note
t. Insect Repellent
The bomb proof, actually it would probably survive the bomb, 40% DEET, Bushmans.
u. Sunscreen
I picked up a handy hang-it-off-your-pack bottle recently and found that having it readily accessible means that not only am I more likely to use it often, but so are my walking buddies. SPF 30+
v, w, x, y. Food bags – Breakfast, Lunch, Dinner, Snacks
Using simple light weight different coloured stuff sacks, I can easily organise and separate my meals. It means I can easily grab the bag I need at the time and spend the much needed break time resting and eating, rather than digging around forever in my backpack or dealing with plastic bags that tear or fall apart.
z. Toilet Bag
Not to be confused with my breakfast food bag (x)!!, the loo/dunny bag holds my toilet paper (inside a ziploc bag), tampons or menstrual cup and hand sanitiser. You'll notice that I don't carry a shovel/spade anymore as I simply use the heel of my boot and a stick to dig a hole for poos.
1. Water
This is a 3 litre Source Hydration Bladder and I've upgraded it to use with an insulated hose (not essential). I've tried lots of different types of bladders over the years and keep finding myself coming back to the Source. They seem to last longer than any others and I like the wide neck and detachable hose.
2. Thongs/Camp Shoes
If you've got a daughter and live in a city in Australia, chances are you'll know about Daiso or Miniso. They call themselves, "Japanese Variety Wonderlands", but I tend to think of them as plastic, chemically laden, landfill stockists. Anyway, if I manage to hold my breath long enough to avoid the chemical smell, I can pick up handy lightweight thongs (flip-flops, jandals, etc) like these with ankle strap for around $5. I've replaced my old Crocs with these and like how they can slide down the side of my backpack.
What can't you see?
Firelighting kit (deep inside the backpack)
Swiss army knife (kept in the lunch food back)
Wine carrier or hip flask
H20 purifying tablets (in pack brain)
Hair comb (in pack brain)
Topo map (in map case) and compass
PLB – RescueMe (one of my buddies was carrying theirs)
Small waterproof notepad and pencil
I hope you found this useful! Don't forget to subscribe to receive my downloadable packing checklists for both day walks and overnight hikes.
Q: What about you? What do you take that's different from my kit?